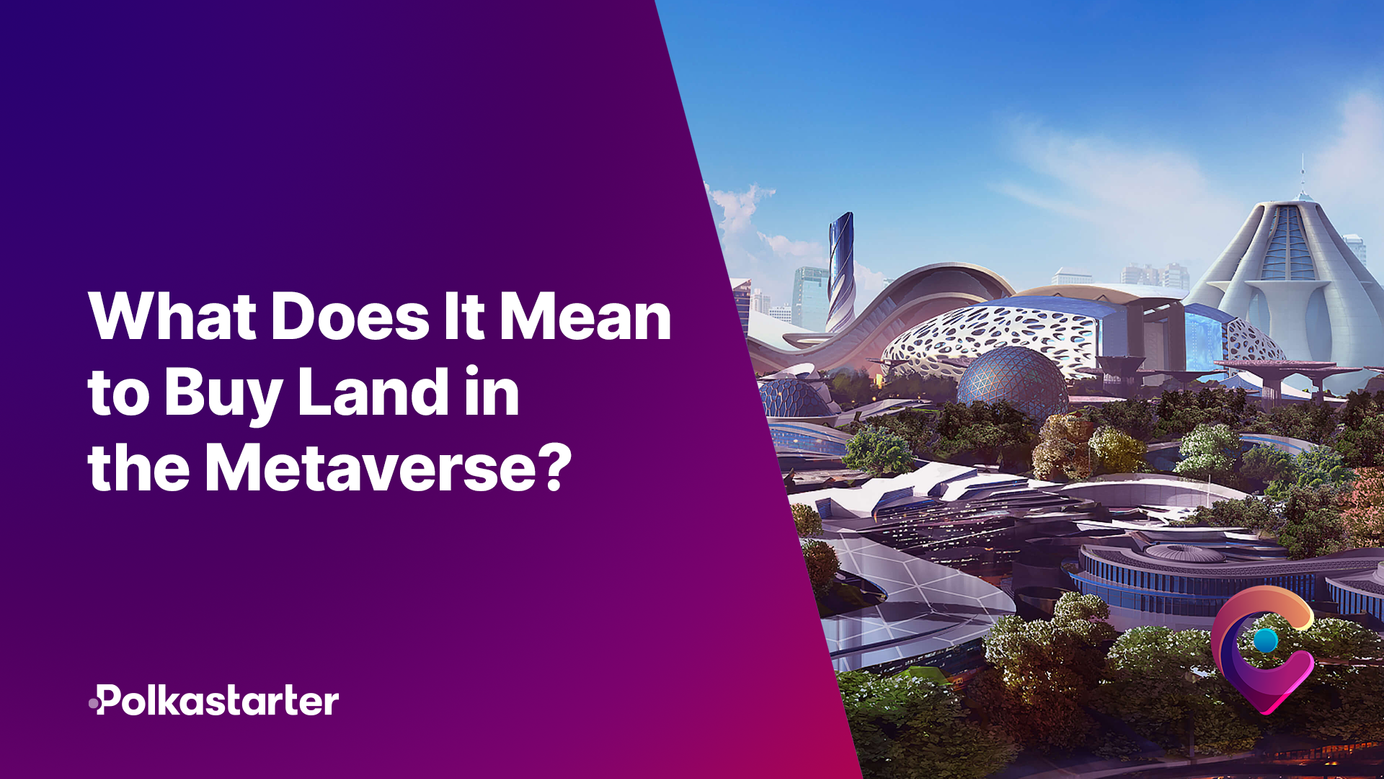 What Does It Mean to Buy Land in the Metaverse?
Welcome to the land of countless opportunities.
Most recently, we announced our first NFT LAND sale, which will be done in collaboration with Cryptoverse. Since then, we have received a lot of questions about the process.

What are NFT land sales? What does it mean to buy land in the Metaverse? Which projects that launched on Polkastarter are Metaverse-oriented?

You'll get the answers to these questions and much more in this article.

Let's get to it!

How big of an opportunity is the Metaverse?
The Metaverse is one of those things that you'll keep hearing about going forward. It won't disappear, especially when tons of big companies are actively investing in it.

Most recently, JPMorgan joined Decentraland, one of the biggest Metaverses. They bought a place inside the Metajuku mall, which shows their belief that the Metaverse, as a concept, it's here to stay.

JPMorgan believes that the Metaverse as a whole is a trillion-dollar opportunity. That's why they decided to invest in it. And they are not the only ones. Global brands like Nike, Adidas, and even Snoop Dogg have partnered up with Metaverse projects, showing that their focus is shifting from the real world to the virtual one.

What are NFT land sales?
An NFT land sale is the process of selling digital real estate. In the real world, there's a finite amount of land, which makes it a scarce resource. Also, the location of a plot of land matters a lot. A building in a good neighborhood is a lot more expensive than a building in a bad one.

It will be the same in the Metaverse. "But can't they just create more digital land?" Not really. Most Metaverse projects have a cap on how much land they will be selling, which limits their supply. Some of the projects partner up with different brands and celebrities which buy land inside the virtual world. These partnerships help increase the price of the land, creating a higher demand.

What does it mean to buy land in the Metaverse?
Buying land as an NFT in the Metaverse makes you an owner of digital real estate. Let's unpack what this means. The Metaverse won't be a single digital world where everything happens. There will be many Metaverses - some for work, others for games, third for entertainment. So what you can do with your land depends on the Metaverse you're in.

If you own land in the business sector of a Metaverse project, you could rent it out to different businesses which could create their own offices. A land of a gaming Metaverse gives you a different opportunity. You could use it to build your own game inside the digital world. The opportunities are literally endless. The only limit is your imagination. But as you can see, owning land in the Metaverse offers different opportunities depending on the Metaverse itself.

For example, Cryptoverse has all of that covered. They have eight different regions that specialize in different things. Some of them are more entertainment-oriented, while others focus more on business. So Cryptoverse is a project that has everything that the real world offers.

What can you actually do in the Metaverse?
While many people have made money last year investing in Metaverse projects, the focus isn't on solely making money. Joining a Metaverse project is about something much bigger. It's about what you believe in.

For example, if you join a decentralized Metaverse, you're actively supporting privacy and digital ownership. It's a vote for the type of world you want to live in. The Metaverse and web3 as a whole are about ownership and digital community.

So that allows you to do everything you want in the Metaverse. You could go to virtual and exclusive events. You can meet up with people online and find new friends. What makes the Metaverse so great is that you're not restricted to your location. You can network and meet with people from all over the world, becoming part of a global community built around ownership and decentralization.

Which Metaverse projects launched on Polkastarter?

Realm
This is a play-to-earn mobile Metaverse game that aims to empower digital artists and designers. Inside Realm's Metaverse, there would be tons of small customizable open-source worlds, known as Realms. They would be connected via portals. Anyone could create their own Realm completely for free and use their creativity to combine art, music and gaming.

Wilder World
Wilder World is a 5D Metaverse project that's built on the Ethereum blockchain. Their goal is to create a completely decentralized, community-owned virtual nation. Wiami is the first city inside Wilder World, which is a 1:1 replica of Miami, just set in an alternative dimension. It's a combination of 80s Miami, CyberPunk and fantasy. There would be various games inside Wilder World which would be PvP and P2E.

Highstreet
Highstreet is the Shopify for the Metaverse. It will be a place where brands and celebrities launch their products. These products will be available both in the physical and the virtual world. Highstreet's in-house team has created an entire virtual world that can easily integrate with different brands.

ChainGuardians
ChainGuardians is the first gaming ecosystem combining blockchain and superheroes. Thanks to the ChainGuardians ecosystem, users can participate in different NFT games, earning an income. Cryptoverse is one of the ChainGuardians' main projects. It will utilize ChainGuardians' native currency, $CGC, becoming a vital part of the ChainGuardians' ecosystem.
About Polkastarter

Polkastarter is the fully decentralized launchpad to launch new ideas in the blockchain and digital assets space. With an industry-leading curation process and market access, we select the most innovative projects in the space and offer them long-term support after their IDOs.

With Polkastarter, crypto projects can increase their reach, grow their communities and receive support from crypto's most well-versed experts. IDO participants, on the other hand, are offered an opportunity to invest in a secure and compliant environment, as well as participate in IDOs not solely on Ethereum, but also on Binance Smart Chain, Polygon and Celo.

Media Contact Polkastarter: [email protected]
---