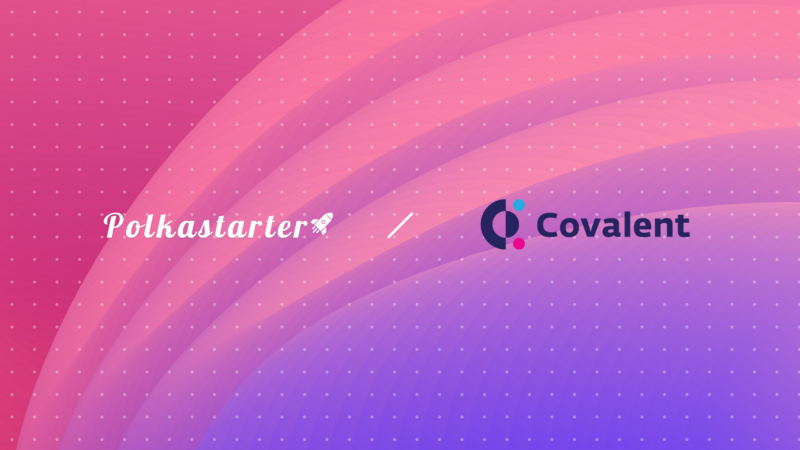 Polkastarter Partners with Covalent to Augment Anti-Scam Measures on Token Sales
Polkastarter is excited to announce a technical partnership with Covalent, a unified API service that brings together data points from…
Polkastarter is excited to announce a technical partnership with Covalent, a unified API service that brings together data points from blockchain systems to serve the needs of DeFi, and other blockchain applications. Polkastarter enables decentralized projects to raise and exchange capital cheap and fast in a secure and compliant environment using ERC-20 based assets and more. This partnership between Polkastarter and Covalent will bring more transparency and anti-scam measures to token sales facilitated on the Polkastarter Ecosystem.
Covalent brings rich data from the blockchain to inform investors about tokens, token projects, transactions and historical data of crypto-assets and wallets. By adding Covalent's services to Polkastarter, they will act as an additional data source to validate the actions of wallets. Should token sale projects choose to use these tools, they will be able to see if wallets have been used for illegal purposes such as money laundering and other suspicious activities. Additionally, token sale projects can link the team's identifying data to their token sale pools to boost trust and transparency to potential buyers. Ultimately, the addition of Covalent's services to the Polkastarter Ecosystem will enable a safer environment for token sales and swaps.
Polkastarter's Anti-Scam Features
Covalent's ability to provide granular, historical per wallet data will allow token sale and swap participants to know who they are interacting with. This type of transparency will build trust in the network and create a safe environment for traders and investors of all kinds. Additionally, projects and startups raising funds will have easy access to Covalent data. Thanks to Covalent's "no-code" approach, projects don't have to have any specialised knowledge to draw benefit from their transparency and data tools. Further use-cases such as the ability to draw data to support business processes, and to perform blockchain transaction analysis will augment safety and Polkastarter's built-in anti-scam measures.
Covalent's technology will be an option for Polkastarter token pool creators and participants to check the legitimacy of token contracts using a wide variety of heuristics and analytics:
Token contract age
Proxy patterns (red flag for potential rug pulls)
Blacklists, Scams and other warning flags
Curated token lists
Token contract verification
Token holders
Top wallets
Transaction volume in the last day, week, month, year
All of this data will be available through Covalent's tools to allow for token pool creators and participants to choose to use in order to augment trust and transparency in sales and swaps.
"We are delighted to be empowering Polkastarter's environment with real-time, granular blockchain data. With instant access to historical blockchain data along with a cross-chain platform leveraging liquidity across multiple networks, Covalent and Polkastarter are taking steps toward an integrated DeFi ecosystem that will ultimately empower the user." says Ganesh Swami, CEO of Covalent.
Polkastater's MVP will launch soon, and more will be revealed as to how Covalent will play a critical role in keeping all Polkastarter participants safe in our Ecosystem.
"Polkastarter is excited to integrate Covalent's data tools and technology into our ecosystem. One of the key aspects of Polkastarter is creating a safe environment for anyone to do token sales and swaps, in an honest and transparent fashion. Having Covalent's suite of data tools available to our users, pool creators and token sale projects will augment the anti-scam measures and safety features we offer to our users. We look forward to a fruitful long-term partnership." says Daniel Stockhaus, CEO of Polkastarter
About Polkastarter
Polkastarter is a permissionless DEX built for cross-chain token pools and auctions, enabling projects to raise capital on a decentralized and interoperable environment based on Polkadot. With Polkastarter, decentralized projects will be able to raise and exchange capital cheap and fast. Users will be able to participate in a secure and compliant environment and to use assets that go way beyond the current ERC20 standard.
Website | Telegram | Medium | Twitter
About Covalent
Covalent provides a unified API to bring full transparency and visibility to assets across all blockchain networks. Covalent's proprietary technology enables a "no-code" solution that solves a vast array of use-cases for wallets, exchanges, custodians and taxation amongst others. The API allows easy access to data that is normalized, unified and granular.
Polkastarter Blog - Latest Polkastarter News & Updates Newsletter
Join the newsletter to receive the latest updates in your inbox.
---