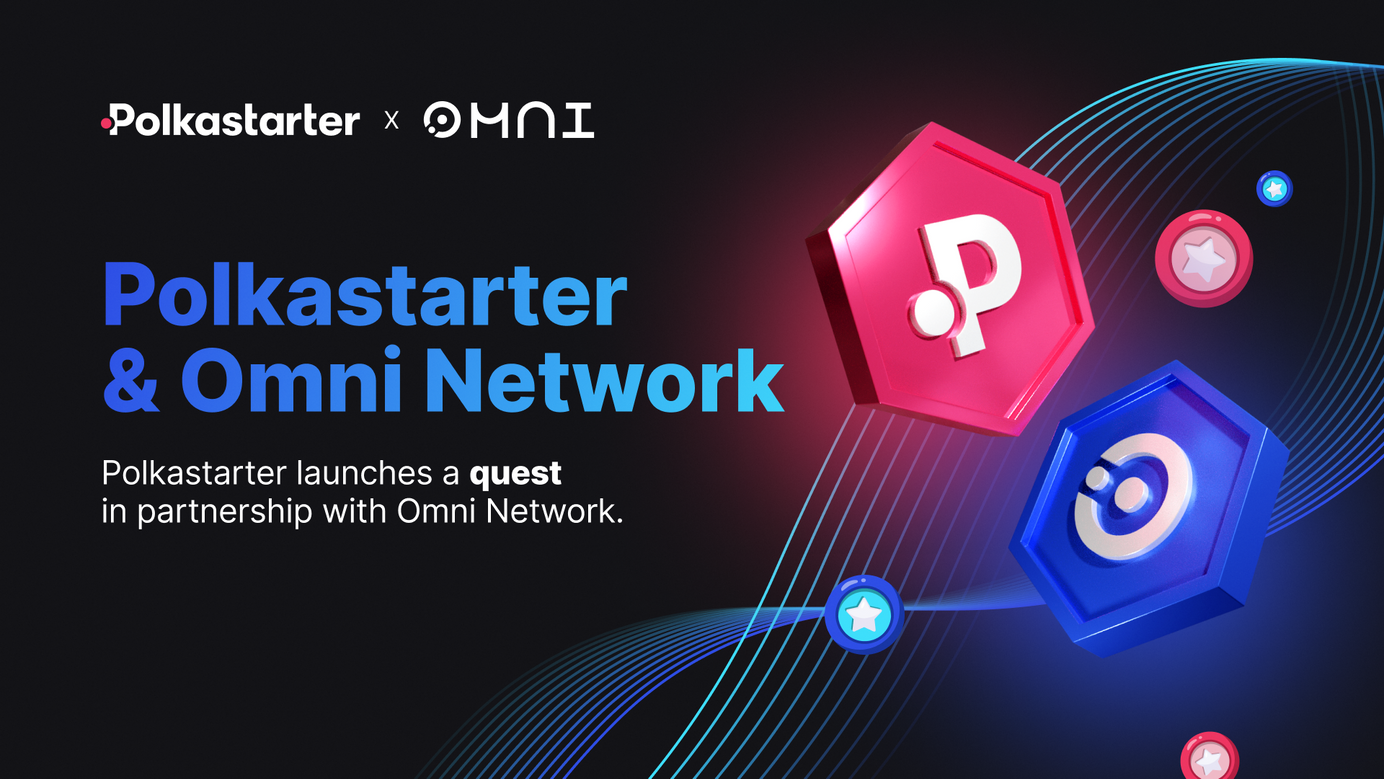 Polkastarter launches a quest in partnership with Omni Network.
Omni Network and Polkastarter join forces to bring together and reward their communities through a Omni Ecosystem Mission including a testnet sale utilizing cross-chain instant swap technology on Polkastarter.
Polkastarter is partnering with the Omni Network to launch a new experience under the form of a quest, taking both communities on a journey across Omni Network technology and onto the Polkastarter fundraising platform. The quest will kick off this Tuesday, September 26nd, at 3:00 PM UTC.
Participants will get points on Omni and a reward on Polkastarter. $POLS holders will receive additional points!
Next to providing a fertile testing ground for Omni Network's proprietary layer 1, the blockchain to connect all rollups, this quest will also unite the Omni Network and Polkastarter communities.
Learn more about Omni Network and their widely anticipated layer 1 here.
At the same time, users familiar with Polkastarter will go through a brand new in-app experience – a sneak peek into fresh features currently in development.
The quest is part of Omni Network's larger missions campaign – Omni Overdrive. While kicking off on Tuesday, September 26nd, at 3:00 PM UTC, the quest will last for two weeks, until Friday, October 6th 3:00 PM UTC. This campaign will enable Polkastarter to test our new cross-chain instant-swap technology, and for this Omni will give points to $POLS holders in their Mission center.
Important: This is a test sale on Omni's Testnet - you are not required to use 'real' funds in order to participate. With various immediate and future rewards in store for the supporters of both projects, this is something you simply cannot (and should not) miss.
Here are the details on what to expect and how to prepare accordingly 👇
Omni Network Mission and Polkastarter Quest:
What Exactly Is Going On?

The quest will begin this Tuesday, September 26nd, at 3:00 PM UTC and take place on two platforms:
Omni Network Mission Center (directing you to Galxe)
Polkastarter (Test sale)
Make sure you bookmark each of the two URLs above and always double-check you are on the right one.
A unique collaboration between Omni Network and Polkastarter, the quest is designed to give you a taste of the soon-to-launch Omni Network layer 1, while also making your time worthwhile – with immediate and future participation-driven rewards.
To take part in and complete this quest, you will both venture into the unknown, and step back on familiar ground. The former includes completing various other tasks within Omni Network's overarching missions campaign Omni Overdrive, while the latter will take you to the familiar Polkastarter platform, where a test sale will be hosted, and the new cross-chain instant swap technology will be tested.
Sequentially, the test sale will be the core quest of Omni Network's overarching missions campaign. Save the best for last, right?
How to Prepare and Participate: A Step-by-step Guide

Step 1
Start the Omni Overdrive Launch Supporter mission from the Omni Testnet Mission Center. This is how you'll be able to collect tokens on testnet via the Omni Faucet. You will need them later on to complete the quest on Polkastarter.

Step 2
Start the Omni Network Ecosystem Mission with Polkastarter.
Step 3
Participate in the test sale on polkastarter.com by following the instructions. This is where you'll test the new cross-chain instant swap feature and receive your $OmniPols directly on the Omni Network. (how to add Omni test Network to your wallet)

Step 4
After completing the test sale and receiving $OmniPols, claim your points on Omni's Mission Center.

Step 5
Claim your Quest completion Polkastarter OAT on Galxe.
---
The above process will also be outlined on polkastarter.com, where the quest and the test sale is hosted.

Quest Rewards

After completing the Omni Network x Polkastarter quest, users will receive points on Omni's Galxe campaign and an exclusive Polkastarter NFT, celebrating their success and achievement.
The NFT will represent your early participation in Polkastarter's new experience and can be used to receive more POLS Power for future public sales.


We want to remind everyone that Omni Network is still in testing mode and that the OmniPols tokens cannot be swapped to mainnet tokens right now. Given the imminent launch of the Omni Network mainnet however, you might want to be holding on to your rewards.

---
About Omni Network
The Omni Network is a layer 1 blockchain built to connect all rollups. Using Omni, developers can build global applications that are available across all rollups. Secured through restaking $ETH, Omni is a next-generation blockchain leading the frontier in both security and functionality. Omni is backed by $18M from prominent investors such as Pantera Capital, Two Sigma Ventures and Jump Crypto.
Website | X | Discord | Telegram | Blog


About Polkastarter
Polkastarter is the leading early-stage fundraising platform enabling Web3's most innovative projects to kick-start their journey and grow their communities. Polkastarter allows its users to make research-based decisions to participate in high-potential Public sales.
Polkastarter Blog - Latest Polkastarter News & Updates Newsletter
Join the newsletter to receive the latest updates in your inbox.
---