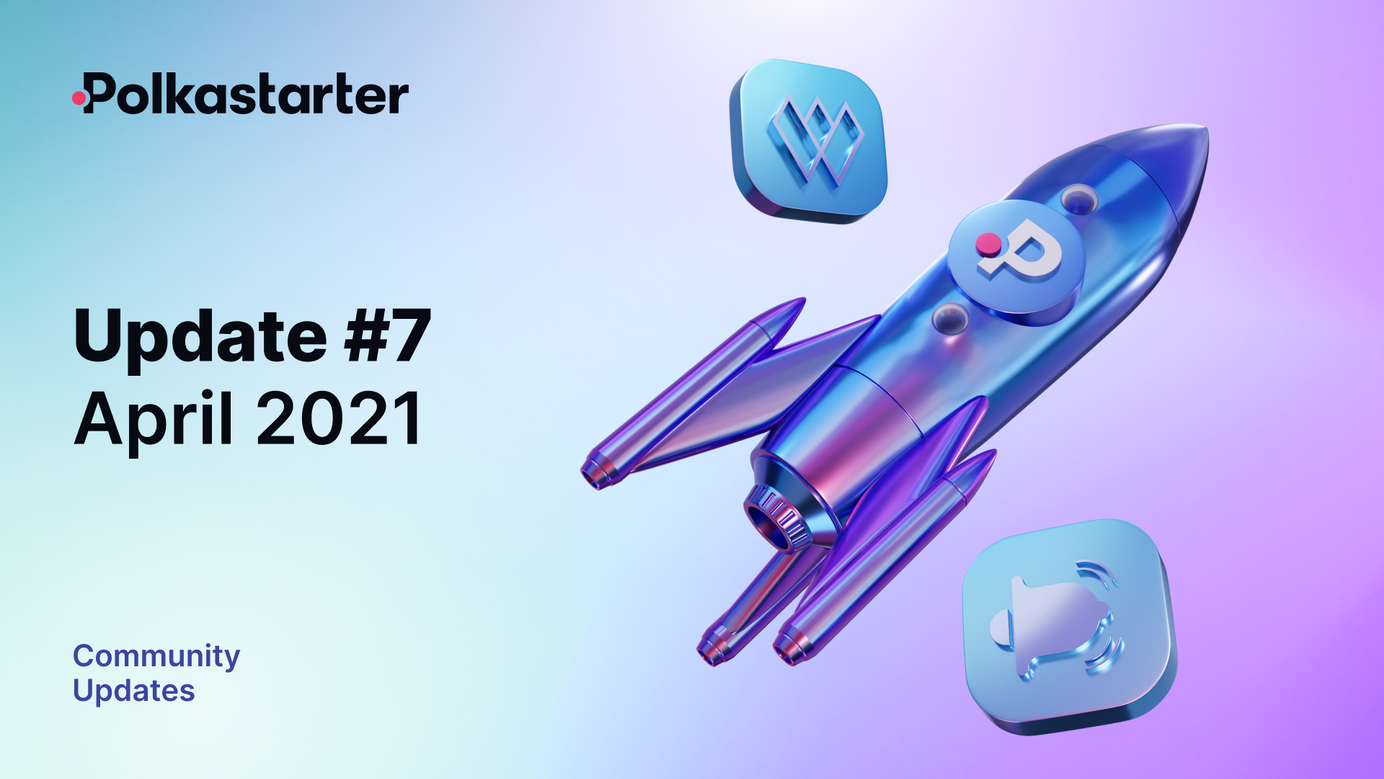 Polkastarter Community Update #7 - April 2021
Ten IDOs, 826 ETH and 397 BNB raised, Wilder World community highlight, milestone IDOs, product updates, and launch stats!
April was a busy month for us! Here are some highlights from our seventh community update:
A breakout month for Binance Smart Chain IDOs
Genesis Shards raises $125k in first Ethereum and BSC dual IDO
On April 14, Genesis Shards, a new marketplace for pre-IDO tokens on NFTs, launched their IDO on Polkastarter. The IDO was our first ever to occur simultaneously on both the Ethereum and BSC networks. Both Ethereum and BSC pools sold out successfully, with the Ethereum pool selling out in less than 60 seconds! The project garnered a mention in Investing.com's The Top 3 Projects Set For Explosive Launches in April and NewsBTC's The Top Blockchain Launches to Watch in Q2.
Check out our recap of the sale!
Refinable raises $180,000 in first IDO exclusively on BSC
On April 27, Refinable, the first major NFT marketplace on Binance Smart Chain, launched the first Polkastarter IDO exclusively on BSC. Refinable pools sold out in less than 5 minutes, raising $180,000 and claiming the most participants of any IDO in Polkastarter history! The project made headlines in Binance, Bitcoinke, CryptoSlate, and InvestorPlace, and further signaled Polkastarter's continued plans for multi-chain offerings.
Upcoming Polkastarter IDOs
Stay up to date with the IDOs happening in May. Note that information is subject to change and more IDOs will be announced - always check the Polkastarter website for the latest information.
May 5 Sienna Network. Privacy-first, cross-chain decentralized finance protocol powered by Secret Network.
May 10 Dfyn. L1 Liquidity, L2 scalability. DeFi done right, for everyone!
May 11 Wilder World. A decentralized artist DAO and liquid #NFT marketplace for AR/VR.
May 14 Pinknode. The gateway to Polkadot - API endpoints and node operation services for blockchain innovators.
Community Highlight: Wilder World
The Polkastarter IDO community is packed with innovation, creativity, and excellence. Wilder World is a recently-announced decentralized platform that brings together the emerging worlds of NFTs, DeFi, and AR/VR into a visually stunning metaverse.
Wilder World is a decentralized artist DAO and liquid NFT marketplace, built on top of Zero protocol and claiming world renowned 3D artist Frank Wilder as a founding member. It aims to bring to life the full potential of a decentralized metaverse - i.e. the opportunities of AR/VR with the real-world economies and assets enabled by NFTs and cryptocurrency.
Among other features and capabilities, Wilder World offers:
In-game NFTs. Thousands of pieces of 3D art native to the Wilder World metaverse with unique capabilities and features.
Liquid NFT market. Leveraging a unique bonding curve model, Wilder World enables the fractional sale of NFTs, opening up NFT ownership, investment, and trading to a broader group of in-game individuals and investors.
Artists guild. Wilder World is committed to empowering artists. Creating an in-game community for artists to work together, create together, and benefit together is paramount to the vision of Wilder World.
Mint FactOry. Bridging the virtual and the physical, Mint FactOry connects artists in Wilder World with real-world brands and creators to drop NFTs in the metaverse with robust features, royalties, and more.

And that's just a taste of Wilder World! Learn more about the project and its vision on its website, and apply to be a creator or a collector. Also, check out their blog for more.
Product and Platform Updates
This month, we also unveiled our Q2 product roadmap, moved our blog from Medium to our website, and hosted 11 AMAs with projects. Here are some updates from April!
👨‍🏫 We published a tutorial about how to participate in BSC IDO pools - check it out!
🥂 Announcing eight new members of the Polkastarter Council
🔀 Our Multi-Chain Offering plans are growing
🗣 Our whitelisting rules have changed! TL;DR it'll now be easier than ever to participate in Polkastarter IDOs. Learn more.
And some highlights from our Q2 roadmap announcement:
💪 Polkastarter 2.0 is coming soon with new and improved features
🎨 We are launching NFT drops that offer access to token sales
🤝 The Polkastarter platform is going to support Polkadot Crowdloans
Community and Growth
The success of Polkastarter and of our Polkastars would simply not be possible without you. Thanks for helping us build the future of IDOs, and redefining how groundbreaking tech projects go to market!
Over 800K+ website visits
103k+ more Twitter followers than last month
Over 10 million Twitter impressions in April!
Our main Telegram channel passed 50,000 members! 🥳
April IDO Recap
Ten projects launched their IDOs on Polkastarter this month. We celebrated our first dual Ethereum and BSC IDO with Genesis Shards, and our first BSC-only IDO with Refinable. Together, these IDOs raised 826 ETH and 397 BNB.
Token ($POLS)
We have over 37,000 POLS holders!
~1,500 liquidity providers are contributing to the $25,961,475 pooled in the POLS/ETH Uniswap pair.
Liquidity providers were rewarded 35,000 POLS in April. At the current POLS price (~$3.70), that's $130,000! In April, Uniswap also had over $118m in volume. Polkastarter LPs earned 0.3% in fees, and collectively took home ~$355,000. Together, in rewards and fees, that equals nearly $485,000 to Uniswap LPs!
Stay Up to Date
Thanks for tuning in to our April recap! Make sure to connect with us on Twitter and Telegram.
Polkastarter Blog - Latest Polkastarter News & Updates Newsletter
Join the newsletter to receive the latest updates in your inbox.
---