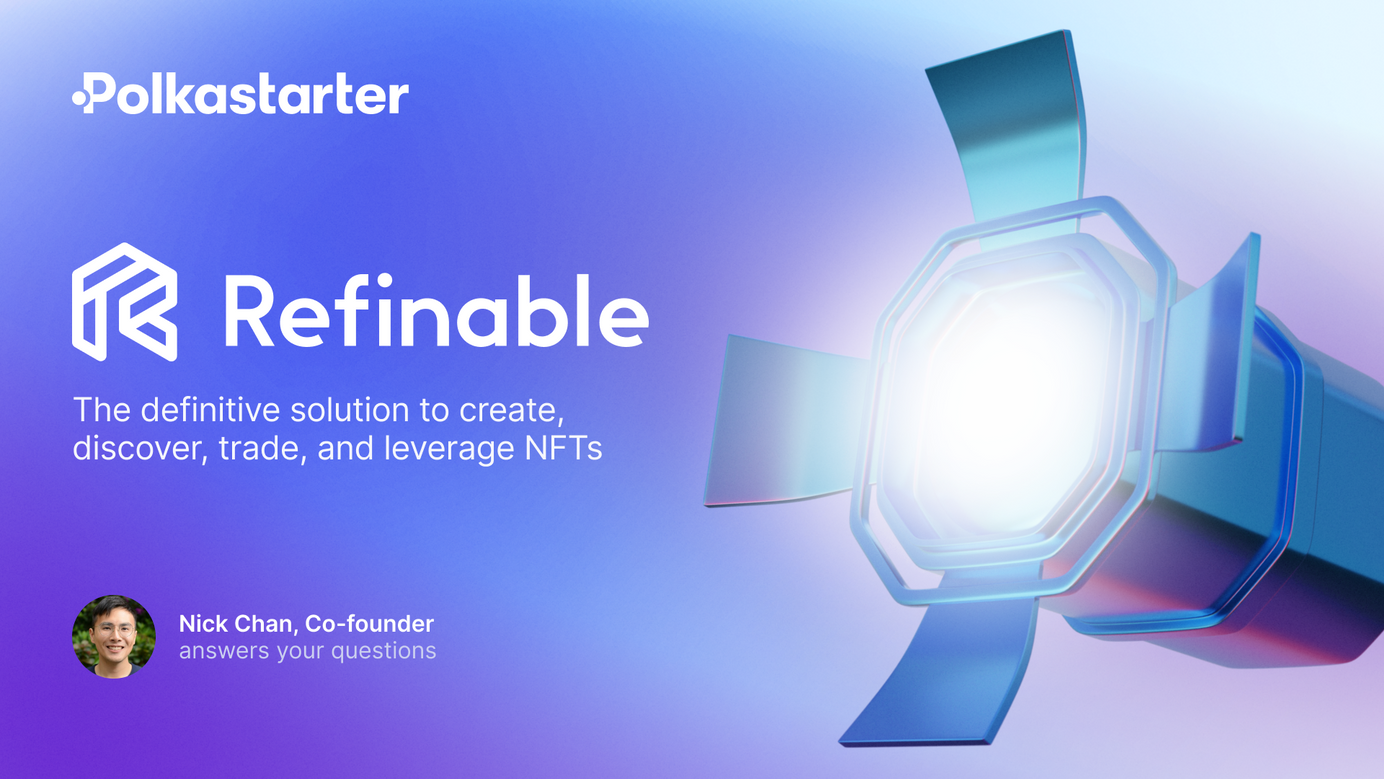 Polkastarter and Refinable AMA Recap
Polkastarter AMA on Wednesday, April 21 with Refinable co-founder Nick Chan.
You can see the original AMA conversation on Polkastarter's main Telegram Channel here.
The Refinable IDO is April 23! Learn more about the novel, first BSC-only IDO here.
Polkastarter
Hi everyone and welcome to another exciting Polkastarter AMA, this time with Nick Chan
Co-Founder of Refinable — the first Polkastarter IDO to launch exclusively on Binance Smart Chain (BSC) .
Nick C | Refinable
Hey everyone!

Polkastarter
Welcome nick, and thank you for taking the time today to join us! 🎉
Alright, we'll first have a few questions to Nick directly, before we open it up for community questions. Let's get started!
Nick, could you please first introduce yourself?

Nick C | Refinable
Sure thing, hi everybody, this is Nick and I'm the cofounder of Refinable.

So Refinable is a NFT marketplace built on Binance Smart Chain. Many people want to engage in NFTs including crypto and retail users, but because of Ethereum's scalability issues, it's rendered a lot of people unable to explore and experiment with this new NFT medium. There are some great NFT platforms out there but the high gas prices has essentially priced out many users.
So we see this as an immediate issue and we want to offer an immediate solution while also working to reimagine what a cohesive NFT experience would look like
Polkastarter
High gas prices on NFT platforms have definitely been an issue. We'll dig more into that in a sec :)
Can you tell us more about the vision behind Refinable, and why are you launching it?
Nick C | Refinable
So I teased this a little in my previous answer, but creating accessibility for the NFT community is the immediate value add that we want to bring.
I believe in the great potential for NFTs to reshape digital transactions similar to how barcodes revolutionized the retail and supply chain industry
But one layer deeper than that, us deploying on BSC was very strategic because of the lack of existing NFT players in the space. We have a blue ocean opportunity to actually rethink what the NFT experience should be
What I mean by this is there are many great NFT marketplaces out there right now, but all are created on Ethereum which is highly compeititive, so each one has to be niche based in order to thrive, so you see very specific thesis with each of them
Decentralized for Rarible, Opensea for trading/aggregation, SuperRare/MP for primary marketplaces etc.
So we're taking this blue ocean oppotunity to tie many of these ideas together to allow any users, brands, and entire communities to be able to Create, Trade, and Discover NFTs in a fun and accessible manner. Later, be able to Leverage thier owned assets all in one platform!
Polkastarter
That sounds like a great vision indeed — I'm sure there have been lots of learnings to draft from from the growth of existing NFT platforms over the last few years and months. Looking forward to seeing what that looks like!
Ok so next question — We at Polkastarter are big believers that the team and talent behind the project is one of the most important factors for success. Tell us more about the team behind Refinable, and how your experience has led you here?
Nick C | Refinable
So I've always been working in technology startups and ever since 2015, I've always been fascinated by blockchain applications. After getting more involved in crypto in 2017 I even organized the first Binance PreHackathon in Hong Kong a few years ago. It wasn't until 2020 that I realized NFT's potential in the digital commerce space as a global medium for digital transactions and that's where I got started with Refinable.
Team-wise, I'll give a shoutout to my other cofounder & CTO Maxim, who's been with me since day one of this project. Maxim is a seasoned CTO personnel and serial entrepreneur who led experimental projects at EY and built various crypto applications on Ethereum and BSC, so I trust my life in his hands haha
We've also got a few other members who were previous EOS hackathon winners but beyond that, we've grown to a remote family of around 13 people based in Asia and in Europe!
Polkastarter
That's always good to have a CTO you trust with your life 😄. And that sounds like a good group of multi-chain experience !
Ok let's talk more about Refinable's competitive advantage.
You spoke a bit about this "blue ocean opportunity" to launch on BSC and combine the best NFT marketplace ideas together. Can you explain more about what differs you from other similar NFT projects?
Our immediate value add for most users is the sheer accessibility of the NFTs. Fast tx and ultra low cost is a great barrier removal when compared to other major NFT marketplaces
We are also a product that's concepted as an NFT hub primarily and not a side feature of another project, so we're spending a lot of time and focus on the interface and experience of our platform
Beyond that, Refinable is content and community agnostic and is building a suite of B2B features to make it easier for beloved brands and creators to engage with their own communities and fanbases.
This may include dedicated marketplaces with customizable storefronts, NFT utlity customization, and even flexible payment options. NFT is a new social media vertical and there will required new platforms to handle this ecosystem.
Building on top of that, I want to emphasize we are content agnostic, meaning we want to create an envionment where users can experiment and play aroun dwith new NFT use cases, particularly with community engagement.
TLDR: At the end of the day, it's about deploying NFT technology in an accessible manner to empower new possibilities of digital transactions.
Polkastarter
That certainly sounds like a really exciting vision for the future of NFTs !
Can you tell our community a bit more about your $FINE token, particularly about the token utility and your token generation event (TGE)?
Nick C | Refinable
On a high level, our native $FINE token is built with utility and governance features in mind. You can spend the tokens to settle your transaction, and to get priority exposure for your listings.
Otherwise you may also hold our tokens to earn additional benefits similar to a tiered membership experience. This may include increased limits on features, discounted service fees, access to exclusive sales and more!
For certain types of token holders, we also want them to be stewards and ambassadors of our platform so we've decided to incorporate governance and moderation elements into the token use case  too
On the more interesting note, our TGE is actually happening on Friday with the Polkastarter team!
So we're lauching our IDO via the Polkastarter platform followed up a listing on PancakeSwap, so our community will be able to get our tokens on the secondary market very easily
I'm also excited to annouce a special LP Staking Lottery event after our IDO and will be giving away many delicious prizes including a grand prize that has yet to be revealed...
Stay tuned to our socials for more information ;)
Polkastarter
Awesome! There aren't that many NFT marketplaces with a native token, so will be exciting to see how that develops!
Before we open up the chat to take questions, could you please share with our community your website and social media channels, so they can make sure to follow you and be kept up to date on your progress?
Nick C | Refinable
Of course! I should note that ytd we did have a malicious attack on our main TG channel so we had to update our TG channel name. I have attached the latest one below so be sure to follow this one. Beware of scammers!
Website: https://refinable.com/
Telegram: https://t.me/refinablenft
Twitter: https://twitter.com/refinableapp

Polkastarter
Great, thank you Nick. Let's open the chat for a brief window to give our community a chance to ask their questions, and don't forget, that after the AMA, Refinable will choose the best question and hand out one allowlist spot for their IDO on April 23rd (don't forget you will need to KYC fast and on time). 🎉

Questions from the Community

Those are a lot of really great questions for Nick!! You all are awesome -it's always so great to see! Nick will read through and pick some questions to answer now.
QUESTION: John Deeves @devjohnso1
@nchan1225, I see #REFINABLE is moving into the NFT market is a very wise decision to make but how do you aim to solve the copyright problems going around in the NFT market place now, are there some extra communication mechanisms provided by your platform. Refinable should understand that copyright issues is a gain for the sell and loss for the buyer which can really affect a growing setup.
Nick C | Refinable, In reply to John Deeves
This a question seldomly asked. But with NFTs, there is a proliferation of copyrighted content and it becomes really hard to separate real from fake. However, with blockchain, we do have ways to validate provenance and authenticity. So right now we see a great leap in decentralized technology and what's possible via onchain data. Even tho it's easier for scammers to scam, it's also easier and possible for any user to verify the items they want to buy. This is really about giving the due diligence responsibility ot the users themselves, because users have to know what they're doing in order to truly benefit from any decentralized technology.
On the platform side, we will do our best to verify creators, flag certain content, report accounts to make sure we can do our part in making sure users have an easier time browsing BUT that process is not fool proof and it is really up to the users themselves to do their homework, git gud, and not get scammed!
QUESTION: Jerry Zizkov @jerryziz91
-- Reducing our ecological footprint is always on our minds -- There are some Carbon Credit-focused crypto initiatives in the market. Any plan to integrate with them to act on this issue?
Nick C | Refinable, In reply to Jerry Zizkov
Great question! So for the immediate term, we believe simply opting for BSC rather than Ethereum is already a huge energy saver for our project. But we are very open to integrating with other carbon capture programs to ensure our community is operating on a responsible and committed platform as they are.
QUESTION: Definitely @Xertasputih
A lot of the recent conversation & hype around NFTs has focused on digital art or licensed collectibles, where pure scarcity is the major selling point.
What do you personally see as some of the other most compelling applications and use cases for NFT technology?
Nick C | Refinable, In reply to Definitely
Love this question because it's always where I'm trying to drive the conversation. Right now the licensed content and visual NFTs have a great presentation layer, but lack the utility layer. Refinable is trying to enable people to drive more utility within their NFTs. The conversation I've been having with brands, companies, influencers, artists, etc. recently have been super interesting to understand the nuances of each community. Some interesting ideas I've head include live event engagements, community redemptions, membership benefits, social experiments, and of course some DEFI applications for NFT fractionalization
QUESTION: Klassika Odno, @klassikaodno
A lot of artists new into the crypto space may feel intimidated by NFTs because it is generally thought that a decent amount of coding knowledge is required in order to create NFTs. Will Refinable put an emphasis on anyone being able to create NFTs with ease, even newcomers with little coding experience?
Nick C | Refinable, In reply to Klassika Odno
We are going to be a no code experience for all our users on day one to ensure a smooth onramp for everyone when creating NFTs. The advanced features may take some time to set up but we hope to templatize a lot of these features pending feedback from the community.
QUESTION: Los Putas De El Paso, @thecoinalpha
Could you really use P2P mechanisms to buy and sell any NFT tokens? If so, will users be required to complete conventional KYC?
Nick C | Refinable, In reply to Los Putas De El Paso
Correct, we're non-custodial and require users to connect their wallet addresses to start enging with our platform, so there will be noconventional KYC or verification process like those for centralized marketplaces. It's all about accessibility for our users.
QUESTION: Denputra, @Denybela
What do you think about the explosion of the NFT and DeFi associations that caused so much interest in the world? How did Rafinable take advantage of this fact?
Denputra, [21.04.21 17:33]
What do you think about the explosion of the NFT and DeFi associations that caused so much interest in the world? How did Rafinable take advantage of this fact?
Nick C | Refinable, In reply to Denputra
We are in a special time with many interesting macro trends converging at a single point. People have a lot of time from WFH, a lot of capital gain from crypto & stimulus, a lot of interest in NFT/blockchain because of the prices. All 3 things are ocming to gether to create a huge momentum for the onboarding of retail users onto NFTs. I personally think this is a great time to start educating people about blockchain through this NFT subject. The more people engage with NFTs, the easier it will be to introduce DEFI features and concepts, and later probably financial freedom as well :)
QUESTION: Roshan, @roshaneww
Refinable is open to all different kinds of content from 2D images to music albums. But, are there differences regarding the development of an music album NFT or a 2D image NFT? Fees vary depending on the content of the NFT or ar always the same?
Nick C | Refinable, In reply to Roshan
The experience of creating the NFT on Refinable should remain the same, simple, intuitive, and quick. However everyone has their own process for creating content. The platform will charge a standard fee of up to 2.5% only for all tx. No additional fees will be charged based on content. In the future, you may be eligible to get major discounts on the service fee by holding more FINE tokens or via other means ;)
QUESTION: For Misel, @Couldyourexplain
is it going to be an ERC20 placeholder POLS token on polkastarter or do they support bep20 since refinable is a BSC project.
Nick C | Refinable, In reply to For Misel
We are a fully BSC project with a BEP20 token. Polkastarter will be supporting us as the first full BSC launch on their platform!
QUESTION: Draisaitl, @alomega
Smart contracts are vulnerable to hacks/bugs, and even recently many big new DeFi projects were victims of this, costing users funds. How efficient and secured is your smart contract, and did you ever audit it via any external party??
Nick C | Refinable, In reply to Draisaitl
Refinable is a non-custodial marketplace so the ownership and security of the NFT assets rests upon the user themselves.
However, our code and smart contracts will be put through public security audits by firms such as Hacken and Certik to maintain the highest level of integrity, so our users can focus on the core NFT experience
QUESTION: John Deeves, @devjohnso1
When ever assets are transferred cross-chain for istnance ETH to BSC, the underlying token is held by an ETH-based contract while a wrapped version is issued on Binance Smart-chain. When doing this to an NFT, a similar process happens. Does this somelikely devalue an NFT's non-fungible nature? Further on, How will the royalties tagged to an NFT and user on Refinable can accrue if said user to chooses to transfer the underlying NFT the cross-chain?
Nick C | Refinable, In reply to John Deeves
Great question, so bridging tech is quite prevalent but there are NFT consdierations such as maintaining its fungibility when moving across chains but also about how the roytalty structures are honored. We can easily bridge assets over but ther are operational nuances to consider when doing so.
Nick C | Refinable
That is about all the time that I have for today!
Congrats to @devjohnso1  for winning a allowlist spot in our IDO!
Thanks everyone for the question and thanks to @camillionaire for hosting this lovely AMA
Polkastarter
Thank you Nick for your time and for the illuminating answers on Refinable. Really looking forward to the launch of $FINE on Binance Smart Chain on April 23rd, and to welcome you to the Polkastarter Family and continue working together in the future!
Nick C | Refinable
Hope I was able to answer most of everyone's questions :)
Polkastarter
Thanks to everyone for tuning in. This will be the end of this AMA, thank you everyone for joining us! The chat will now open back up.
Polkastarter Blog - Latest Polkastarter News & Updates Newsletter
Join the newsletter to receive the latest updates in your inbox.
---