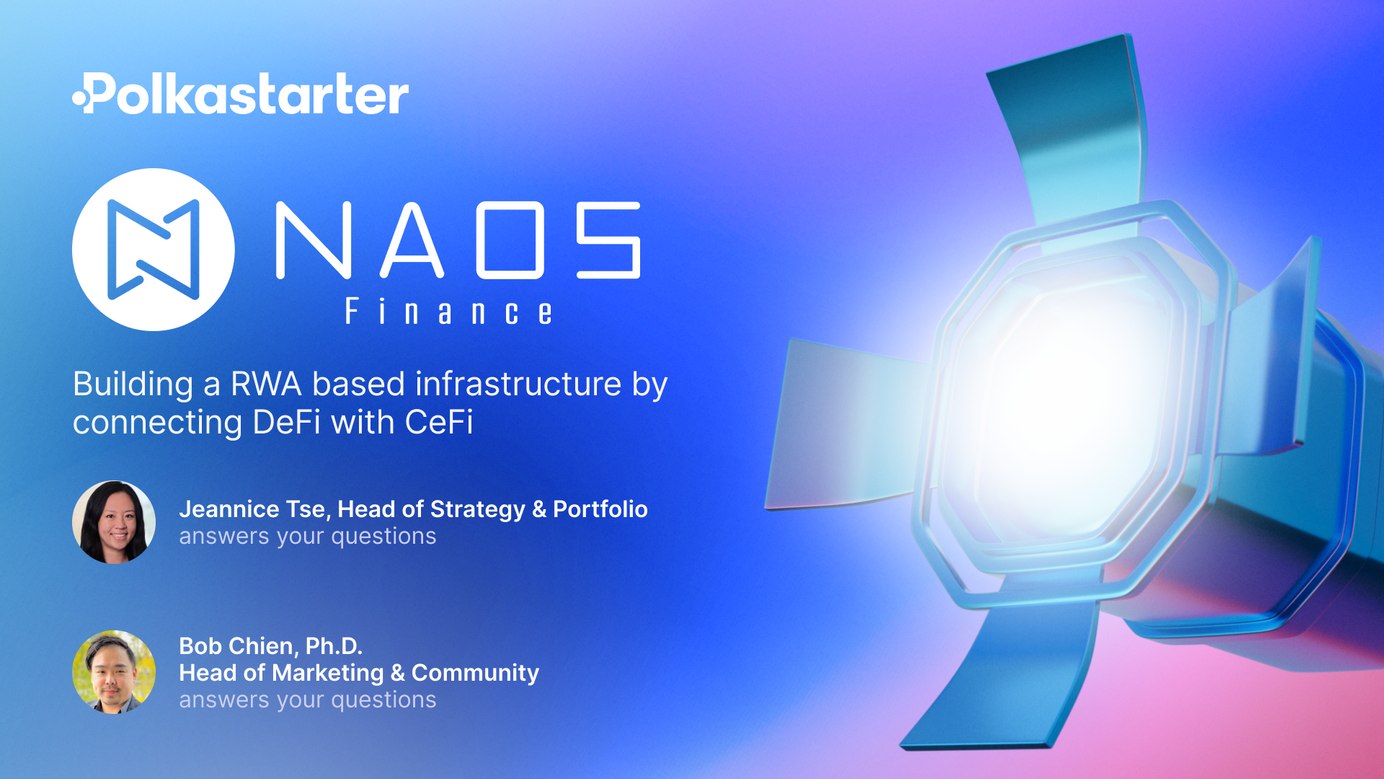 Polkastarter and NAOS Finance AMA Recap
AMA with NAOS Strategy and Marketing leads Bob C. and Jeannice Tse.
You can see the original AMA conversation on Polkastarter's main Telegram Channel here.
Polkastarter
Hi everyone and welcome to another exciting Polkastarter AMA, this time with Naos Finance. Welcome both, and thank you for taking the time today to join us! @roollie (Jeannice) @mi_go_bao_bo (Bob)
Alright, we'll first have a few questions to Jeannice and Bob directly, before we open it up for community questions. Let's get started!
Jeannice and Bob, could you please first introduce yourself?
Jeannice Tse (NAOS)
Hello everyone!!!
Good to be here. I lead Strategy and Portfolio Management at NAOS, and worked in McKinsey and Citigroup among other companies in the past. I have an MBA from Chicago Booth. Right now, I'm in my paradigm shift to blockchain and crypto, given my more traditional finance background, and hopes to bridge the two worlds successfully!
Bob C. (NAOS)
Hi everyone, this is Bob. I'm the head of marketing and community to NAOS. Before NAOS I'm running e-commerce companies and I saw the value of NAOS so decided to join.
Polkastarter
It's great to see you bringing your traditional finance, consulting and ecommerce backgrounds to blockchain!! Thank you both for joining us
Can you tell us more about the vision behind NAOS, and why are you launching it?
Bob C. (NAOS)
NAOS strives to unlock the possibilities of further DeFi innovations by bringing real-world assets on-chain(at scale) and to eliminate inefficiencies of traditional finance by decentralizing the decision making process.
Polkastarter
Real-world assets on chain is an important step of a decentralized future !
Can you tell us more about the team behind NAOS, and how your experience has led you here? Polkastarter are big believers that the team and talent behind the project is one of the most important factors for success 🤓
Bob C. (NAOS)
Kevin Tseng is co-founder of NAOS Finance. He co-founded Zalora (acquired by Central Group), and was employee #? at Rocket Internet where he built FoodPanda's Taiwan presence (acquired by Delivery Hero), Lazada (acquired by Alibaba Group), and Groupon Southeast Asia (acquired by Tencent Holdings). A veteran of the startup scene, Kevin is bullish on the future of DeFi and views the space as the next logical step for institutional and personal finance.  He holds a degree in economics from the University of Pennsylvania.
Bob is an experienced founder in the e-commerce and technology space. His interest in NAOS lies in the value he thinks NAOS will bring into the commerce world. As someone who was a founder of a supply chain company, he understands that bringing real world assets onto chain is the future.
Jeannice is in Strategy and Portfolio Management at NAOS and worked in McKinsey and Citigroup among other companies. She has an MBA from Chicago Booth. Currently she is in her paradigm shift to blockchain and crypto, given her more traditional finance background, and hopes to bridge the two worlds.
We all believe in the value of RWA on chain so that's why we are here :)
Polkastarter
Wow that's an incredible impressive group. Any team who has cut their teeth at Rocket, Lazada, McKinsey and Citi no doubt has a lot of great experience to bring to the crypto world
So let's talk about NAOS's competitive advantage. What differs you from other similar projects?
Bob C. (NAOS)
The biggest difference between NAOS and other projects are the real world asset volume and how do we do your compliance work. NAOS has financial licenses in 4 countries and can directly connect with traditional companies and borrowers off the chain. On the asset side, we havenearly 600M USD asset originated, that makes NAOS the largest project of RWA on-chain. In addition, the core team all have traditional finance and Internet finance backgrounds, and can evaluate company assets and credit ratings based on their risk status, balance sheet status, and loan requests.
Polkastarter
Compliance is definitely a key piece, thats great.
Can you tell our community a bit more about your $NAOS token, particularly about the token utility and your token generation event (TGE)?
Jeannice Tse (NAOS)
The token is a governance token which will allow you to vote on key things like product features etc. Our IDO is tomorrow on Polkastarter (super excited!). Stay tune for more things coming up for what else you can do with your $NAOS (and other related NAOS - you heard it here first) tokens
Polkastarter
Really looking forward to tomorrow!
Can you tell us more about your upcoming product roadmap? What key features are you developing for NAOS?
Jeannice Tse (NAOS)
On product, we are in audit and planning to roll out Phase one of the product in Q3, and then lending protocol integration in Q4. We hope to launch many of the key features of NAOS by the end of the year. On partnerships, we are in deep discussions with our ecosystem partners to accelerate the onboarding of RWA on-chain
Bob C. (NAOS)
We will have some exciting news to share on the road
We are also planning to have staking feature in Q2, testnet launch in Q2 and mainnet launch in Q3.
So we will have more interactive feature to community
Polkastarter
That's lots of big things on the horizon, look forward to tomorrow's IDO — which of course is just the start
Could you please share with our community the NAOS website and social media channels, so they can make sure to follow you and be kept up to date on your progress?
Bob C. (NAOS)
Website: https://naos.finance/
Medium: https://naosfin.medium.com/
Twitter: https://twitter.com/naos_finance?lang=en
Telegram Main: https://t.me/naos_finance
Telegram Announcement: https://t.me/NAOSFinance
Viet: https://t.me/naos_finance_vn
Thai: https://t.me/naos_finance_thai
Chinese: https://t.me/naos_finance_chinese
Turkey: https://t.me/NaosFinanceTurkey
Korea: https://t.me/NaosFinanceKorea
Spain: https://t.me/NaosFinanceSpain
Russia: https://t.me/NaosFinanceRussia
Portuguese: https://t.me/NaosFinancePortuguese
Discord: https://discord.gg/PBkgp2bb
LinkedIn page: https://www.linkedin.com/company/naos-finance-defi
Polkastarter
Great, thank you Jeannice and Bob. Let's open the chat for a brief window to give our community a chance to ask their questions, and don't forget, that after the AMA NAOS will choose the best question and hand out one allowlist spot for their IDO TOMORROW (don't forget you will need to KYC fast and on time).
@zaytsev_m1
If there really are great DeFi loan platforms that are recognized, then why create one more loan platform? Or is it that your competition has a problem that limits taking advantage of the full potential of DeFi loans? If so, what would that limitation be?
Jeannice Tse (NAOS)
We have great respect for the other projects in the space. We're fundamentally different in terms of business models and capabilities, NAOS is the only project with financing licenses in 4 countries, and access to large scale of investment grade assets!
@cksxxbee
So far, I saw your project(NAOS) that is connecting asset from the real world to blockchain. The question is Opposite, did you have any plan that connect  asset from blockchain to reality?
I saw many project that always bring asset from Cash to Cryptocurrency, but rarely see people go to do opposite. That is like lend BTC borrow USD HKD TWD
what's the reason? If possible, would the market be massive?
Bob C. (NAOS)
DeFi and CeFi can be considered as a two way street. Moving CeFi's assets to DeFi as the main goal, and on the other hand, DeFi provides liquidity to CeFi. We are aiming to be the bridge between these two worlds. NAOS plays a role of as commercial bank, which provides the liquidity from MakerDao or Compound to CeFi borrowers. As a central bank, MakerDao's model of "printing banknotes" in a low-cost manner has been verified. Dai has also become the mainstream stablecoing in the market. However, the biggest problem currently facing is the stability of TVL and the RAW provided by NAOS with the characteristics of stable interest income and stable asset value can solve this problem.
As for how to introduce real-world funds into DeFi, this is a topic that all DeFi projects are working on. During this time, we have begun to see virtual currencies begin to be accepted in the traditional market, from Tesla, BlackRock, and Goldman Sachs. , Square, Paypal, Visa and other traditional corporate giants. We believe that in the future, the continued low interest rate from traditional financial market and inflation will accelerate the process of moving RWA entering DeFi. NAOS is building a financial platform based on real assets, paving the way for the next step of DeFi.
@igor749
NAOS is a DeFi Lending Protocol for real-world assets. This is very interesting to me. My question is, what are the real world assets that fall under the Naos lending protocols? How secure is it to merge loans in local FIAT currencies with cryptos? Is Naos 100% decentralized?
Bob C. (NAOS)
Assets are provided by our asset origination partners situated all around the world. These assets comprise of corporate and institutional debt similar to accounts receivables and purchase orders but may also include supply chain and inventory financing.  Our team is actively working with other asset originators in order to bring a diverse set of assets onto the chain. We think this is just the start. As more and more traditional real world companies begin seeing the value that the blockchain can unlock, we think its only a matter of time before we start seeing the flood of businesses. The assets will have different contract terms, and the asset portfolio will be managed so that we are onboarding assets continuously to generate returns for the investors
@Natalia084
I have been reading a bit about the benefits of lending money and borrowing within NAOS Finance,but there is something that I am not clear, are these loans that NAOS offers are loans with guarantees or are they loans without guarantees?Which concept of loans best identifies NAOS?
Bob C. (NAOS)
we take great precaution when handling risks.
1. all of the real world assets are 100% insured
2. we have designed a insurance staking mechanism to add another layer of protection
NAOS token is a governance token, it's NOT a security token, so there is no direct correlation between the token price and the assets.
the assets we onboarded will be tokenized into NFTs, and be held in a trust, in the case of default, liquidation will immediately and independently happen at the trust to ensure the safety of the funds provided by lenders
@Roger_bitcoin
Southeast Asia is a very vibrant market and many project developed here so with NAOS what do you think about Southeast Asia and do you have any plan to develop here?
Jeannice Tse (NAOS)
Absolutely! We have licenses in Indonesia so already active there. And I'm Singaporean so that area is my jam!
@vanluc102
What is your most ambitious goal in your #Naos project? We would appreciate it if you could share with us any upcoming updates of this #Naos project !?
Jeannice Tse (NAOS)
We have so many! Our team is creating a decentralized financial network that:
▹ Enables the origination and funding of loans without traditional intermediaries
▹ Instills full transparency in the previously opaque risk assessment and loan application process
▹ Breaks the geographic boundaries for lenders and borrowers to transact in a borderless fashion
▹ Transfers financial value (interest spreads, service fees) from financial institutions to lenders and borrowers
▹ Offers the best interest rate on any comparable loan of the same risk profile and terms
▹ Transfers custodial ownership of accounts from financial institutions to individuals
▹ Democratizes irrefutable and immutable loan performance data that was held closely by centralized institutions
▹ Solve the issue of overcollateralization in the DeFi space by leveraging safe, stable and insured assets off-chain to back our investor's on-chain activities.
▹ Accelerates the growth of the overall DeFi ecosystem with real world applications
@Fabio_45
Marketing is the leading factor that helps the project thrive. So what is your strategy to attract customers and developers to NAOS Finance in the long term?
Bob C. (NAOS)
We will have
1. staking
2. bounty hunt
3. competition, actually there is one now, please come to our channel to check. We need someone to design our logo. There is a big reward.
4. airdrops
However, please be aware, there are scammers around
@Vladyslv
NAOS Finance's customers are individuals and small and medium businesses. So what about big businesses? NAOS Finance can meet the needs of this customer?
Jeannice Tse (NAOS)
Our borrowers are SMEs and to a smaller extent large companies. We are working with a large supply chain finance company now. Honestly, large companies have less difficulty getting traditional financing from banks. And we also believe in helping SMEs, because it makes a difference to them
Polkastarter
CONGRATS @Natalia084 — the NAOS team chose your question for the Airdrop. The NAOS team will contact you in PM about airdrop details
🎉🎉🎉🎉🎉
And thank you Jeannice and Bob for your time and for the illuminating answers on NAOS. Really looking forward to the launch of $NAOS tomorrow, and to welcome you to the Polkastarter Family and continue working together in the future to bring real-world assets on-chain 💫💫
Bob C. (NAOS)
Thank you for hosting us
Thank you to all the Polkastater community and team
Jeannice Tse (NAOS)
Thank you everyone for having us!!!!!!!!
Super psyched for tomorrow's IDO!
and thank you for the support!
Polkastarter
Thanks to everyone for tuning in. This will be the end of this AMA, thank you all for joining us! The chat will now open back up.
Polkastarter Blog - Latest Polkastarter News & Updates Newsletter
Join the newsletter to receive the latest updates in your inbox.
---