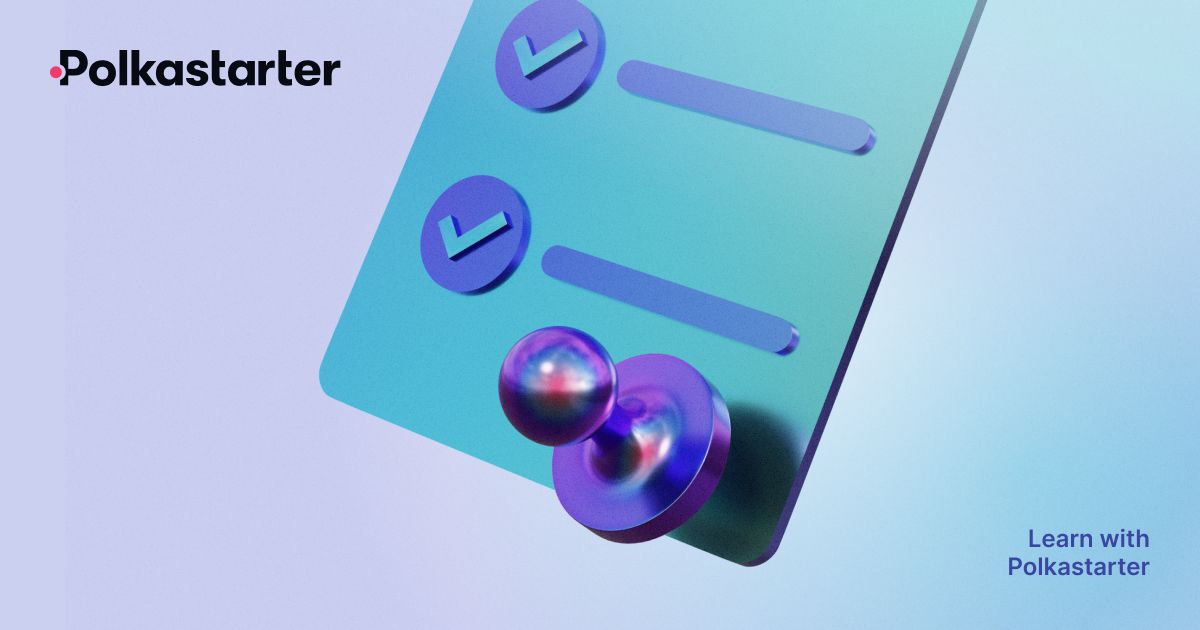 How to Participate in a Polkastarter IDO
Answering your questions about Polkastarter IDO allowlisting rules and how to participate in a Polkastarter IDO.
At the end of April, we announced that on May 10, 2021, the rules for Polkastarter allowlisting would change. Since then, we've seen some questions from the community about the new rules and how they affect the process of participating in an IDO.
Now, with the launch of Polkastarter v2, we've brought it back to square 1 and we've written down the entire process to answer the question: how exactly do I participate in a Polkastarter IDO?
Step 1: Learn about upcoming IDOs
Since launching Polkastarter V2 in October 2021, the absolute easiest way to learn about upcoming IDOs is on our website. Just keep an eye out for new "Upcoming IDOs" on polkastarter.com and follow their status right there.
The new Project Pages on our website include everything you need to know about our current Polkastars and upcoming projects. You can dive into the product, the team, the roadmap, understand their business models better and a lot more in between, making your IDO discovery process easier than ever.
Another great way to learn about upcoming Polkastarter IDOs is on our socials. Keep up with our Twitter and Telegram for announcements, and check in regularly to our blog for more information.
Step 2: Find a project and apply to allowlist
Once you've found an upcoming IDO you'd like to participate in, the next step is for you to get allowlisted, meaning your address will be eligible to participate in the IDO. Each project will have a bucket of addresses from which they will choose at random a smaller group of addresses to become allowlisted.
Our website features a dedicated section for all your allowlisting needs. You will be able to do everything having to do with allowlisting (discovery, info, application) directly on our website.
There are three ways to become eligible for allowlisting:
Hold POLS in your wallet for a minimum of 7 days; or
Hold POLS liquidity provider tokens on Uniswap or PancakeSwap for a minimum of 7 days; or
Stake POLS on our new dashboard. This grants instant access to allowlist eligibility, but locks your tokens for 7 days.
Counting from both supported chains, Ethereum and Binance Smart Chain.
POLS Power
A new concept introduced with Polkastarter V2 is POLS Power. Any source (POLS in wallet, staked POLS, or LP tokens) counts towards your POLS Power. For every 250 POLS Power you collect, you have one entry in the lottery for every allowlist you apply for.
So, if you have, for example, 750 POLS Power, you will have 3 tickets to your name when you submit your address to be allowlisted. Because projects choose allowlisted addresses at random, the more tickets you have, the greater your chance of being selected.
POLS Power can be combined with both Ethereum and BSC.
Get to know more about how to buy POLS here.
⚠️ NOTE: You're not exchanging POLS for tickets; the number of POLS you own just represents "tickets" for the allowlisting process. You can only win once in every lottery, and more tickets equals higher chances of winning.
POLS Tiers
To further incentivize holding and staking the POLS token, not only do you receive tickets for every 250 POLS Power you accumulate, but the more tickets you have, the more they are worth. We have 5 different POLS tiers as outlined below.
250+ POLS Power = 1.0x — Every ticket is worth 1 ticket
1,000+ POLS Power = 1.1x — Every ticket is worth 1.1 tickets
3,000+ POLS Power = 1.15x — Every ticket is worth 1.15 tickets
10,000+ POLS Power = 1.20x — Every ticket is worth 1.20 tickets
30,000+ POLS Power = 1.25x — Every ticket is worth 1.25 tickets & No Cooldown

⚠️ NOTE: All POLS, held in your wallet or staked, as well as LP tokens, are combined from both, Ethereum and BSC, into one POLS Power balance.
Providing Liquidity
If you provide liquidity to the ETH-POLS pool on Uniswap or on BNB-POLS on PancakeSwap, your LP tokens will also be counted towards your overall POLS Power. Each ETH-POLS LP token is the equivalent of 100 POLS. Each BNB-POLS LP token is the equivalent of 20 POLS. Therefore, the 250 POLS required for a ticket is equal to 2.5 LP tokens and 12.5 LP tokens respectively (subject to change).
➡️ Can I hold LPs and POLS for combined POLS Power? Yes! As long as your POLS and your LP tokens are in the same wallet (even across chains), they will each generate tickets to increase your chances of successful allowlisting.
Do I have to allowlist for each separate project? Is there a universal Polkastarter allowlist? Yes, you have to get allowlisted for each separate project's IDO. But since our V2 launch, things have gotten incredibly streamlined and it takes no more than a minute to apply.
If I want to participate with a BSC wallet but have my $POLS on Ethereum, is that possible? Yes, you can hold $POLS on either your Ethereum or BSC wallet and participate in any sale on Polkastarter (if you are allowlisted).
Two more important things to note about POLS, tickets, and allowlists!

1) You're not exchanging POLS for tickets; the amount of POLS Power you own just represents "tickets" for the allowlisting process.
2) Each address can only be selected once for a project allowlist (i.e. you can't get double your allocation if your address is drawn twice, the duplicate just won't count)
Staking
Our new staking feature will initially be available on Ethereum and BSC and will enable holders to stake their tokens on-chain, instead of keeping them in their wallets, bringing about a number of benefits:
Immediately clear if you are eligible to participate in an IDO or not
Immediately eligible after staking your POLS
Instead of waiting for 7 days until you're eligible, your POLS will be locked for 7 days instead
After that, withdraw any time if you'd like
Step 3: Submit KYC and Participate in the IDO
Once you've submitted your allowlist application, you will need to wait for the allowlist window to close and for the team to process all the requests. After all applications have been processed, the project team will provide the eligible and fully verified applicants list (who have passed KYC) to Polkastarter. Polkastarter then conducts a final allowlist lottery based on everybody's POLS Power.
Allowlisted addresses will then need to complete verification. KYC is completed to ensure the project launches fairly, no bots have been allowlisted by accident, and to ensure compliance with regional regulation.
Once KYC is completed, participants wait for the launch date and time of the IDO. IDOs are first come, first serve. It is up to the projects to determine how many people they allowlist, and depending on that number, your chances of successfully participating in an IDO may be higher or lower. You can participate in an IDO on either Ethereum or BSC; ensure you have sufficient funds in your wallet prior to the IDO so you're ready to go. All IDOs will occur only on the official Polkastarter website.
Learn more about the KYC process for Polkastarter IDOs here.
The Cooldown Period
If you successfully participate in an IDO, the wallet you used to purchase the tokens will be placed on a cooldown period of 7 days. During those 7 days, you will not be allowlisted for another IDO. This is to ensure fairness across the ecosystem. Remember that POLS need to be held or staked for a minimum of 7 days to become eligible. This is to avoid gamification of our system.
The cooldown period only applies to members who successfully participate in an IDO - i.e. exchange funds for the project's token. If a participant is successfully allowlisted but for one reason or another does not participate successfully in the sale, no cooldown period is implemented, and they can immediately reapply for a allowlist spot in another project.
And that's it!

If you've been with us for a while, you'll know the allowlisting rules were different a few weeks ago. If you're interested in learning more about that switch, see here.


Connect with us and learn more about Polkastarter

Website | Twitter | Discord | Telegram | Instagram | Youtube | Newsletter

Polkastarter Blog - Latest Polkastarter News & Updates Newsletter
Join the newsletter to receive the latest updates in your inbox.
---