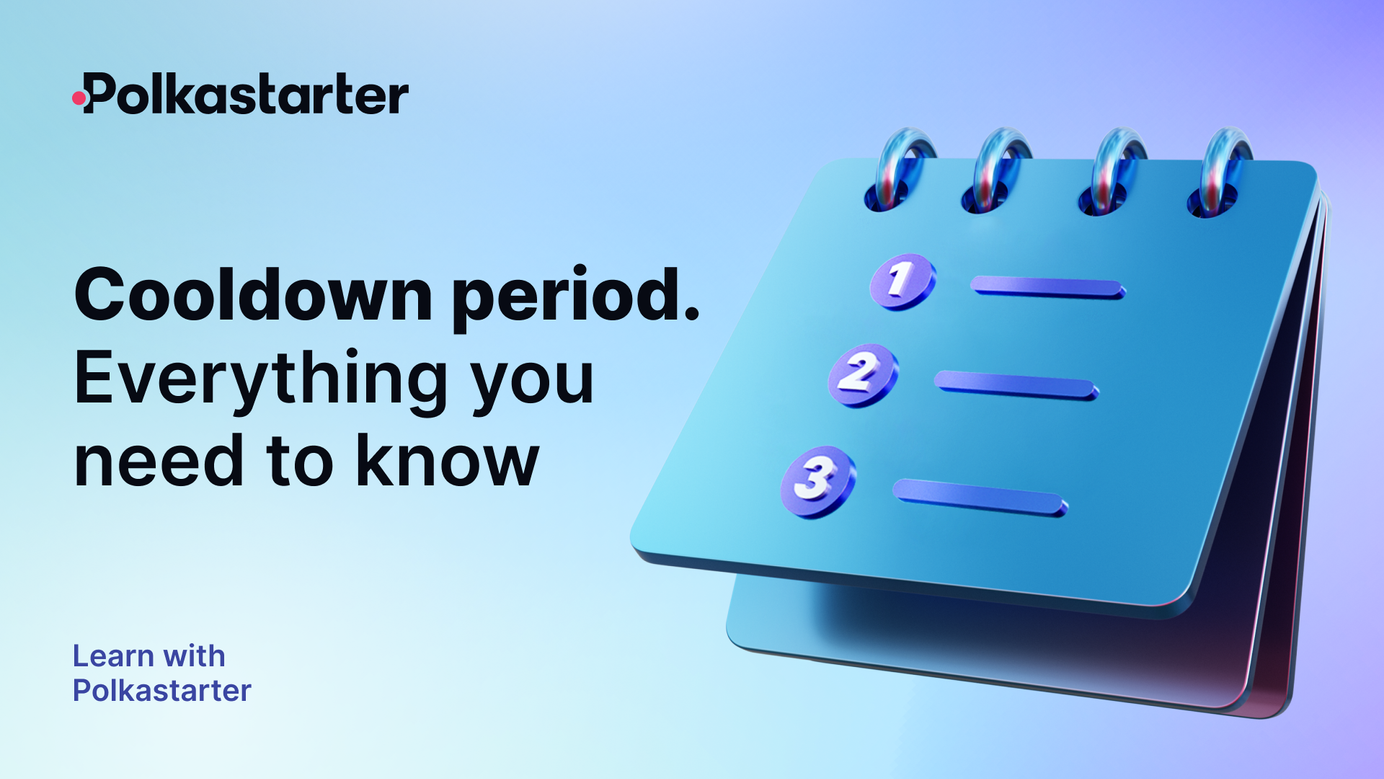 Cooldown period — Everything you need to know
What to expect when applying to more than one IDO

We've been keeping you busy the last few weeks - there are tons of new IDOs launching on Polkastarter. That's great because you can apply to many exciting projects. But it has also raised some questions about our cooldown period.

This article will tell you all about our cooldown period, so you know what you can expect when you apply to many IDOs in the same week.

Here are the answers to all your burning questions:

Why create the cooldown period in the first place?
The cooldown period ensures fairness across the ecosystem.

With the cooldown, successful participants will not be able to join other sales for 7 days, giving a HIGHER chance to those who were previously unlucky.

Do I enter a cooldown period immediately after being allowlisted?
NO.

The cooldown period ONLY begins once you have ALLOCATED FUNDS to an IDO. Hence participating in the project.

If you have not allocated funds, NO cooldown applies.

When does the cooldown begin?
It starts when you allocate funds to a project.

For example, Humans IDO was at 3 pm UTC Dec 9. Those who got allowlisted & entered the IDO by allocating funds to Humans were required to follow a cooldown period that started at/just after 3 pm UTC, December 9.

Can you avoid the cooldown period?
Only 30.000 POLS holders and Paulie NFT owners enjoy 'no cooldown period'.

If your POLS staking account is currently on a 7-day Cooldown and you top it up to 30K pols, your account will come out of cooldown after 6 hours IF the lottery is generated after your top-up.

Here are three case studies to give you an idea of how exactly the cooldown period works:
You get allowlisted on the 11th for IDO #1.
On the 12th, you get allowlisted for IDO #2.
IDO #1 and #2 sales happen on the 13th and 14th, respectively.
Would you still be able to participate in both? YES!

If you get allowlisted for IDO #1 on the 11th.
IDO #1 sale is on the 12th, and you participated successfully.
IDO #2 allowlist opens on the 13th.
Can you get allowlisted for IDO #2? Yes, but only if IDO #2 sale happens 7 days after IDO #1 sale.

If you applied to more than 1 project and got pre-selected, will you get selected for the others?

If you do not allocate funds to the 1st project, you're ABLE to participate in the others.

If you allocated funds, you have to WAIT 7 days until you can win the next one.



Do you have any more questions?
Ping us on Twitter, so we can answer them ASAP.
Wish you luck in participating in all the IDOs.

About Polkastarter
Polkastarter is the fully decentralized launchpad to launch new ideas in the blockchain and digital assets space. With an industry-leading curation process and market access, we select the most innovative projects in the space and offer them long-term support after their IDOs.

With Polkastarter, crypto projects can increase their reach, grow their communities and receive support from crypto's most well-versed experts. IDO participants, on the other hand, are offered an opportunity to invest in a secure and compliant environment, as well as participate in IDOs not solely on Ethereum, but also on Binance Smart Chain, Polygon and Celo.

Media Contact Polkastarter: [email protected]
---
Connect with and learn more about Polkastarter
Website | Twitter | Discord | Telegram | Instagram | Newsletter | Youtube
Polkastarter Blog - Latest Polkastarter News & Updates Newsletter
Join the newsletter to receive the latest updates in your inbox.
---