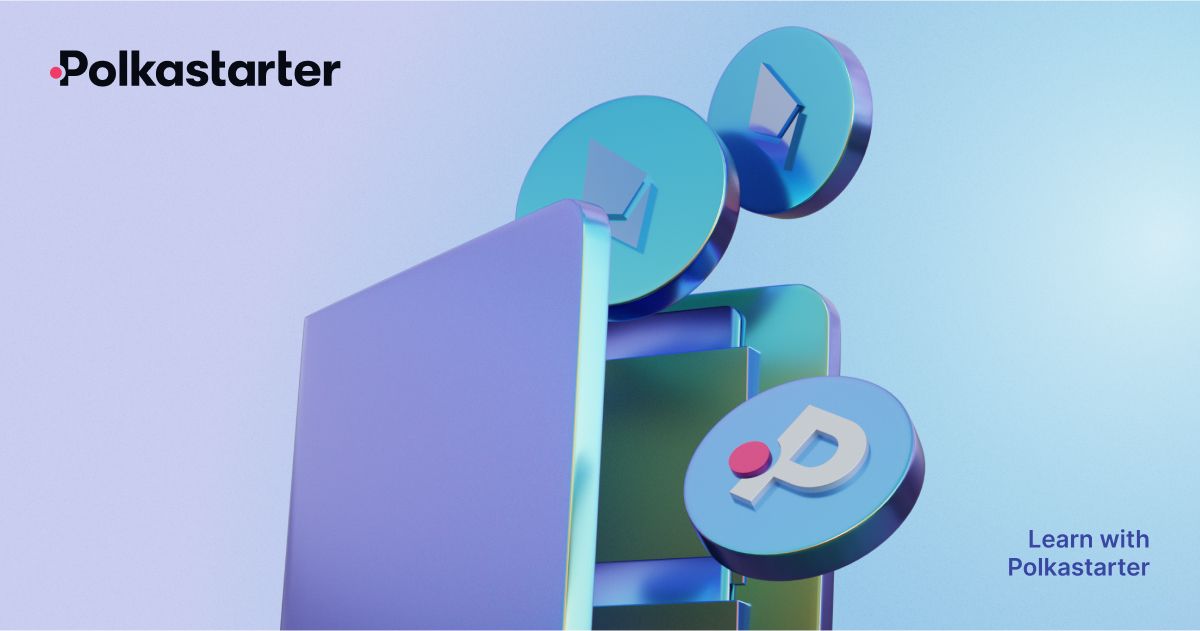 How to buy the Polkastarter $POLS token
All the options you have for securing a bag of POLS and gaining allowlist eligibility.
Hello and welcome to another tutorial! In this article, we will be detailing all the options you have to purchase $POLS, the native Polkastarter token. No matter whether it is BTC, ETH or USDT that you have access to, all three will enable you to get your hands on a POLS bag.

Why buy POLS? The Polkastarter utility token plays a critical role in the Polkastarter ecosystem, giving you access to pools and our upcoming staking feature. On top of that, holding POLS enables you to directly participate in the governance of our project and determine the direction of the protocol.
To be more specific, when it comes to access to pools, holding POLS is a prerequisite for allowlist eligibility. Everybody who wants to participate in a Polkastarter IDO must hold at least 250 POLS in order to enter the allowlisting raffle. 250 POLS = 1 Ticket

The more POLS you own, the higher your chances of getting allowlisted. For more details on how the progressive allowlisting system works, you can read more here.

For now, let's focus on getting your first bag.
---
Step 1 - Buy your first cryptocurrency or use Crypto.com

In order to be able to buy $POLS, you should first own one of the major cryptocurrencies - Bitcoin or Ethereum. You can also opt for USDT, which is a crypto-native USD equivalent or a so-called stablecoin. You can skip this step if you already own any of the above three. Alternatively, you can also directly buy POLS with fiat currencies (USD, EUR, GBP, etc) on Crypto.com.

Just recently, Crypto.com enabled the feature of buying POLS directly with 20+ fiat currencies, including USD, EUR and GBP. You don't need to pre-purchase any of the larger cryptocurrencies in order to buy POLS this way. You can easily do it with your credit or debit card by heading to the Crypto.com website.

If you don't want to use Crypto.com, you still have plenty of options to buy Bitcoin, Ethereum or USDT as there are many reputable exchanges selling these for fiat money. Some examples are Coinbase, Binance, Gemini, KuCoin, Huobi, Kraken, but there certainly are a lot of other options as well. Buying Bitcoin or Ethereum on any of those is super easy and shouldn't take too long, depending on the time it takes to deposit some cash into your wallet.
If you want to buy Ethereum, you can also do that through MetaMask. MetaMask is a cryptocurrency wallet and a web browser extension for Chrome, Firefox and Brave. It is used to securely store, send and receive Ethereum or ERC20 (Ethereum token standard) tokens. In other words, it allows you to participate in the Ethereum network and make transactions.
For that, head over to the MetaMask website and follow the easy instructions to set up your wallet. Once you've completed this step, open the extension and select 'Buy' from the menu of your newly-created Ethereum address. You'll then be redirected to Wyre, where you can buy Ethereum with a debit card.
Option 1 - Trading Bitcoin, Ethereum or USDT for POLS on Centralized Cryptocurrency Exchanges

Centralized exchanges act as the middle-man for crypto transactions. Consider them as your crypto broker. You can easily deposit fiat money into exchanges and then buy the main cryptocurrencies with that cash.

Polkastarter's POLS token is available on multiple exchanges, most notably Binance, Huobi, KuCoin and Gate. Here is a full list, including trading pairs.
For the full list of exchanges and trading pairs you can also check Coinmarketcap and Coingecko, the two most reputable sources of token information.
Option 2 - Buying POLS on a Decentralized Exchange (DEX)

Decentralized exchanges allow for peer-to-peer transacting to safely and securely take place on the blockchain. Unlike on centralized exchanges, there is no intermediary and the tokens you get are provided by another user like yourself.

You have two options here - Uniswap, Ethereum's largest DEX and PancakeSwap, Binance Smart Chain's largest DEX. For either one, you'll need to have a MetaMask account - see Step 1 for setting that up.

POLS on Uniswap

In order to buy POLS on Uniswap, you'll need to have Ethereum or another ERC-20 supported token. Step 1 above goes into the details of how you can purchase Ethereum in case this is your first time buying any cryptocurrency.

Once your MetaMask wallet has ETH, head over to the Uniswap app and connect your MetaMask wallet to the app with the button in the top right corner. Make sure that the selected network on MetaMask is Ethereum Mainnet, otherwise you won't be able to complete the swap.
From the Swap menu, select ETH in the upper box and then POLS in the second box underneath. Can't find POLS? Manually import it to the list of tokens by pasting the Polkastarter Ethereum address into the search box.

Polkastarter Ethereum Address: 0x83e6f1e41cdd28eaceb20cb649155049fac3d5aa

Select the amount you want to swap, click on 'Swap', then 'Confirm Swap' and follow the steps in the MetaMask pop-up to complete the transaction.

POLS on PancakeSwap

First things first - head over to the PancakeSwap website. The process here is vastly similar to the one outlined above. You'll notice that the interface of both DEXes is nearly identical too. The only difference is that you will be using the Binance Smart Chain to complete the swap (learn how to add BSC to the list of networks on MetaMask here). For that you will need to own BNB, the native token of the Binance Smart Chain, similarly to ETH being the native token of the Ethereum Network.

To trade BNB or any other BSC-compatible token, you'll first need to Connect your MetaMask to PancakeSwap (top right corner). Once you've done that and added Binance Smart Chain to the available networks (see above), make sure you've selected 'Smart Chain' from the network list dropdown menu. Even if your MetaMask is set on Ethereum or any other network, by clicking on 'Connect Wallet' MetaMask will typically ask you whether you want to switch over to Smart Chain.

All good? Now head over to the 'Trade' menu on the left-hand side and onto 'Exchange'. You should be seeing something like this:
Now, in the upper 'From' box, select BNB. In the lower 'To' box, search for POLS. If it is not there, you can import it manually by pasting our BSC address into the search box.

Polkastarter Binance Smart Chain Address: 0x7e624fa0e1c4abfd309cc15719b7e2580887f570

You can now select the amount you wish to swap, then click 'Swap' and follow the necessary steps to complete the transaction.
Option 3 - Buy POLS on Coinbase

$POLS is live on Coinbase.com and in Coinbase iOS & Android apps! Now, you can buy/sell POLS directly on Coinbase.

Learn more about trading pairs and countries' restrictions here.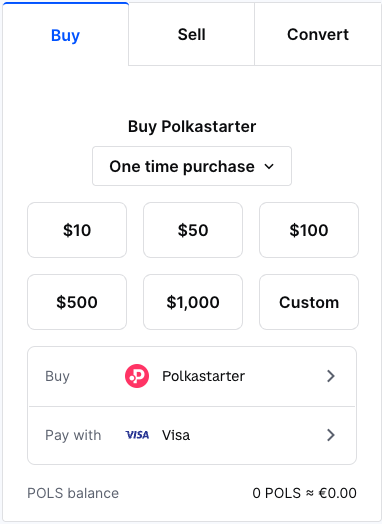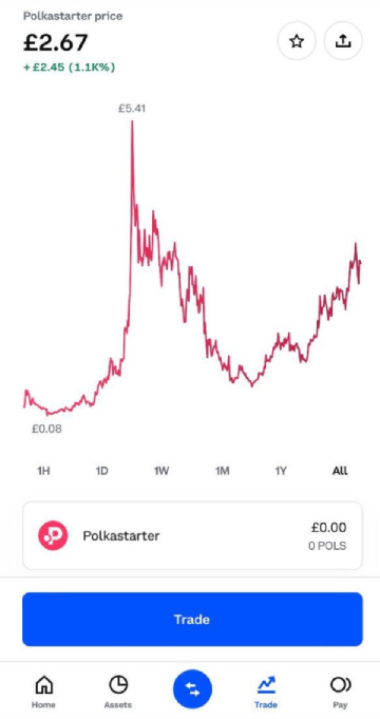 ⚠️ Note: Coinbase currently only supports POLS running on the Ethereum blockchain (ERC-20).

Option 3 - Buy POLS on Kraken

$POLS is also live on Kraken and the Kraken Pro interface! Now, you can buy/sell POLS directly on Kraken (USD or EUR).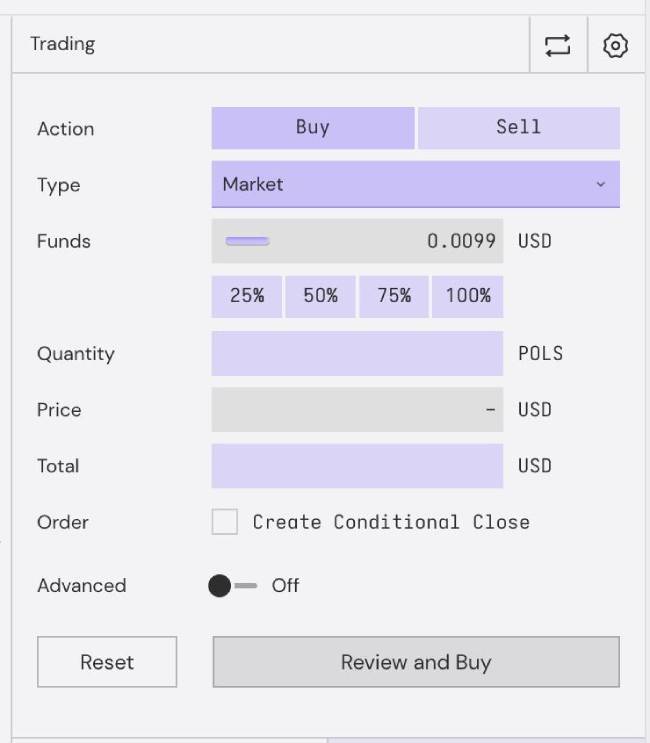 ---
And that is it, congratulations! You should now be a proud POLS owner, ready to get allowlisted for the next big thing in crypto.

About Polkastarter
Polkastarter is the fully decentralized protocol for launching new ideas. Our curation process and industry access enable us to offer the best new projects in blockchain and digital assets. With Polkastarter, decentralized projects can raise awareness, build a loyal community, and receive long-term support. Users of the platform will be able to participate in a secure and compliant environment and use assets both in and beyond the current ERC20 standard, namely BNB and Polygon (MATIC) tokens.

Connect with us and learn more about Polkastarter
Website | Twitter | Discord | Telegram | Instagram | Youtube | Newsletter

Polkastarter Blog - Latest Polkastarter News & Updates Newsletter
Join the newsletter to receive the latest updates in your inbox.
---