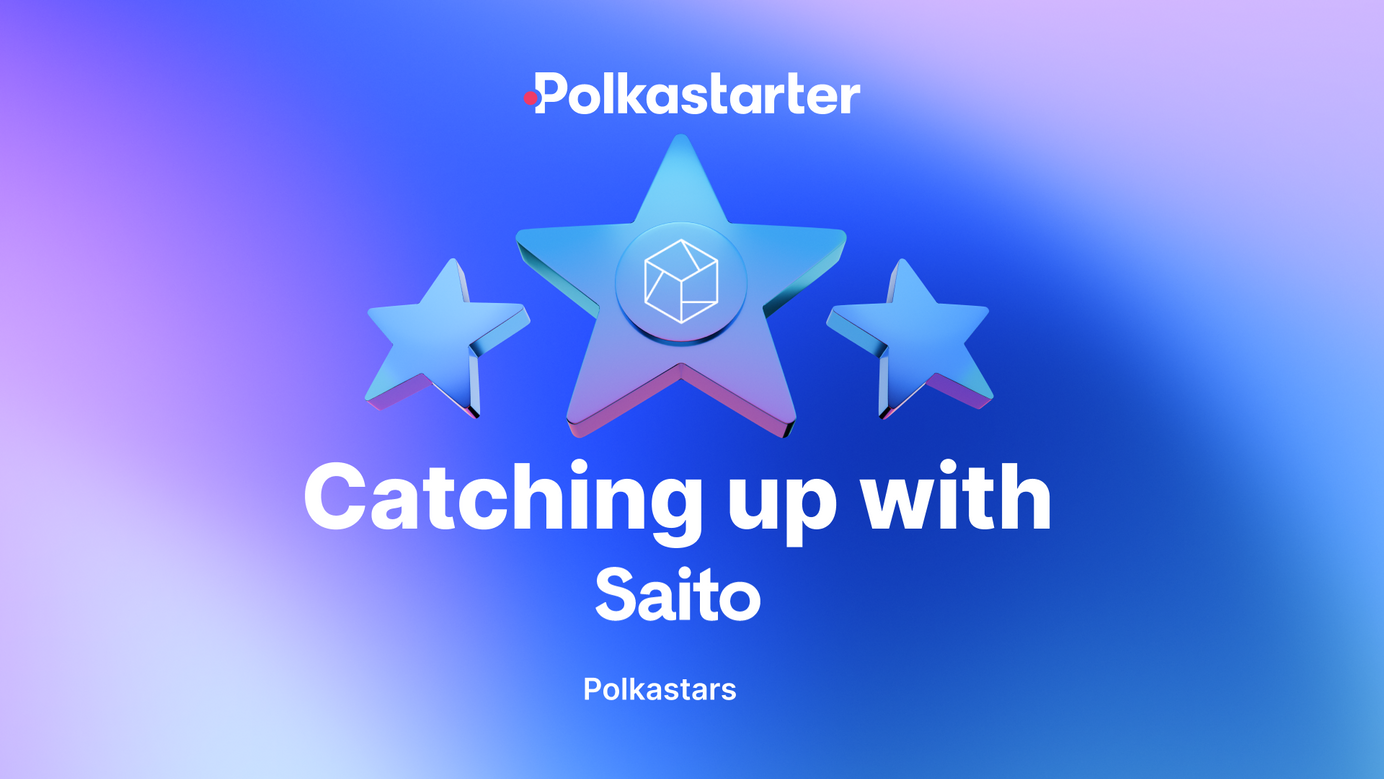 Catching up with Polkastars: Saito
The web 3 scaling solution has been growing ever since its IDO on Polkastarter
Our Catching up with Polkastars series shows the progress our projects have made post-IDO. You have read about crypto gaming platforms like Exeedme, DeFi networks like Unmarshal, and NFT marketplaces like Refinable.

In today's article, we will talk about Saito (SAITO.) Here's a quick recap of the project. Saito is a layer 1 (L1) scaling solution. It's an open network that runs cryptocurrency apps in browsers without the need for using any plugins, APIs, or other infrastructure.

The way it works is that Saito pays the nodes in its P2P network instead of giving users fees to miners of stakers. With this approach, Saito creates a permissionless scalable network that can power decentralized applications. It prevents the creation of a staking or mining monopoly that controls its network layer.

Let's see what Saito has been up to 8 months after its launch on Polkastarter. The IDO was simply the start of our partnership, so keep an eye out for future collabs.

What did Saito achieve after the IDO?
Saito's team has been focusing on building its community with strong core messaging and providing lots of ways to participate. Saito's community hasn't just grown, reaching more than 30,000 followers on Twitter, it's also one of the most active and supportive in the industry. Check out the links below to see for yourself.

Saito has also continued to build its brand. They had two recent announcements:

Saito Polkadot Arcade
Saito has completed their web3 foundation open grant.  The results are visible in their browser-based game portal that supports Polkadot tokens like $DOT, $KSM and $WND. With the Saito Polkadot Arcade, you can play traditional games like poker, chess, and others like Twilight Struggle, Wordblocks, Red Imperium. Check them out here.

The goal of Saito Polkadot Arcade is to show how Polkadot developers can build web3 applications with Saito. It demonstrates that using Saido to run DOT applications will offer a better user experience than using external plugins like MetaMask.

Over 40 million SAITO wrapped on the Binance Smart Chain (BSC)
Saito launched a community pancakeswap liquidity program, and it already has over 40 million SAITO tokens wrapped on the BSC. That's more than impressive! There are over 45% APR liquidity provider rewards available to the community. Good for you, SAITO liquidity providers!
You can also join the program by providing liquidity into the SAITO/BUSD pool on PancakeSwap. Saito will guarantee minimum liquidity, but it will allow community members to participate, so they can maximize their profits.

What's next for Saito?
The Saito team is growing fast with a variety of positions open right now. The next steps on Saito's roadmap include its Rust client that will join the network pretty soon, with the upgraded javascript client having been deployed to prepare the road. There would be a short transition period to avoid any problems that might disrupt the growth of the network. Saito will be releasing new games into the Saito Arcade with better gameplay.

Also, Saito will keep focusing on expanding its liquidity and trading options. The transaction volume will be increased by adding crypto integration to the platform. Saito's team plans to begin the development of an advertising ecosystem. The initial staking allocation for this ecosystem will be low, so it won't disrupt the rest of the network.

These announcements perfectly align with Saito's goal to extend the era of web3 support and bring low-fee support for integrated cryptocurrencies into the Saito Arcade and other Saito apps.

If you want to hear more about Saito, check out their site, whitepaper and social media:
👉 Whitepaper
👉 Twitter
👉 Medium
👉 Telegram
👉 Discord


About Polkastarter
Polkastarter is the fully decentralized launchpad to launch new ideas in the blockchain and digital assets space. With an industry-leading curation process and market access, we select the most innovative projects in the space and offer them long-term support after their IDOs.

With Polkastarter, crypto projects can increase their reach, grow their communities and receive support from crypto's most well-versed experts. IDO participants, on the other hand, are offered an opportunity to invest in a secure and compliant environment, as well as participate in IDOs not solely on Ethereum, but also on Binance Smart Chain, Polygon and Celo.

Media Contact Polkastarter: [email protected]
---