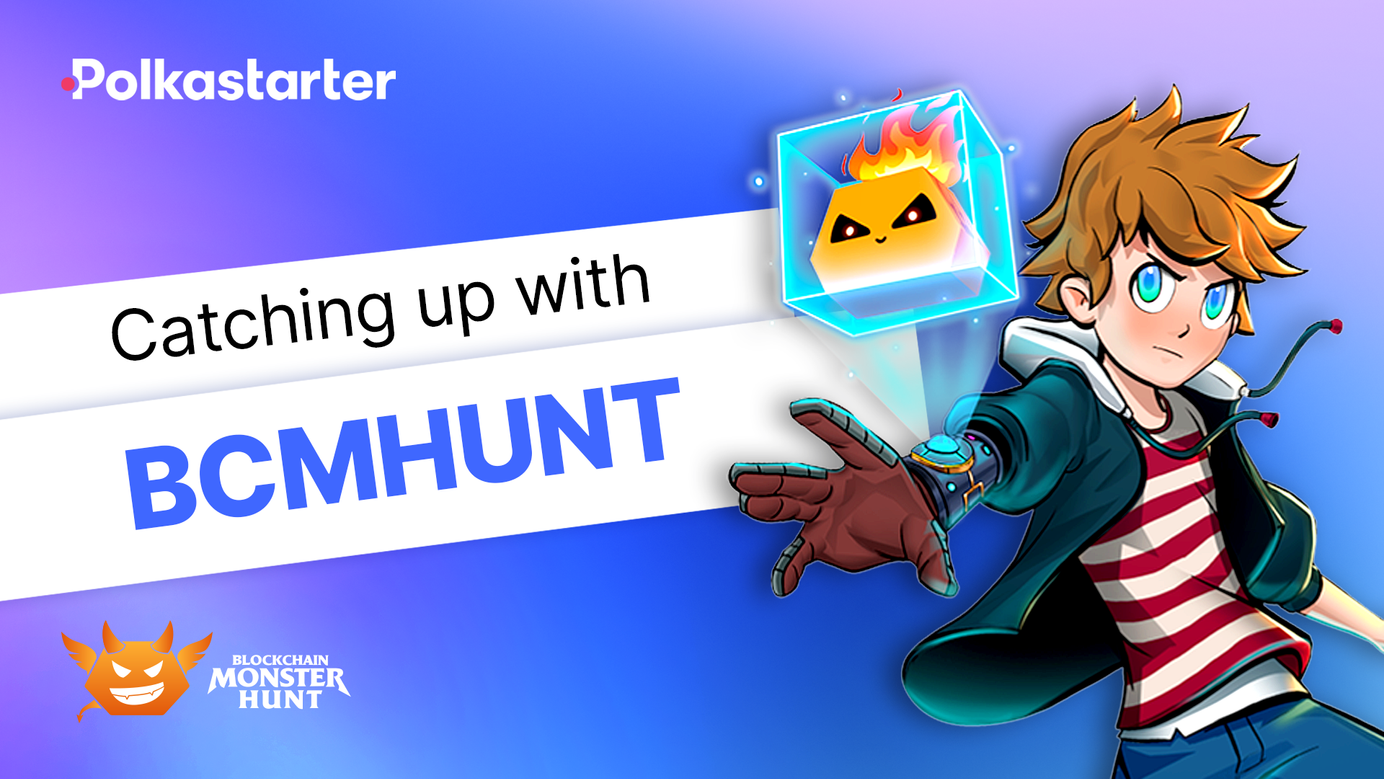 Catching up with Polkastars: Blockchain Monster Hunt
The first multi-chain NFT collectible game that runs completely on-chain
We're back with one more installation of our "Catching up with Polkastars" series where we reach out to projects that have had their IDO with Polkastarter to check on their progress, updates and evolution. Polkastarter has become known for helping projects take ideas to market but what has helped us stand the test of time is the deep and meaningful relationships we develop with projects. We care to see them succeed post-IDO which is why we always check in with them to see how things are going.
Today's feature stars Blockchain Monster Hunt, a play-to-earn crypto game where players continuously explore new places on the blockchain to hunt and battle monsters. It's the first multi-chain game that runs entirely on the blockchain itself. Each block on the blockchain is a unique digital space where a limited number of monsters (of the same DNA gene and rarity) may exist.
What has the Blockchain Monster Hunt team been up to since the IDO?
Let's look at some stats. Here's what the project has to show 6 months since Mainnet launch:
🕹109,185 #players worldwide
⚔️ 8,658,285 #PvEs fought
🤝18,000+ #NFTs traded
⚡️25,000+ monsters staked
Major products/features updates
The Blockchain Monster Hunt team were hard at work following the IDO, launching a bunch of interesting features
PvE
PvP
Bridging
Market Place
Game Items
Mystery Box
Daily Quest and Achievement
Social and Entertainment Map
What is the main thing Blockchain Monster Hunt wants people to use their product for?
The Blockchain Monster Hunt team wants people to join the multi-chain hunting journey in the unique multiverse of 1000+ exclusive monster species. Each monster is born with a block hash tied to a block generation. This is an experience unlike any other.
Blockchain Monster Hunt roadmap
The roadmap is ambitious, exciting, and promising. The team has no intention of slowing down, and here's what you should expect from them:
Breeding & Evolution
Native Mobile Apps
Free To Play Game Mode
Seasonal Ranking
Multiverse Land NFT
DAO Portal for Community Voting on New Features
What was the Polkastarter experience like for Blockchain Monster Hunt?
"One of the most professional and efficient partners we have had the chance to work with."
Want to learn more about Blockchain Monster Hunt?
Here are all of their relevant links:
👉 Twitter
👉 Telegram
👉 Discord
👉 Medium
About Polkastarter
Polkastarter is the leading decentralized fundraising platform enabling crypto's most innovative projects to kick start their journey and grow their communities. Polkastarter allows its users to make research-based decisions to participate in high-potential IDOs, NFT sales, and Gaming projects.
Polkastarter aims to be a multi-chain platform and currently, users can participate in IDOs and NFT sales on Ethereum, BNB Chain, Polygon, Celo, and Avalanche, with many more to come.