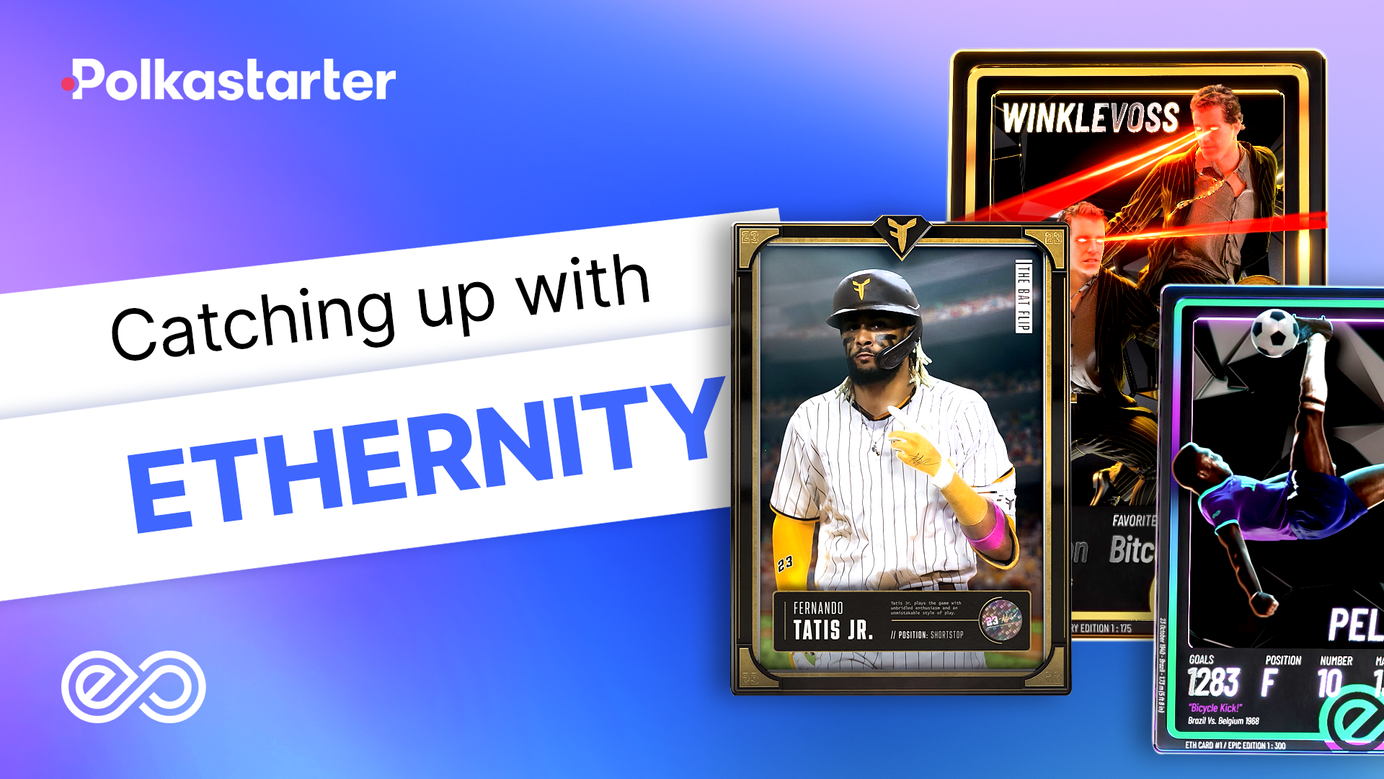 Catching up with Polkastars: Ethernity
The first NFT marketplace with verified collectibles created by top music, film, sports, and entertainment celebrities.
Another week, another catch-up with a project we hosted on Polkastarter. This week, we check on the progress of Ethernity, a community-driven NFT platform that provides you with limited-edition, authenticated NFTs.

Ethernity is a groundbreaking NFT and web3 ecosystem which offers authenticated and fully licensed artwork, collectibles, and metaverse wearables in partnership with globally recognized brands, individuals, and artists.
What has the Ethernity team been up to since the IDO?
Since the IDO on Polkastarter, Ethernity has partnered with many of the world's most recognized brands, artists, and sports stars to create an impressive library of high-quality NFT artworks, collectibles, and metaverse wearables.
Some of the most notable collections feature Lionel Messi, Shaquille O'Neal, Bruce Lee, DeLorean Motor Company, and many more. These collections can be found on the Ethernity marketplace at Ethernity.io and are available for purchase in Ethernity's native access token ERN.
The Ethernity ecosystem is also powering The Exorians Universe, a next-generation generative NFT collection consisting of 12,000 unique playable avatars. The Exorians Universe aims to redefine how media franchises are built through community involvement and ownership. The Exorians will grow into a narrative-driven comic series and AAA P2E game, beginning with the avatar collection.
Major products/features updates
The team at Ethernity always strives to push the boundaries of Web3 and Metaverse utility using blockchain technology. They stepped into the metaverse with digital wearables from top athletes like Luka Modric and drove the ecosystem forward with metaverse vehicles from The DeLorean Motor Company. They also brought NFTs to our daily environments with augmented reality features in their Spaceforce and James Dean Collections.
Ethernity has launched multiple DeFi applications, including fixed and LP staking for their native token ERN. Moreover, they introduced Stones Farming, a product that encourages ERN holders to stake their tokens in return for Stones - which can then be used to redeem exclusive branded NFTs, in-real-life and virtual experiences, and merch.
Their most recent advancement has been NFT staking for their first NFT artwork, the Ethernity Genesis: Satoshi NFT, where holders can stake their NFT in return for ERN.
They're also in the final stages of developing their mobile app, a next-generation experience for collectors to interact with their favorite brands in the palm of their hands. The Ethernity ecosystem will act as a Web2 to Web3 bridge, allowing a broader audience to enter the NFT and Ethernity ecosystem.
Join the Ethernity Community
Ethernity encourages everyone to visit their marketplace and explore their multiple collections with the world's best-known brands, individuals, and all of their Defi applications.
They will also be launching their Ethernity HQs across multiple metaverses in the coming days alongside the mobile app, so make sure you follow them across all of their socials and join the growing community on Discord and Telegram to keep up to date.
Ethernity Roadmap
The goal of the Ethernity team is straightforward and ambitious: create the most extensive collection of licensed NFTs and virtual experiences in the web3 ecosystem. They're developing multiple products to ease consumers' barriers to entry into the web3 space, including their upcoming mobile app. They're also actively partnering with brands, individuals and studios to create collections that people will be excited for.
They are also building many products on their website and marketplace that will redefine how consumers collect NFTs and collectibles from their favorite brands.
Want to learn more about Ethernity?
Here are all of their relevant links:
👉 Twitter
👉 Discord
👉 Telegram
👉 Medium

About Polkastarter
Polkastarter is the leading decentralized fundraising platform enabling crypto's most innovative projects to kick start their journey and grow their communities. Polkastarter allows its users to make research-based decisions to participate in high-potential IDOs, NFT sales, and Gaming projects.

Polkastarter aims to be a multi-chain platform and currently, users can participate in IDOs and NFT sales on Ethereum, BNB Chain, Polygon, Celo, and Avalanche, with many more to come.