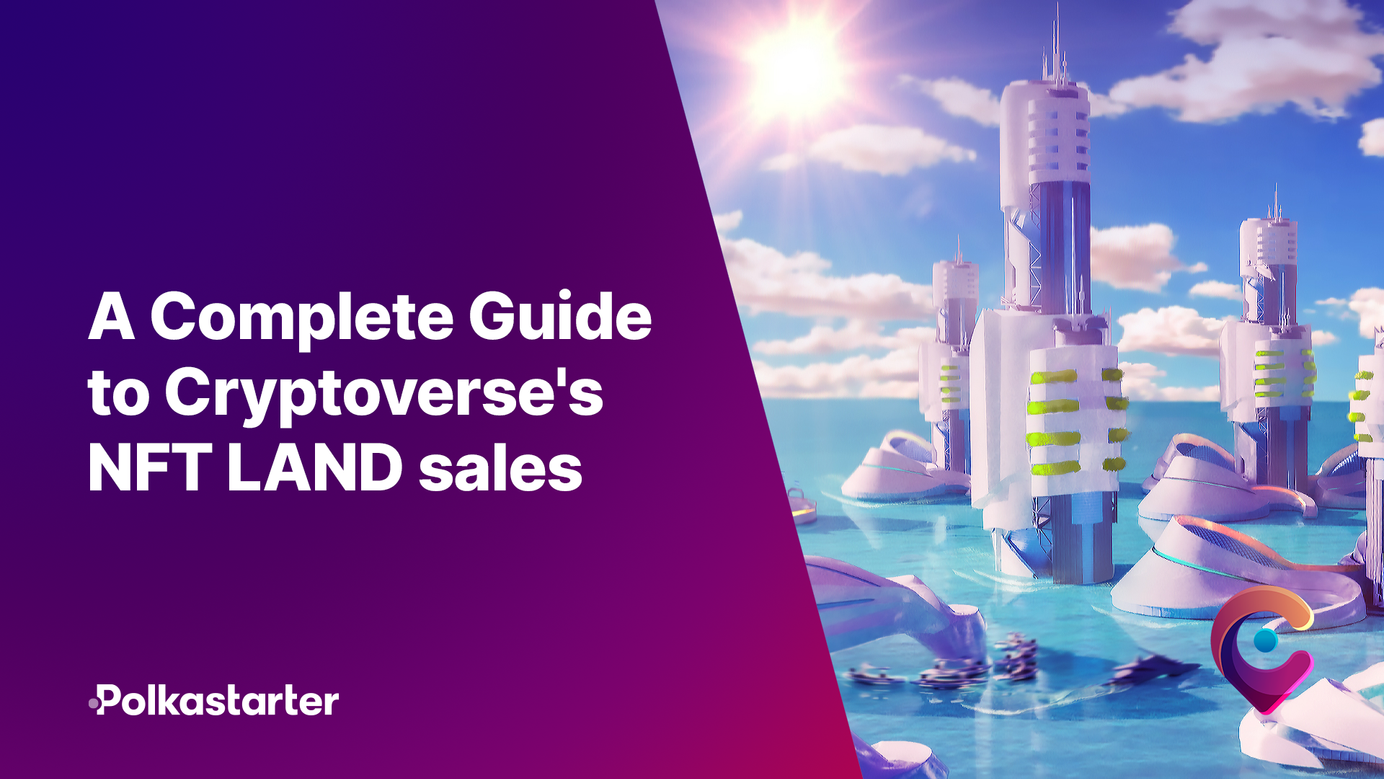 A Complete Guide to Cryptoverse's NFT LAND sales
Everything you need to know about the upcoming sale
That's right, Cryptoverse is raising a $6M NFT LAND sale on Polkastarter to meet the surging current demand for their virtual land. Its popularity has risen rapidly since EVERYONE around the world has the chance to participate in this NFT LAND sale. There are no restrictions.
This is not only Polkastarter's biggest raise to date but it's your first opportunity to own part of The Cryptoverse. The Polkastarter community will have priority access, requiring you to hold only 250 POLS or more to qualify.

This almost guarantees you a chance to claim ownership of at least one single estate. To get your hands on the rarer and larger parcels, level up your POLS holdings to a higher tier. POLS holders will have priority access to the sale and can purchase estates according to the following limits:

How does it work

The allowlist for our first NFT LAND sale with Cryptoverse is open until 6th March, and received tons of questions about it. The community seems hungry for more information and details about the sale, and we are here to give it to you.

So if you're in the loop with all things Cryptoverse, feel free to apply here.

But if you're not totally following Cryptoverse and aren't even sure what it means to buy virtual land, this piece is for you.

We know this is a completely new process on Polkastarter, but we've got you covered!

In this article, you can find a step-by-step guide to Cryptoverse's NFT LAND Sale.

Cryptoverse's NFT LAND SALE Explained

Cryptoverse is a 3D Metaverse project. It's part of the ChainGuardians ecosystem, utilizing the native token, $CGG. In the Cryptoverse project, you can buy, sell or even rent virtual space as an NFT, called LAND.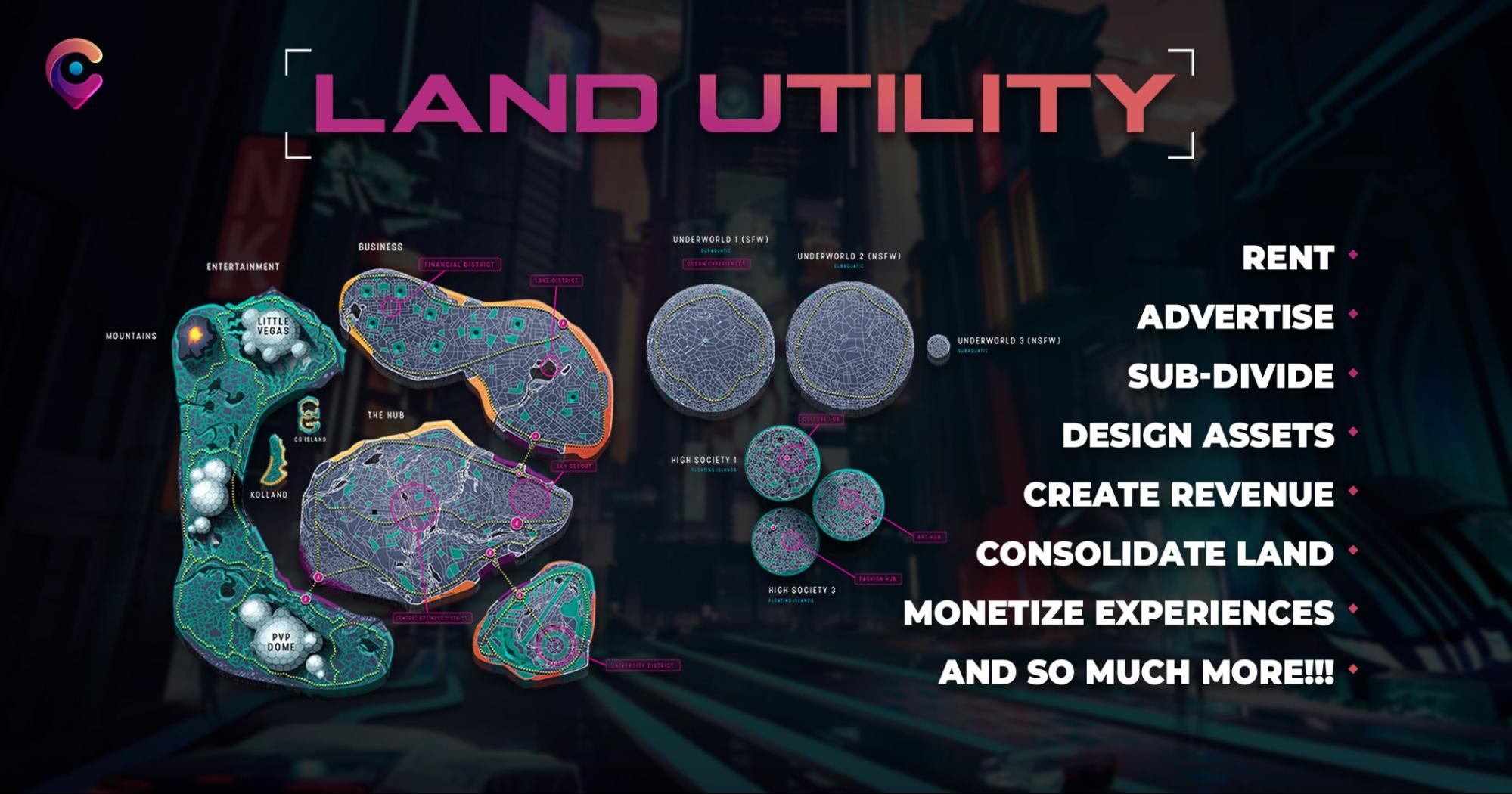 The Cryptoverse team announced the design of a new and innovative pricing model crafted to include an opportunity for everyone. As a solution, LAND within the Cryptoverse will include Parcels and Estates.

Parcel — an individual plot of LAND.
Estate — a collection of several Parcels.

Right now, Cryptoverse is launching 6 different estate offerings, with a limited number of properties:
4 EPIC estates - $85,000 per estate | contains an average of 490 parcels of land.
4 GIANT estates - $47,500 per estate | contains an average of 274 parcels of land.
15 LARGE estates - $31,000 per estate | contains an average of 179 parcels of land.
50 MEDIUM estates - $18,500 per estate | contains an average of 107 parcels of land.
460 SMALL estates - $5,200 per estate | contains an average of 30 parcels of land.
9378 SINGLE parcel of land - $180 per land | contains 1 parcel of land.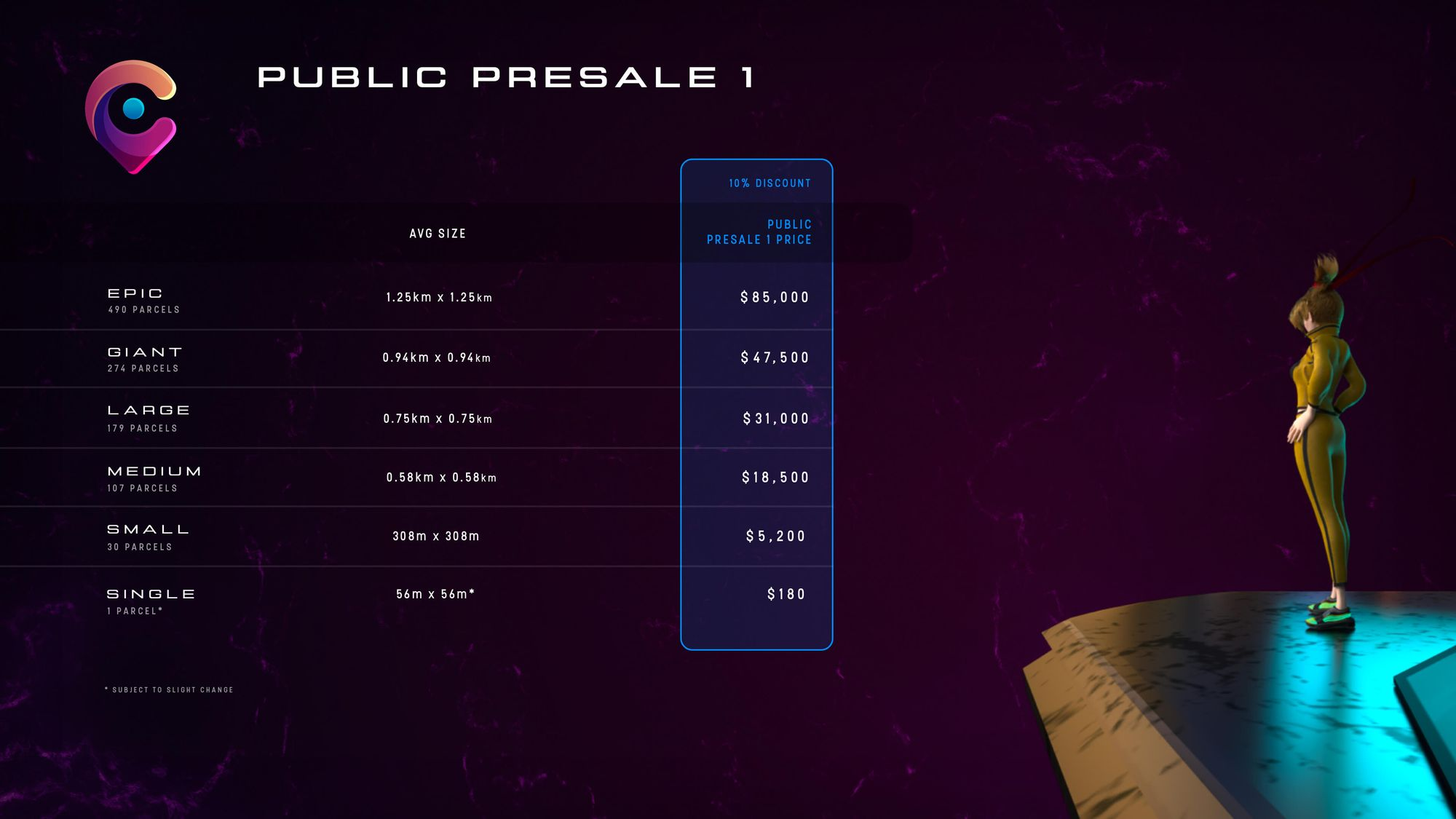 You can later choose your preferred zones during the minting process on Cryptoverse.vip. There are 8 zones:
The Hub is the center and heartbeat of The Cryptoverse, home to the ChainGuardians head office.
Game & Entertainment is where you can participate in different digital adventures.
Education is where you'll access knowledge centers and universities.
High Culture has three floating islands that will host exclusive digital events.
The Business Space allows you to meet with different business and company leaders.
Underworld is a place where you'll find extraordinary experiences.
Founderland is where the founders of The Cryptoverse will reside.
Kolland is the exclusive media center.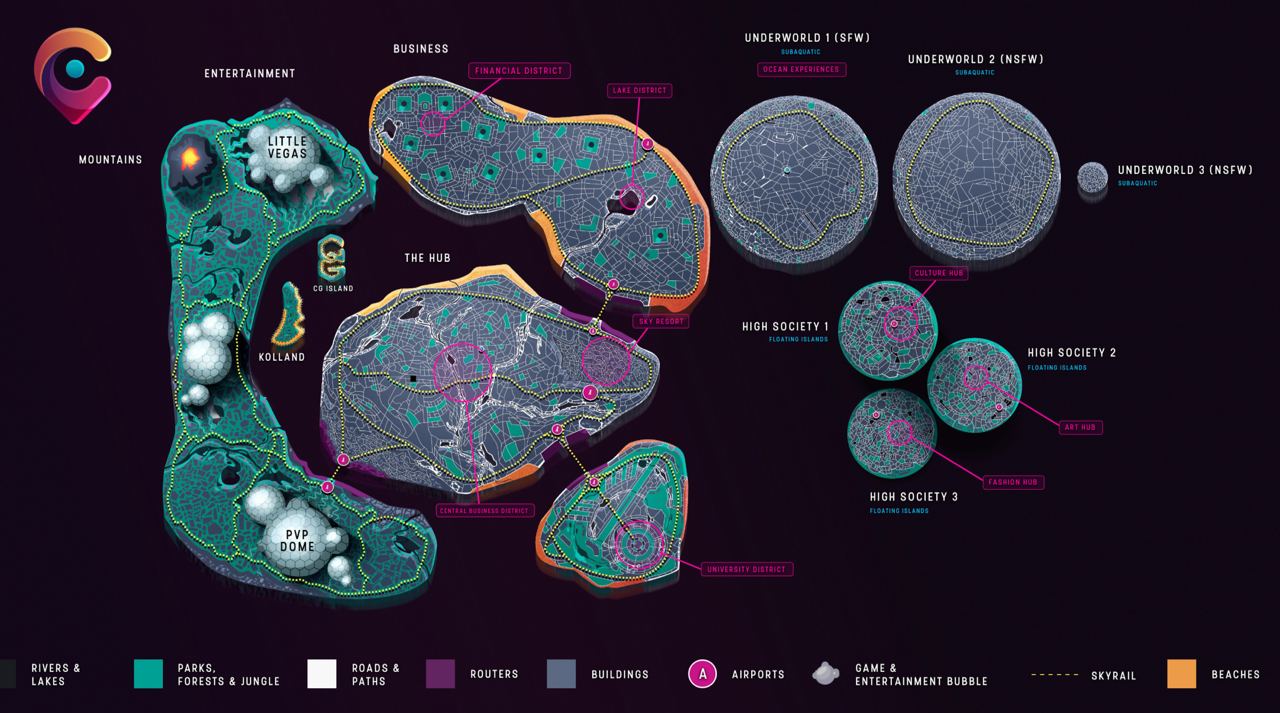 The Cryptoverse NFT LAND sale will start on March 8th, 2022 and will be open to everyone who wants to participate.

During the application process, you can choose your desired estate offerings. The sale will take place on Binance Smart Chain. If you are on the allowlist and want to take part in the sale, you'll need to prepare your Metamask wallet, ensuring you have enough BUSD.

Keep in mind that you will only be able to select the estate sizes and quantities during the sale on Polkastarter. However, you'll later be able to select your preferred zone when you mint your allocation on Cryptoverse's platform.

Who can participate in Cryptoverse's NFT LAND Sales?
The sale will happen in three stages on 8th March.
Stage 1
From 1pm to 3pm UTC
The sale will first open exclusively to POLS holders.  If you own or stake 250 POLS or more, you qualify for this exclusive entry.

Stage 2
From 3:00pm to 4:00pm UTC
After Stage 1 has ended, those without POLS who applied can participate. This won't be a POLS exclusive stage.
Stage 3
From 4:00pm UTC until sold out
And finally, the sale will open for anyone to join if land is still available.

Here's how you can participate in Cryptoverse's NFT LAND Sale:
1. Go to Polkastarter's website.
2. Click on the Cryptoverse's page.
3. Press the "Apply Now" button to access the allowlist application form. Keep in mind the sale will be on the Binance Smart Chain.
Note: The sale will feature a form similar to IDOs. If you put invalid addresses, Telegram/Twitter handles, emails, use bots or fail to complete the steps described here, you'll be automatically disqualified.
4. Join the allowlist by completing the necessary fields on the application form: Basic Information, Social Media, About Cryptoverse and Terms & Conditions.

In the Cryptoverse section please fill out the estate fields with the number of estates you want to purchase of each estate size. For estates you do not want to purchase, please insert a "0" in the number field. Make sure to not leave any empty fields.

And submit your application!
5. On the 8th of March, if you are allowlisted, you'll need to go to the Cryptoverse Project page on Polkastarter to enter the sale and allocate your funds. If you buy multiple estate types, you will need to make separate transactions for each estate type.
6. An ERC-20 Global Claim token will be airdropped to all eligible participants within 15-30 days from the end of the Polkastarter sale. This token is required to select your land with the "Land picker tool" via Cryptoverse.vip.
7. Towards the end of April, Cryptoverse will announce a date for mid-May when the NFT LAND minting process will open. Users can then visit Cryptoverse.vip, connect their wallet and select the location of their preference based on their initial purchase. This will be on a first-come-first-served basis.

8. After you have minted your LAND, you should see it updated on your Polkastarter allocations page.

Action Steps:
Important Information
All allowlist entries will be screened and checked. The following list of possible violations will lead to automatic allowlisting disqualification:
Invalid ERC20/BEP20 addresses, Telegram/Twitter handles, and emails
Entries by bots or any form of automation
Entries with any incomplete step in the process as described above
⚠️ Beware of Scammers ⚠️
‼️ Neither The Cryptoverse nor Polkastarter team members or admins will DM you with offers or information not presented in official channels.
‼️ LAND is NOT available at this time. Please be on guard for scammers.
‼️ Please use the links below for all official information pertaining to sales of LAND.

About Cryptoverse

The Cryptoverse is an immersive 3D virtual world built in Unreal 5 which is underpinned by blockchain technology. Within the Cryptoverse, users will be empowered to create, own LAND, govern and monetize experiences using $CGG, the token which also underpins the ChainGuardians and ChainBoost ecosystem.
To learn more about Cryptoverse, check out the following links:
Website | Twitter | Discord | Telegram | Medium


About Polkastarter
Polkastarter is the fully decentralized launchpad to launch new ideas in the blockchain and digital assets space. With an industry-leading curation process and market access, we select the most innovative projects in the space and offer them long-term support after their IDOs.

With Polkastarter, crypto projects can increase their reach, grow their communities and receive support from crypto's most well-versed experts. IDO participants, on the other hand, are offered an opportunity to invest in a secure and compliant environment, as well as participate in IDOs not solely on Ethereum, but also on Binance Smart Chain, Polygon and Celo.

Media Contact Polkastarter: [email protected]
---