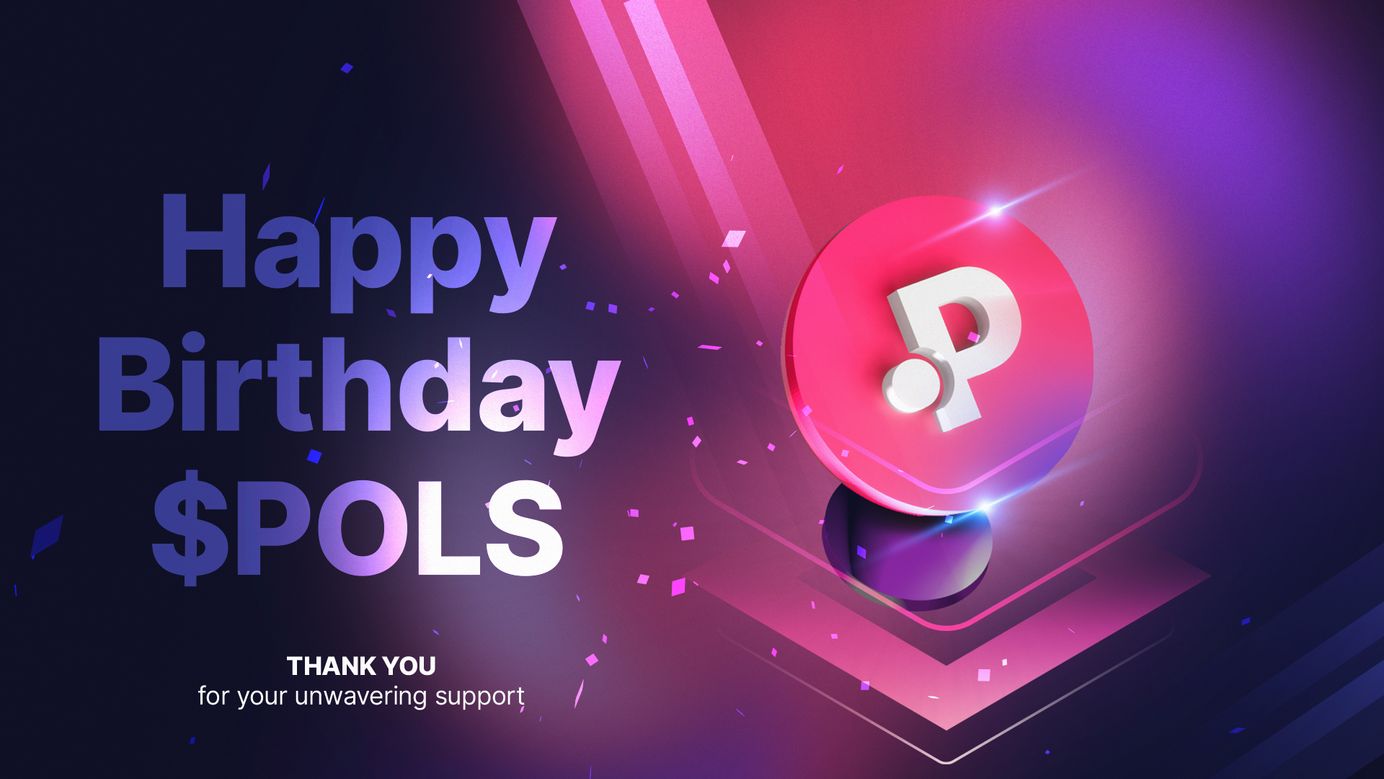 POLS Turns 2! A Letter From Our Co-Founder
Time flies when you're having fun.
If you had told us 24 months ago that POLS, Polkastarter's utility and governance token, would reach its second birthday, having contributed to $49.7M raised capital, 111 ideas funded, and 35,900 unique participants, we would have smiled in hope yet be in disbelief. The numbers are truly inspiring:
ATH POLS Market Cap $360m
Current holders: +48K
+14K current stakers
ATH POLS staked: $89M
This blog post is not about singing our own praises or resting on our laurels though. This is more about acknowledging the moment, drawing inspiration from it and pushing forward with even more desire and drive.
Polkastarter started as a passion project, an idea to help ideas flourish and reach their true potential. This is an initiative based around the crypto community, and it would be unfair on our part not to give props where they're due. None of this would have been possible without the crypto community's help, support and encouragement.
We've taken this ride together through ups and downs, challenges, and celebrations, and we want to thank you for your unwavering support. You're always the place we turn to for ideas, feedback, and validation as, at the end of the day, the product of our work will be received and enjoyed by you.
Trying to pick highlights, moments, or project IDOs from these past couple of years is like asking a mother to pick her favourite child - it's impossible! We love and welcome it all, the good, the bad, and the ugly. We want to co-build and create the web3 space we all dream of. Polkastarter is happy to take that role and support crypto projects that want to bring good to the world, help us play better games, and have more intense experiences.
The POLS 2nd anniversary is a milestone for all of us here at Polkastarter and a reminder that time flies when you're having fun. Talking of the Polkastarter people, this is an excellent opportunity to mention and celebrate the team that silently works behind the scenes to give crypto projects a voice, a platform to amplify their message and turn their idea into reality.
Thank you to everyone who has been, and continues to be, part of the journey and those who will apply to join the Polkastarter family. We're nothing more than a distributed team of people who care about the space and the projects, and our only goal is to see them succeed.
From putting together one of the coolest podcasts in crypto to launching the 'Catching up with Polkastars' blog series, where we check in with projects months after their IDO, Polkastarter is so much more than an IDO platform. Our Advisory arm has proven to be a great success, which as a result, has led to the creation of our very own Web3 Accelerator program, based in our new office spaces in Lisbon, launching very soon. Watch this space!
Even cooler news, Polkastarter Gaming is having an incredible first year with over 70,000 gamers. Our brand new platform is about to drop and we can't wait to share it with you.
We're community builders, we're the number one fan of our projects, and we're always looking for more ways to bring eyeballs to these diamonds in the rough. May our 2nd anniversary be the beginning of more great things to come. We might not know where Polkastarter will be in 5 or 10 years' time, but we can confidently say that we've never been more dedicated to our mission and enjoying the journey.

- Daniel Stockhaus, Co-Founder & CEO

About Polkastarter
Polkastarter is the leading decentralized fundraising platform enabling crypto's most innovative projects to kick start their journey and grow their communities. Polkastarter allows its users to make research-based decisions to participate in high-potential IDOs, NFT sales, and Gaming projects.
Polkastarter aims to be a multi-chain platform and currently, users can participate in IDOs and NFT sales on Ethereum, BNB Chain, Polygon, Celo, and Avalanche, with many more to come.

Website | Twitter | Discord | Telegram | Instagram | Newsletter | YouTube | Poolside
Polkastarter Blog - Latest Polkastarter News & Updates Newsletter
Join the newsletter to receive the latest updates in your inbox.
---