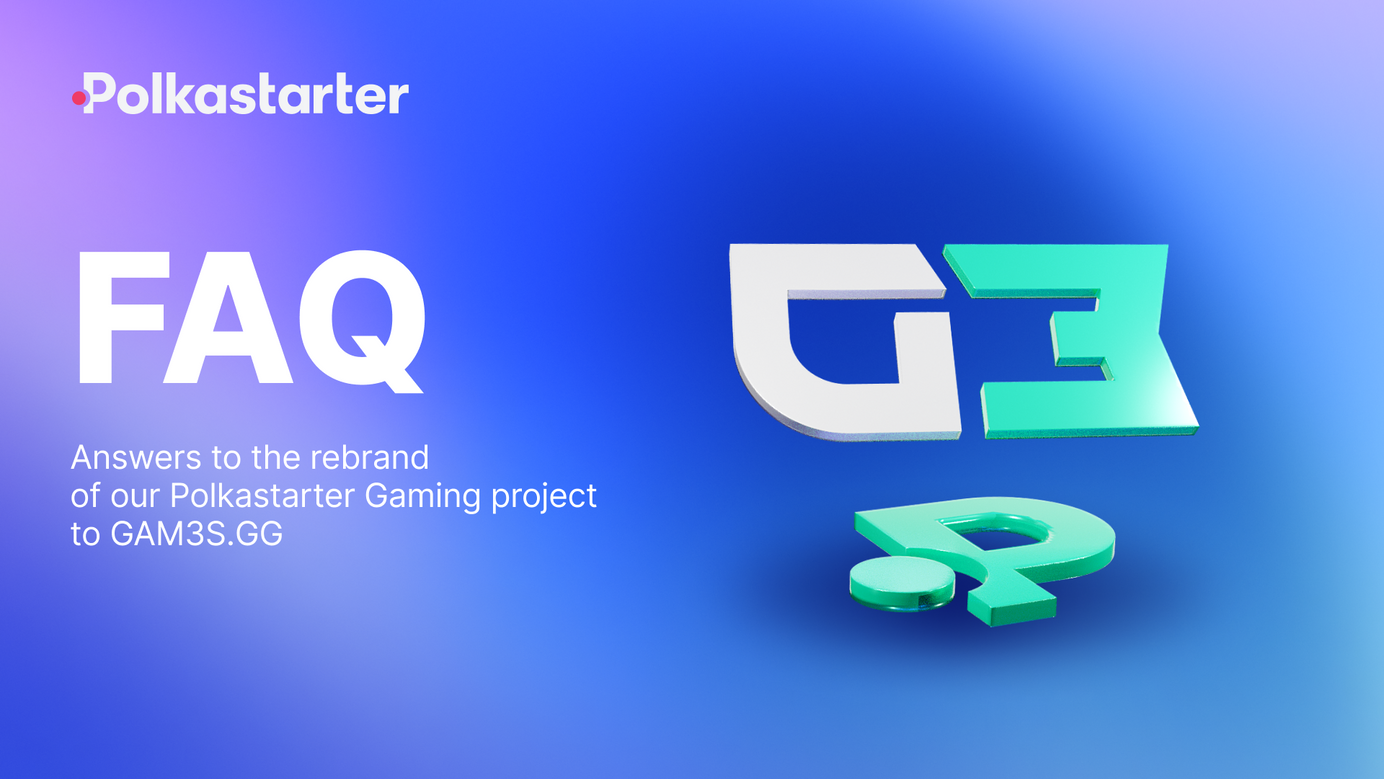 FAQ
Answers to Your Questions on Polkastarter Gaming's Rebrand to GAM3S.GG
We'll be completing this blog with additional questions coming from the community.
Yesterday brought exciting news — Polkastarter Gaming raised $2M to accelerate the development of its Web3 gaming superapp! Aligning with this major milestone, our gaming division has rebranded to GAM3S.GG, poised to expand further and pursue its ambitious mission: revolutionizing the gaming industry by bringing a billion users to the exciting world of blockchain gaming!
What does the rebrand mean to the wider Polkastarter community? We answered some of your questions below.
Q: Is Polkastarter now GAM3S.GG?
A: No, Polkastarter is still a fundraising platform. It's our Gaming division that has rebranded to GAM3S.GG, allowing it to continue its mission with greater independence and impact. However, both Polkastarter and GAM3S.GG remain under the umbrella of one company, continuing their close collaboration.

Q: So we lose the gaming part but what does Polkastarter gain in return?
A: Not at all! Polkastarter functions as an umbrella company, with GAM3S.GG as a prominent part of that structure. Any strides GAM3S makes in the industry — be it through profits, tokens, or other assets — will benefit Polkastarter. This relationship may allow us to invest in various promising ventures in the future as well.

Q: Gaming is going to be one of the biggest narratives of the next bull run, so I see less incentive to hodl $POLS token now that Gaming has rebranded.
A: Polkastarter is well-prepared to host token sales across various narratives or sectors, including gaming. Our commitment to fostering the gaming narrative remains steadfast, and GAM3S.GG is a prime example of this support. Therefore, the incentives aligned with holding $POLS tokens remain robust.
Q: Does the Gaming spin-off mean no gaming IDO anymore on Polkastarter?
A: Quite the contrary. The rebranding enhances our position in the gaming market, paving the way for even better gaming IDOs on Polkastarter. With GAM3S.GG emerging as one of the most significant platforms in the Web3 gaming sphere, Polkastarter's network and outreach are set to expand considerably.
Q: If GAM3S performs a token airdrop, will $POLS holders be beneficiaries?
A: Absolutely. In the event of a GAM3S token airdrop, $POLS holders stand to benefit.
Q: $POLS tokens aren't used on GAM3S.GG? That doesn't sound like good news for the utility of $POLS.
A: While the $POLS token may not have direct utility within the GAM3S.GG platform, $POLS holders will be considered favorably in potential future GAM3S token airdrops. Moreover, we're working on exciting updates including new quests and NFT rewards for long-term holders and stakers. Stay tuned for more updates surrounding POLS and POLS Power.
Q: Why was the Polkastarter Gaming division rebranded?
A: The Polkastarter Gaming division had been operating fairly autonomously for a while, and the rebranding to GAM3S.GG marks its formal transition to further fuel its growth. However, GAM3S.GG remains a vital part of the extended Polkastarter family, continuing to collaborate closely with us as part of our broader effort.
---
Feel free to reach out with more questions through our Discord, Telegram, or support email.
Polkastarter Blog - Latest Polkastarter News & Updates Newsletter
Join the newsletter to receive the latest updates in your inbox.
---