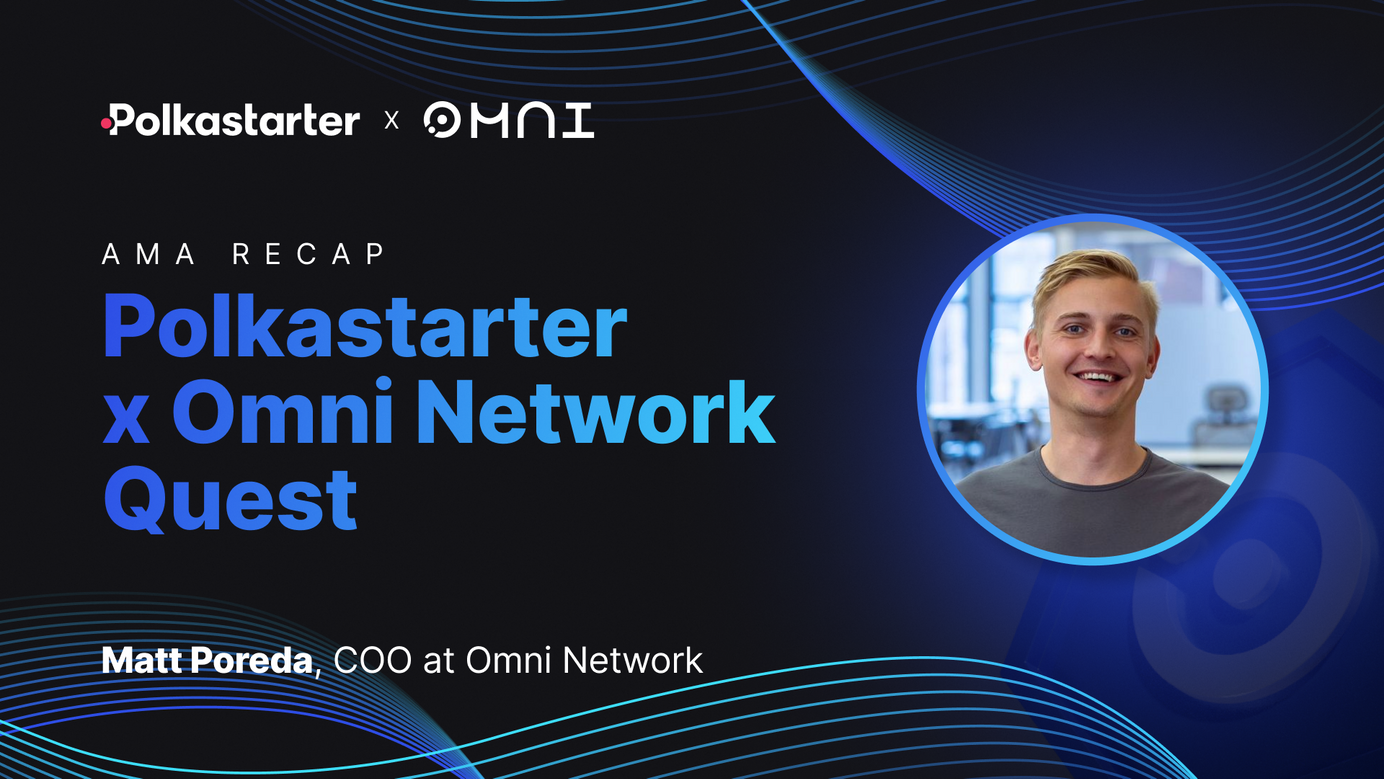 Omni Network x Polkastarter Quest AMA recap
Yesterday (Sept. 29), we had an X Spaces-rendezvous with Omni Network, taking a deep dive into Omni Network and the ongoing Polkastarter x Omni Network Quest.
Yesterday (Sept. 29), we had an X Spaces-rendezvous with Omni Network, taking a deep dive into Omni Network and the ongoing Polkastarter x Omni Network Quest.  

Matt Poreda, COO @ Omni Network joined Yan Ketelers, CMO @ Polkastarter, to talk about Omni's vision, the latest Omni Network updates, and more key insights around the blockchain to connect all rollups. At the same time, the pair also discussed the Polkastarter and Omni Network Quest, sharing more details around participation and what to expect from the joint adventure..

Missed out on the Spaces? You can listen to the entire AMA recording here.

In a hurry? 👀

We've got the highlights down below! Read on…

👉 You can join Omni Network x Polkastarter Quest until October 6!
Omni Network's Vision
"It is a layer one blockchain itself. But the purpose of it is to empower developers to build their applications across all of the rollups around the ecosystem without fragmenting liquidity."
Omni Network is here to connect all rollups, a critical piece of the blockchain puzzle.. Its primary objective is to empower developers, enabling them to seamlessly build their applications across various rollups, eliminating the issue of liquidity fragmentation. This vision is centered on fostering a unified and secure blockchain infrastructure, ultimately promoting enhanced interoperability and scalability within the decentralized application and transaction landscape.

"We tried to position it as a critical infrastructure in Ethereum. Basically an entry point for developers and users. Key components include our own chain, it's EVM, which basically serves as a record of the state of all the integrated rollups, and then we also have portal contracts on all of the rollups"

Which problems is Omni Network solving?
"We identify the problem of ecosystem fragmentation as being one of the most important ones. This is also a broader crypto problem that is going to get more and more severe."
Omni Network addresses a critical issue in rollups –, that of ecosystem fragmentation. Currently, different blockchains and rollups operate independently, creating obstacles for efficient asset and data exchanges.To resolve this challenge, Omni Network offers a Layer 1 solution that acts as a bridge, connecting various different rollups and blockchains. This approach significantly improves overall blockchain interoperability, scalability, and efficiency, simplifying interactions for both developers and users of decentralized applications. The end result? Easier (and more) blockchain development, coupled with increased adoption.

Omni Network's Roadmap and Future Plans
Omni Network is currently on testnet, offering a range of cross-rollup features, including NFTs, domains, and DeFi solutions. Additionally, the live cross-rollup token sale on Polkastarter, as part of the Omni Network x Polkastarter Quest, showcase the solution in action, offering a glimpse into its vast potential and applicability.

Additionally, Omni Network has a series of new apps in development currently being tested, each with its own set of missions, designed to give the community a sense of what Omni can do once it's finally launched its mainnet.

Explore all Omni missions here!
Stay Updated with Omni Network
Omni Network team is growing fast! If you're looking for a new challenge, Omni is hiring new talent check out all the positions available on their website.
The Omni Network x Polkastarter Quest
"This partnership, and the associated quest, is in line with our belief that the future is Omnichain. And that includes the use case of ongoing token sales across different chains, which, I believe, we're now pioneering with the quest. I haven't really heard of anyone else doing an omnichain token sale like that, at least not successfully. We have quite high conviction that this will become the market standard.  We're also super glad that Polkastarter is leading the way here, and that you guys are doing this with us. We are super, super happy to work with you and it's an absolute pleasure to be doing this together"

The collaboration between Omni Network and Polkastarter is a pioneering initiative with a clear vision of the future of blockchain interoperability and token sales. Sharing this vision has made this collaboration even easier, as we edge closer to setting the new standard together. With the quest still ongoing, we are excited to continue keeping track of the growing number of participants, as well as listen to the valuable feedback they provide around this brand new token sale experience. ​​

As a reminder, the Polkastarter x Omni Network Quest is LIVE UNTIL October 6, 15:00 UTC.

Don't miss out, there's a lot in store 😉
Mission Steps


About Omni Network
The Omni Network is a layer 1 blockchain built to connect all rollups. Using Omni, developers can build global applications that are available across all rollups. Secured through restaking $ETH, Omni is a next-generation blockchain leading the frontier in both security and functionality. Omni is backed by $18M from prominent investors such as Pantera Capital, Two Sigma Ventures and Jump Crypto.
Website | X | Discord | Telegram | Blog

About Polkastarter
Polkastarter is the leading early-stage fundraising platform enabling Web3's most innovative projects to kick-start their journey and grow their communities. Polkastarter allows its users to make research-based decisions to participate in high-potential Public sales.
Website | X | Discord | Telegram | Instagram | YouTube
Polkastarter Blog - Latest Polkastarter News & Updates Newsletter
Join the newsletter to receive the latest updates in your inbox.
---