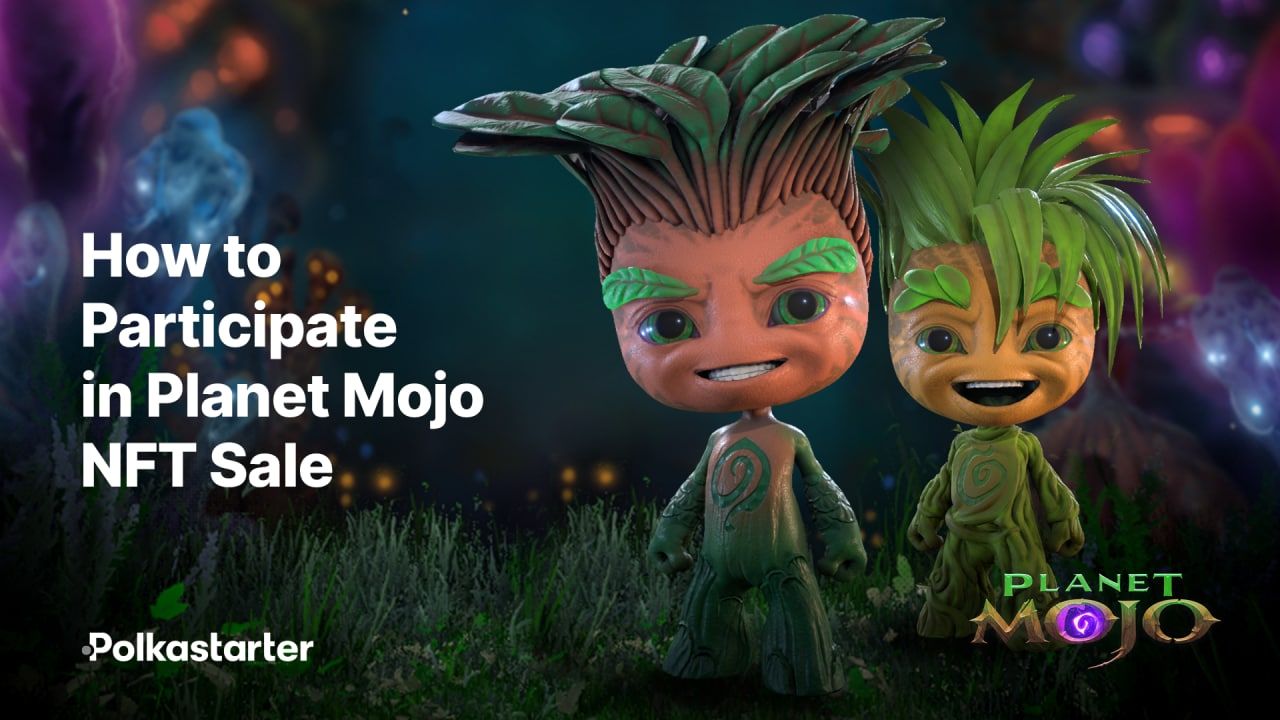 How To Participate in Planet Mojo NFT Sale
Everything You Need to Know
A few days ago we held an "Ask Me Anything" session on Telegram where we had the opportunity to get to know the Planet Mojo team better, getting valuable insights on the project's background and future.
Today, we'll get into more detail about how you can participate in a Planet Mojo NFT sale on June 1st, and what you have to pay attention to. For starters, here is the basic information pack regarding the sale:
⚙️ Project: Planet Mojo
📅 Date & time: June 1st, 1:00 PM UTC
🔗 Chain: BNB
🪙 Inventory: 2000 Mojos
🏷️ Price: $1000 BUSD/Mojo NFT
How Will the Planet Mojo NFT Sales Proceed?

The sale will be open to everyone and it will happen in three stages:
Stage 1 will open for POLS holders with 250 POLS and more. Owning or staking POLS gives you the highest chance of winning an allowlist spot.
Stage 2 will open to those without POLS who applied.
Stage 3 will open for everyone if Mojos are still available.
After the transaction is successful, you will see an NFT allocation card on your Polkastarter Portfolio tab with a 'Go to claim page' button.
It will redirect you to Planet Mojo's Website where minting will be available on June 6th.
More instructions will be announced by the Planet Mojo team.

How To Join a Sale on BNB
If you're wondering how to add the BNB Chain to MetaMask, please go through the simple steps in our dedicated article. Once the BNB chain is added to your MetaMask wallet, you need to buy $BUSD.
Here is a breakdown of how to buy BUSD:
1) Buy $BUSD via an exchange. The coin is listed on many exchanges such as Binance, Coinbase, Gate.io, KuCoin and Bittrex.
2) Send it to your MetaMask account on the BNB network. You will need to copy your wallet "Address", and paste it in the exchange.
3) Send $BUSD to your MetaMask. Here are the instructions on how to add BUSD in Metamask.

Once you complete the steps, you're ready to join the NFT sale if you're allowlisted on the project page once the sale starts June 1st at 1:00 PM UTC!

About Planet Mojo
Planet Mojo wants to help gamers transition from a Play-to-Earn gaming rulest to a Play-and-Earn environment. What's the difference? A more balanced approach between gameplay and the ability to earn while playing.

Planet Mojo believes in players being able to earn while playing, but understands a fun game and an enjoyable gaming experience must always come first.

With a key focus on tournaments, players will have the opportunity to earn rewards including $MOJ, the project's native token. The plan is to introduce a variety of tournaments on a regular basis over time. Players can also earn the in-game currency $ORE, which can be used for crafting BattleStones (NFT Tournament Passes) and upgrading characters.

To learn more about Planet Mojo, check out the following links:

Website | Twitter | Discord | Medium
About Polkastarter
Polkastarter is the leading decentralized fundraising platform enabling crypto's most innovative projects to kick start their journey and grow their communities. Polkastarter allows its users to make research-based decisions to participate in high-potential IDOs, NFT sales, and Gaming projects.
Polkastarter aims to be a multi-chain platform and currently, users can participate in IDOs and NFT sales on Ethereum, BNB Chain, Polygon, Celo, and Avalanche, with many more to come.

Website | Twitter | Discord | Telegram | Instagram | Newsletter | YouTube | Spotify
Polkastarter Blog - Latest Polkastarter News & Updates Newsletter
Join the newsletter to receive the latest updates in your inbox.
---