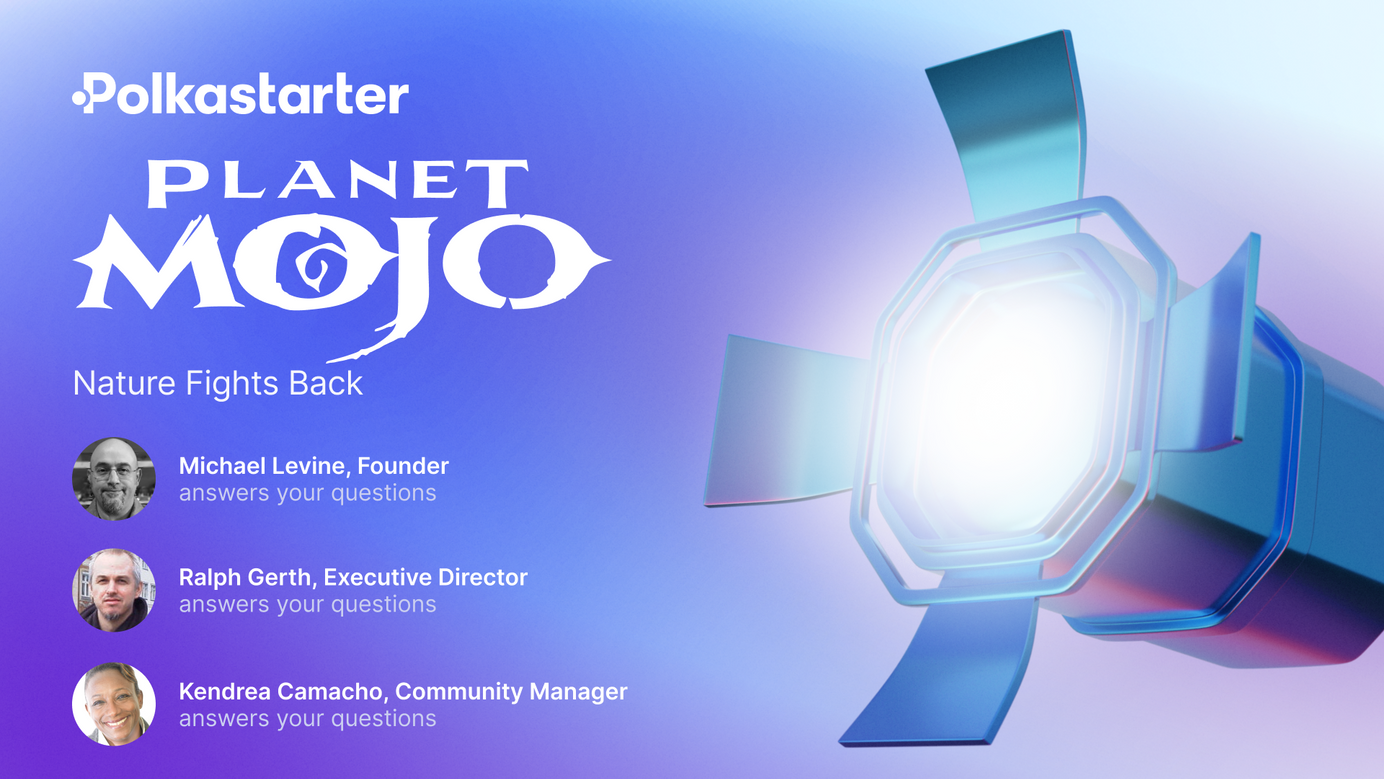 Get to Know: Planet Mojo
Eco-sensibility Meets Play-and-Earn Gaming
Planet Mojo is a blockchain gaming metaverse being built on Polygon by veterans from LucasArts, EA, Activision and more, and backed by Animoca, Republic, Alameda, Spartan and more. Players will compete with their customized teams in a suite of E-Sports PvP and Play-And-Earn games set inside a rich new alien world.
Mojo Melee, their first title, will be an auto chess game reinvented for blockchain, allowing players to own their game characters (as NFTs) and play-and-earn in ongoing tournaments. In addition, they will launch their Biome (Land) gameplay at the same time.
The sale will start on May 12th, 2022, and will be open to everyone. There will be 2000 Mojos available at about $1000 each.
Meet The Team
During our latest AMA, we had the opportunity to meet Founder Michael Levine, Executive Director Ralph Gerth as well as Community Manager Kendrea Camacho. The team is made up of longtime gaming veterans that have been putting out games for 25+ years, and were attracted to this space as they believe it represents the future of video games. A space where players own their assets, and have a say in the future direction of a project.
The core team is over 20 people with a mix of gaming vets, ec-PIXAR and ILM alumni as well as blockchain experts.
Michael Levine
Michael is a 25+ year game-industry veteran. He worked at LucasArts in the 90s, and since then ran his own companies doing a mix of his own projects, and service work. Some of the most notable companies he's worked with are Hasbro, Spin Master, Pepsi, Niantic and more.
He spent the last year working on a VR game called "Sam & Max: This Time It's Virtual!" based on an IP he had worked on while at Lucas back in the day. It was while making that game that he began to become obsessed with blockchain and web3.
Ralph Gerth
Ralph started working in game development with Mike at LucasArts back in the 90s. His background is in art but over the years his roles have included game design, programming, producing and studio management. When Michael showed him the Planet Mojo idea, he was immediately intrigued and interested to join the team.
Kendrea Camacho
Kendrea is not a traditional gamer but she loves building and growing communities. She's a blockchain native and is excited to see how gaming intersects with blockchain. She's glad to be building a community for this exciting project. She joined the blockchain world back in 2017 for BTC but stayed for the amazing community in the space.
Vision
Planet Mojo seeks to redefine the next generation of web3 games. Set in a mysterious alien world with an evolving story and plotlines, players will be able to use their game assets in a suite of interconnected games and experiences, as well as play a role in the future development of the project through governance and voting.
Planet Mojo is an inclusive project directed by the commitment to the community, sharing, helping planet Earth and each other, and most of all, building fun, great games that can stand the test of time.
Moreover, the project has been a proponent of "Play-and-Earn" in this space since they launched. Now they are seeing Axie and many others get behind this important change to how they see this space evolving.
Planet Mojo is all about "fun first" and they want to give everyone a chance to play their games and create an original, sustainable project that makes great games, but also has an impact on society and helps protect the environment. They hope that other projects will follow their lead and can make a massive difference in the world.
Mojo NFT Utilities
The Mojos
Mojos are individually unique magical, organic plant-based creatures, born from Planet Mojo to face a deadly threat. The first Mojos dropped will be from the Plant Class and feature four different Subclasses of Mojos — Leaves, Vines, Flower and Moss. No two are the same.
The Mojos are 3D playable game characters that will be necessary for Planet Mojo's forthcoming Biome (Land) and Auto Chess (Mojo Melee) gameplay, where they cast magical abilities on the battlefield as part of your team.
Moj-Seeds
All Mojos are born from a magical Moj-Seed. Mojo minters will each receive an identical Moj-Seed that they will later have the option of sprouting into a one of a kind Mojo. The visually unique Mojos can be revealed by their owners about 1 week after the minting process is completed.
Utilities
As for utilities, they are fully playable 3D game characters that can evolve over time. You will battle with them in the upcoming AutoChess game Mojo Melee, and use them to work the land in the Biomes play (land Play).
Rewards
Planet Mojo really wants to reward early adopters which is why it's offering 5 NFTs for the price of one. Mojo Wallet holders who have sprouted their Moj-Seed will be automatically airdropped 4 of the initial 6 Champions, randomly selected coming out before the game this summer. To make things clear, for every Mojo you mint, you will be airdropped 4 FREE NFTs!
More rewards include early game and tournament access, getting allowlisted for Biomes, community allowlist IDO spots and much more.
What Makes Planet Mojo Different From Competition?
The things that really make this project and team stand out are their transparency, talent and commitment to community. With over 25 years of experience in the gaming and design field, they are able to carry out the vision of this game with such amazing creativity and technical know-how.  
Their transparency and openness is contagious and it spreads into the community. There are a lot of projects that started before Planet Mojo but the team's experience and focus on producing high-quality content from both an art and a narrative perspective gives them a clear advantage. A lot of the projects in this space have been started by people who never have shipped a game. As experienced game developers, this is one of their true advantages.
How is The Planet Mojo Team Working Towards a Better, More Fun Play-to-Earn Industry?
Planet Mojo have been proponents of "Play-and-Earn" in this space since their launch. They  are all about "fun first" and they want to give everyone a chance to play their games and create an original, sustainable project that makes great games, but also has an impact on society and helps protect the environment. They want to become an example other companies in the space follow and imitate.
They have been super careful with their Tokenomics working with partners like Animoca and Republic to create a project that sticks around for decades and forges the future of what web3 and community-based gaming can become.
Roadmap
After the NFT sale, they will have Land availability in the coming months - 3D randomly generated plots of lands with rare exotic alien plants. In this first release, there will be Quests and progression as you "work" the land keeping it free of any threat, and collecting resources from it like Aura and Gemstones.
Once you collect enough, you will be able craft Aura Stones, and then eventually BattleStones. BattleStones will be NFTs that you can buy and sell and will allow for many perks.
Follow Planet Mojo
Website: https://www.planetmojo.io/
Twitter: https://twitter.com/WeArePlanetMojo
Discord: https://discord.com/invite/PlanetMojo
Medium: https://medium.com/planet-mojo-blog
Community Questions
Dexter
According to the roadmap, what are your most important next priorities? Does your team have enough funds and a strong community to achieve those milestones?

Ralph Gerth - Plane Mojo
We are comfortably funded and our partnerships are solid.

Angeliachristy
Without sufficient funds, each project cannot carry out its construction properly. For me the main priority is to have sufficient funds to run a project. Is your team financially able to carry out this project? How does this project generate revenue for the project & users?
Michael Levine - Plane Mojo
We were lucky to raise funds from an amazing list of partners that will keep us sustainable for years to come.

Marchel
The idea of joining the game and preserving the flora is just brilliant as a blockchain game concept. But where does all this in-game inspiration and animation come from? Will the theme be refined and modified as the project progresses?
Michael Levine - Plane Mojo
We are very interested in being good stewards of the environment. Our new Mojo Adoption Program is set up so we Donate a Tree to be Planted for Each Mojo Purchased!

We wanted to create a fantasy world people could escape to while at the same time have it tied to the real world, so people don't forget about the real world issues we need to confront today. Over time we will be telling an epic story. It will reveal itself over time, wait for our cinematic coming soon!

Dexter
I saw Mystic Moose raise $5 million from Animoca Brands to make Planet Mojo, according to the article. Will you disclose your expenses to stakeholders as well as how you intend to use the funds raised for the advancement of Planet Mojo?
Michael Levine - Plane Mojo
We are using the funds for development, marketing and more. Please check out our whitepaper for more info but we plan to give back to the community in many ways over time via Reward Pool Tournaments and much more.

Fatih μ
Most NFT games only focus on profits, as this is one of the major attractions of NFT games. So, do you focus heavily on the player experience in and out of the games to create a balance for playing and earning because that is the trend the market is tending towards presently?
Michael Levine - Plane Mojo
100% we are focused on fun-first and opening the game up to all over time. We have early access to our early NFT owners, and we are focused on this being a community-driven and decentralized project over time.

Fatih μ
You know that security vulnerabilities can cause serious losses in this period.  Have your project's Contracts been audited by any company?  If so, can you share?

Kendrea Camacho - Plane Mojo
Yes, security is very important. We are using an amazing provider in Certik for auditing.

Dewi Cintya
GameFi itself has a barrier to entry for users. To make it further user-friendly for players, would you please introduce to us how you design the game, from your view of the game project, to better help our players for P2E?
Michael Levine - Plane Mojo
We are committed to making the game widely accessible. We will debut in the browser and then come to mobile. We want to allow easy sign up, even for people without crypto wallets so they can try the game and then move to that if they choose over time.

Indz.Florenztha
Some important things in the NFT Game project are the liquidity of Game currency, items, inventory, and merchandise. So, how does Planet Mojo ensure its players get lots of fans to play your game and survive?
Michael Levine - Plane Mojo
We are taking a phased slow and steady launch approach. Planet Mojo is very much a global game. We plan to translate it into languages where players are from and work with our partners to grow the game via Esports and other events

abhi
Can you tell us about your project listing plans? Especially the ones involving major exchanges, CEX and DEX. Also, do you have any Coin Burn or BuyBack system, or any token burning plan to increase the token value?
Michael Levine - Plane Mojo
We plan to launch our token with the game to give it true utility. We are in talks with all the major exchanges.
We will have Staking in various forms. There will also be burn mechanisms if needed as we will closely monitor the economy