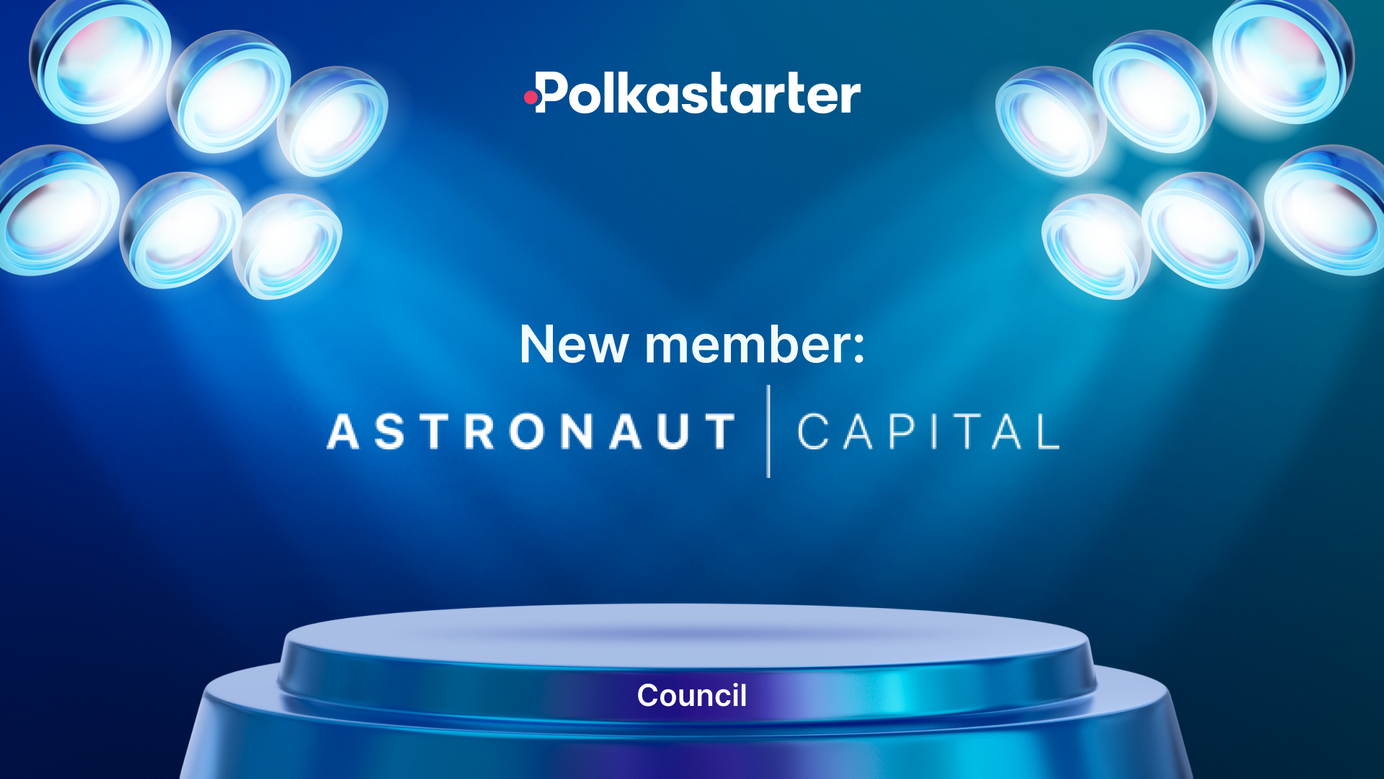 Announcing Astronaut Capital As Part of The Polkastarter Council
One more week, one more amazing announcement for the Polkastarter Council for Governance. This time with Astronaut Capital, one of the…
One more week, one more amazing announcement for the Polkastarter Council for Governance. This time with Astronaut Capital, one of the leading research and asset management firms in the cryptocurrency market.
Astronaut Capital's journey began back in 2017 and invested in several notable projects such as Synthetix, TrustToken, 0x Protocol, all of which have contributed immense value to its portfolio. In the more recent months, Astronaut Capital has been part of the early participants of the Polkastarter ecosystem and successfully incubated other projects like Swingby, PowerTrade, Centaur, and DAOventures. Not limiting to early-stage projects, the firm is also engaged in the broader Defi ecosystem with investments in Uniswap, 1inch and Sushiswap.
Astronaut Capital takes a research led approach to venture investment. Through its exclusive independent research- house, Picolo Research, it has covered almost 100 ICO's and secondary market tokens since 2017.
Picolo Research boasts a large following in early-stage blockchain analysis and to this day, continues to use its expertise to find fundamental analysis to identify promising projects and themes within the blockchain ecosystem.
Astronaut Capital employs a robust system to identify significant areas for growth across the digital asset ecosystem. The team comes from an extensive and dynamic background of investment banking, funds management and market analysis. This allows Astronaut Capital to provide market insights to assist on strategic growth, partnerships, operational viability, token liquidity and depth, and treasury management.
As one of the earliest firms adopting cryptocurrency research and analysis methodology in our investment approach, Astronaut Capital has worked with and advised more than 90 blockchain projects to date. This enabled the project to build strong capabilities in constructing key valuation metrics that could determine blockchain projects' success.
Furthermore, with recognition by Bloomberg, Astronaut Capital is part of a small handful of contributors for blockchain research analysis on their platform, enabling them to provide outreach to traditional companies alike.
About Polkastarter
Polkastarter is a permissionless protocol built for cross-chain token pools and auctions, enabling projects to raise capital on a decentralized and interoperable environment based on Polkadot.
With Polkastarter, decentralized projects will be able to raise and exchange capital cheap and fast. Users will be able to participate in a secure and compliant environment and to use assets that go way beyond the current ERC20 standard.
Polkastarter Blog - Latest Polkastarter News & Updates Newsletter
Join the newsletter to receive the latest updates in your inbox.
---