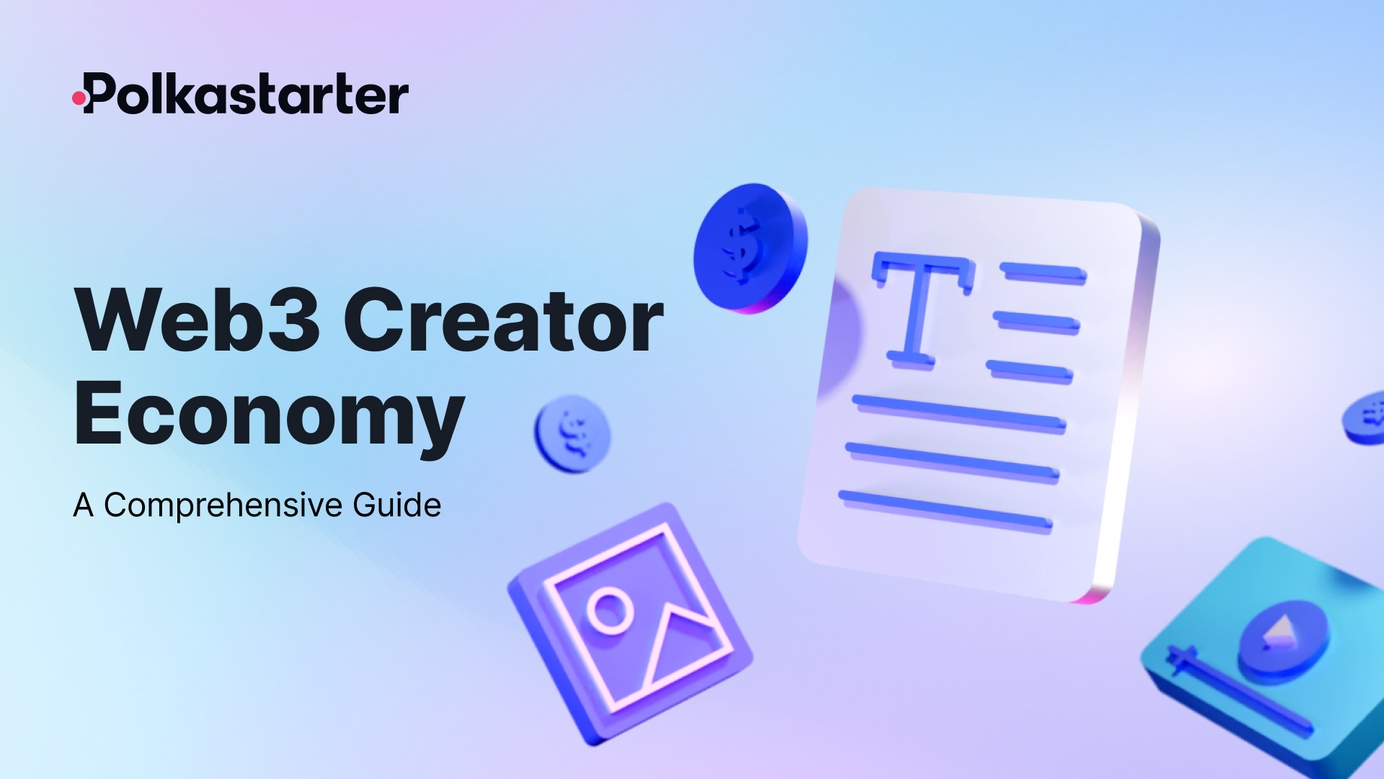 Web3 Creator Economy: A Comprehensive Guide
Where do content creators stand in the third generation of the Internet?
TikTok, Instagram, Cameo, YouTube, Patreon — the list of creator platforms and social media are endless and constitutes the foundation of the web2 economy. People can express themselves and create content in the form of video, images, audio or writing to express themselves and, in the process, create impressive revenue streams. A creator economy is one where creators do not need a parent company to act as their employer. They can work on their own terms and monetize their creations — whenever they want, create whatever they want, and, most importantly, have complete autonomy in monetising their content.
Where do these creators stand when it comes to web3? Do they have to change, adjust or scrap their model? What does the web3 creator economy mean for them? Let's put our thinking caps on and explore possibilities.
Creator-owned platforms
Creators are not here to take part but to take over. Sure, the aforementioned platforms have given creators the launchpad to share their content with the world, but it all happens with a prize. Whether it's taking a cut from their earnings or owning data and information that goes on the platform, creators do have to give up something to earn something else. There have been numerous occasions of creators being banned from these platforms based on decisions made by the platforms' owners. That could very well change in the web3 creator economy.
What better incentive for creators to know that they will be rewarded for their work and co-own the platform? In the future, creators could own and govern the platforms based on factors like their following and content quality. This could be made possible through Decentralized Autonomous Organizations (DAOs), eliminating the need for a centralized body that wants any form of payment or control over the platform participants.
This new operational model allows creators to earn their living and add value to the community. By playing an active role in the platform's evolution, you're contributing to the culture and inspiring young people to join the space. This process is no longer a transactional affair but a communal effort to make the creator space as accessible and user-friendly as possible.

Changing the monetization paradigm
Think of a podcast or a youtube video. Which moment do you dread the most? That 2-3 minute window where the creator has to promote a product or service from their sponsor. Why is that bad? Well, for starters, it interferes with the flow of the content itself. That's something the creator has to do to pay the bills and not something they necessarily want to do. Secondly, it dilutes the creativity process. Whether they realize it or not, creators become ambassadors for products or services that their audience might not actually care for. With web3, creators won't have to succumb to that.
In the web3 economy, fans can directly compensate creators for work that they like, effectively cutting out the middleman from the equation. Web3 allows for authentic creativity instead of ad-driven content production. The creator and community have the technology and infrastructure to exchange value without the need for an intermediary. Audiences are no longer "followers" but valued community members with something to earn.
Tokenization is a significant chapter of how the web3 creator economy will upset the current monetization model. Here are some of the highlights of how tokenization will work:
Creators will grant ownership to fans by sharing the benefits of their content with them.
Using fungible tokens/social tokens, they'll give incentives to their audience for participating and making direct investments in the projects.
By "staking" their token, audience members can be granted access to VIP experiences.
Royalties
Getting royalties for your creative work is something rare in the current web2 economy. It's something you need to negotiate, but even then, it is hard to track and uphold. Let's use an example. Think of a painting that was created by a famous artist of our time. The only time they make money is when they decide to sell it. One-time fee, and then that's it; the painting belongs entirely to the person who bought it. What if the initial sale was $500,000, and the painting gets resold for $25,000,000? Isn't it unfair to the original artist? That's a problem addressed in the web3 creator economy.

By utlising the beauty of NFT technology, creators are always guaranteed to get credit and monetary compensation for all the transactions made in a creation's lifetime. The way smart contracts work allows everyone to transparently track the journey of an asset and all the details associated with it. How much it was sold for, when and to whom. Creators won't just get credit for what they have created; there is a legit path for recurring revenue over time. An outstanding royalties example would be Decentraland.
About Polkastarter
Polkastarter is the leading decentralized fundraising platform enabling crypto's most innovative projects to kick start their journey and grow their communities. Polkastarter allows its users to make research-based decisions to participate in high-potential IDOs, NFT sales, and Gaming projects.
Polkastarter aims to be a multi-chain platform and currently, users can participate in IDOs and NFT sales on Ethereum, BNB Chain, Polygon, Celo, and Avalanche, with many more to come.

Website | Twitter | Discord | Telegram | Instagram | Newsletter | YouTube | Poolside
Polkastarter Blog - Latest Polkastarter News & Updates Newsletter
Join the newsletter to receive the latest updates in your inbox.
---