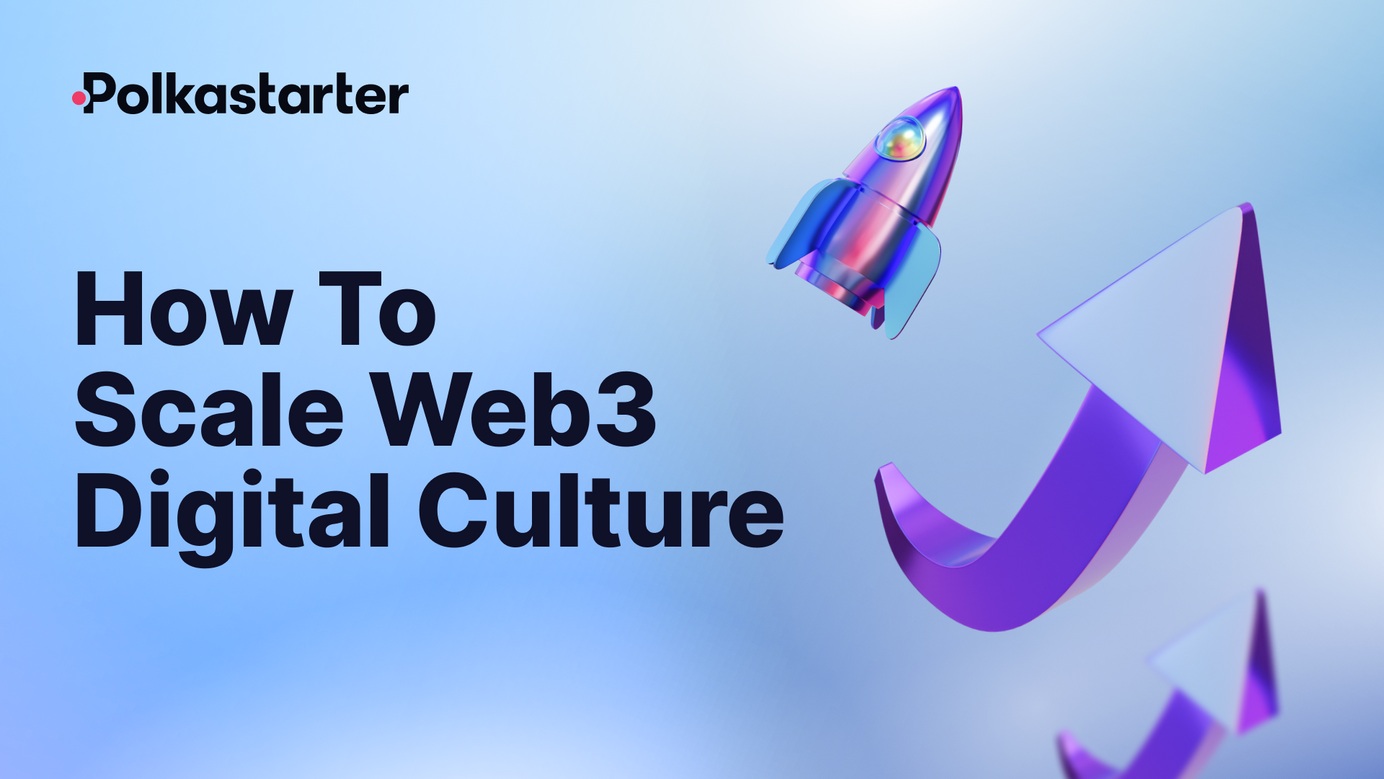 How To Scale Web3 Digital Culture
Scaling — the word even the bravest hesitate to utter in the web3 realm.
1983 is considered the official birthday of the Internet, and for the purposes of this blog post, we'll use that as our benchmark. Since 1983, digitalisation has been a non-stop process. Sometimes slow, other times faster, the transition to a digital culture is as close to complete today as it has ever been. Or is it?
While the version of the Internet we know has seemingly reached the peak of its powers, the next generation of digital evolution is almost upon us. Web3 culture is starting to unfold in front of our very eyes, and the challenge of scalability is the roadblock that has everyone scratching their head. Before we dive into the scalability of web3 digital culture, let's talk about what has led us to where we are today.
Digital products have historically been built and controlled by a select few. Why? The technical nature of building these products created a natural separation between builders and users. While web2 has been the foundational building block of modern society, how it was set up created several conundrums along the way.
As institutions grew more prominent, the balance of power and control became disturbingly one-sided. Organizations such as Google, Amazon and Facebook ended up controlling the entire digital economy and culture. Things like digital privacy, abusive fees and terms and conditions were non-negotiable and essentially determined by the institutions in control.
How do you solve a problem that has been built over decades and decades of systematic work? By attacking the problem at its root. The root, in this case, was the architecture of the Internet. Decentralising the infrastructure could be the way to create a global, trust-free network where users can navigate without any third-party oversight.
This change in architecture is what we now know as blockchain technology. What we are experiencing today is the transition between web2 and web3. What does that actually mean? Let's discuss.
Web3 culture: what should you expect?
Trying to summarise what web3 is and can be, is like trying to pour the ocean into your bathtub — there's just too much to say. What we'll do instead is give you the gist and try to highlight the underlying principles of the web3 digital culture.
From gaming to marketplaces to social media, web3 will introduce more immersive experiences, and be easier to access and own. People will be able to transition between the physical and digital worlds seamlessly, transferring value between the two places. The decentralised architecture is the catalyst, creating a culture where people transition from consumers and users to builders, contributors and main heroes.
What's interesting about digital culture is that it includes people from all over the globe. Anyone who uses digital technology is part of the culture, no matter their sexual orientation, country of birth, colour, political belief, lineage, or any other variable that makes physical culture the way we know it. How do these virtual strangers interact, transact and trust each other, without the oversight of centralized power?
This is where the magic of web3 architecture comes into play. The technology allows users to transact digital assets without trusting their counterparties. Trust is irrelevant because the technology is bulletproof. Technology is trust in this scenario. The blockchain is open source and transparent, which makes it auditable by anyone at any time. That means people can enter these experiences anytime without questioning motives and results. Digital culture is suddenly safer, more immersive more accessible.
It all sounds great, right? It does, but as you would expect, there are some challenges that prevent the web3 digital economy from fulfilling its full potential. The main one? Scalability. This is a word that even the most positive blockchain advocate hesitates to utter because they recognise the magnitude of the challenge. The more blockchains increase in size, so do their transaction fees, energy usage and environmental consequences. What's the solution? Create better, more advanced technology that addresses this problem. The thing is, with blockchain being such a new breed of technology, the demand is higher than the supply of talent.
Then, there are the challenges of:
governance and accountability
compliance
identity verification
government regulation
volatility
Scaling the web3 digital economy is a challenge made from multiple reasons, and the answer is as simple and complicated as you would expect. Patience, refinement, iteration and hard work are the ingredients that will help this undoubtedly powerful technology flourish. The blueprint is actually there with web2. Referencing the first sentence of this article, when we started venturing into our web2 journey back in 1983, we had no idea of the tribes and tribulations we'd have to face along the way. Someway, somehow, we figured it out and made it work. Was it perfect? No. It's never going to be perfect. The whole point is trying to do better with every new attempt, and web3 culture promises to be just that — a more refined iteration of what we have right now.

If you are interested to get an expert opinion on the topic at hand, we have something special for you. The next podcast guest of our 'Poolside with Polkastarter' series features Urvit Goel, VP Head of Global Games BD at Polygon Studios.
Urvit is kind enough to grace us with his presence and give his insights on how to scale web3 digital culture. All you have to do is tune in and listen.
Date and time: Wednesday, Sep 28, 3PM CET
🎧 Tune in: https://twitter.com/i/spaces/1DXGyvwRjoRJM

About Polkastarter
Polkastarter is the leading decentralized fundraising platform enabling crypto's most innovative projects to kick start their journey and grow their communities. Polkastarter allows its users to make research-based decisions to participate in high-potential IDOs, NFT sales, and Gaming projects.
Polkastarter aims to be a multi-chain platform and currently, users can participate in IDOs and NFT sales on Ethereum, BNB Chain, Polygon, Celo, and Avalanche, with many more to come.

Website | Twitter | Discord | Telegram | Instagram | Newsletter | YouTube | Poolside

Polkastarter Blog - Latest Polkastarter News & Updates Newsletter
Join the newsletter to receive the latest updates in your inbox.
---