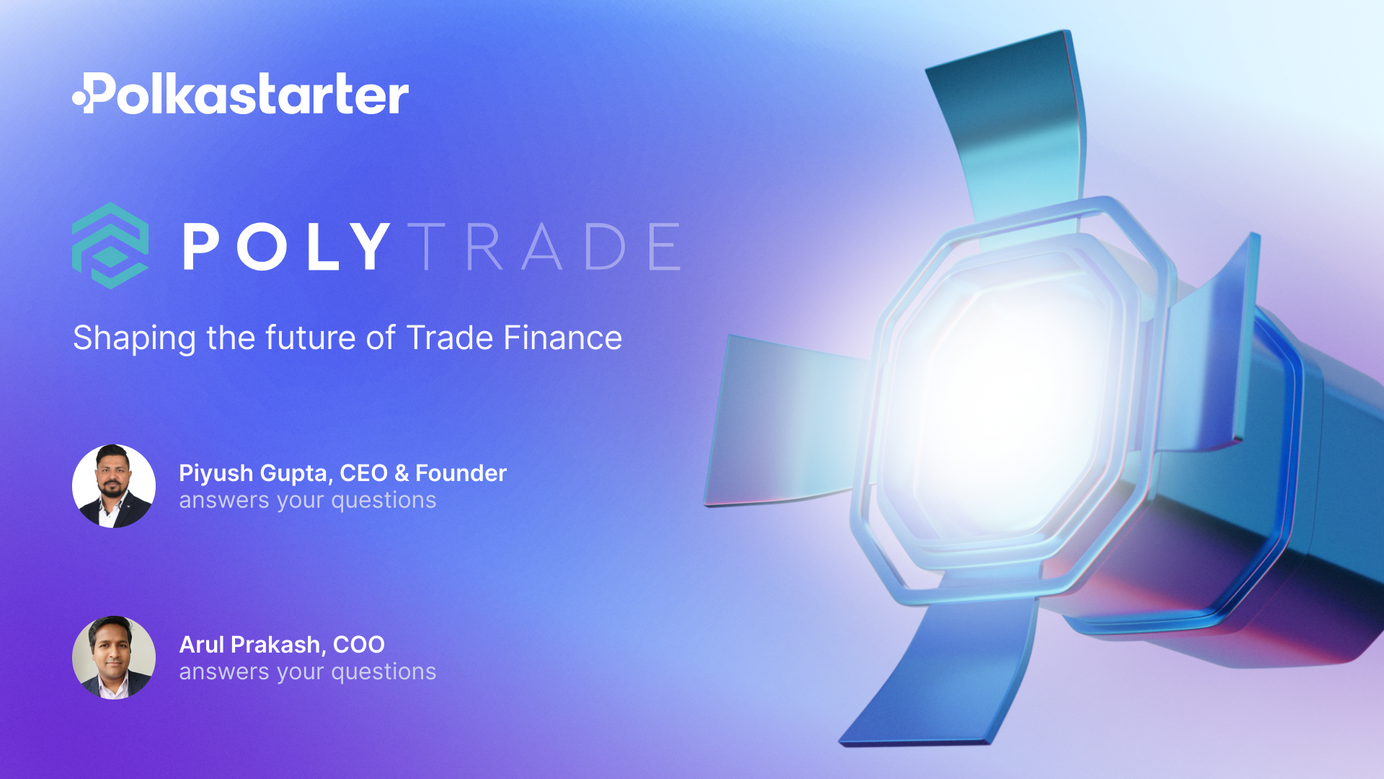 Polkastarter and Polytrade AMA Recap
Our AMA with Piyush Gupta, CEO and Arul Prakash, COO at Polytrade - Bringing safe & insured real world assets to crypto natives
You can see the original AMA conversation in Polkastarter's Telegram channel here.
Polkastarter
👋 Hi everyone and welcome to another exciting Polkastarter AMA, this time with the Piyush Gupta, CEO & Founder and Arul Prakash, COO from Polytrade. Welcome and thank you for taking the time today to join us! 😊 @piyush_gup1a @aruLprak
Arul Prakash, Polytrade COO
Thank you very much for having us here!!!! Excited to be here!
Piyush Gupta, Polytrade CEO
Thank you. We are happy to be here :)
Polkastarter
Alright, we'll first have a few questions to Piyush and Arul directly, before we open it up for community questions. Let's get started! 🎈
Polkastarter
Piyush and Arul, could you please first introduce yourselves?
Arul Prakash
Sure.
Piyush Gupta
Myself, Piyush. Founder & CEO of Polytrade. It's great to e-meet you all today. I've been in the Trade finance industry for the last 15 years with experience in organizations like Societe Generale, Kitara Capital, AmiCorp and a few other big names. I set up my own trade finance business back in 2014 and since then have expanded operations to Hong Kong, Singapore, India and Dubai. Am currently based out of Dubai. At Riqueza Capital we have processed invoices worth more than 500mn USD in the last few years... all of which we are confident will move to POLYTRADE. Am an Aerospace Engineering from IIT Bombay by education.
Arul Prakash
In my current role, I am the COO of Polytrade. In past, I've been working with Fortune 10 companies  and heading product development & business transformation functions for many of my clients.
Worked with companies like Walmart, CVS, Accenture and the TATA group extensively. Have been in the crypto space for the last 4 years and waiting for the opportunity to bring the real world to the Cryptosphere. MBA & engg by education.
Polkastarter
Impressive professional background, both of you! ✨☺️
And can you tell us more about the vision behind Polytrade and why are you launching it?
Piyush Gupta
Sure. Globally trade finance is a 7 trillion USD Industry. Every buying and selling transaction that entails transfer of cash, currency or fiat is part of this centuries-old industry. There is a huge gap of 1.5 trillion USD in this industry that is left uncatered.
Polytrade aims to fill this huge gap by providing required capital to suppliers at an industry competitive fee structure. We will seek funds from crypto native investors to use our platform to lend us stable coins. These stable coins are then converted to fiat or otherwise, and given to the suppliers, who then become our borrowers. So instead of waiting for the entire duration of the credit period, the supplier immediately gets access to the cash for his expenses.

The responsibility of money collection will now be moved to Polytrade and the BUYER will be liable to pay POLYTRADE on the due date. Once payment is received from the buyer, the cycle is complete.The motive of POLYTRADE is to BLOCKCHAIN enable this and improve various facets of Invoice factoring works .
Polkastarter
At Polkastarter we are big believers that the team and talent behind the project is one of the most important factors for success. Could you tell us more about the team behind Polytrade, and how your experience has led you here?

Arul Prakash
That's an excellent question..

Our core team members are: Piyush Gupta, Arul Prakash, Ashutosh Sahoo,Sankalp Kumar, Aditi Saini and Ashish Sood. While Piyush has been focusing on our investor side and ensuring a successful IDO, I have been looking at product development, Marketing & operations. Sankalp- our Business development Manager has started preparing a pipeline of borrowers who are keen to come onboard. Ashutosh - Chief growth officeR and  drives all the growth and marketing related areas of Polytrade, Aditi - our Marketing expert is working on getting us more visible across communities and driving community engagement. Ashish is super focused around Product development and roadmapping the solution. Rest of our team is focused on supporting each of these areas and ensuring we work effectively.

During the last 8 years of our traditional business at Riqueza capital, we have processed close to half a BILLION dollars' worth of invoices and that time we identified various issues faced by suppliers which was choking the Trade finance industry to grow like high rejection rates, high cost of funds, longer turnaround time, large ticket size requirements. What changed our strategy is the awareness that Defi and Blockchain could be the answer to most of those problems. This led us to the launch of Polytrade.
Polkastarter
Sure looks like a super experienced and powerful team! 💪
So let's talk about Polytrade's competitive advantage. What differentiates you from other similar projects?
Piyush Gupta
Our competitive edge over other similar projects is that we provide the crypto investors a safe and insurance backed investment in real world assets  i.e. invoices.
Advantages offered to Crypto investors:
1. Opportunity to invest in a real-world asset, which they didn't have access to.
2. Secured and insured investment option - Insurance is not just against code exploits and hacks, but additionally backed by credit insurance for protecting real world assets.
3. Diversified investment options and volatility of the crypto industry.
Advantages to our borrowers in the receivables financing industry:
1. Financing on Lower invoice values.
2. Attractive interest rates.
3. Full transparent and decentralised way of operations.
4. Access to a larger pool of capital.
5.  Quick resolution. We intend to minimize the time taken for processing these invoices down to mere days rather than months.
Polkastarter
Awesome!
Can you tell our community a bit more about your $TRADE token, particularly about the token utility and your token generation event (TGE)?
Arul Prakash
Sure… This entire process is going to be enabled and supported by our native TRADE token. TRADE will be a ERC20 token, mainly operating on the Polygon chain.

TRADE is going to be the oil that will move this centuries old industry and the processes at Polytrade. TRADE will enable operationalisation and incentivization of all functions and stakeholders to make Polytrade successful.
•Governance council will be built up by eminent individuals in TRADE finance and allied areas. Investors will get an opportunity to delegate the governance council to make the right decision for the protocol.
•Stake $TRADE shall be rewarded and strengthened by funding an additional insurance pool to cover against any unseen losses. In return they get a share of the protocol fees.
•Borrowers will receive discounts and rewards for using TRADE tokens to settle fees applicable
•Buyers will receive discounts on invoices for settlements done on the Polytrade platform. Thereby they will promote polytrade with their other suppliers to receive additional discounts.
•Channel Partners & Service Providers will receive TRADE for participating in the trade finance economy by performing key tasks of KYC, document validation, credit evaluation, and more

The tokens are already generated, but we are waiting for IDO. The audits are audited and certificates are available on the site
Polkastarter
Looking forward to the IDO! 😍
We'd also love to hear a bit more about your upcoming roadmap. What key features are you developing?
Piyush Gupta
Currently our focus is on launching the awesome IDO on Polkastarter that we have been pursuing and get listed and see the price as a reflection of the trust the community has on us.
Other developments in future will be: MVP launched in the mainnet within the next 2 quarters.  We are looking at multiple crypto native upstream and downstream partners in the area of insurance, Credit checks, logistics, banking, etc. to build a complete ecosystem towards Trade Finance.
Our other key focus area is going to be security and safety. We are getting our contracts certified currently and will be periodically doing so with industry leaders in this space. We also will be working with our insurance providers who will also be providing additional safety for our investors and lenders.
Please have a look at the roadmap on our website (https://polytrade.finance)
Polkastarter
And speaking of websites, could you please share the link with our community as well as your social media channels, so they can make sure to follow you and be kept up to date on your progress?
Arul Prakash
Sure...
👥 Our Social Media Links:

Telegram (http://t.me/polytrade_finance) | Announcements (http://t.me/PolytradeFinance_News) | Medium (https://medium.com/@Polytrade) | Twitter (https://twitter.com/Polytrade_fin) | Website (https://polytrade.finance/) | LinkedIn (https://www.linkedin.com/company/polytradefin) | Korean Community  (https://t.me/polytradekr)| Instagram (https://instagram.com/polytrade_finance)
Polkastarter
Great, thank you Piyush and Arul. 🙂
Piyush Gupta
Our pleasure 😇
Polkastarter
Now, let's open the chat for a brief window to give our community a chance to ask their questions. ⚡️

Arul Prakash
non-bots… Lets Gooooo! 🙂
Polkastarter
Don't forget, that after the AMA, Piyush and Arul will choose the best question and hand out one allowlist spot for their upcoming IDO (and bear in mind you will need to KYC fast and on time!). Let's go!!

---
COMMUNITY QUESTIONS

Wahyu
Hi @aruLprak @piyush_gup1a
🔻DeFi applications even if they run on a blockchain like Bitcoin, Ethereum, EOS or TRON, it does not mean that they are fully decentralized, since most DeFi protocols and applications have some point of centralization, in the case of Polytrade what can you tell us about it?
Piyush Gupta

Very true. Decentralization is a movement. It's not going to happen on day 1. Even for Polytrade, we will gradually go through this process. If you refer to our roadmap on the website, you will see how we have planned our Decentralisation index. We hope we can achieve it sooner :)
Arul Prakash

Unfortunately - YES. There will be a centralization angle. Trade finance is a 800 year old business - It is  highly regulated and moderated. We will not be able to make radical changes to it as soon as we start.  Until the point that smart contracts do not get a legal standing we will have to continue with certain elements of centralisation.
bella
Is it sufficient to participate in governance and trading on the platform for a verified holder to mediate protocol decisions? What does #POLYTRADE require from users to engage in governance? also Do you have tutorial videos so we can know your project more clearly or do you have a YouTube channel or something? can you share it with us?
Arul Prakash
TRADE will enable token holders to play an important role in the protocol's governance.The governance council will be made up of veterans in the trade finance industry. We need to understand that almost all of the parameters in trade finance are regulated.. Making a protocol decision that is against regulations would hamper the business critically. So understanding the nuances of trade finance business is critical. What we are trying to bring in addition is technical and business expertise to the council which will ensure that we have an all round council that takes informed and well intended decisions.  They can be nominated by the community as well and every nomination and the decision will be weighted based on the number of backers for each governance council member.

Investors will get an opportunity to delegate the governance council to make the right decision for the protocol. The governance council will be voting on future direction for Polytrade and also on approval for each individual invoice that needs to be funded. All of this is going to reduce the overall processing times.
RaHuL PaTeL
The biggest roadblock in global trade is regulation and compliance. More specifically, financial institutions identified the Basel III norms, anti-financial crimes regulations, and stringent AML and KYC requirements as major impediments when providing Trade Finance.
How will the Polytrade platform help to mitigate the impact?

Piyush Gupta
Regulations and Compliance only helps to create transparency  for those who are putting the money in this asset class. Polytrade is going to digitise the whole ecosystem and make use of these regulations to take safe bets.
MOBAY | When sir?
What are the main benefits of Decentralized Finance as current centralized Finance works great now ! Why do you think DeFi is a better option than current Finance?
On which types of Businesses & user base, PolyTrade project is mainly focusing on and which services are provided by PolyTrade to them? How does Orion PolyTrade help Businesses?
Arul Prakash
Why this question is obviously a copy paste question I would really like to address this point. 🙂
The advantages of using a decentralised finance system like Polytrade in comparison to conventional finance systems has already been addressed in a couple of questions above. What I would like to callout is the kind of target segment that we are looking to address. There are a lot of individuals and crypto investors who want to keep their investments in the crypto space rather than convert to flat. Even more so there are very minimal options for institutional investors and hedge funds to invest in the crypto space on real world assets. We intend to target this institutional base. What they would be looking for is diversified investments with minimal exposure to crypto volatility in the crypto space. And that is exactly what only trade is here to offer.
Eveline Swart
Hi Piyush & Arul, greetings from Amsterdam 🇳🇱🌷 'Poly' means 'plural / more / many'. Can you give us 'poly' (top 3) reasons why we should participate in the upcoming IDO and invest in $trade?
Piyush Gupta
Hi. I would love to visit you some day. This place is on my bucket list 😉.
I can give you 3 very simple reasons:
1. Strong experienced team with 7 years of amazing work.
2. Bringing real world assets on to blockchain, giving more meaning to Defi ecosystem.
3. Your funds are Doubly insured. Against hacks and securing underlying assets by credit insurance.

Edo Oktino | 404 Daily (Marketing)
Greeting Mr @aruLprak Exactly which strategy does #PolyTrade is used to prevent your token from suffering inflation? How do you prevent the loss of value of your currency?
Could you please tell me just a little more about the team and some of their backgrounds? I have personally seen many projects launch with inexperienced team members, and some of those didn't go so well due to easily avoidable mistakes.
Arul Prakash
I will answer the first part of this question.
Our focus for this project is NOT price manipulation… Our intent is to ensure the trade finance platform is built and is used for its intended purposes. When the business goals are set, I believe token appreciation is a natural outcome.
Our focus clearly are only these 2
1. Providing access to liquidity from Crypto, for Borrowers
2. Provide a safe double insured investment vehicle backed by Real world assets to crypto investors.
Price will be a reflection of our commitment to these 2 goals.
Indah Kusuma
Q4. What kind of partnerships with different projects/platforms/protocols can we expect from PolyTrade in the future? Could you give us some examples of how other projects can leverage PolyTrade ?
Q5. In the invoice financing process, do the parties involved have to sign or approve some kind of agreement? Would this agreement be
Arul Prakash
Partnerships are quite essential when we are starting in this space. While our end goal is to complete decentralization- the road will be filled with multiple options.. So we are looking to partner with centralized and decentralized entities for Polytrade.
WE could look at decentralized insurance providers, KYC providers, Price feed providers, Audit companies, Supplementing solutions… and many more on the business side.
On the token side, and community rewards we would look at DAO platforms, staking platforms and exchanges to create unique propositions for us.
Arul Prakash

For Q5.
We need to be aware that we are looking at a real world asset to be captured in the blockchain space. This is by no means easy or complex-less.
The biggest roadblock is the legal standing of smart contracts. Till the day that courts cannot accept a smart contract as law, there will always be real world intrusions and dependencies.
So YES - Agreements will need to be created either through paper or through digital mediums - which are valid in court of law.
ᵣₚ𝒹||ₚₐₙ𝒸ₐₐ.ₘₒₒₙ, ALLOWLIST WINNER
Hello 👋👋
How much can you borrow (maximum or minimum) in the PolyTrade system? The stakes are Stable coins then converted to fiat or vice versa, and given to suppliers, who then become borrowers. So how profitable is the PolyTrade bet?
@piyush_gup1a @aruLprak
Piyush Gupta

The best part about Polytrade is that there is no lower or upper limit on borrowing. Staking will be in Stable Coins which then wil be converted to Fiat and then to be lent to borrowers.
Polytrade evolved from an existing business that was thriving for 7 years. As Polytrade founders, we have no doubts in our mind about the profitability of this project. I would expect our community to make good returns by staying invested with us and witness the transition of this centuries old trade finance industry 😊
Ariana

@aruLprak @piyush_gup1a Trade finance that provides financing for transactions. In terms of international trade, and working with stakeholders such as exporters, importers, financial institutions, and insurers, that's a great thing but how? -Challenges Facing Borrowers -Challenges Facing Lenders -The Challenges of Factoring and Factoring Financing
Piyush Gupta

Dear Ariana, indeed it's challenging. Our experience of the last 8 years in the industry and dealings with all the ecosystem players, we have a fair understanding of how things work. We have dealt with regulators (which is the biggest challenge of all). We are confident that our experience will enable us to successfully bring this amazing asset class on blockchain and solve some major issues.
Arnette Wharton
Where do you see Polytrade Finance 5 years from now?
Arul Prakash

In 5 years:  The largest Trade Finance platform/entity ever built!!!
In 8 years: the most comprehensive Trade Finance protocol ever built!
Vyacheslav K

A lot of people will want to know what the strength of POLYTRADE is but I want to know the weaknesses and problems faced? How do you plan to solve it?
Arul Prakash

These are the current challenges that we face and do intend to resolve
1. Legal standing of smart contracts - This is the biggest roadblock for us to become a protocol from a platform.
2. Complexity of global trade - varied regulations and norms to be followed. this will require continuous addition of skilled members to provide inisght. WE are looking how to croudsource and decentralize this as well
3. Access to Talent - We are constantly looking for developers and trade finance folks with understanding of crypto space
Blanche Trotter
Could you please provide some progress on your Roadmap and What results Polytrade Finance has achieved so far ? And any sneak peek into 2021 plans for Polytrade Finance ?
Arul Prakash
https://t.me/polkastarter/458951

Polkastarter
Anything else you'd like to share?
Arul Prakash

🥳 Polytrade is proud to announce its strategic partnership with Dfyn, a multi-chain AMM DEX currently functional on the Polygon network!
Dfyn is building a network of DEXes across multiple Layer 1 and Layer 2 blockchains, allowing it to plug into multiple liquidity sources across chains, including the cross-chain liquidity ecosystem being developed by Router Protocol.
Through this partnership, the Dfyn exchange will list Polytrade's native TRADE token and support our project in liquidity programs. Dfyn will also host a TRADE farming event, enabling token holders to earn an attractive yield on their holdings.
The partnership will also be a gateway to Polytrade transitioning into the Polygon ecosystem and providing our users and token with real-world use cases.
👉 Read more about the partnership: https://medium.com/@Polytrade/polytrade-enters-into-a-strategic-partnership-with-dfyn-8a1ed10ef542
👉 Retweet: https://twitter.com/Polytrade_fin/status/1412766554622623746
Shaping the future of Trade Finance ✈️
👥 Our Social Media Links:
Telegram (http://t.me/polytrade_finance) | Announcements (http://t.me/PolytradeFinance_News) | Medium (https://medium.com/@Polytrade) | Twitter (https://twitter.com/Polytrade_fin) | Website (https://polytrade.finance/) | LinkedIn (https://www.linkedin.com/company/polytradefin) | Korean Community  (https://t.me/polytradekr)| Instagram (https://instagram.com/polytrade_finance)
Arul Prakash
Thank you very much for the opportunity!
Polkastarter
Wow, awesome! 🎉 This is truly a Polkastarter family.
Arul Prakash

There are many events going on in our telegram group.. I invite the POLS community to join us and participate there as well. 🤘
Polkastarter

Thank you Piyush and Arul for your time and for the illuminating answers on Polytrade.
Polkastarter
Really looking forward to the launch of $TRADE and to welcome you to the Polkastarter Family and continue working together in the future. 🚀
Arul Prakash

Awesome. Thank you!
Piyush Gupta

Thank you. Loved the community ❤️
Polkastarter
Make sure to follow Polytrade's official channels so you can stay up to date, everyone! 🙂

Thanks for tuning in. This will be the end of this AMA, thank you everyone for joining us! 👋😘
Polkastarter Blog - Latest Polkastarter News & Updates Newsletter
Join the newsletter to receive the latest updates in your inbox.
---