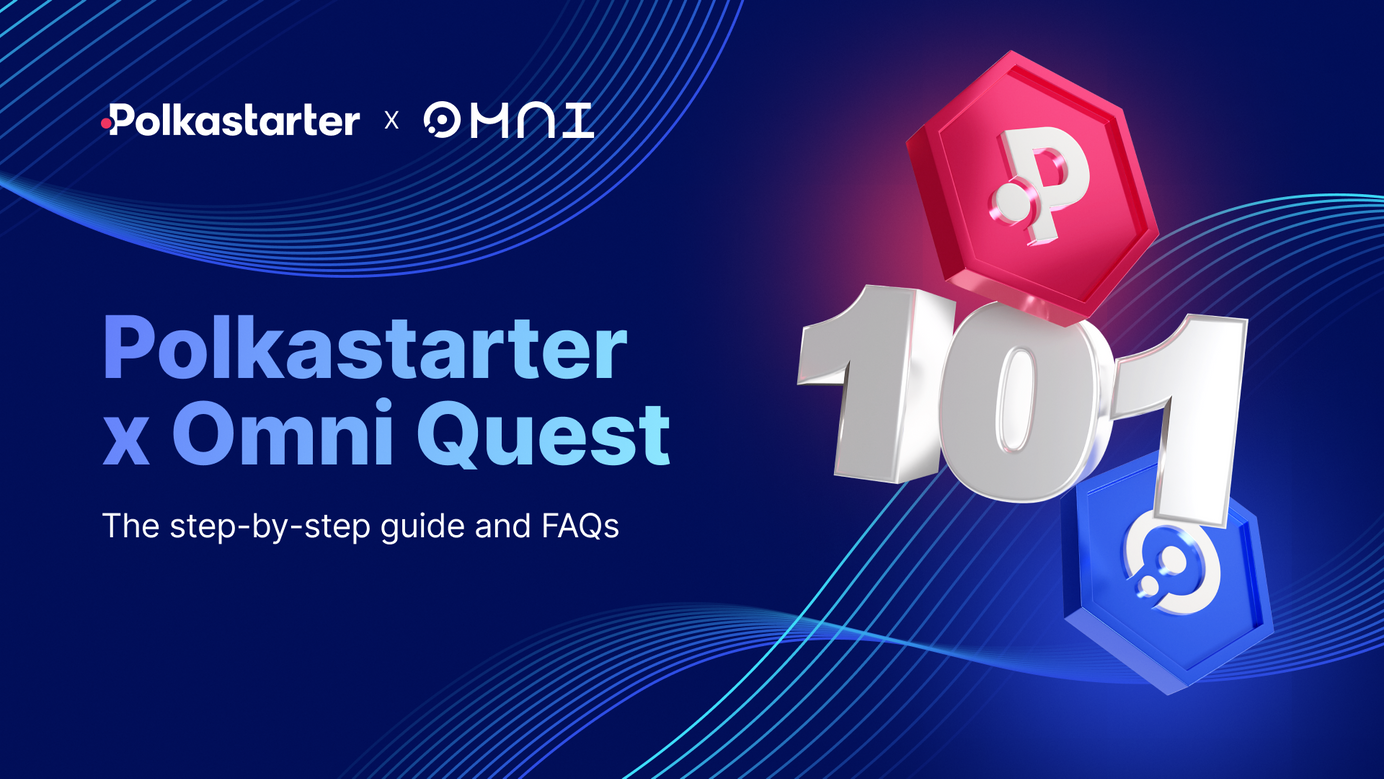 Polkastarter x Omni Quest 101
The step-by-step guide and FAQ of the Polkastarter x Omni Network campaign.
The Polkastarter x Omni Network Quest is finally here!
You might have been wondering what the Polkastarter Team has been working on in the past months. As we also mentioned numerous times in our Telegram group, we have been preparing new features and integrations with other protocols.
Today we will give you the opportunity to test a groundbreaking new solution: we have teamed up with Omni Network to develop X-Chain token sales! Omni Network allows the development of Dapps which work across multiple chains - you're no longer limited to what's available on a single chain only.

Let's walk through the steps to try it out (stay with us, the most interesting feature comes at the end)!
* We will be progressively updating this Quest handbook as new questions reach us.
Setup your wallet
We have been testing everything using the Metamask web browser wallet and will use that for all further steps. You can try with another wallet, but we have not tested the sale process with all other wallets out there, so if you do not have Metamask already installed, you may want to grab it from metamask.io and set it up.
A step-by-step guide to the Omni Supporter Mission and Polkastarter Quest

STEP ⓵ - VISIT TESTNET MISSION CENTER
Complete at least one mission in the Omni Launch Center (Launch Supporter mission suggested). After that, your Galxe-linked wallet will be eligible to receive testnet tokens (next step).

STEP ⓶ - OBTAIN TESTNET TOKENS
Claim Testnet tokens on the Faucet.
You will receive testnet ETH on Optimism and Arbitrum testnets, along with other testnet coins across a few testnets. You will only need the test-ETH on Arbitrum or Optimism testnets in the next step.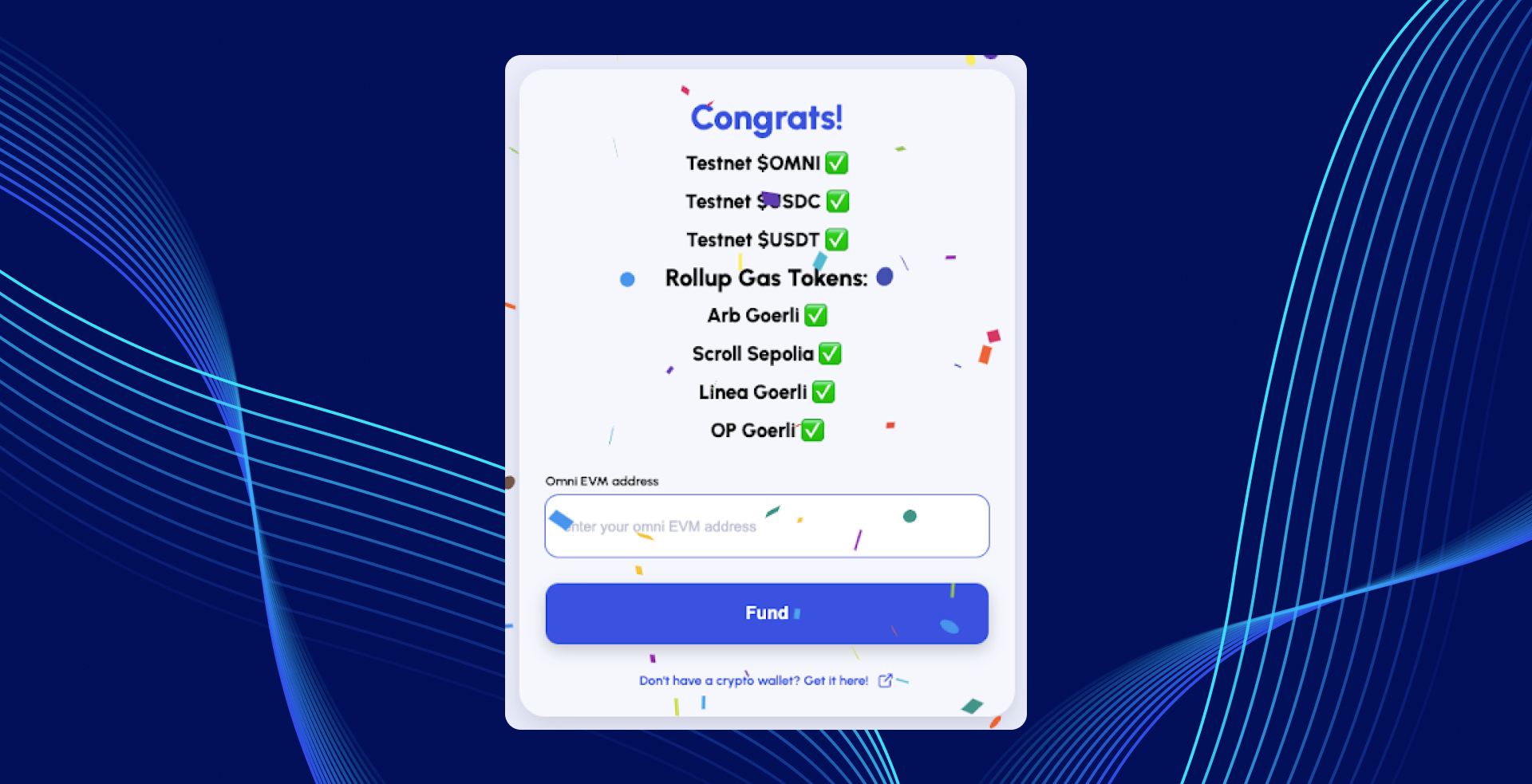 In Metamask, you need to set up all three test blockchains and check if it displays a balance for the (native default "gas") token from the list above. You can set them up on-the-go, during the Instant Swap you will do on the Polkastarter website, or set them up in advance using chainlist.org.
STEP ⓷ - START THE QUEST
Test the instant cross-chain swap on the Polkastarter Quest page (on Arbitrum and Optimism testnets). We suggest swapping multiple times, in smaller batches, 0.00001 ETH for 1 OMNIPOLS, for example. The errors are not frequent, but if they happen, you may lose the (test) funds.
* Max allocation: 0.0001ETH = 10 OMNIPOLS (across the 2 supported chains)
* Add Omni network and OmniPOLS to your wallet via the screen after the swap.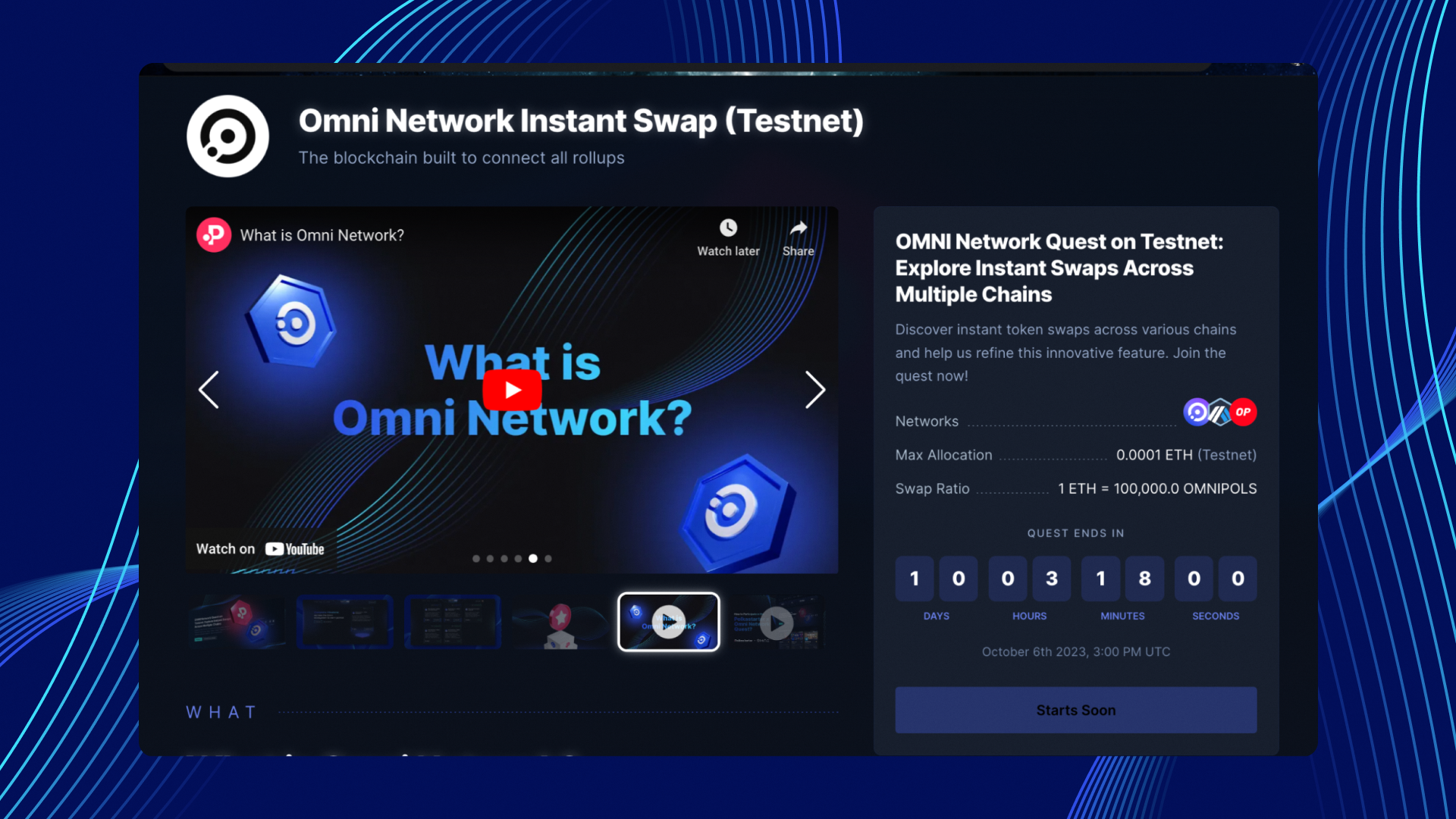 STEP ⓸- COMPLETE THE MISSION
Finish Polkastarter x Omni Mission on Galxe. Claim Omni OAT and points.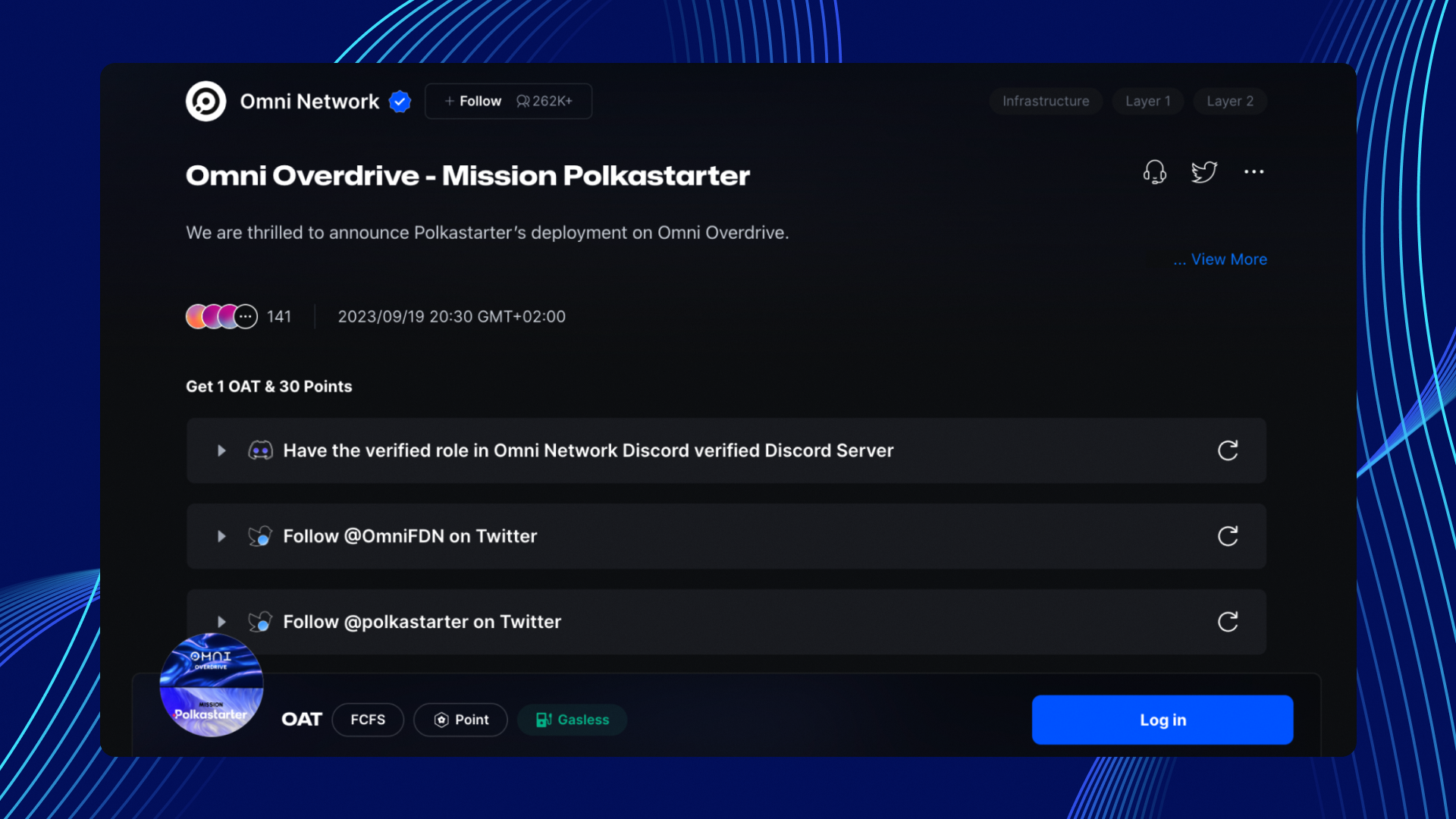 STEP ⓹ - CLAIM THE OAT
Claim your Polkastarter OAT, proving you completed the quest. The OAT is set up on the Polygon network. Keep it for memory, and future platform utility on Polkastarter.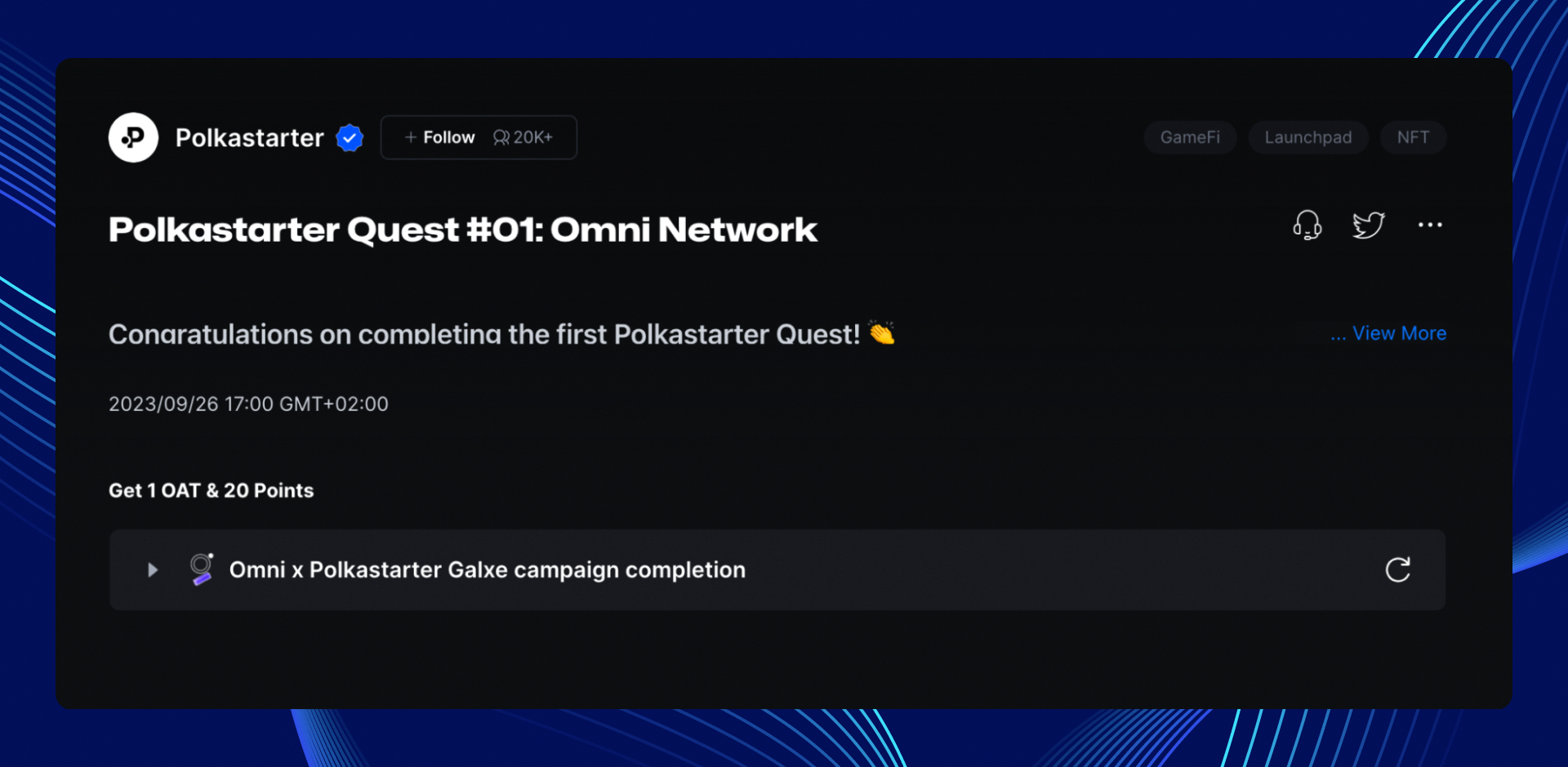 ⭐️ Other useful resources:
- Our blog article (Quest intro): here
- Omni testnet guide (for steps 1 and 2 above): here

⭐️ Block explorers for the testnet networks in use:
- Optimism-Goerli (testnet): https://testnet.explorer.omni.network
- Arbitrum-Goerli (testnet): https://goerli.arbiscan.io
- Omni (testnet): https://testnet.explorer.omni.network
(You will only see OMNIPOLS token balance, there might be no transactions so far)

FAQ
Q: OMNIPOLS show up in the Omni Block Explorer but not in the wallet. Why?
A1: Maybe OMNIPOLS was not added to the wallet, then manually import the token address. Click on "Import token"
Paste 0xe7c8544D33bC2157AD20AFF3544284E9627BF4bf into the address field
Wait a few seconds. The other fields should automatically be populated with the token name OMNIPOLS and decimals should be 18
Click ok .. it will (of course) show a 0 balance
Click ok again
A2: The testnet might be unstable. With this link here you can monitor the health of the node (which gives access to the Omni chain). It may help you understand if the problems are related to the testnet performance. If that is the case, we suggest to wait a bit. The Quest is open until Oct 6, 2023, so there is still plenty of time to complete it.
Q: How to add the Omni chain to the wallet?
A: In case you do not have Omni chain setup in your wallet, you can follow this article, or just go here and click on [connect wallet], then confirm the addition of Omni chain to the wallet.
Q: Polkastarter OAT - credential is green, but it's not possible to claim.
A: Refreshing the page should solve the issue.

Q: Do I need to have POLS Power to be granted extra points in the Polkastarter x Omni campaign on Galxe?
A: No need to wait for POLS Power to get the points in the Polkastarter x Omni Mission. Just holding 250+ POLS in your wallet is enough. Those who stake or hold LP tokens, qualify via POLS Power.

Q: Do I have to hold POLS to take part in the Quest?
A: No, you don't have to hold POLS tokens. But holding them grants you extra points in the campaign.

---
About Omni Network
The Omni Network is a layer 1 blockchain built to connect all rollups. Using Omni, developers can build global applications that are available across all rollups. Secured through restaking $ETH, Omni is a next-generation blockchain leading the frontier in both security and functionality. Omni is backed by $18M from prominent investors such as Pantera Capital, Two Sigma Ventures and Jump Crypto.
Website | X | Discord | Telegram | Blog

About Polkastarter
Polkastarter is the leading early-stage fundraising platform enabling Web3's most innovative projects to kick-start their journey and grow their communities. Polkastarter allows its users to make research-based decisions to participate in high-potential Public sales.
Polkastarter Blog - Latest Polkastarter News & Updates Newsletter
Join the newsletter to receive the latest updates in your inbox.
---