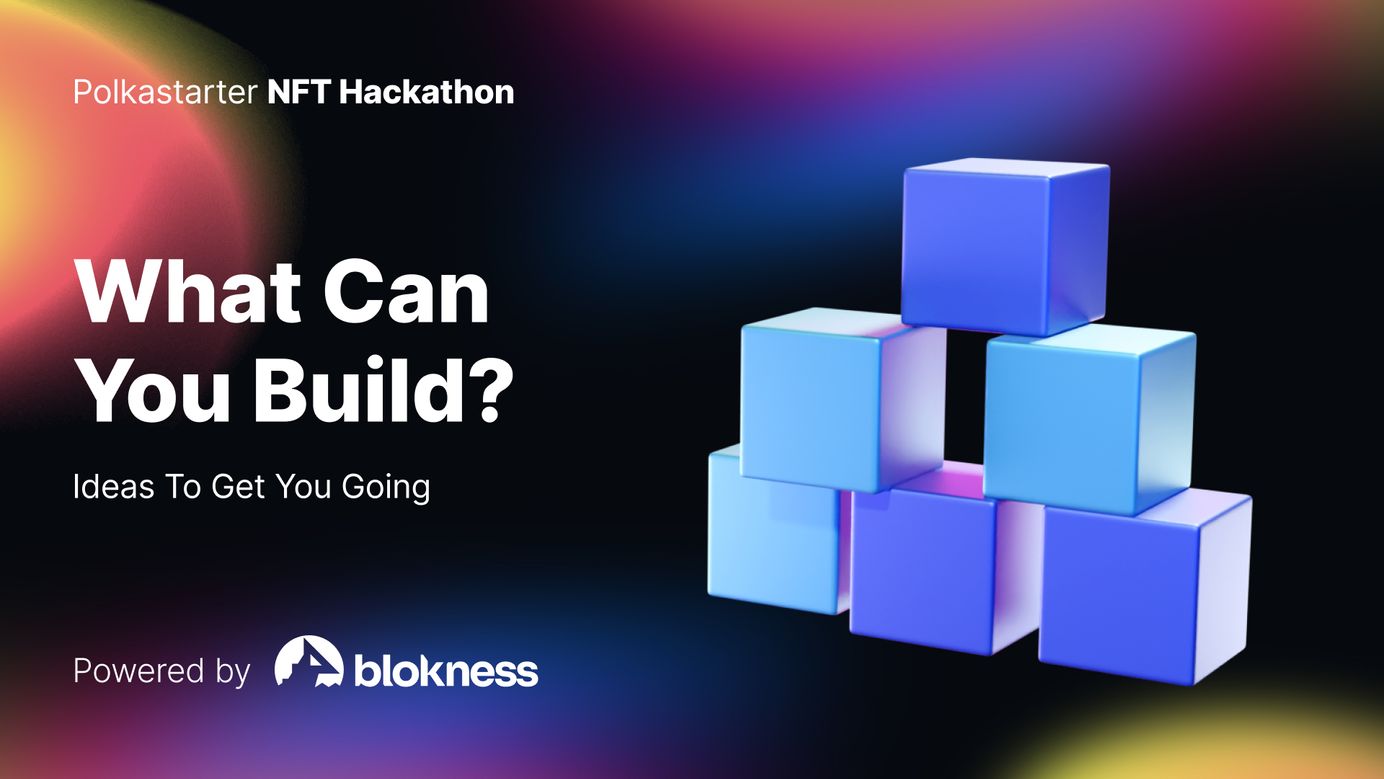 Polkastarter x Blokness NFT Hackathon Use Cases: What Can You Build?
Ideas to get you going
The Polkastarter x Blokness NFT Hackathon is fast-approaching, and we want to get you in the mood. The whole initiative aims to see creative submissions that leverage NFT technology to create real-world value with an undertone of sustainability. You can invite developers and earn up to $1,000 in rewards or submit the winning idea.
Sure, 3 days are not enough to deliver a finished product, but we want to see the potential, the prospect, and the vision behind these ideas. Before we put our thinking caps on and start building some plausible use cases for the Hackathon, let's look closely at what Blokness and their NFT Data API builder can do.
The product allows all your NFT data to get indexed and enhanced for specific vertical use cases. Using this API, anyone can build a product that relies on blockchain NFT data without being an experienced blockchain developer. Using data enrichment from private APIs, Blokness provides much more than raw data. NFT insights help you contextualize the data and use it straight away. Get enhanced metrics like average prices and liquidity variation over time to get your idea development a step further.
For more information on features provided by Blokness, be sure to check their dedicated page.  
Now, let's move on to the use cases.
NFT appraisal service
What if that DeFi protocols could use an NFT appraisal service with which they could evaluate the collateral value? Evaluating the value of an NFT is a complicated task because the answer comes down to what someone is willing to pay.
With NFTs becoming such a valuable asset and the cornerstone of an entire economy, there needs to be a method to come up with pricing data. NFT traders and developers involved with the intersection of decentralized finance (DeFi) and NFTs should have some sort of intrinsic asset value.
Play & earn guild tooling to manage player performance
With the rise and rise of the play-and-earn/NFT gaming model, gamers are looking for a more streamlined experience across the board. What if there were a way to build your own guild and manage details like player recruitment and onboarding, training and skills development, performance management automation, payments processing, and data analytics?
NFT-based hospitality loyalty programs
How can NFTs add value to the hospitality industry? Sky's the ceiling. Imagine every time someone checks in to a specific hotel, they receive an NFT that accrues value along the way. Every time they go to the hotel bar, gym or restaurant, the NFT unlocks more perks, free stays, and exclusive promotions. And then there's the case for transferability. NFT technology allows you to pass on the asset to a friend, partner or colleague that wants to add more value or cash in on the rewards.
About Blokness
Blokness is an NFT data API platform used to power up your apps and products. All the NFT data is indexed, enhanced for specific vertical use cases, and exposed through a simple API. Using the API, any developer without specific technical knowledge of blockchain can build a product that relies on blockchain NFT data.

Website | Twitter