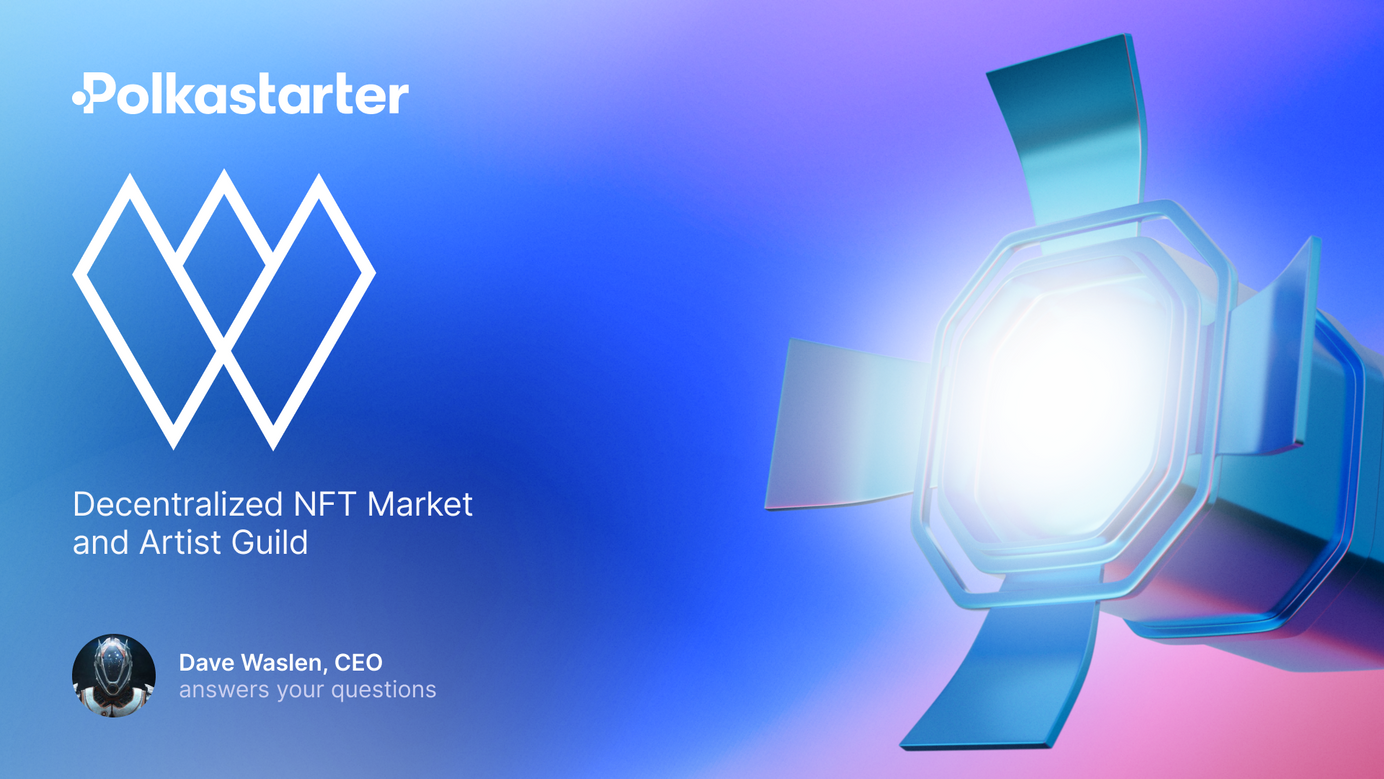 Polkastarter Wilder World AMA Recap
AMA with Dave Waslen, CEO of Wilder World.
You can see the original AMA conversation on Polkastarter's Telegram channel here.
Polkastarter
Hi everyone and welcome to another exciting Polkastarter AMA, this time with the Co-Founder of Wilder World, Dave Waslen or "Waz". Welcome Waz, and thank you for taking the time today to join us! 🔮🌎 @DaveWaslen
Waz, Wilder World
Thanks Camilla! What's up Polkastarter family!!! Great to be here!!
Polkastarter
Woohoo! Alright, we'll first have a few questions to Waz directly, before we open it up for community questions. Let's get started!
Waz, could you please first introduce yourself to the group?
Waz, Wilder World
Absolutely. Hey everyone, I'm Dave Waslen (aka Waz). I'm the Co-Founder of Wilder World. I'm Canadian and live in Singapore (great crypto jurisdiction). I have a background in finance (investment banking and private equity) and fell down the crypto rabbit hole about 5 years ago.
Have learned the ins and outs of the industry and super excited about what we're doing at Wilder World. And CAN'T WAIT to launch it with you guys next week!
Polkastarter
We can't wait either! And it sounds like Wilder World is going even farther down the rabbithole —looking forward to digging in with you today.
Can you tell us more about the vision behind Wilder World and why are you launching it?
Waz, Wilder World
Yeah we're going tres deep. It's radical. For sure…
So we're building a Metaverse.
And an NFT Marketplace.
And we have a custom built decentralized social platform.
A key problem we're solving is to give people decentralized tools and a framework for building anything they want within the NFT space and an immersive metaverse.
So we are providing tools like a truly liquid NFT marketplace (with no commissions) and fully decentralized social platform equipped with task boards & video calling, as well as training, guidance and parameters for building game-ready 3D content.
So people can create content, collaborate with others, sell it on the platform and then USE it in-world.
And this isn't just theory or 'plans'...
It's built baby!
Polkastarter
That's awesome — taking the Metaverse and online creative communities to the next level ! 🤘
Can you tell us more about the team behind Wilder World, and how your experience has led you here? As we've said many times, the Polkastarter team are big believers that the team and talent behind the project is one of the most important factors for success 👯‍♀️👯
Waz, Wilder World
Totally agree. A great team is critical.
We have Frank Wilder who is one of the key founders who built his career creating physical art and digital 3D art. He's pioneering the NFT space as a world famous 3D artist and is quickly rising to international regard with articles in Forbes and Hypebeast. He just dropped on Nifty Gateway and MEME last week. He's super dope.
Polkastarter
Nice, congrats to Frank on his Nifty Gateway and MEME drop!
Waz, Wilder World
And then another core founder is N3o who has been a deep tech developer since he was 8 years old who has a vision for a purely decentralized future, from social media platforms to metaverses to monetary systems. This guy is next level. Insanely smart, he's our CTO.
And I have been working hard at helping these genius ideas and products come to life and take them mainstream. Plus our other founders are absolutely instrumental as well, Phoenix and Hypno.
BUT the real talent is the team behind us. We have over 40 people building these products. And they are incredibly talented and committed. There's a real "Wilder" culture that everyone lives and breathes. It's incredible.
Polkastarter
That sounds like an allstar metaverse team. Deep tech dev since 8yrs old — that's like coding before walking haha.
Waz, Wilder World
Seriously. He's no joke.
We've all known each other for 15-20 years too so we go way back.
Went our separate ways for a while. Learning, grinding, getting scars, and now it's coming together. This thing is something very special.
Polkastarter
Friends and founders, that must be really fun!
Wilder World's vision sounds quite unique to anything else out there, but can you tell us more about Wilder World's competitive advantage? What differs you from other similar projects?
Waz, Wilder World
Yeah definitely. It's kinda hard to even compare us to one project because we have so much built and span across multiple verticals.
But there's definitely a lot of excitement and noise in NFTs right now. There are plenty of other NFT marketplaces like Nifty Gateway, Opensea, Makersplace, etc. but ours is fully decentralized, we don't charge commissions, the artists have a method to mint their NFTs in a way where they can be fractionalized so a larger audience can purchase a portion of them (meaning you can own a piece of a Beeple or Frank piece) which routine go for $50k+...
But we're very different from those platforms because we're not just an NFT exchange, we also are a metaverse.
And a fully photorealistic Metaverse that is built in Unreal Engine so we are a step up in realistic 3D AR/VR from projects like Decentraland, Sandbox, Cryptovoxels...
Plus we have our "artist guild" which is a decentralized social platform. Chat groups, task boards, video calling, inbuilt DEX, etc…
There's a video clip from our Metaverse.
That avatar is Frank Wilder who is cruising around in our Timeless Temple.
It's going to the location of our Cyber Gala this summer. A virtual 3D art gala. Where you can check out the art in VR and then purchase them straight from the NFT marketplace.
Polkastarter
Wow those visuals look amazing — Unreal Engine is so smooth!
Waz, Wilder World
Here's another visual from one of our decks:
(Copy paste issues here)
Polkastarter
We can follow up with the links out to the community for folks to check out more later!
And I agree — fractional investing hasn't really come into the mainstream yet and holds a huge potential for how the NFT market can evolve.
Polkastarter
That looks awesome!
Waz, Wilder World
Our big bet is that NFTs and VR worlds are colliding. So we want to give people a place to create and DROP game-ready NFTs, SELL them, the buyers can USE them and people can PLAY together in the virtual world.
We're building Ready Player One.
Polkastarter
That's a really exciting vision🔮🔮
Can you tell our community a bit more about your $WILD token, especially about the token utility and your upcoming token generation event (TGE)?
Waz, Wilder World
For sure so the WILD token is the governance token that controls the DAO where ALL proceeds of transactions flow back up to the WILD.
Then we have a LOOT token which is the platform currency which is built on a bonding curve that backs the NFTs sold on the platform.
Here are visuals for these:
So transactions happen in LOOT, but when land is sold for LOOT in the metaverse, the proceeds flow to the WILD token. Or when people who work for the DAO sell content and NFTs, then proceeds of LOOT flow to the DAO token.
And artists need to stake LOOT in order to mint an NFT.
So LOOT has a deflationary model.
And the Ethereum that is used to purchase LOOT, which backs the LOOT token on the bonding curve, will be controlled by WILD and flow up to the WILD as well.
Sounds more complicated than it is. It's truly genius and very very solid token uses and business models.
As the platform grows the WILD token will be the ultimate beneficiary.
Polkastarter
Nice, that sounds like a great incentivization model and for value accrual to WILD!
We'd love to hear a bit more about your upcoming roadmap. What key features are you developing?
Waz, Wilder World
So, the artist guild is live.
The NFT marketplace is just finalizing the smart contract audit by Consensys currently. Will be ready sometime this month, May.
The metaverse is already live. But it's internal only as we need to build out more walls and barriers so people don't fall into an abyss when they enter.
Planning for the Cyber Gala to be in July and be the public unveiling of the metaverse.
And we have several hundred world class artists that have signed up and are ready to drop on the marketplace when we go live.
So all is tracking quite well.
Screenshot of the NFT marketplace:
Polkastarter
Nice! I used to work at ConsenSys, the ConsenSys Diligence team is great.
Waz, Wilder World
Sweet! Yeah the industry's best.
Polkastarter
Those images look so cool! "Cyber Gala" launch haha I love it — will have to dust off my metaverse black-tie.
Waz, Wilder World
Yeah you bet!
Get your Avatar ready…
Polkastarter
Could you please share with our community your website and social media channels, so they can make sure to follow you and be kept up to date on all of this really cool progress?
Waz, Wilder World
And we have this thing called the Mint Factory where people can partner up with an artist from our Guild to make them something. Gonna be wicked to help people help themselves get a sweet NFT made.
Yes.
Website: www.wilderworld.com
Telegram chat: @Wilder_World
Twitter: https://twitter.com/WilderWorld_  / https://twitter.com/DaveWaslen
The rest of the core WIlders on Twitter:
@realfrankwilder
@real_n3o
@ph0enixwilder
@hypn0_Wilder
Do follow us to stay updated!!
Our IDO is next Tuesday!!!
Polkastarter
Follow Wilder World down the rabbithole!
Great, thank you Waz. Let's open the chat for a brief window to give our community a chance to ask their questions, and don't forget, that after the AMA Wilder World team will choose the best question and hand out one whitelist spot for their IDO next Tuesday (don't forget you will need to KYC fast and on time)
Waz, Wilder World
😎
Let's do it!
[QUESTIONS]
Polkastarter
Speaking of radical — those are so many awesome questions !!!! 🎉🎉🎉🎉
Waz will read through and answer as many as he gets to — and pick the IDO whitelist winner spot at the end 🔮
Waz, Wilder World
Oh my
QUESTION: @MoonSilverOwl
What is your child dream?
Waz, Wilder World
To be a rockstar. And I will be one inside Wilder World. 😎
You can be anything you want in Wilder World!
QUESTION: @FrancesBridges29280
Is the $WILD an ERC-20 token or BEP-20 token? What blockchain will you work with? What should you do to increase $WILD demand?
Waz, Wilder World
WILD is ERC20
QUESTION: @aksh2015mj
There are so many projects that only exist for a moment "die on the road, Which hurt the investors....
How can #Wilder world survive, continue to grow & in what ways do you convince investors that this project is very promising?
Waz, Wilder World
We are building this for the long term. We've been building it for 4+ years and we're only just beginning.
Ready Player One was set in 2033 I think, so we're way ahead of schedule!
QUESTION: @jerryziz91
Transparency is a key topic within blockchain. Tell us describely about your team members. How many team members do you have and how many developers are working for you?
Waz, Wilder World
We have over 40+ people working for the project.
The team is very international from Singapore, Canada, US, Europe, NZ, Australia
QUESTION: @telemetry15
DAOs are the future of organizations. Does Wilder World have the tools to scale much further? Do you have the infrastructure to incorporate new blockchain later on?
Totally agree. And yes. We've built our own DAO system.
QUESTION: @kuraaala
Hello, do you wanna stick exclusively with Unreal Engine, or are there any other engines you would like to consider in the future?
Waz, Wilder World
We would consider others. But so far we're going for the best in class when we use other platforms otherwise we're building the tools ourselves.
Ok thanks everyone! I gotta get back to work now! 😅
Thanks for having me Polkastarter team and @camillionaire !!
Polkastarter
Thank you Waz for your time and for the illuminating answers on Wiler World. Really looking forward to the launch of $WILD next week, and to welcome you to the Polkastarter Family and continue working together in the future 💫💫💫
Certainly a lot to get back to building! Thanks so much for tuning in to our community today to share the Wilder World vision.
Waz, Wilder World
@kuraaala I choose this question as the winner!
Polkastarter
Congrats @kuraaala ! The Wilder World team will contact you in PM and give you all information regarding KYC etc.
Thanks to everyone for tuning in. This will be the end of this AMA, thank you everyone for joining us! The chat will now open back up. 🔮🔮
Polkastarter Blog - Latest Polkastarter News & Updates Newsletter
Join the newsletter to receive the latest updates in your inbox.
---