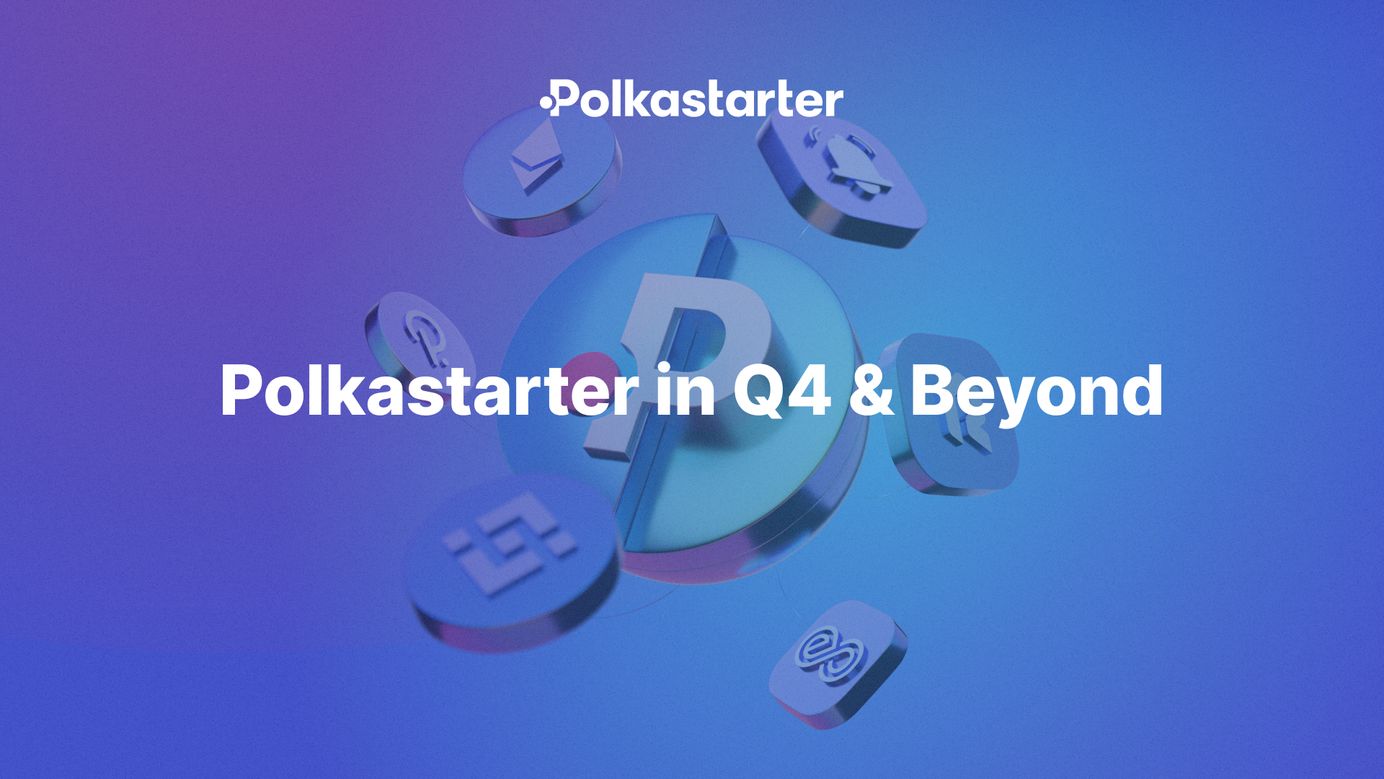 Polkastarter in Q4 & Beyond
This quarter, we are changing things up to involve you even more. Here's a snapshot of all the things coming your way in Q4 & beyond.
In Q3, we delivered a significant overhaul of Polkastarter. From a completely new look, significantly improved discovery of and allowlisting for IDOs, to IDO farming and more, we have introduced a myriad of fresh features. We are proud of our last quarter but can think of one magic ingredient to make our Q4 and beyond even better.
Can you guess what that may be? It's... YOU!
Here is what that means in practice. Polkastarter is changing how we select and build features. Instead of delivering only what we think is best, we adopt a hybrid approach - your ideas and ours, stronger together.
A hybrid approach means that we will still build towards our long-term vision for Polkastarter, but at the same time will listen to you — our community — by letting you propose and vote on features. That will result in implementing the highest-rated features, if technically and legally feasible, of course.
We are genuinely looking forward to working and BUILDING more collaboratively and can't wait to see what awesome ideas you come up with.
Our upcoming feature priority
Rather than proposing arbitrary timelines in the form of quarters, we will instead tell you the most significant features in the works. Our long-term vision, market analysis, and working with our council members and partners helped us identify the following next steps.
NFT Drops & Sales — Very similarly to how IDOs work now, we want you to be able to purchase NFTs instead of ERC20 (or equivalent) tokens. We have some amazing ideas here, and this is among our top priorities in the upcoming weeks.

NFT Farming — Yes, we know we have talked about this before, but it's for real this time. You will soon be able to farm NFTs by engaging with and utilizing the Polkastarter ecosystem. IDOs participation, providing liquidity, IDO farming — many of these and other things will soon reward you with NFTs.

v2 Improvements — Polkastarter v2 was a massive launch that took many months to build. We (obviously) think it's great, but we also know that we can do better with all your valuable feedback. So, much of the upcoming weeks will go into bug fixes, minor improvements and overall include a great deal of close communication with you all to improve it even more.

Many more features — Examples include decentralized identity, better support for multi-chain (Kusama, Solana, Avalanche), support for more wallets (i.e., WalletConnect), and much more.
Propose and vote for the features YOU want
For that, we opted to use the fantastic Canny.io platform. Used by many companies in and outside of crypto, it helps companies similar to us focus on community engagement.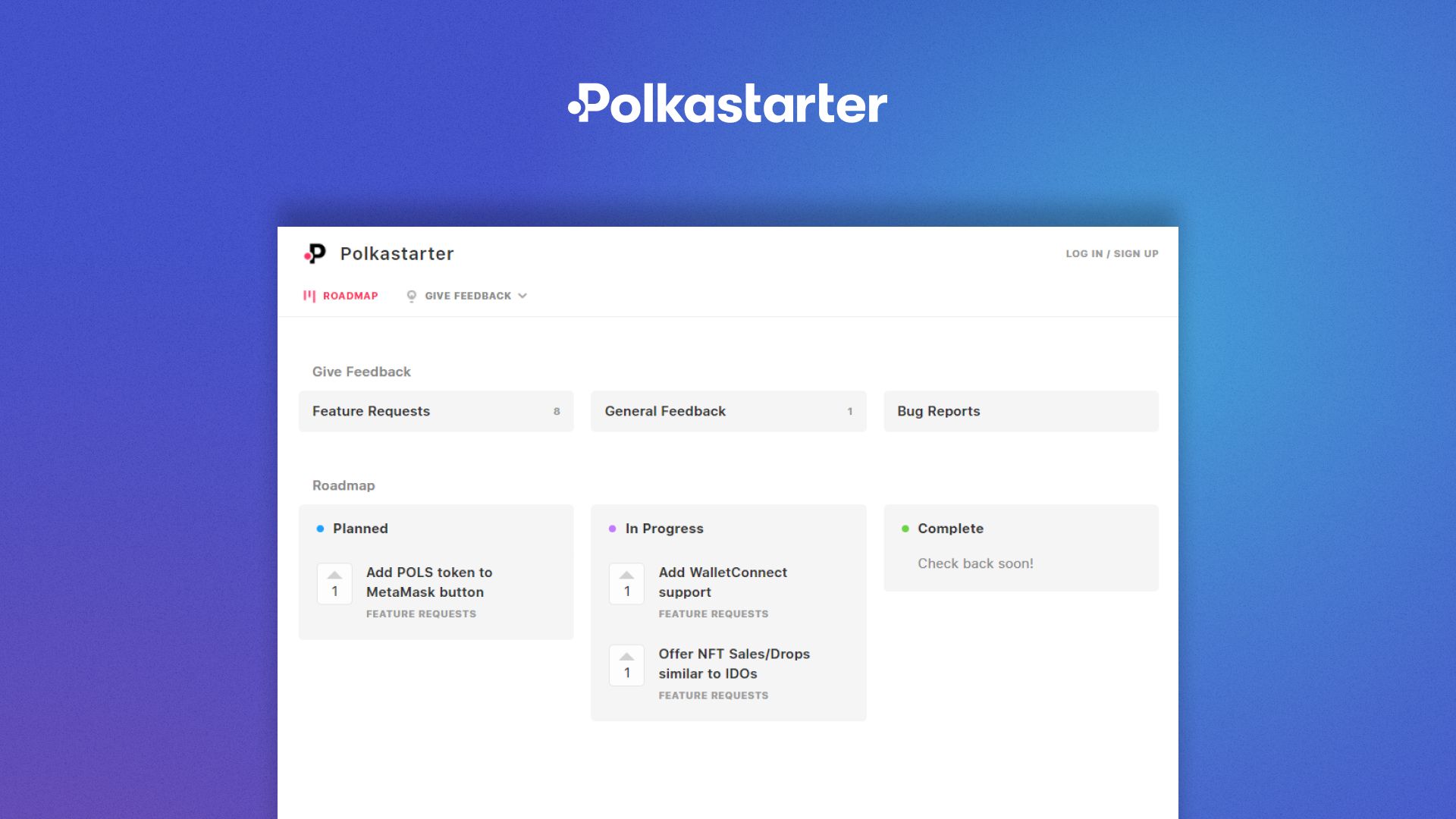 With immediate effect, you can visit our Canny page here and propose new features, vote for existing ones as well as chime in on any of the existing proposals there. Once a proposal gathers a good amount of votes, our team will evaluate them and provide an official update.
Once again, the link to our Canny:
➡️ https://polkastarter.canny.io ⬅️
We will also implement this closely into our site soon to gather more attention, proposals, votes, and thoughts.
We cannot wait to see your proposals and comments. Now it's time to get crackin' and deliver, with your feedback, to make Polkastarter better together.
Other things coming up at Polkastarter
MORE Polkastarter Gaming — If you've been following closely, you must have seen the Polkastarter Gaming announcement from earlier in September. During Q4, we will be working even more towards bringing to life all the individual items from Polkastarter Gaming.

This includes further deployment of the $2 million gaming fund, the imminent Polkastarter Gaming Guild (watch out for that one!), regular related IDOs, talks with gaming heavyweights (involving all of YOU as well), and last, but not least - exclusive Metaverse land and NFT sales.

All these things coming your way are bound to make your head spin. You better be ready cause Polkastarter Gaming is in full swing!

MORE incubations by Polkastarter Labs — On October 1st, we celebrated the official launch of Polkastarter Labs, our 'investment arm' dedicated to supporting the next wave of crypto innovators. Together with our long-standing partners Morningstar Ventures, we will be co-incubating WonderHero as the first project to come out of the Labs.

In the next few months, we will be diving headfirst into the Labs, conducting various new (and dangerous) experiments to support the ideas of tomorrow, and subsequently provide you with first row seats to their development. Expect more news on that front to come your way very soon!

MORE videos, video tutorials, and educational articles — We just launched Polkastarter YouTube and will be rolling out a great deal of new content relating to navigating the new website, participating, and making the most out of IDOs, and other adjacent topics.

The same goes for the blog - we are actively gathering feedback and publishing new pieces to answer all your burning questions around v2 and all things Polkastarter.
On and by the way... we've got an ongoing YouTube giveaway for 3 Allowlists. Our Chief of Product, Robin Ebers, created a v2 Demo video that runs you through all the new features, and that is your starting point.
To enter the giveaway, watch the video, comment underneath it with your favorite v2 feature, AND subscribe to Polkastarter YouTube. Once we reach 3,000 subs, we'll select the three lucky winners.
And that's definitely not everything. Stay tuned and follow us across socials to be the first one to get all the incoming alpha.
---
About Polkastarter
Polkastarter is the cross-chain, fully decentralized launchpad to launch new ideas in the blockchain and digital assets space. With an industry-leading curation process and market access, we select the most innovative projects in the space and offer them long-term support after their IDOs.
With Polkastarter, crypto projects can increase their reach, grow their communities and receive support from crypto's most well-versed experts. IDO participants, on the other hand, are offered an opportunity to invest in a secure and compliant environment, as well as participate in IDOs not solely on Ethereum, but also such on Binance Smart Chain and Polygon.
Media Contact Polkastarter: [email protected]
Connect with and learn more about Polkastarter
Website | Twitter | Discord | Telegram | Instagram | Newsletter
Polkastarter Blog - Latest Polkastarter News & Updates Newsletter
Join the newsletter to receive the latest updates in your inbox.
---