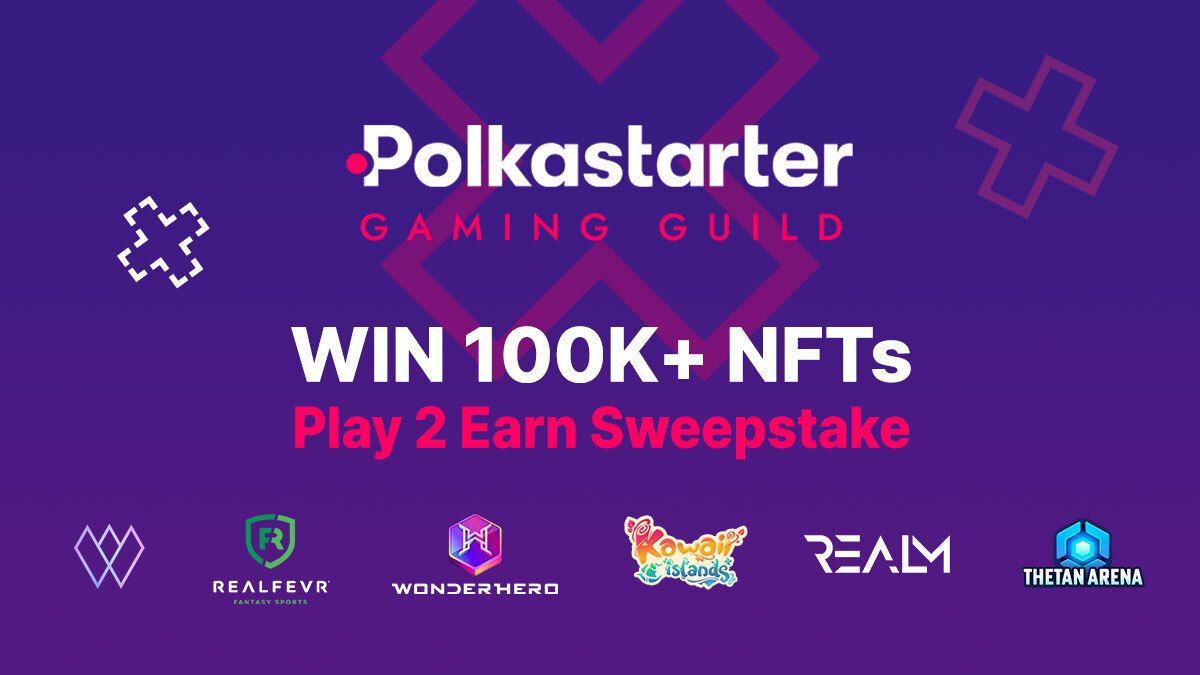 Announcing Polkastarter Gaming Guild
We are pleased to announce the launch of PGG - Polkastarter Gaming Guild!
Over the last few months, we have been extremely inspired by the success of Play-to-Earn games such as Axie Infinity which have shown that Play-to-Earn is not only the future of the blockchain gaming industry but that P2E games can spark joy for millions of people across the world.
Polkastarter Gaming Guild is aiming to become THE leading community for P2E gamers, enthusiasts and investors. Our goal is to support the best up and coming projects in the industry and connect them to the P2E community. We are also aiming to make PGG the most enjoyable P2E community - we will constantly host different events such as giveaways, streams, scholarships and gaming sessions. Creating fun experiences for the PGG community is the core mission of ours and we'll be working hard to make Polkastarter Gaming Guild the best place to be for everything P2E.

To commemorate the launch, we are holding a Sweepstake event where everyone gets a chance to win a share of the $100,000 prize pool in NFTs of our partners - Realm, Kawaii Islands, WonderHero, Wilder World, Thetan Arena and RealFevr.

Join the $100k Sweepstake here.

And obviously, join the PGG Discord server straight away (you get the link after you join the sweepstake)! People that have joined the Discord in the first 24 hours after the launch will get an "Early Bird" role (and a PGG Early Bird NFT later!), which later on will grant them an exclusive access to perks and features of Polkastarter Gaming Guild - stay tuned!
See you in the metaverse,
PGG founding team

P.S. A huge thank you to our amazing partners for providing some incredible prizes:

Realm -  a play-to-earn Metaverse that allows gamers, players and artists to create their own personalized NFT microverse.

Kawaii Islands - an Anime Metaverse, where everyone can play, create, connect and earn.
WonderHero - is a NFT play-to-earn mobile game. The game is a turn-based RPG for iOS/Android where players collect Heroes, enter RPG combat and earn tokens
Wilder World - an immersive 5D Metaverse built on Ethereum, Unreal Engine 5 and Zero.
RealFevr - a fantasy football app with more than 2.5M downloads that allows you to explore the world of Football everlasting NFT moments.
Thetan Arena - Thetan Arena is a esport (Moba + Battle Royale) game based on blockchain technology.

Our socials
Website: gaming.polkastarter.com
Twitter: twitter.com/polkastarter
Discord: discord.com/invite/N6RZU4fuSY
Medium: blog.polkastarter.com
Polkastarter Blog - Latest Polkastarter News & Updates Newsletter
Join the newsletter to receive the latest updates in your inbox.
---