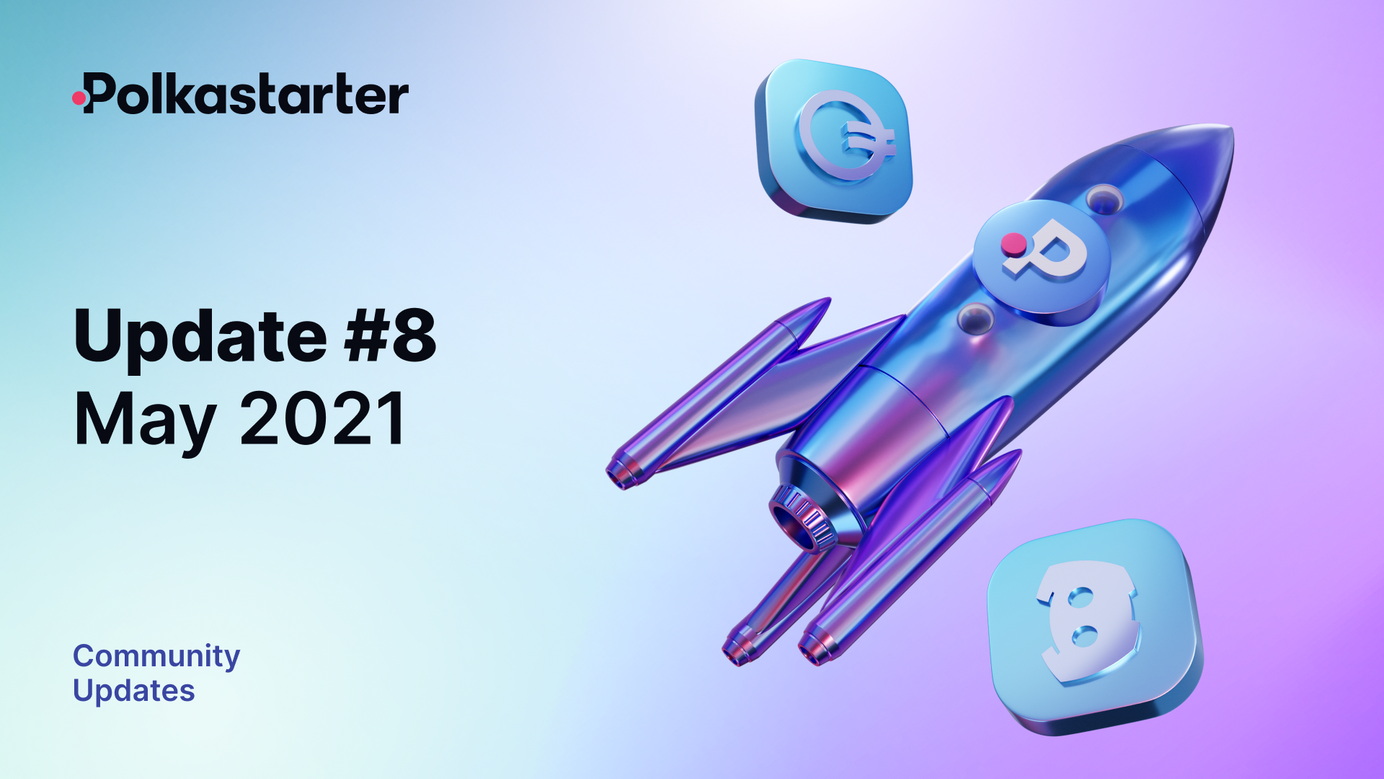 Polkastarter Community Update #8 - May 2021
9 IDOs, 535 ETH and 1,298 BNB raised, Binance listing, product updates, and launch stats!
May was a whirlwind of a month for us! Here are the latest headlines from our eighth Community Update:
Announcing Polkastarter IDOs on Polygon!
Polkastarter IDOs will soon be compatible with the Polygon network!
For both projects and IDO participants, this means lower costs and higher throughput. Projects will spend less on distributing tokens and IDO participants will spend less in order to claim tokens.
Overall, integrating Polygon into Polkastarter's IDOs will further improve liquidity and engender community adoption of emerging protocols. By making the IDO process more economically accessible to participants, Polygon x Polkastater will accelerate our mutual, broader mission to engender multi-chain interoperability.
Learn more about the announcement and reach out if you're a project interested in launching an IDO on Polygon!
Upcoming Polkastarter IDOs
Stay up to date with the IDOs happening in June. Note that information is subject to change and more IDOs will be announced - always check the Polkastarter website for the latest information.
June 2 NiiFi. A scaling technology enabling instant finality, low transaction fees, composability - and more.
June 3 Phuture. Unlocking radical access to crypto indices, making it easier than ever to invest across DeFi.
June 9 Stratos. Stratos is building a complete solution to data architecture for storage, computation, processing, and more.
CryptoDep. May 26, 2021.

Community Highlight: OpenOcean
The Polkastarter Community is as vibrant as always, buzzing with various new innovations and developments. For this month's highlight, all eyes are on OpenOcean!
So what is OpenOcean? OpenOcean is a full-stack, all-in-one platform providing a flawless trading experience and helping users find the best price and lowest slippage possible. The team has developed a full DeFi & CeFi aggregation protocol with integrated support for effectively all the main chains in the DeFi space, including but not limited to: Ethereum, BSC, Polygon, Solana, Ontology, and Polkadot.
Open Ocean's API is further integrated with three major centralized exchanges: Coinbase, Binance, and Deribit.
The DEX aggregator gives users the opportunity to tap into a diverse range of decentralized exchanges, most notably UniSwap, SushiSwap, Balancer, Curve, PancakeSwap, BakerySwap, USwap, InnoSwap, Loopring and many more.
Open Ocean boasts a remarkable investor base as well. Binance, Multicoin, DAO Maker, TRON, CMS are some examples of the seatholders on the Open Ocean cap table.
In for a better trading experience? You simply can't afford to not give the platform a try! Head over to the Open Ocean website to find out what the fuss is all about and learn more about their technology, team and future roadmap.
Product and Platform Updates
This month, we updated docs, spoke on podcasts, announced new Council members, hosted 11 AMAs with projects, and more. Here are some updates from May!
Community and Growth
The success of Polkastarter and of our Polkastars would simply not be possible without you. Thanks for helping us build the future of IDOs, and redefining how groundbreaking tech projects go to market!
We just launched the Polkastarter Discord! Join us and say hi!
Over 209,000 website visits
49,811 more Twitter followers than last month ⤴️
Over 8m Twitter impressions in May!
We added nearly 10,000 new members to our main Telegram channel! 🥳
May IDO Recap
Nine projects launched their IDOs on Polkastarter this month, raising a total of 535 ETH and 1298 BNB.
Token ($POLS)
There are over 43,000 POLS holders across Ethereum and BSC!
Did you know that the role of #POLS in the IDO process has changed? On May 10, we updated our allowlisting rules. The TL;DR is that owning just 250 POLS gives you a chance to be allowlisted in an IDO! Overall, this update is part of a process to provide the POLS community with higher chances of successful participation. Learn more in our full recap.
Stay Up to Date
Thanks for tuning in to our May recap! Make sure to connect with us on Twitter, Telegram, and now Instagram. And don't forget to join us on Discord!
Polkastarter Blog - Latest Polkastarter News & Updates Newsletter
Join the newsletter to receive the latest updates in your inbox.
---