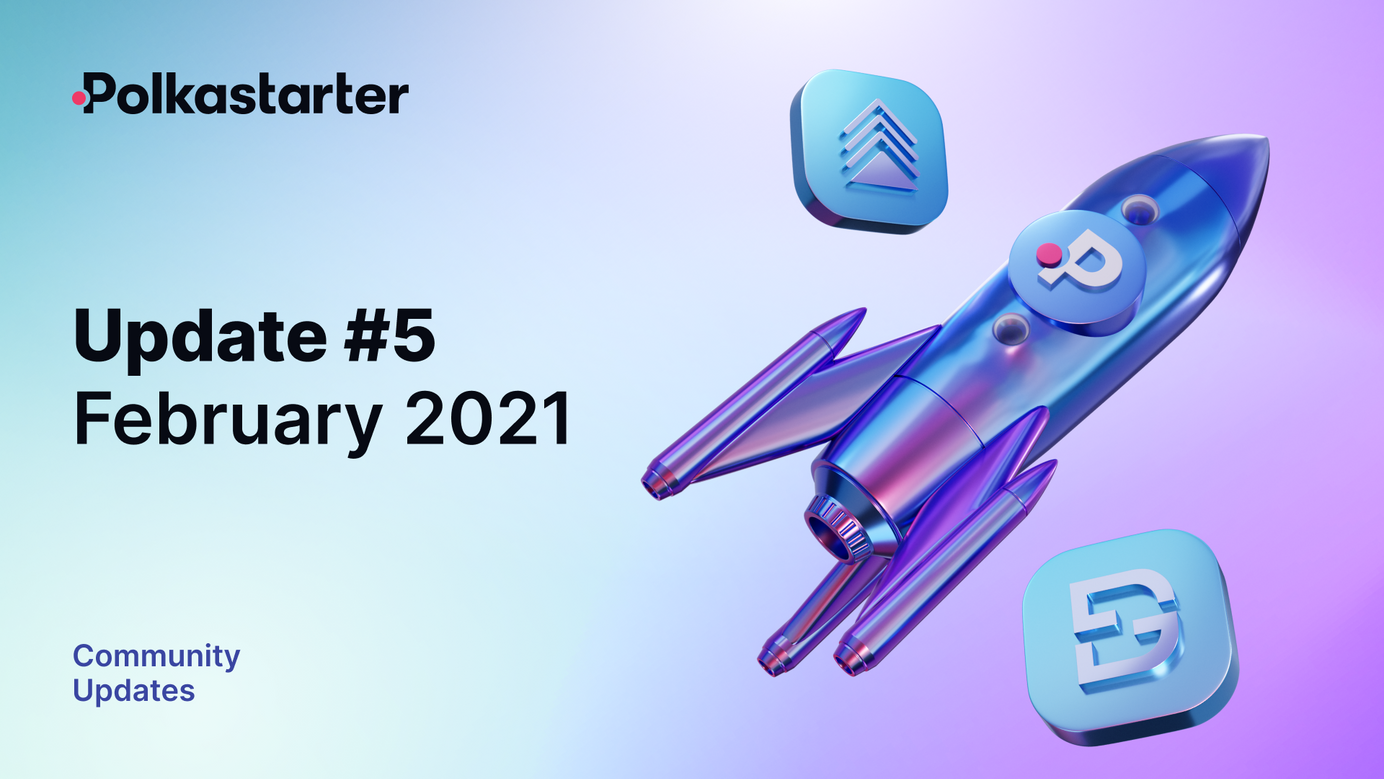 Polkastarter Community Update #5 — February 2021
February 2021 was our best month to-date, with another historic few weeks of growth for Polkastarter. Some highlights from our 5th…
February 2021 was our best month to-date, with another historic few weeks of growth for Polkastarter. Some highlights from our 5th community update:
We Polkastarted 10 IDOs in February, which in total received 740 ETH from thousands of backers.
The combined market cap of all projects that have raised on Polkastarter is over $660M as of today (March 5).
Our global Polkastarter community has grown over 2x in the last 30 days, with more than 260,000 community members combined across Telegram and Twitter.
Polkamarkets, a new IDO this month, was listed on Uniswap at +100x higher than its initial sale on Polkastarter.
Our top project of the month, SuperFarm, broke the $150M daily volume mark on it's first day listed on Uniswap.
So far, the 25 projects ( "Polkastars") that have raised with Polkastarter have received 3,884 ETH since our inception.
Our mission is to attract the highest quality projects and founders in blockchain and crypto, and match them with token buyers that believe in and support projects for the long run. Our selection criteria is constantly being refined and enhanced. We have welcomed three new members to our Polkastarter Council to advise in governance and project selection, with a deep expertise in institutional asset management and digital assets. More about the Polkastarter Council below.
The demand for Polkastarter slots has never been more competitive, and we look forward to bringing you even more top quality projects next month!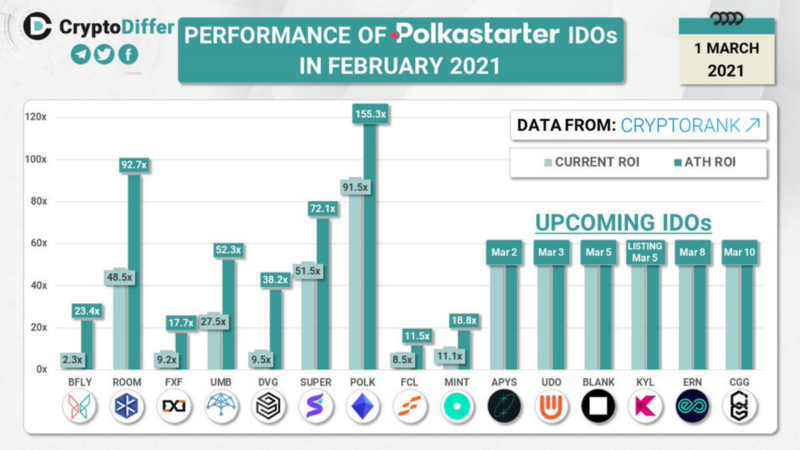 Source: CryptoDiffer
Product and Technology ⚙️

February was all about increasing functionality for users. We submitted the vesting, ERC20 and offchain staking modules to QA. Our tech team continues to build around the clock to bring new and improved features to our users, and we're grateful for all of your feedback. We grew our engineering team last month, bringing on board two new world-class smart contract developers.
New modules submitted to QA:
Offchain Staking Module
Improved Allocations Module
Stablecoin Pools (ready for production, launching soon)
Vesting Module (under final quality assurance, launching soon)
Other product updates for February:
Improved whitelisting process
Started Polkastarter UI V2
Started front end migration to react
Released 18 new Polkastarter JS versions
Implemented various security countermeasures
Implemented various devops optimizations
Telegram bot launched and subscriber count is close to 20k
Marketing, Awareness & Community 📣
The success of Polkastarter and of our Polkastars would simply not be possible without our incredible community. Thank you for helping us build the future of IDOs, and redefining how groundbreaking tech projects go to market!
Some February community stats and highlights below:
646,373 visits to our website (176% increase from January).
+125,000 Twitter followers, an increase of 155% and a total of 205,000 followers at the end of February. That's 7x Twitter growth since the start of the year!
Over 2 MILLION people visited our Twitter page in February.
Our Telegram communities more than doubled since January, and now include over 53,000 members, across 7 global channels).
Featured Pools 🚀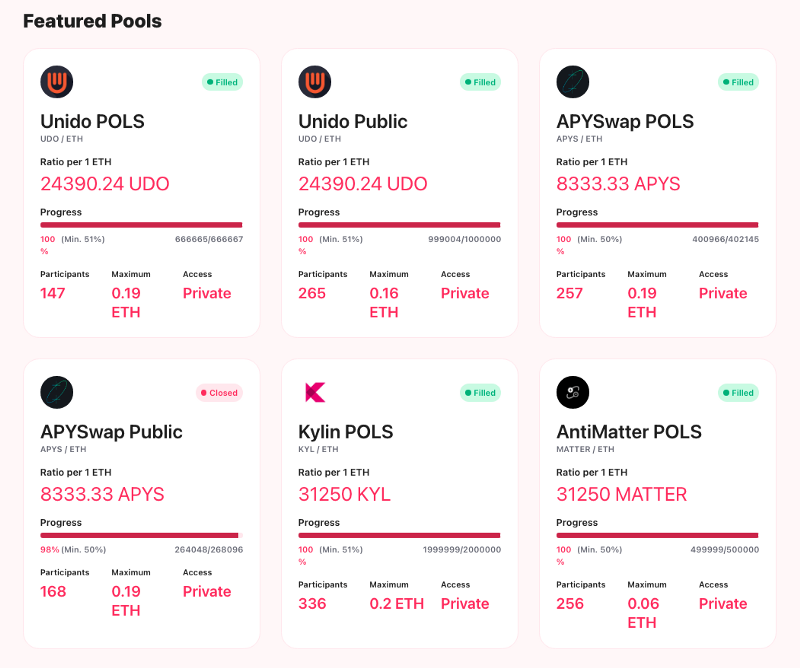 We help projects build community and long-term support, and our access and curation enables us to offer the best projects. Here is a summary of the pools that were on offer in February:
Fractal: Received 126 ETH to allow users to exchange data and information in a fair and open way
Public Mint: Received 102 ETH to allow developers to build fiat-native blockchain applications
SuperFarm: Received 65 ETH to allows users to deploy crypto and NFT farms cross-chain, and with no code required
Polkamarkets: Received over 37 ETH to allow users to take positions on outcomes of real world events–in a decentralized and interoperable platform
DAOventures: Received over 28 ETH to build a decentralized robo-advisor and automated money manager
AntiMatter: Received 16 ETH to build a lightweight on-chain DeFi perpetual derivative protocol
OptionRoom: Received over 15 ETH to build a user-governed oracle and forecast market protocol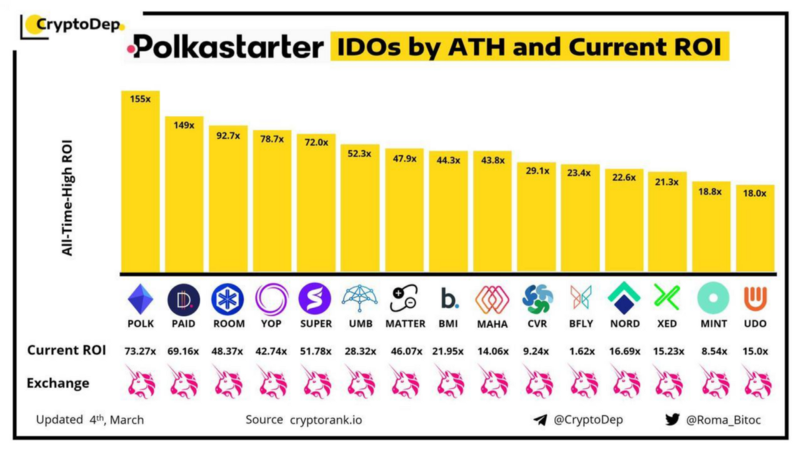 The Polkastarter Council 🐋
The Polkastarter Council is a governance committee of seasoned crypto, DeFi, venture capital, and institutional investment experts that will be advising on which pools and token swaps Polkastarter should feature, and support us in raising awareness for our Polkastars.
Last month we were thrilled to welcome three new members to the Council:
Digital Finance Group, a global blockchain and digital asset investment firm with over $550M AUM.
AU21 Capital, a Hybrid Venture and Hedge Fund that invests in high growth blockchain and AI companies.
Astronaut Capital, a leader in asset management and research for digital assets and cryptocurrencies.
They join the Polkastarter Council alongside Moonrock Capital, a Blockchain Advisory and Investment Firm based in London and Hamburg (announced in January).
In order to be eligible for this council, all members need to hold together around 5% (5,000,000) of the total supply of Polkastarter Tokens ($POLS), and to be trusted and active leaders in the blockchain ecosystem.
Token ($POLS) 💎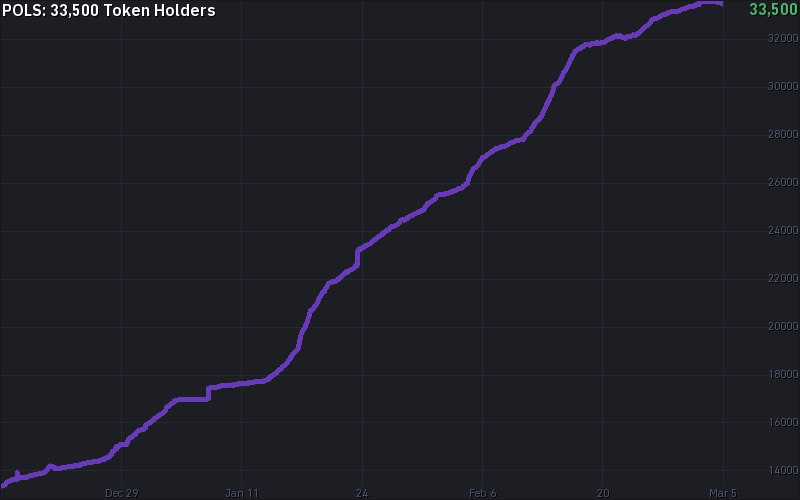 We now have over 33,000 active token holders — more than 26% from last month
We saw $325m in Uniswap volume alone, averaging ~$11m a day (more than 6x since the start of the year).
Total Liquidity is above the amazing $20,000,000 mark
Polkastarter Uniswap Liquidity Program — Extended!
Since our token launch at the end of September 2020, Uniswap has paid out nearly $2M in fees, and we distributed a total of over 470,000 $POLS to community members providing liquidity on Uniswap (worth a total of $2.17M in rewards as of today). That totals to a combined worth of $4M in distributed rewards!
For February's Uniswap Liquidity Program, we distributed 70,000 $POLS (a value of over $324,000 as of today). Together, these liquidity providers have shared more than $975,000 in fees. That's $1.25M worth of distributed rewards in February alone!
We are excited to announce that we are extending our Uniswap Liquidity Program, and will be distributing 35,000 $POLS at the end of March (a value of over $160,000 as of today).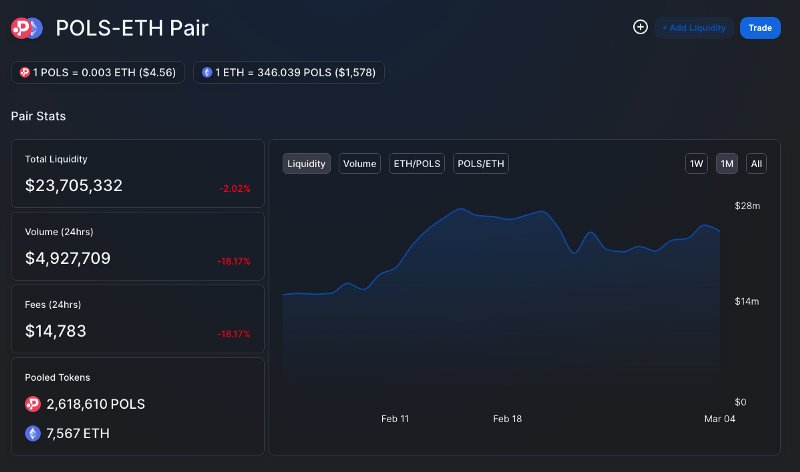 For more information on the Uniswap Liquidity Program and how to participate, please see the details here.
DEX:
CEX:
Source: Uniswap
Press 📰
Selected others:
Cointelegraph: Umbrella IDO sees record participation on Polkastarter
Hackernoon: Polkadot and its Funky Family!
NASDAQ: 5 Alternative Cryptocurrencies Besides BTC, ETH and DOGE For 2021
AltcoinBuzz: Polkastarter ($POLS): Bringing Fundraising To the Masses
HedgeWeek: World's first hybrid liquidity aggregator Finxflo to launch FXF token-based capital raise on Polkastarter
CryptoBriefing: Celebrity-Endorsed NFT Project Ethernity Will Launch on Polkastarter
BTCManager: Polkamarkets Readies Hyped IDO in Preparation for Its Gamified Prediction Markets
BeInCrypto: NFT DeFi Platform Ethernity Chain to Launch on Polkastarter
TokenPost: Ethernity Chain IDO: Launching On Polkastarter March 8th, 2021
Coinspeaker: Polkamarkets Disrupting Prediction Markets with Its DeFi-Powered Platform
TechBuillon: With It's Unstoppable Rise, DeFi Can Never Be Too Simplified
CryptoGlobe: Crypto Analyst Picks Five Altcoins With 50x Potential
DailyHodl: Here's How To Find 100x Altcoins Before They Burst on the Scene, According to Crypto Trader Lark Davis
Upcoming 👀
Other topics for the upcoming weeks and months include:
Launch staking
Analyse possible BSC integration
Launch the Polkastarter Governance platform with Council voting
Launch important tech updates related to whitelisting
Continue working with Parity and Polkadot to prepare for integration
Continue working on adding new features
Continue improving our educational content and user experience!
— — -
NOTE: If you are interested in Polkastarting your project with us, you should get in touch via our application form. Keep in mind that the selection process is rigorous and thorough. Applicants should expect to provide basic information and details about their company, team, professional backgrounds, and business model.
About Polkastarter
Polkastarter is the fully decentralized protocol for launching new ideas. Our curation process and industry access enable us to offer the best new projects in blockchain and digital assets. With Polkastarter, decentralized projects can raise awareness, build a loyal community, and receive long-term support. Users of the platform will be able to participate in a secure and compliant environment, and use assets both in and beyond the current ERC20 standard.
Polkastarter Blog - Latest Polkastarter News & Updates Newsletter
Join the newsletter to receive the latest updates in your inbox.
---