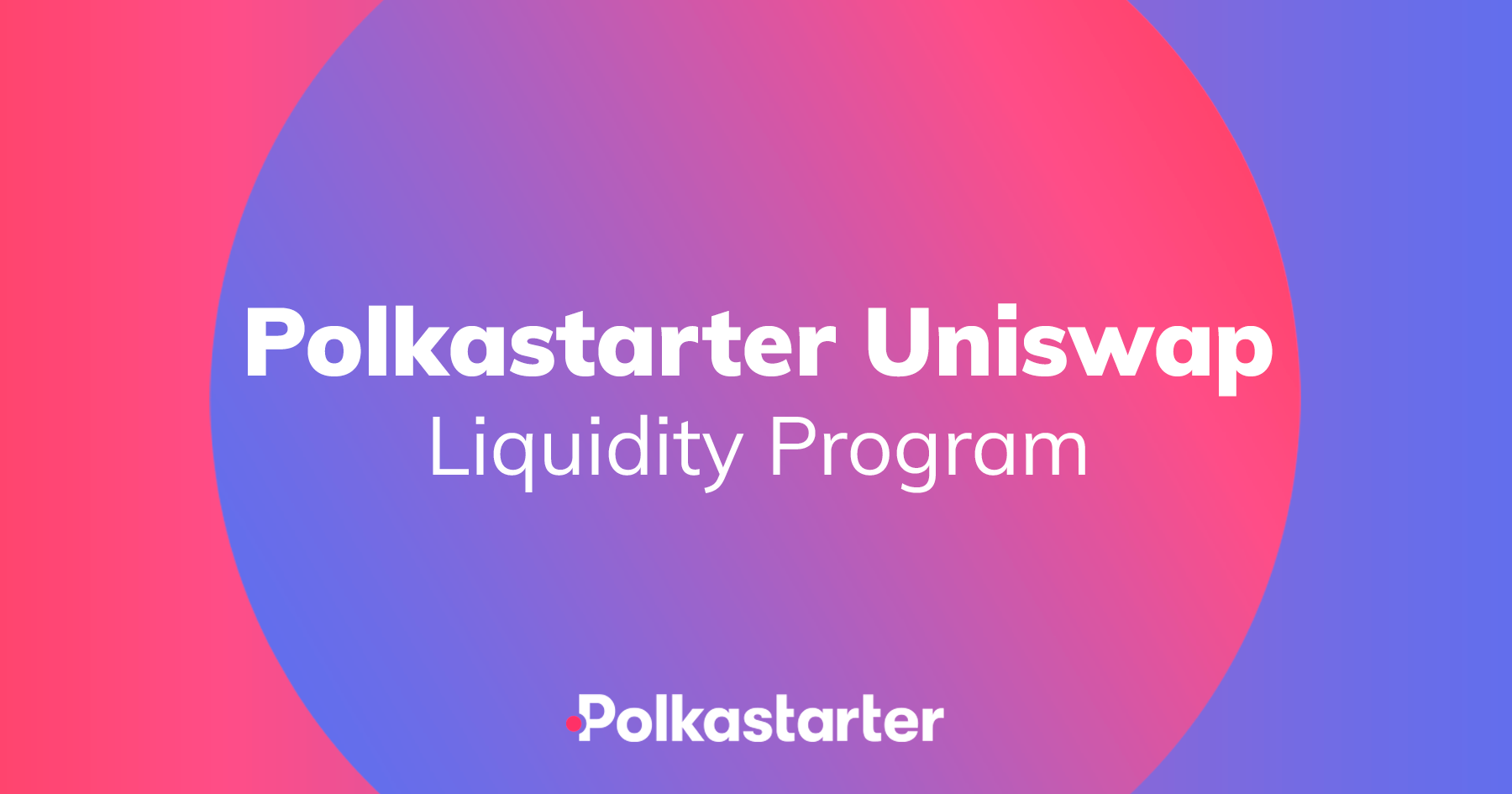 Announcing Polkastarter ($POLS) Uniswap Liquidity Program With Up To $30,000 In Rewards
With the Polkastarter platform launch around the corner, it is of utmost importance to incentivise liquidity provision and participation…
Announcing Polkastarter ($POLS) Uniswap Liquidity Program
With the Polkastarter platform launch around the corner, it is of utmost importance to incentivise liquidity provision and participation in the POLS ecosystem. We are excited to announce that we are launching our Uniswap Liquidity Program in monthly rewards for Uniswap liquidity providers. The liquidity program is going to be launched on October 28th.
Update February 28th: The reward for March will be 35,000 POLS (from 1st of March to 31st of March — paid out by 3rd of April). You are only eligible if you are holding the LP tokens (uni-v2) in your own wallet.
Liquidity providers benefit by getting ETH and POLS simultaneously. These rewards are paid in POLS to every liquidity provider that locks ETH and POLS on Uniswap for at least 30 days. These rewards are in addition to the normal 0.3% fee liquidity providers automatically get from Uniswap trades on the trading pairs they provide liquidity to.
In order to participate, you just have to whitelist your address and add liquidity to Polkastarter's Uniswap trading pair. The rewards program is automatically renewed on a monthly basis unless said otherwise.
How to be eligible?
To qualify you need to provide at least 1 ETH of liquidity, plus 1 ETH worth of POLS tokens.
Each qualifying liquidity add is only eligible for rewards 30 days after they are added.
Each qualifier splits the reward pool among all qualifiers evenly by percentage of the pool.
If you remove liquidity at any point, your previous liquidity is disqualified and you must wait 30 days from the next time you add qualifying liquidity to qualify for rewards (this is to prevent paying out to people who rug pull)
Basically, we take any qualifying Liquidity Providers at the end of each period and split up the pool among them.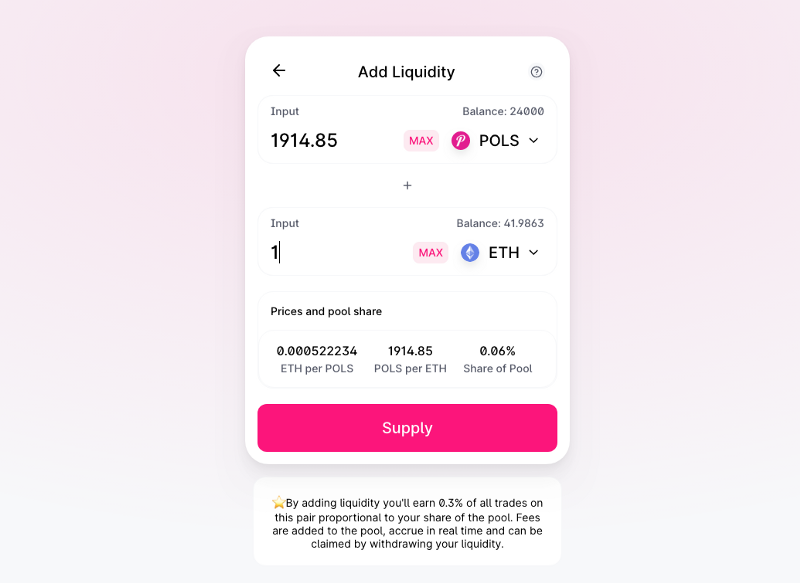 Step-by-step instructions
Start whitelisting your address by clicking this link
Once submitted, visit Polkastarter's add liquidity page on Uniswap here
Input the number of POLS you want to provide to the liquidity pool (minimum 1 ETH worth of POLS).
Confirm the liquidity by clicking "Approve POLS" and accept the transaction using Metamask. Use a medium to high gas fee. The transaction may take some time due to possible network congestion.
Once the transaction is confirmed, click "Supply" and accept the transaction using Metamask. Use a medium to high gas fee.
Disclaimers
Current reward is 100,000 POLS (approximate $30,000 USDT value), but we reserve the right to change the amount of POLS that are given as liquidity rewards, at any time, and without notice.
Participants in the POLS Uniswap Rewards program may receive varying amounts of ETH and/or POLS from the pool for being liquidity providers, due to the nature of Uniswap and other participants in the pool
The number of POLS tokens earned as prizes in this program may vary due to other participants in the pool
Polkastarter makes no warranties or guarantees as to the safety and security of any and all funds deposited by participants on Uniswap
Polkastarter has no liability or control over users' funds lost on Uniswap due to bugs or breaches on Uniswap, or due to the user's own negligence
Polkastarter reserves the right to KYC any and all participants in the Rewards Program, and withhold any and all prizes pending KYC
Polkastarter reserves the right to modify or cancel this Rewards Program at any time, for any reason, and without notice.
About Polkastarter
Polkastarter is the leading decentralized fundraising platform enabling crypto's most innovative projects to kick-start their journey and grow their communities. Polkastarter allows its users to make research-based decisions to participate in high-potential IDOs, NFT sales, and Gaming projects.
Polkastarter aims to be a multi-chain platform and currently, users can participate in IDOs and NFT sales on Ethereum, BNB Chain, Polygon, Celo, and Avalanche, with many more to come.

Website | Twitter | Discord | Telegram | Instagram | Newsletter | YouTube | Poolside
Polkastarter Blog - Latest Polkastarter News & Updates Newsletter
Join the newsletter to receive the latest updates in your inbox.
---