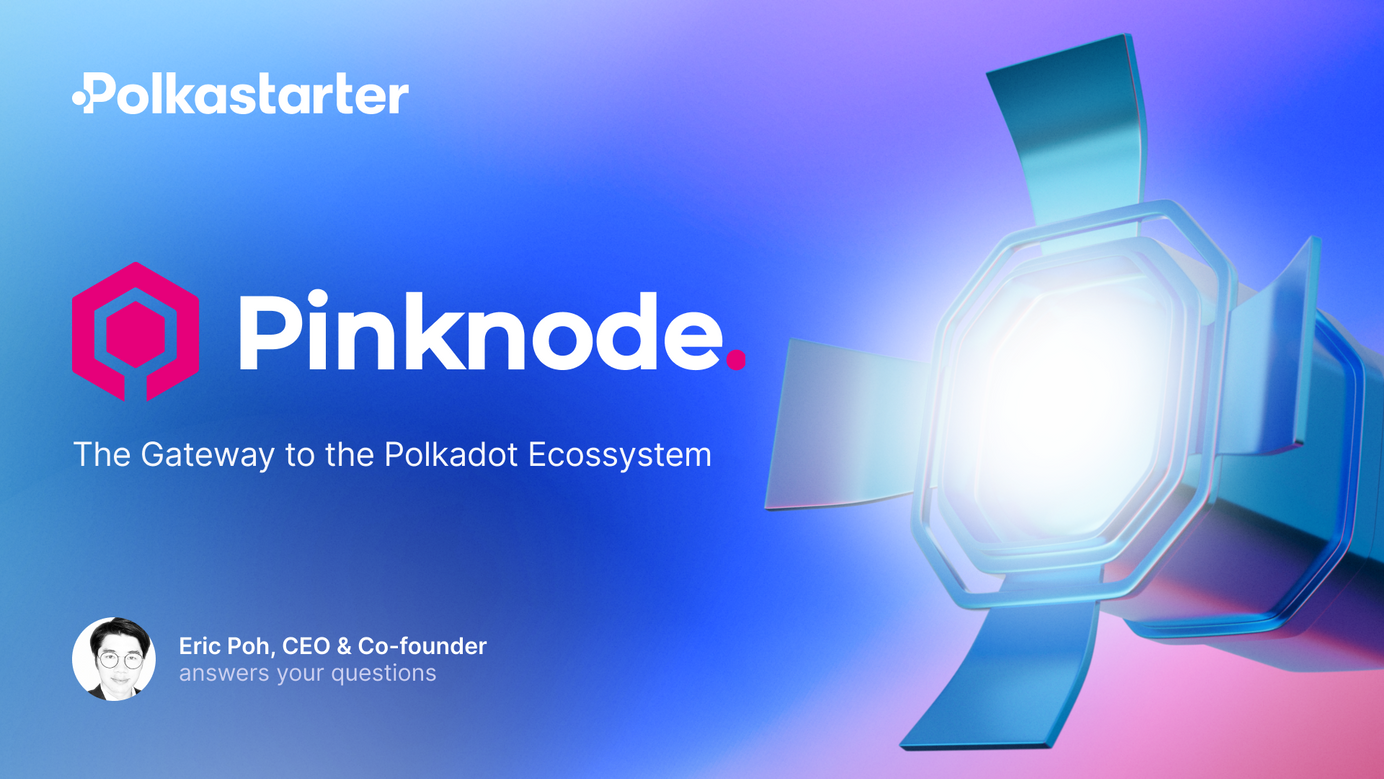 Polkastarter and Pinknode AMA Recap
AMA with Eric Poh, founder of Pinknode.
You can see the original AMA conversation on Polkastarter's Telegram channel here.
Polkastarter
Hi everyone and welcome to another exciting Polkastarter AMA, this time with the founder of Pinknode, Eric Poh. Welcome Eric, and thank you for taking the time today to join us! @ericpnode
Alright, we'll first have a few questions to Eric directly, before we open it up for community questions. Let's get started!
Eric, could you please first introduce yourself?
Eric Poh, Pinknode
Hi! Thanks for having me!
Sure.
My name is Eric, I'm the co-founder and CEO of Pinknode. I am a Singaporean, currently still living and working here.
I have a degree in banking and finance, and started my career in banking, left after to pursue entrepreneurial interests, namely in digital marketing, e-commerce startup and corporate finance, contributing through roles in sales, product management, marketing and business development.
I have been an investor in the crypto space since 2014 when I bought into the NWO and fiat collapse thesis. I spent a great deal of time in 2017 reading whitepapers, picking out and 'investing' in 'winners', only to end up hodling through a heart wrenching bear market.
Last year during Covid, I had the luxury of time recalibrate my perspective and understanding of the crypto space with the growth of DeFi and new layer 1(or 0) solutions. That was when I decided to go full time into crypto.
Polkastarter
It's always good to see people with deep traditional finance backgrounds leading in this space! 7 years in crypto is like a century haha.
Can you tell us more about the vision behind Pinknode, and why are you launching it?
Eric Poh, Pinknode
Indeed, we're all still very early.
Our vision is for Pinknode to become the leading community owned infrastructure-as-a-service project on Polkadot; by providing secure, reliable and scalable API endpoints and node operation services to users of the Polkadot ecosystem.
We are solving the lack of infrastructure support on Polkadot which impedes developer growth and the potential complexity of node communication inherited from Polkadot's unique architecture which will support ~100 parachains in the future.
Pinknode will lower the barriers of entry for developers and projects to build on Polkadot, who are essentially outsourcing their infrastructure needs to Pinknode, and we will also be consolidating Polkadot's multitude of  nodes under 1 operator  for ease of access and simplified solutions. 👍🏻👍🏻
Polkastarter
That sounds like a much needed and streamlined solution for the Polkadot ecosystem
Can you tell us more about the team behind Pinknode, and how your experiences have led you here? Polkastarter are big believers that the team and talent behind the project is one of the most important factors for projects succeeding in this space.
Eric Poh, Pinknode
Sure.
Other than myself, we have our CTO Benjamin, a full stack developer with 8 years experience and have led multiple initiatives in both private and public sectors, with several notable projects for the Singapore government. He's grown to be an expert in database management through these projects. He was involved with mining of BTC and LTC in the early days around 2014 and we met through a crypto meetup in Singapore.
We have 3 other teammates with us, 2 developers (front and backend devs) and 1 BD.
We also have 3 other advisors on board, Garland Won, Lester Lim and Xane Au who are veterans of the industry advising us on tech, business development, tokenomics and marketing.
After DeFi summer last year, I chanced upon an article about blockchain infrastructure service provider Infura and it's vital role in the blockchain space (their network outage caused massive problems). I was immediately drawn to its essential role, value and 'investability', I immediately searched for the token but was disappointed to find out that it was owned and operated by a private company.
Within the same period, I also learned that the Polkadot network was gaining a lot of traction. I went down the rabbit hole into Polkadot's unique architecture and realized how impactful an infrastructure project (which it currently lacks) can be on this emerging multichain 'meta protocol'.
I reached out to Benjamin to discuss the technical complexities around execution of this idea and also to Lennard from Astronaut Capital to understand market dynamics and feasibility.
And then, Pinknode was born.
Polkastarter
Thats awesome, sounds like a really great team you've assembled there — and an origin story from identifying a real need in the market.
Speaking of which, can you tell us more about Pinknode's competitive advantage? What differs you from other similar projects?
Eric Poh, Pinknode
By committing our resources to a single protocol, we are able to create unique architectural solutions that are designed for the needs of native users.
For example, once we have sufficient coverage of node operations across the Polkadot network, we will be able to provide custom API endpoints (instant access to multiple parachains) for unique use cases. Our user dashboard will also be optimized for this usage. This will prove to be critical in the long run when we are up against chain agnostic service providers.
Outside of our architectural design, our token stake and burn payment model means that projects can skip traditional fiat subscription models and commit to a low upfront investment into holding an asset for access to our services.
And of course, most importantly, we are democratizing infrastructure ownership and operations for our community to participate through token utility. 💪💪
Polkastarter
That sounds awesome!
Can you tell our community a bit more about your $PNODE token, particularly about the upcoming token utility and your token generation event (TGE)?
Eric Poh, Pinknode
Our team has considered multiple token use cases and its divided into two pillars.
The various developer/project utilty of $PNODE include:  fees via staking and burning of $PNODE - there will be packages for different rate limits and services and staking of $PNODE tokens for API access, securing of network, optimisation of relays etc.
For community use cases, they can stake $PNODE community campaigns, running independent nodes, voting and fractional node ownership, and they can participate in the governance of Pinknode, for onboarding of new parachains, role of nodes etc.
We are also considering a burn model to further enhance the value of $PNODE.
Our IDO is happening on May 14th (8 more days) with Polkastarter and our whitelist is still open now (2 more days)! Find out more here.
Polkastarter
Wooo! Really looking forward to the IDO next Friday.
We'd love to hear a bit more about the upcoming Pinknode product roadmap.
What key features are you developing?
Eric Poh, Pinknode
We have finished setting up our MVP; our user dashboard is ready and we're already running nodes on Polkadot, Kusama and its testnets. We're in the midst of multiple partnership talks to onboard projects.
In the near term, we will be enhancing our user dashboard and we intend to invest into strengthening our network architecture to ensure reliability and scalability via solutions like AutoScaling, load balancing, going multi-cloud and multi-region etc. We are focused on building a strong foundation.
We are also in talks with projects to kickstart XCMP testing on Rococo testnet, this will open up more possibilities in terms of how parachains communicate with one another on Polkadot network.
Polkastarter
Nice! the parachain future!
Before we move on to open up the questions, could you please share with our community your website and social media channels, so they can make sure to follow you and be kept up to date on your progress?
Eric Poh, Pinknode
Beware of scams, the token is not trading currently and there are multiple fake channels on TG.
Polkastarter
Always a good reminder!
Quickly before our community questions — Can you tell us more about who your users are for Pinknode?
Eric Poh, Pinknode
Anyone who wants to gain access to data on Polkadot networks (including Kusama, testnets Rococo and Westend, and future parachains) - exchanges, wallets, aggregators, analytics companies, funds, trading firms etc.
Developers and projects that are building or planning to build on Polkadot. They will be able to kickstart their development and testing immediately through our services.
And of course, our community members who can participate in node operations and ownership through our token utility - governance and staking.
Polkastarter
Haha love the sticker. You've also had some backing already for Pinknode — can you share with us who your investors are?
Eric Poh, Pinknode
Sure, we just finished closing our private round with multiple top tier VCs like Astronaut Capital, Moonrock Capital, Signum Capital, Faculty Group etc. We received more than 31m in private investment interest (44x of amount raised) in short 2 weeks period. You can find out more here.
Polkastarter
Thats amazing! Those are some awesome VCs and partners, and $31M is an impressive private round! It's great to see our industry maturing in this way, and exciting about the future of Pinknode with this backing.
OK - let's open the chat for a brief window to give our community a chance to ask their questions, and don't forget, that after the AMA the Pinknode team will choose the best question and hand out one whitelist spot for their IDO on May 14th (don't forget you will need to KYC fast and on time). 🎉🎉🎉
the chat will now open up
[QUESTIONS]
Polkastarter
WOW!! Those are some amazing questions.
Eric will now read through and pick some to answer, and announce the IDO whitelist winner at the end.
Eric Poh, Pinknode
Wow.
QUESTION: @floufrenzy
You are providing an end-to-end node operation services. How is this service formalized and provided? For what period of time can I rent nodes and in what amount, could I cancel your services ahead of schedule, if something does not suit me?
Eric Poh, Pinknode
Projects and developers will create an account and choose which networks they wish to access, we will then generate a custom API for them with 1 click.
It will be subscription based. Access will be charged on a monthly basis and users can choose different payment plans - no. of relays, period of commitment etc.
QUESTION: @humberfudg
Pinknode is solving all of the key infrastructure problems, could they only operate on the polkadot chain? If so, is it because the other nl chains have the infrastructure problem that Dot has?
Eric Poh, Pinknode
Polkadot has a very unique architecture as compared to other chains. They are positioned as a layer 0 protocol with ~100 parachains and bridges to other protocols. It will have very different infrastructural requirements.
QUESTION: @alodelaz
Why is $PNODE the only acceptable as payment? Any timeline on when we can see other currencies and stablecoin?
Eric Poh, Pinknode
We will also be offering our plans in fiat, but you will be entitled to more benefits through $PNODE.
QUESTION: @kalichamukaz
I went through your roadmap and saw an interesting governance contract for $PNODE. Could you tell us more about PNODEs governance system and how will this help users? How will you utilize this contract?
Eric Poh, Pinknode
One of the features we are exploring is the voting of parachain onboarding, where users can stake PNODE tokens to vote for which parachains to onboard. We will then onboard and start operating collators for that parachain, and the native rewards will be distributed to successful voters.
QUESTION: @carlos671
Have you introduced the project to potential customers? What do they think of your proposal? Are they persuaded to hand over the management of the node to Pinknode?
Eric Poh, Pinknode
Yes we have, we just partnered Polkadfoundry recently and we are in talks to run their collator nodes on testnet. We're in a great position to learn and grow with projects in this early stages of Polkadot's growth.
QUESTION: @sakuno1203medi
What inspired you to name it as pinknode? Any special events?
Eric Poh, Pinknode
The name Pinknode signifies our focus the Polkadot ecosystem with 'Pink' being most prominent part of their branding. We hope this brand positioning will help the project gain traction and recognition. We are 'Polkadot only' project.
QUESTION: @losqotaloz
If case of failure or downtime of any node, are you actually responsible for this? Are you attentive to possible failures to fix them in time?
Eric Poh, Pinknode
We have multiple solutions (node backups, load balancing) in place to prevent downtime, and in cause of failure, we will have engineers on standby 24/7 to assist.
Eric Poh, Pinknode
I would choose this as the winner @losqotaloz.
Polkastarter
Awesome!!
Congrats @losqotaloz ! The Pinknode team will contact you in PM and give you all information regarding KYC etc.
Thank you Eric for your time and for the illuminating answers on Pinknode. Really looking forward to the launch of $PNODE on May 14th, and to welcome you to the Polkastarter Family and continue working together in the future !!!
Eric Poh, Pinknode
Would love to answer more questions, especially the deeper ones, but it'd take too long to type it out here. 🙏🏻🙏🏻
Polkastarter
This really is the best community 💫
Thanks to everyone for tuning in! This will be the end of this AMA with Pinknode, thank you everyone for joining us! The chat will now open back up.
Eric Poh, Pinknode
Indeed! Never experienced this level of participation and thought behind the questions.
Thanks @camillionaire.
Polkastarter Blog - Latest Polkastarter News & Updates Newsletter
Join the newsletter to receive the latest updates in your inbox.
---