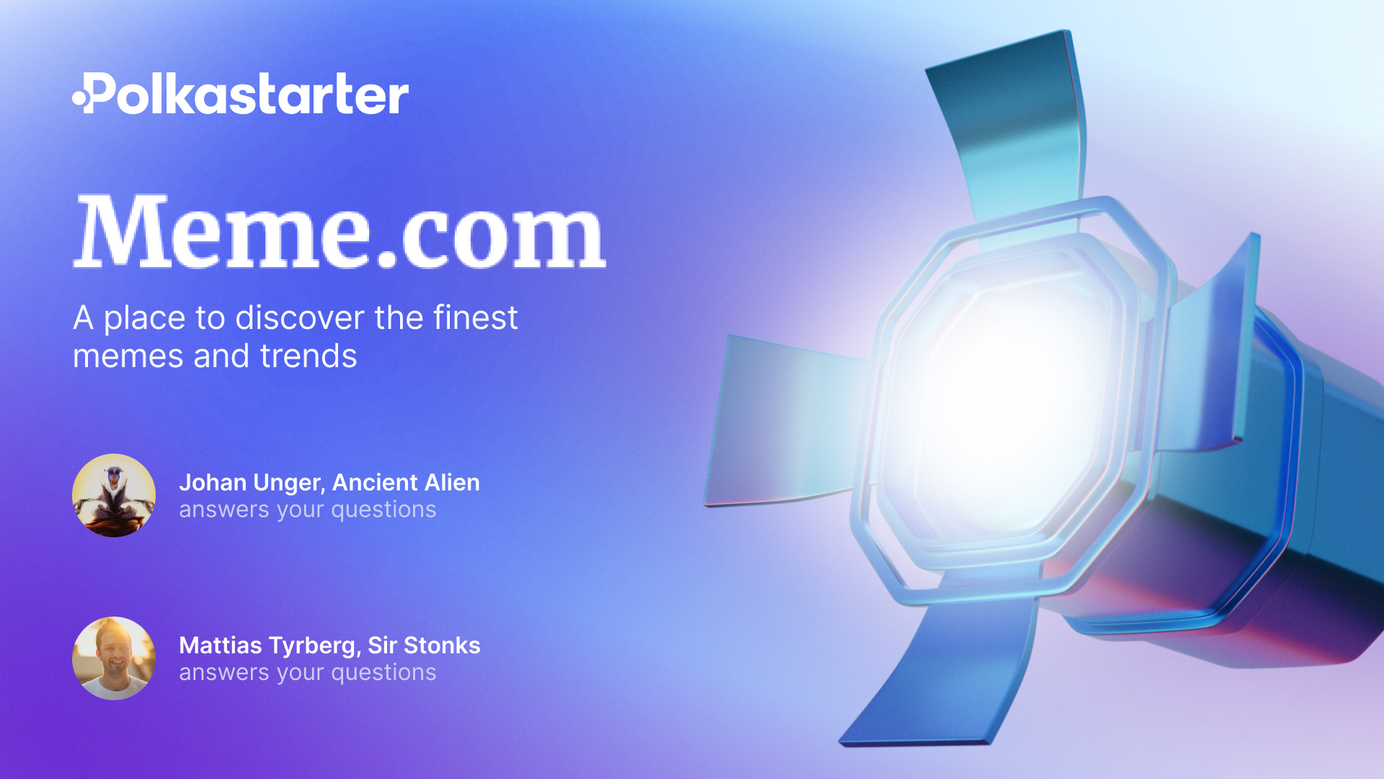 Polkastarter and Meme.com AMA Recap
Our AMA with Johan Unger and Mattias Tyrberg from the Meme.com team.
You can see the original AMA conversation in Polkastarter's Telegram Channel here.
Polkastarter
It's time for the meme.com AMA! The chat will now close.
Polkastarter
Hi everyone and welcome to another exciting Polkastarter AMA, this time with the Johan Unger, Ancient Alien and Mattias Tyrberg, Sir Stonks from meme.com. Welcome both, and thank you for taking the time today to join us! 😊
Mattias, Meme.com
Thanks for having us!
Polkastarter
Alright, we'll first have a few questions to Johan and Mattias directly, before we open it up for community questions. Let's get started! 💫
Polkastarter
@Tyrberg @johanun , could you please first introduce yourselves?
Johan, Meme.com
Yes! I'm Johan from Sweden. Dropped out of university to start my first company in the online content space. Meme.com is my third company, which I started after falling in love with crypto in 2016.
Mattias, Meme.com
I'm also from Sweden, serial entrepreneur in tech and online content space in more than 10 year.
Polkastarter
Can you also tell us more about the vision behind meme.com, and why are you launching it?
Johan, Meme.com
We have always been interested in how people consume and share content on the internet. Out of that the vision of a platform that uses crypto to measure the value of content was born. We think it can bring a lot of positive effects to how people are rewarded for creating and sharing good content.
Meme.com can be described as if Wikipedia and Dogecoin had a baby. A place where people explore different memes and trends on the internet. It enables users to mint memetic tokens that are based on the perceived value of the trend or meme they represent. Content around each meme is crowdsourced by the community and the best memes each month receive rewards that include special NFT art.
Polkastarter
That's awesome! We at olkastarter are big believers that the team and talent behind the project is one of the most important factors for success
Tell us more about the team behind meme.com, and how your experience has led you here?
Mattias, Meme.com
Both of us have started companies in the media industry for a long time. At our last company, we initially we were experimenting with models around attention rewards, but when NFTs came along in late 2017, we left too fully focus on the model where each URL on the Internet can be turned into a collectible card.
Polkastarter
So let's talk about meme.com competitive advantage. What differs you from other similar projects?
Johan, Meme.com
We have several years experience of building a successful crypto project. There are as far as what we have seen no platforms currently targeting memetic assets in the way we do, so we should also have the benefit of being first.
Polkastarter
Can you tell our community a bit more about your $MEM token, particularly about the token utility and your token generation event (TGE)?
Mattias, Meme.com
$MEM is the native token for Meme.com and all its products. It encompasses the following functions:
Buying mTokens in the meme markets
Creating and upgrading Marble cards
Payment for platform fees like content submissions
Staking
Governance
On June 15th, the Meme.com IDO will take place on Polkastarter, as the first ever IDO on Polygon! Once that is done, the establishment will embark on the first memetic expeditions a few weeks later. Get ready!
Polkastarter
Not to not miss out on that!  😎
We'd love to hear a bit more about your upcoming roadmap. What key features are you developing?
Johan, Meme.com
Our goal is to launch mainnet of meme.com in early July, which is when people can buy tokens like mPEPE, mHAROLD and mDOGE for the first time. After that we will launch new features continuously such as staking. During this time, it will also be possible to create meme NFT cards called Marble cards from a bunch of new sites such as Twitter and Instagram.
Polkastarter
Nice! I'm sure a lot of great things are coming!
Could you please share with our communiy your website and social media channels, so they can make sure to follow you and be kept up to date on your progress.
Mattias, Meme.com
TG: https://t.me/MemeExplorers
TG Ann: https://t.me/memecom_announcement
Twitter: https://twitter.com/MemeExplorers
Discord: https://discord.com/invite/KY4V5MT
Polkastarter
Thank you! We will for sure to keep posted there ✨
Let's open the chat for a brief window to give our community a chance to ask their questions!
And don't forget, that after the AMA, @johanun and @Tyrberg  will choose the best question and hand out one whitelist spot for their IDO (don't forget you will need to KYC fast and on time).
[QUESTIONS]
Polkastarter
Wow, that's a lot of great questions, thank you!!
It's always so great to see! Johan and Mattias will read through and pick some questions to answer now.
QUESTION: @Zidny_Lathifa
What % of each $MEM supply is reserved for community allocation?
1.Society
2.Marble
3.Investors
4.Team
5.Advisor
Johan, Meme.com
Check out our tokenomics here: https://blog.meme.com/2021/06/03/the-story-of-mem/
QUESTION: @RamatisAristoteles
Great team! I, as an artist, value every kind of art. Just like NFTs popularized and sold for millions of dollars, how do you envision the meme creation as a way to generate revenue for creators and for the platform itself? And how does blockchain power your platform, enhancing the social/creative content and promoting adoption?
Mattias, Meme.com
There are many ways for users to share part of the meme economy, we believe that the creators of memes should be rewarded but also the persons that spread them or create variations of them. On the platform we will have incentives for all those types of users. Details will be launched later this month.
QUESTION: @LeviHasibuan
During the 2020 I got scammed a few times, rugs, exit scams etc. – how can we investors be sure that this will not be similar, are your contracts public & somewhere to be seen?
Mattias, Meme.com
Contracts are audited as we speak and will be public, team has been in NFT space for many years and we are not anons.
QUESTION: @LuStringer
When will they be on coinmarketcap and coingecko?
Mattias, Meme.com
At launch or close after.
QUESTION: @Katthyy
What is the company's strategy to fund the marketing campaign that will be needed to gain visibility and build a user base?
Mattias, Meme.com
What is more viral than working with memes, oru core product the mTokens, mPepe, mDoge and so on will be spread by sharing the meme that they represent.
QUESTION: @TakakoOntiveros
Right now, Issuing Token is a simple process. However, Building the System and Ecosystem is the most difficult part. How demand of $MEME will increase and How will this token use in MEME ecosystem?
Johan, Meme.com
The main use for the cards, outside of collecting them, is to battle them in the arena and earn coins if they win.
QUESTION: @Abr4xa3
There's lots of controversy around MEME coins at the moment.
Some just compare them to Ponzi schemes which would inevitably lead to big losses for many newcomers.
Others are saying that it doesn't paint a good picture of the crypto space in general, since they would not be focused on fundamentals or the tech.
Another complaint has been that they would be responsible for lots of the network congestion that we could see on Ethereum.
How would you address these and similar complaints?
Mattias, Meme.com
We are not aiming to be yet another new meme coin, we want to build a community around each existing meme that people already like.
If you like Hide the pain Harold you can buy tokens and participate in the club with other fans. If the club performs well there will be special rewards for that club.
We aim to create an index of what memes that are most popular right now and what are new trending memes so we are aiming much more long term in that matter.
QUESTION: @leopoldohy
Memes are a way to express creativity, political ideologies, ways of thinking, critics regarding something within society. So, what is the social goal of your platform? Do you think it can promote mass adoption and better understanding of cryptocurrencies through memes?
Johan, Meme.com
The goal is two sided:
On one end, we want to use speculation and token/nft rewards as a way to build a market around meme popularity, to be able to determine which memes people like the best.
On the other end, we want to take fees generated by the platform and reward the best meme creations, with the goal to empower meme creators and artists.
QUESTION: @Kusumorai
Q1: Why did you choose to build on Polygon instead of ETH, BSC or SOL?
Q2: We can make a meme portfolio on your platform, do you have any plans of providing a meme ETF type of thing in the future?
@tyrberg @johanun
Mattias, Meme.com
Our NFT cards, marble.cards has been on Polygon since last year. For our Meme Market to work we need people to be able to buy/sell when they want to without any high fees. For now we think Polygon is the best alternative for that.
QUESTION: @JessicaAragon
Any plan to build partnerships with local developers to make the use of your project more global?
Mattias, Meme.com
Yes, we are working with some and more to come. If you are interested please reach out to us in the groups.
Polkastarter
Thank you for your answers @Tyrberg and @johanun!
🎉
Congrats @Abr4xa3 on being the winner of the whitelist spot! meme.com team will contact you in PM and give you all information regarding KYC etc.
Thank you Johan and Mattias for your time and for the illuminating answers on meme.com. ✨
Really looking forward to the launch of $MEM and to welcome you to the Polkastarter Family and continue working together in the future.
Johan, Meme.com
Thank you everyone!
Mattias, Meme.com
Thanks a lot for taking the time!
Polkastarter
Thanks to everyone for tuning in. This will be the end of this AMA, thank you everyone for joining us! The chat will now open back up. 👋
Polkastarter Blog - Latest Polkastarter News & Updates Newsletter
Join the newsletter to receive the latest updates in your inbox.
---