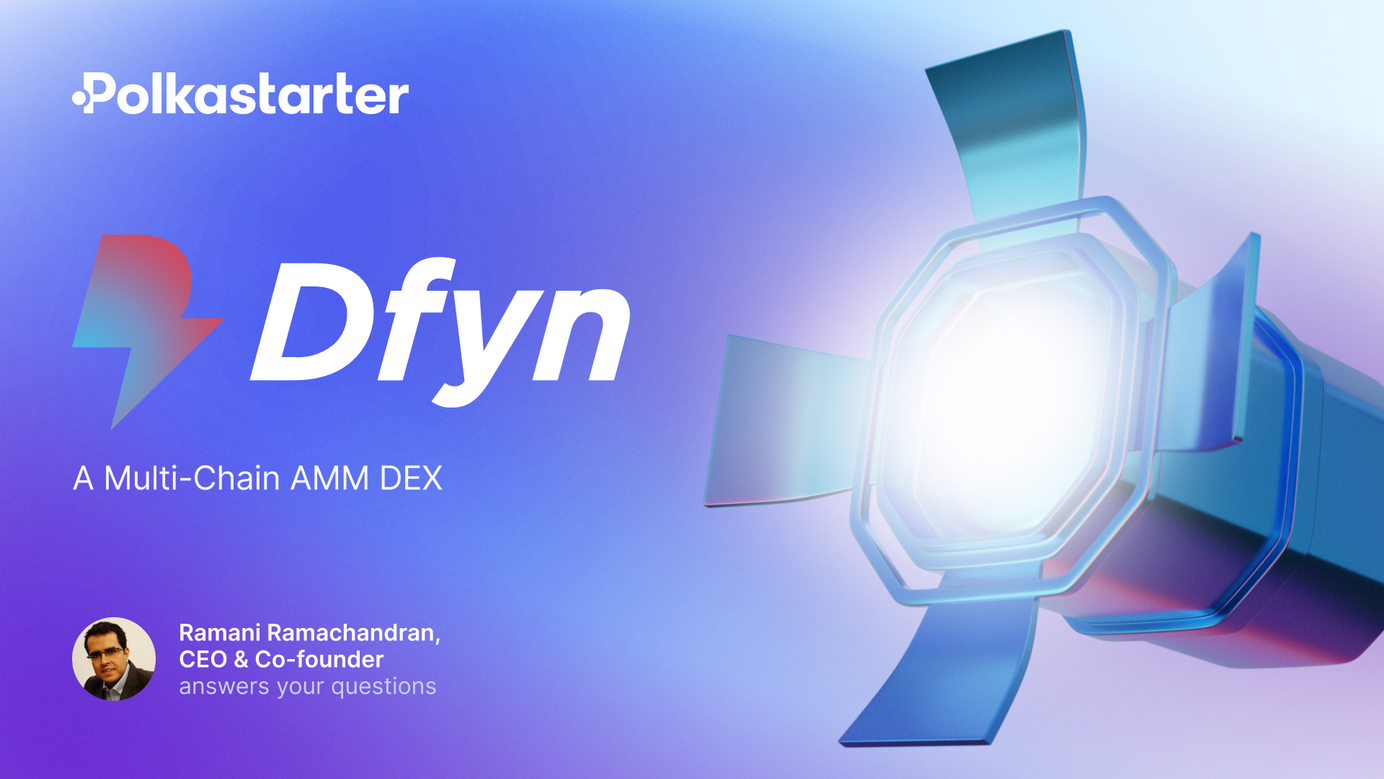 Polkastarter and DFYN AMA Recap
AMA with DFYN CEO and Founder Ramani Ramachandran and Co-Founder Priyeshu Garg.
You can see the original AMA conversation on Polkastarter's main Telegram Channel here.
Polkastarter
Hi everyone and welcome to another exciting Polkastarter AMA, this time with the CEO and Founder of DFYN, Ramani Ramachandran, and the Co-Founder Priyeshu Garg. Welcome Ramani and Priyeshu, and thank you for taking the time today to join us! 🎉🎉
We'll first have a few questions to Ramani and Priyeshu directly, before we open it up for community questions. Let's get started!
Ramani Ram, DFYN
Thank you for having us on here today. Truly a pleasure.
Priyeshu Garg, DFYN
Thanks, excited today!
Polkastarter
Woohoo! Ramani and Priyeshu, could you please first introduce yourselves? @Rsquare007 @priyeshu
Ramani Ram, DFYN
Sure thing. I am Ramani (Ram) and I am the CEO of DFYN.network and Router Protocol. Our team has been building multiple products in crypto since 2015, and built, among other things, that world's first stablecoin DEX called FORDEX, with the 0x protocol. We have also built products in the derivatives space as well as a ceading crypto index. I was previously in the financial services sector ( banking, private equity, research) across NYC, London and Singapore, before going full crypto in 2015 or so. We are a team based out of India and Singapore primarily
Priyeshu Garg, DFYN
Hi I'm Priyeshu Garg. I used to be a software engineer in my past life, worked for some of the big brands like Infosys and Ola cabs. After that I transitioned my career fulltime to crypto in 2018 and became a tech-crypto journalist. I covered tech updates/news for a bunch of news sites like Cryptoslate/8btc/newsbtc etc. Finally figured out a need for cross-chain products and started building. We first built Router Protocol and now we are building Dfyn Exchange. Currently I handle Product & Communications for Dfyn Network.
Polkastarter
Wow 6 years in the industry — that's a lifetime!
Can you tell us more about the vision behind DFYN, and why are you launching it?
Ramani Ram, DFYN
Of course!
Yes, 6 years seems like quite a while in crypto.
So we have been building a bunch of things, and when we first started in DeFi, it was called Open Finance, back in late 2018, and we were a bit early to the party with the stablecoin DEX on 0x. But the potential was definitely there. So we started looking at DeFi again in Q2 2020 and were struck by how unfair the whole ETH L1 DeFi process was for most people.
This included the gas, the congestion, the general experience on DEXes like Uniswap.
So we started exploring other sidechains like Matic, which enabled significantly faster transactions.
With DFYN therefore we have managed to integrate instant transactions, and also gasless transactions. We subsidize your matic gas for you.
And as we expand to other L2 chains, we can subsidize your L2 gas on those chains as well.
The idea was to basically turbocharge the DEX experience by making a truly multichain AMM which was also gasless or near gasless.
Hope that answers most of your question!
Polkastarter
Subsidized gas fees & multichain AMM — sounds excellent!
You mentioned a bit of your experience already, but can you tell us more about the team behind DFYN, and how your experience has led you here?
We at Polkastarter are big believers that the team and talent behind the project is one of the most important factors for success. 👯‍♀️
Ramani Ram, DFYN
Surely ,the team has been continuously building in crypto for the better part of the last decade now. We initially started off with building a bitcoin side chain for trading tokenized pre-IPO securities. We then moved onto build the DEX, way back in 2018, subsequently we built a leading crypto derivatives platform, or rather the matching engine behind it, and then some low latency algorithmic trading software with which we ran a crypto fund. Our team is mostly engineers and product managers, and have been educated at some great schools around the world including MIT, IIT, NIT etc.
The team has been a key reason a number of investors and users have trusted our products - Dfyn as well as Router, the crosschain mesh that connects DFYN nodes.
We can now move to the next question.
Polkastarter
Wow you really have worked across chains, that's awesome!
Ramani Ram, DFYN
Thank you!
Polkastarter
Ok let's talk about DFYN's competitive advantage. What differs you from other similar projects?
Ramani Ram, DFYN
This is a very important question and I am glad you brought it up.
We are not just a DEX. We are a multichain DEX. That means that we will let you trade across multiple blockchains - currently we are on Polygon, but soon we will be on a bunch of other chains, and to the user it will be one seamless experience, sort of like a 1inch across chains
Priyeshu Garg, DFYN
Dfyn is also competitive in its current form. Currently it's the only gasless AMM on Polygon Network. Users have to just sign the transactions and not pay any fees.
Ramani Ram, DFYN
The way we do this is by using DFYN nodes on various chains as entry points for liquidity on various chains, like the current one on Matic, and upcoming ones on HECO, AVA etc. The liquidity is connected across chains by something called Router Protocol. If DFYN is the airport, Router is the airline routes that ferry liquidity between the chains.
Ramani Ram, DFYN
This entry nodes on various chains (DFYN) and the overarching liquidity supermesh (Router) together we believe is very interesting crosschain infra, and is a design pattern that we are seeing in a few other successful products such as Thorchain and Asgardex, or even with the latest Compound iteration where they plan to have a similar architecture to enable crosschain.
We are building a proprietary XCLP (Cross Chain Liquidity Protocol) that is actually up on Router testnet -> testnet.routerprotocol.com with which all DFYN nodes will be integrated to enable crosschain swaps and all the other use cases in trading and lending that this can enable.
Hope that clarifies a bit before we move onto the next question!
Polkastarter
So Router Protocol is the "liquidity supermesh" on DFYN. Got it — very cool.
Can you tell our community a bit more about your $DFYN token, particularly about the token utility and your token generation event (TGE)?
Ramani Ram, DFYN
Yes indeed, we think so!
Sure thing.
Polkastarter
✈️✈️✈️
Ramani Ram, DFYN
(love the airplane)
@priyeshu will also chime in for part of this one. I will start with part of it.
The DFYN token is a community governance token, similar to other DEX tokens like Uni or Sushi.
We will use DFYN to attract liquidity to the DFYN node network as well as to the ROuter liquidity supermesh when that goes live.
Priyeshu Garg, DFYN
$DFYN IDO is on Polkastarter on May 10. 300 slots for Non-POLS and 700+ slots for POLS category. We are raising $305,500 from Polkastarter that puts individual ticket size to $300. Our whitelists are open for both POLS/NON-POLS and will close tomorrow.
NON POLS details : https://dfyn-network.medium.com/dfyn-whitelist-for-polkastarter-ido-is-now-open-round-1-82241ce5220
Ramani Ram, DFYN
Also, from the fees that the exchange nodes make, there will be a fair bit of buyback and burn of DFYN tokens, as well as interesting models around token distribution to DFYN holders that we are exploring.
Priyeshu Garg, DFYN
POLS round details: https://dfyn-network.medium.com/dfyn-whitelist-for-pols-polkastarter-ido-is-now-open-round-2-47556b0e1a12
Ramani Ram, DFYN
We will most likely start off a number of farming pools on DFYN a couple of days before the IDO/TGE so that folks will be able to provide liquidity and start earning DFYN tokens, even though they will only be redeemable after the TGE.
Hope that answers the question before we move to the next one.
Polkastarter
Awesome. Very excited for the May 10th IDO! 🔥
Ramani Ram, DFYN
Absolutely. Excited!
Polkastarter
We'd love to learn more about your upcoming product roadmap as well. What key features are you developing for DFYN?
Ramani Ram, DFYN
Once we have a way to port liquidity across chains and a way to onboard and offboard liquidity within chains, the possibilities are truly endless. Everything that is currently on Ethereum or Matic or BSC, will not get repurposed to work seamlessly across chains...like if you get a word doc, you can open it up on a macbook or a windows or a linux machine. Same way, the specifics of the underlying blockchain will recede into the depths of the blackbox, and you are going to deal increasingly with the application layer. LIke initially we all had Sun SOlaris servers but now everything is in the cloud in AWS or Azure and you deal with a screen on your mobile or ipad or whatever screen. Defi will also thus become truly chain agnostic, with crosschain plumbing like Router bridging these chains, and apps like DFYN and their successor version over the years building various interfaces for trading, lending, swapping etc.
With DFYN and ROuter we hope to build a set of core infrastructure building blocks on which app developers can further iterate and build cool apps for trading, crosschain lending and so on and so forth.
Specifically this could include, in addition to the sort of 1-inch across chains, potentially an Aave or Compound across chains, or even a Polkastarter across chains, something that folks can use to simulataneously launch multichain IDOs with various communities across chains contributing and competing for liquidity.
The possibilities are truly endless.
Hope that answers that question.
Polkastarter
That's a really exciting roadmap, and an exciting cross-chain future for DeFi 💫💫
Ramani Ram, DFYN
We hope so!
Polkastarter
Could you please share with our Polkastarter community your DFYN website and social media channels, so they can make sure to follow you and be kept up to date on your progress — and how all of these exciting endless possibilities evolve?
Ramani Ram, DFYN
Surely
The best way would be the various socials:
About DFyn
Dfyn is a multichain AMM DEX currently functional on the Polygon network. Dfyn nodes on various chains act as liquidity entry and exit points into the cross-chain liquidity super mesh that is being enabled by Router Protocol.
Website: https://www.dfyn.network/
Telegram: https://t.me/Dfyn_HQ
Telegram Announcement : https://t.me/dfynofficial
Twitter: https://twitter.com/_DFyn
In addition, we strongly suggest that you also follow the Router socials, given how these two projects are literally joined at the hip:
Website: http://routerprotocol.com/
Telegram: https://t.me/routerprotocol
Telegram announcements: https://t.me/router_ann
Twitter: https://twitter.com/routerprotocol
Polkastarter
Great, thanks for sharing!
Ramani Ram, DFYN
My pleasure.
Polkastarter
OK let's open the chat for a brief window to give our community a chance to ask their questions, and don't forget, that after the AMA, the Dfyn team will choose the best question and hand out one whitelist spot for their upcoming IDO on May 10th (don't forget you will need to KYC fast and on time).
The chat will open now for questions!
[QUESTIONS]
Ramani Ram, DFYN
Boom
Polkastarter
WOW those are so many awesome questions 🤯🔥🔥🔥
Ramani Ram, DFYN
Wow.
So many great questions!
Polkastarter
It's always so great to see this amazing community in action! Ramani and Priyeshu will read through and pick some questions to answer now
Ramani Ram, DFYN
Sure thing, jumping right in. THe energy in this community is truly off the charts!
QUESTION: @talentedV
PLS, I WILL LIKE TO KNOW HOW UTILIZATION OF LAYER 2 BLOCKCHAIN "POLYGON" WILL ENSURE SCALABILITY OF THE PLATFORM???
Priyeshu Garg, DFYN
We suggest you to come and try our live exchange https://exchange.dfyn.network/#/swap it's highly scalable, gasless and fast.
QUESTION: @chippi102
I see your project has several partners but who is the main partner? What are the benefits of the collaboration between the # Dfyn project and the Blockchain ecosystem? and will those targets be completed and implemented soon in Q4 2021?
Ramani Ram, DFYN
I am going to start with my favorite cartoon character's question.
From a collaboration perspective, we have MATIC/POLYGON as our launch partner, but we are now in talks with multiple chains - Avalanche, Huobi, Algo, Solana etc to expand into these blockchains. Every collaboration is important as it adds another node for liquidity to enter into the crosschain liquidity supermesh.
QUESTION: @kadesponja13
Hey Mr @Rsquare007🤘😎
The idea was to basically turbocharge the DEX experience by making a truly multichain AMM which was also gasless or near gasless.
You say the cost is almost without gas how could that happen? How does he work so that it can be almost without gas?
Ramani Ram, DFYN
This is a great question!
We have integrated meta transactions on DFYN. When you use DFYN you do not have to hold the L2 chain's gas, such as Matic gas. You just have to sign the transactions. We subsidize the gas for you by integrating with a meta transaction provider.
For most L2 chains, we will be able to subsidize gas fees in this manner.
QUESTION: @ChandraPSingh
Can you please tell us what Routers XCLP (Cross-chain Liquidity Protocol) is and the advantages that you derive from it?
Priyeshu Garg, DFYN
Thanks for asking this. XCLP is a cross chain liquidity protocol which allows transfers of assets from one chain to another with the help of a stablecoin supported protocol. The protocol is very fast, efficient and friendly to pocket. You should see our testnet to see it in action: http://testnet.routerprotocol.com/
QUESTION: @christryandi
Why DFYN choose Polygon for the initial launch? Why not BSC that more popular, has low fees and fast too? Thank you.
Ramani Ram, DFYN
When we started off DFYN, we started off with Polygon because that is a community that we were very familiar with and had strong backing from. In the future, we will definitely be expanding to BSC etc.
QUESTION: @rapaidu
Does the Automated Market Maker model of Dfyn minimize non-permanent loss? How does it do this? What is the built-in insurance protection of the platform? How can I access it? Does this protection cover 100% of my assets?
Priyeshu Garg, DFYN
We are working towards developing a new AMM model which will minimize impermanent loss by a new mathematical approach towards AMM which is about concentrating liquidity at the top instead of dividing it equally throughout the curve. We are still running simulations around it and we hope to implement it soon. The built-in insurance is not implemented yet and it's workings are yet to be finalized.
QUESTION: @PabloEmilioEscobarGaviriaMexico
Features are the main thing in a platform. With interesting features, of course, it will really help every user. Can you name some of Dfyn deadly features and even those other projects don't have?
Ramani Ram, DFYN
Zero gas fees, instant transactions, crosschain swaps and farms..these are some interesting features that will truly differentiate DFYN.
QUESTION: @vanluc102
I see the projects on the AMA being discussed very actively and there is a lot of promise that it will be revolutionary and to be rolled out in the coming year! But so far very few projects have been implemented, so what practical direction is there for this # Dfyn project for the coming years? namely in this year 2021 and 2022?
Priyeshu Garg, DFYN
Dfyn is already implemented to a large extent. How many projects do you see with a daily traded volume of $1 million or community TVL of $3 million + launching on a launchpad? We are very few projects launching tokens after building products which people actually use. Dfyn exchange sees 10,000+ transactions everyday.
Ramani Ram, DFYN
Unlike a vast majority of projects, DFYN is actually live and functional as we speak even before the TGE. You can check us out at exchange.dfyn.network. ROuter is also on testnet at testnet.routerprotocol.com. We will be integrating the two, expanding DFYN to other chains and taking Router to mainnet over the next few weeks and months!
QUESTION: @nongk
What can I really do with my coming Dfyn tokens and what makes them valuable? What percentage of the value will Dfyn token holders hold at swap fees, how is the fuel system associated with Dfyn?
Ramani Ram, DFYN
DFYN is a yield token and a governance token. DFYN will also be bought back and burned, and you can use DFYN to provide liquidity to the Router liquidity supermesh that is launching soon. You can also use DFYN in various staking programs on other partner projects that we have
QUESTION: @guntbilda
How Dfyn is different from other layer-2 AMM such as Quickswap?
Priyeshu Garg, DFYN
That's a great question. Fun fact: Dfyn was actually launched before Quickswap. It took time to launch because the team was working to develop cross-chain protocol ( Router) . Dfyn is gasless while Quickswap is not. Dfyn will be a cross-chain AMM with a launchpad while vision of Quickswap is rather limited.
QUESTION: @Dotishjack1133
You have said that Dfyn which is a DEX aggregator on Ethereum is designed to scale transactions with reduced fees. Uniswap, SushiSwap, 1inch and other DEXes on Ethereum which offer similar service have been unable to provide a solution to the problem of high gas affecting the Ethereum blockchain. How will you solve this since Ethereum will still be needed to power Dfyn activities? Also, if all the orders are not executed individually but are aggregated before they are executed, how scalable or fast will this be? Won't this result in unwanted delays before transactions are executed?
Ramani Ram, DFYN
We provide this by using L2 chains to implement instant transactions, leveraging the significantly high throughputs.
Also the XCLP that we are developing and implementing on the ROuter+DFYN combo will enable best trade execution and smart order routing across chains, so it will be using a travel portal to book a ticket, the trading experience overall.
You will not need to worry about what ticketing system or airlines your ticket is being generated from, or you could specify a set of chains where you want to trade with, or you could prioritize speed over certainty etc.
QUESTION: @Sabbarr13
Can you describe your tokenomics distribution? and what are the benefits of ivestor holding $DFYN tokens?
Priyeshu Garg, DFYN
Dfyn will be a governance token, and there will also be fees collected from the exchange using various mechanisms that will accrue to Dfyn token holders. Dfyn will accrue value in the same manner as 1 inch, Quickswap, Uni, Sushi etc. The fact that it is gasless does not mean that trades are costless. Takers still pay a fee of 30 bps in the default model, like with Uniswap and Sushiswap. Here too, 25 bps of that goes to the maker or the liquidity provider and the 5bps goes to treasury for buy backs and burns, distribution to DFYN token holders, and so on and so forth. Dfyn is a live DEX with volume and TVL.. we have real users who love the platform and this is just the beginning..
QUESTION: @Mehulkansal
I have been using dfyn on matic network its smooth kudos for that but the main issue i have been facing is of liquidity. Whenever i try to place orders of even $300 at times there is no liquidity for those orders even for popular coins. How is dfyn gonna solve this problem?
Are there any incentives for providing liquidity coz uptil now nothing worked?
Also could you please touch up upon crosschain swaps?
Is there anything in bag for the early users of dex?
Ramani Ram, DFYN
Great question. We are just starting, and the idea behind the DFYN token is also to bootstrap liquidity like with Sushiswap or Uniswap. Liquidity has been steadily building up and we expect the liquidity to really shoot up over the coming few days as we approach TGE and we hit the IDO. Additionally we will be opening up some pools around the 8th, so that folks can start pre-earning DFYN tokens, and claim them once exchange is live.
For early users, there will be some retrospective airdrops as well as whitelist spots.
QUESTION: @psydock
Can you elaborate on Defyn's architecture: How Dfyn nodes, bridges, para routers and central routers will connect  blockchains among them (Polygon, ETH, BSC,Tezos..)? @Rsquare007 @priyeshu
Ramani Ram, DFYN
Great question - for a detailed look at the architecture, do visit the websites, we will be publishing out gitbooks this week on both the website.
QUESTION: @nora_and_mom
I've been told that multi-cross-chain DEX is like a hyperlink in web 2.0 that enable us to jump over pages whereas in blockchain/web 3.0 it enables us to jump across chains, except it's not free and not as easy as hyperlink analogy. how can you subsidize our transaction fees and eventually enable us (your users) to jump across chains with zero gas fees as Dfyn promises? will you break even?
Priyeshu Garg, DFYN
Layer-2 solutions are very cheap. We pay only $250 monthly to foot the bill of all users Matic transaction costs which are nearly 200,000+ every month. The same bill would run into millions of dollars in Ethereum
Hyperlinks were a new concept at a time in history. Dfyn will make the hyperlinks a daily affair ( Command + K 🙂 )
QUESTION: @sabrinaday
❎ There are already several DEX liquidity aggregators in the market...So, on a one-off basis, and as a conclusion of this AMA, could you say why Dfyn is unique and we should choose it? @Rsquare007
Ramani Ram, DFYN
Most liquidity aggregators are specific to a chain. We are likely the first that is addressing the problem of crosschain liquidity aggregation, allowing you to find the best price for any swap you want to perform ACROSS chains
QUESTION: @Vladyslv
How can developers & technical people contribute to Dfyn and how do you make plan to get them involved?
Ramani Ram, DFYN
Please visit our website. We have a number of programs and partnerships planned.
You will also be able to whitelabel DFYN and launch your own Node to plug into the crosschain liquidity supermesh in a few months, through the DFYN noderunner program.
Priyeshu Garg, DFYN
It was a pleasure attending this AMA and it's time to wrap it up.
@Mehulkansal is the winner of the AMA whitelist!
QUESTION: @alekseydai
Are the gas fees on the blockchains involved in a transaction integrating in the smart routing protocol? I.e. ETHUSDC might have the best price on ETH, but with the gasfee the overall Tx cost can actually become higher. Which other factors are included in deciding what's the best deal?
Ramani Ram, DFYN
Great question!
Polkastarter
Congrats @Mehulkansal ! The Dfyn team will contact you in PM and give you all information regarding KYC etc 🎉🎉🎉🎉🎉🎉
Thank you Ramani and Priyeshu for your time and for the illuminating answers on Dfyn. Really looking forward to the launch of $DFYN on May 10th, and to welcome you to the Polkastarter Family and continue working together in the future 💫🐿
Ramani Ram, DFYN
Thank you Camilla.
Pleasure was all ours!
Priyeshu Garg, DFYN
Cheers!
Ramani Ram, DFYN
Excited by the interest from the Polka community, and hope you all get a chance to participate through IDO, airdrops, liquidity provision, trading etc in the crosschain future that Dfyn is building.
Cheers folks!
Polkastarter
Thanks to everyone for tuning in. This will be the end of this AMA, thank you everyone for joining us! The chat will now open back up.
Polkastarter Blog - Latest Polkastarter News & Updates Newsletter
Join the newsletter to receive the latest updates in your inbox.
---