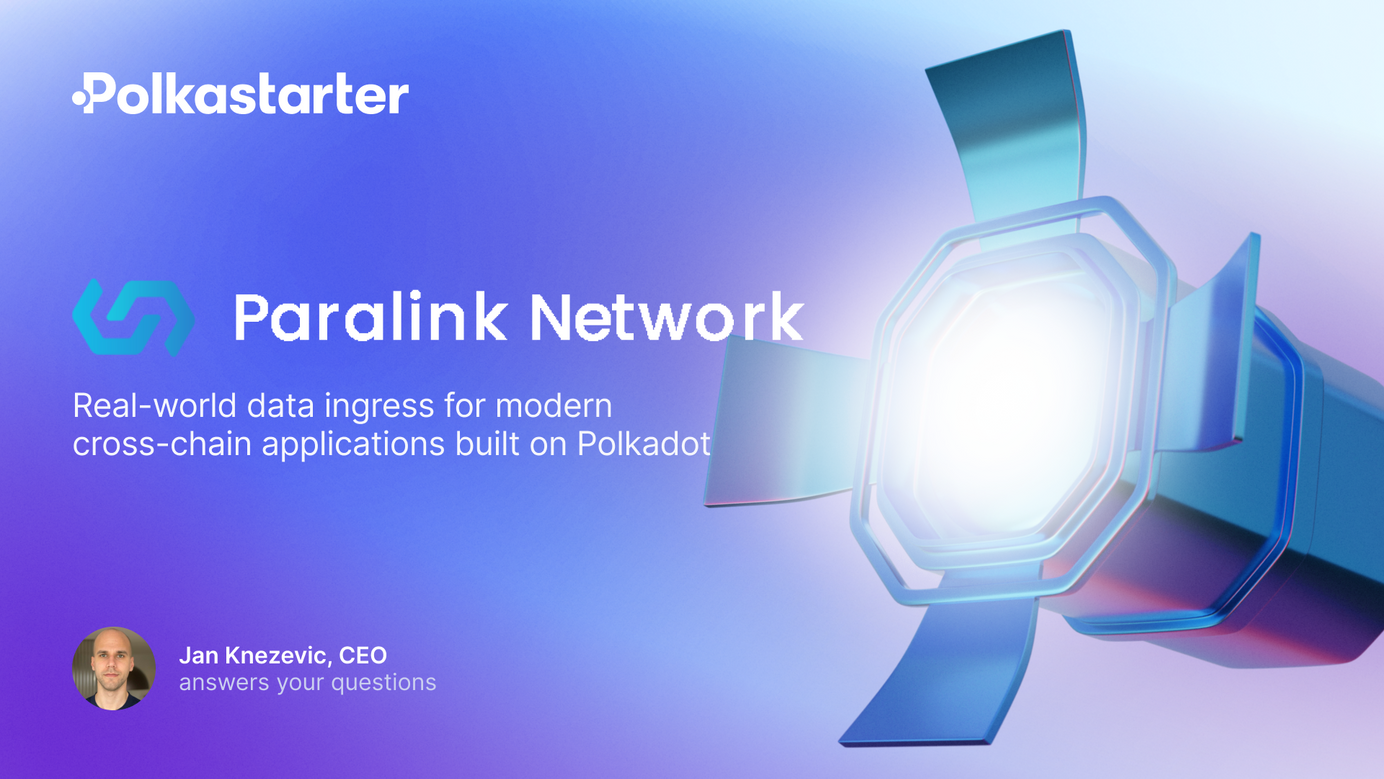 Polkastarter and Paralink Network AMA Recap
AMA with Paralink Network's CEO Jan Knezevic
You can see the original AMA conversation on Polkastarter's Telegram channel here.
Polkastarter
Hi everyone and welcome to another exciting Polkastarter AMA, this time with Paralink Network's CEO, Jan Knezevic. ✨ Welcome @janknezevic, and thank you for taking the time today to join us! 🙂

Jan Knezevic
Hi everyone! Great to be here!

Polkastarter
Alright, we'll first have a few questions to @janknezevic directly, before we open it up for community questions.

Let's get started! 💃
Jan, could you please first introduce yourself?

Jan Knezevic
I am Jan Knezevic and i'm the CEO of Paralink Network. My background is in business and economics - more specifically I worked as an auditor for KPMG, I was an actuary in a life insurance company and later on i transitioned into consulting blockchain projects with accounting and business development as well as conducting internal audits. Last year I was part of a team that acted like a data vendor for blockchain data, we collected pricing, on chain and sentiment data and created qualitative indicators for traders. I was also an active day and swing trader on the stock market trading stocks and stock options and later on transitioned into trading cryptocurrencies.
Polkastarter
Can you tell us more about the vision behind Paralink, and why are you launching it?

Jan Knezevic
We decided to build it in q2 of 2020 after looking at other oracle solutions and seeing that the technology stack they are built on isn't sufficient for providing a stable and resilient service. That is why we decided to build on Polkadot to achieve higher throughput and add sufficiently expressive ETL systems and an advanced querying language which we felt were lacking in the current solutions.
In order for blockchains to become useful as consistent and verifiable sources of truth for real applications such as insurance, prediction markets, money markets with real world collateral, derivatives markets, title registries and more, they need access to high quality, real world data.
Paralink aims to solve the oracle problem by building a trusted real world data ingress for modern cross-chain applications. The core design principle in Paralink are the self organizing relayer quorums that source, aggregate and verify real-world information. The rest is infrastructural scaffolding to make it all work with various data sources (API's, databases, etc) and public blockchains (Polkadot, Ethereum, etc). You can read more about it in our whitepaper.

Polkastarter
Polkastarter are big believers that the team and talent behind the project is one of the most important factors for success.
Tell us more about the team behind Paralink, and how your experience has led you here?

Jan Knezevic
Our developers have worked and contributed to multiple ecosystems including Steem and EOS, while we have people who have been in operational roles at Parity, Consensys, Tendermint and Bitfury. We are mostly based in Europe, but we have a marketing division in the US as well as Asia. We are expanding our developer team by onboarding developers that contribute to our open source software - some have been onboarded full time as well as also expanding the developer team in charge of building integrations with other blockchains as this is the biggest bottleneck in our development. If anyone is interested to contribute we encourage them to do so as we are onboarding devs that provide good code both full and part time.

Polkastarter
Awesome! 🌎

Let's talk about Paralink competitive advantage. What differs you from other similar projects?

Jan Knezevic
I'd like to show you a comparison table so you can have a clear picture about the advantages that we have over the current competitors. One of the biggest additions is the advanced queries and ETLs. We believe this will change the way people build dapps and think about data ingress into smart contracts.
Also, having cross-chain capabilities while maintaining on-chain validation and aggregation gives us the flexibility to do the kind of processing never possible before.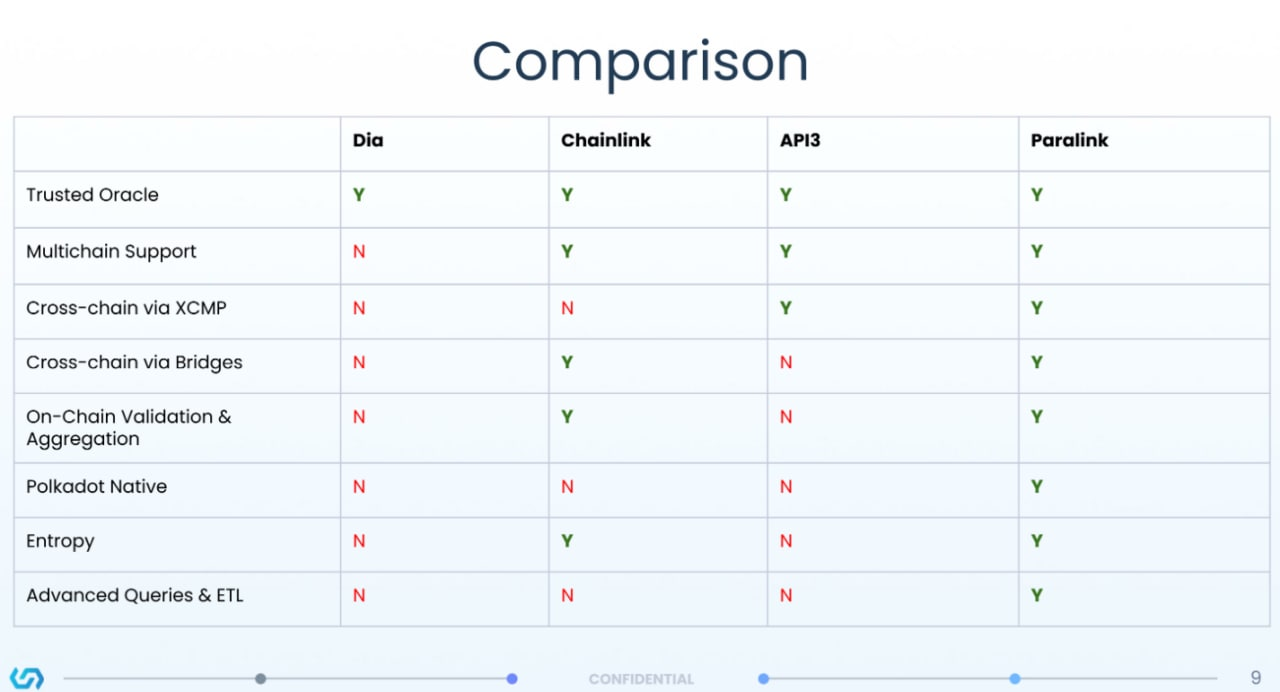 To sum up. There are two main comparative advantages to other solutions. First is PQL-our querying language(JSON+SQL) can access SQL databases and scrape websites which offers additional functionalities compared to other solutions. The node is build in Python so it is easy to use and flexible so we can add functionalities in the future.
The second main advantage is the on chain consensus model running on Polkadot which enables aggregation of multiple data sources on chain and excluding results that dont match variance thresholds to provide an aditional layer of security.
For more information about PQL and on chain consensus check here:
https://docs.paralink.network/whitepaper/PQL.html
https://docs.paralink.network/whitepaper/consensus.html
https://docs.paralink.network/developer-guide/paralink-query-language.html

Polkastarter
Thank you for such a detailed answer. 🙂
Can you tell our community a bit more about your $PARA token, particularly about the token utility and your token generation event (TGE)?

Jan Knezevic
First of all, its used to pay the transaction costs of the callbacks as well as for services provided by the relayer quorums.
Besides this, its also serves an important role for incentives -so it can be staked into the relayer quorums - and those get rewarded for providing useful work - also the other way around - slashed for misbehaviour.
Its also a governance token, so you can vote for collators on the parachain as well as calibrating other parameters through the ecosystem.
And lastly, you can use it to provide liquidity in PARA AMMs and earn more of them.
TGE will occur on the 24.5. with an IDO on Polkastarter and the public sale portion will be BSC exclusive.  The whitelist is open until tomorrow so feel free to sign up if you are interested to participate in the IDO. Afterwards we will provide liquidity on both Uniswap and Pancakeswap.
For more information about the whitelisting process pleas check here: https://blog.paralink.network/paralink-whitelisting-is-open/
Polkastarter
Almost there! 🎉
We'd love to hear a bit more about your upcoming roadmap. What key features are you developing?
Jan Knezevic
Most of our development is focused on integrating the Paralink node to other blockchains especially focusing on blockchains with low fees. We will be releasing our partnerships announcements regularly through our social media channels. Besides that we have prepared a BSC partnership program where we will support integrations of the Paralink node with all BSC defi projects and create a support developer group to answer all potential questions regarding integrations. We have also build PQL UI to enable non developers to start querying as is the case with legacy software as we feel querying is a function that does not need to be reserved for developers only. The demo of PQL UI will be released soon and shared with the community.
We will also launch on rococo testnet and kusama prior to launching on Polkadot.

Polkastarter
Great! 🙂 So many cool things coming!
Speaking of social media channels, could you please share with our community your website and official social media profiles, so they can make sure to follow you and be kept up to date on your progress?

Jan Knezevic
Website: https://paralink.network
Twitter: https://twitter.com/paralinknetwork
Telegram: https://t.me/paralink_network
Telegram Announcements: https://t.me/paralinkannouncements
https://blog.paralink.network/paralink-whitelisting-is-open/

Polkastarter
Make sure to follow Paralink Network's official channels!! 👈
Great, thank you Jan.
Now let's open the chat for a brief window to give our community a chance to ask their questions.
Don't forget, that after the AMA, Jan will choose the best question and hand out one whitelist spot for their IDO on May 24 (don't forget you will need to KYC fast and on time). 💫

[QUESTIONS]‌‌‌‌

Polkastarter
Wow, sooooo many great questions, thank you all!
It's always so great to see this community in action! 😍
Jan will read through and pick some questions to answer now.

QUESTION: Tele Bolero
Why is Paralink actually building a consensus module with Polkadots substrate? What are the benefits this does provide for your project?

Jan Knezevic
It is the only technology stack at this moment that allows us to achieve data agregation on chain as the process would completely clog up the network on ethereum or other similar blockchains. The throughput needed for our solution is currently available only on Polkadot and this is why we decided to built it there. Ethereum 2.0 might be a viable alternative in the future but as its timeline is very unclear we are focusing on Polkadot.

QUESTION: Aloz de la Zota
If ETH 2.0 would ultimately deliver a better functionality than Polkadot. Could you consider moving to Ethereum 2.0 or are you continuing to develop infrastructure on Polkadot?

Jan Knezevic
As touched upon in the previous answer we will always look at the best technology stack available at a specific moment and build there. Currently it seems it is Polkadot and we feel this wont change for the next few years. At the same time we are closely monitoring ETH 2.0 and if it proves to be a viable option we will also build the on chain consensus model there as well. We are a multi chain oracle platform focused on delivering data to all smartcontracts. Currently Polkadot seems to be the best option to do it.

QUESTION: Prerna Malik
Can you please Jan please tell us more about your language "PQL". How exactly will it be used within your Paralink Nodes?

Jan Knezevic
Paralink data requests can be made via PQL definitions, which are JSON based descriptions of ETL (Extract, Transform & Load) jobs. PQL queries are done via SQL like interface which generalizes over common data structures (JSON, XML, SQL), and includes basic post processing utilities such as math functions and type casting.
The data collected from multiple sources and aggregated with a function like median or mean, validated using validation conditions and then returned to the caller's smart contract of choice via the callback.
IPFS is used to immutably store the job definition and provide an addressable content hash. The hash is only 32 bytes long, which is significantly shorter than the job definition itself, making it suitable for request signalling on resource constrained chains such as Ethereum.
https://docs.paralink.network/whitepaper/PQL.html
QUESTION: Bitcoin
There are 3 core issues prevalent in crypto and blockchain: Security, Interoperability, and Scalability. How does PARALINK plan to overcome these issues?

Jan Knezevic
All three of those issues have directed us to build on Polkadot as the interoperability will be achieved through the XCMP protocol, Security will be achieved through on chain consensus. and scalability is possible because of Polkadot incomparably larger throughput compared to other solutions.
Besides this to satisfy all kinds of applications, Paralink offers 3 security models with different cost, convenience and security characteristics.
Simple Oracle
Paralink Nodes can be used as a multi-chain oracle from any 3rd party data source by any developer.
Pros:
Very easy to implement (just PQL definition)
Cheap and fast
Ability to source and validate multiple information sources
Callback support for all blockchains, without need for bridges
Cons:
Requires trust in node operators
Only suitable for applications that don't have financial impact
Trusted Oracle
Simple Oracle can be upgraded by the virtue of cryptographically signed PQL results with ECDSA private keys from reputable data providers.
Pros:
Suitable for Prediction Markets, Insurance, Governance and Gambling applications
Easy to implement (PQL + Signing Proxy Contract)
Cheap and fast
Ability for established data vendors to sell their services on Paralink Network
Callback support for all blockchains, without need for bridges
Cons:
Single point of failure

On-Chain Consensus

For applications that require the highest level of security, without having to rely on a single source of truth.
Pros:
Suitable for Money Markets, Derivatives and other high-stakes financial applications
Relatively easy to implement (PQL + Relayer Quorum + Bridge)
On chain aggregation and validation guarantees
Highest robustness and data quality
Cons:
Requires the use of bridges, ie. Polkadot <> Ethereum, so not all chains are supported (yet)
More expensive due to the costs of on-chain coordination

QUESTION: El Paco
Scraping websites and access to sql databases through the use of PQL seems a serious advantage over other oracles already on the market, but will you necessarily have to be an expert in development to use PQL?

Jan Knezevic
We have built PQL UI to offer non developers an option to query by themselves. The demo will be presented soon through our social media channels.

QUESTION: Alexander
What killer features make paralinks stand out and compete with projects like API3, DIA, and chainlink?

Jan Knezevic
The comparison chart with these projects is linked in the previous answers.

Target group are projects interested to use our oracle solutions for data ingress. Besides this we have partnered with data providers of real world data as they will be an important part of the ecosystem as well. We have built our node and PQL with python and JSON+SQL to make it accessible to non crypto developers as well to incentivize adoption and make the transition easier. Our simple oracles can be used in house by corporations to track their logistics or production chains as well. We want to become a bridge between traditional corporations creating data and smart contracts using that data for defi financial derivatives, gambling and betting applications, insurance, and much more.

QUESTION: vAD
Do you plan to expand your network by using other blockchains, such as eos, tron, neo? And in what time frame will you implement this?

Jan Knezevic
We are constantly building integrations with other blockchains and are focusing on the ones with a growing DeFi ecosystem as well as low transaction fees. Clones of the blockchains that we have already integrated with do not take much time to build the integrations with, but blockchains built from the ground up are taking longer as we have to study their architecture to create the integration.

QUESTION: Frikaangelia
I read that Paralink Network was build on Polkadot but in the same site you also build your own Token on the Ethereum ERC20, can you explain the reason, isn't this will make a contradiction?

Jan Knezevic
As Polkadot isnt ready yet we have decided to launch the tokens on blockchains where the integration is already build and ready to use - Ethereum and BSC. We will add a Polkadot parachain native token later on when Polkadot is ready. Centralized exchanges will act as intermediaries between the chains similar as with USDT.

QUESTION: krakazabrak
Explain what Paralink is so that even a child can understand it.

Jan Knezevic
Paralink is a multi chain oracle platform and we decided to build it on Polkadot.
First of all, the real-world data ingress is done by Paralink Nodes through our own Paralink Query Langauge-PQL. This allows one to query SQL databases, access web APIs, scrape websites as well as access state from other blockchains. Its a robust solution which is easily extendible to support custom data sources (actually right there is an issue with the existing solutions since the technical barrier to create a custom data source is high and takes forever). Besides the data, we have support for post-processing in a permissionless way via on-chain relayer quorums as well as reliable channeling of the computation results via PQL callbacks.
The next aspect of the project is the Paralink node and its query language. WIth it,  you will be able to query APIs. databases but also parse JSON, XML and HTML, support multiple data sources, apply math functions, do type casting, aggregations and much more.
The last point which is extremely important to us is the On-chain security as well as the integrity of this data. This is a huge challenge and we think that so far it hasn't been solved properly. So in Paralink, we have something called Relayer quorums which are self-organizing data repositories with reward token mechanics  (as well as slashing offcourse) which aggregate and validate real world information. Our infrastructure is built with Substrate which means we get high throughput and economically feasible computing costs. Due to this technology stack, we can also relay computation results from Polkadot to other chains as well, but also monitor reliability via public reputation systems.

Here are our tokenomics: https://blog.paralink.network/para-tokenomics/
IDO Polkastarter 24.5: https://blog.paralink.network/paralink-whitelisting-is-open/

QUESTION: crazy kay
Hello sir, this is my question: Paralink is based on Polkadot's on-chain consensus algorithm. Will the future development of this project be affected by the fluctuations in the Polkadot market? For users, it may take a long time to launch Parachain on the Polkadot mainnet. Before launching Paralink on the Polkadot mainnet, can Paralink's cross-chain oracle applications be widely used?
Hope you can answer my question, thank you!

Jan Knezevic
The Paralink node can be used independently of the parachain for data ingress. Currently it is integrated with Ethereum and BSC and additional integrations are already being built and will be announced soon.

Polkastarter
Congrats Prerna Malik (@Prernaum), you've been chosen as the winner of the whitelist spot! 🥳
Paralink team will contact you in PM and give you all information regarding KYC, etc.
Thank you so much Jan for your time and for the illuminating answers on Paralink!
Really looking forward to the launch of $PARA on May 24, and to welcome you to the Polkastarter Family and continue working together in the future. 🚀

Jan Knezevic
Thank you for having me it was great! For more information about our project and regular announcements check our social media channels and our website.
Website: https://paralink.network
Twitter: https://twitter.com/paralinknetwork
Telegram: https://t.me/paralink_network
Telegram Announcements: https://t.me/paralinkannouncements
Whitelist: https://blog.paralink.network/paralink-whitelisting-is-open/

Polkastarter
🙌🙌🙌🙌
Alright, thanks to everyone for tuning in. This will be the end of this AMA, thank you everyone for joining us! 👋
The chat will now open back up.
Polkastarter Blog - Latest Polkastarter News & Updates Newsletter
Join the newsletter to receive the latest updates in your inbox.
---