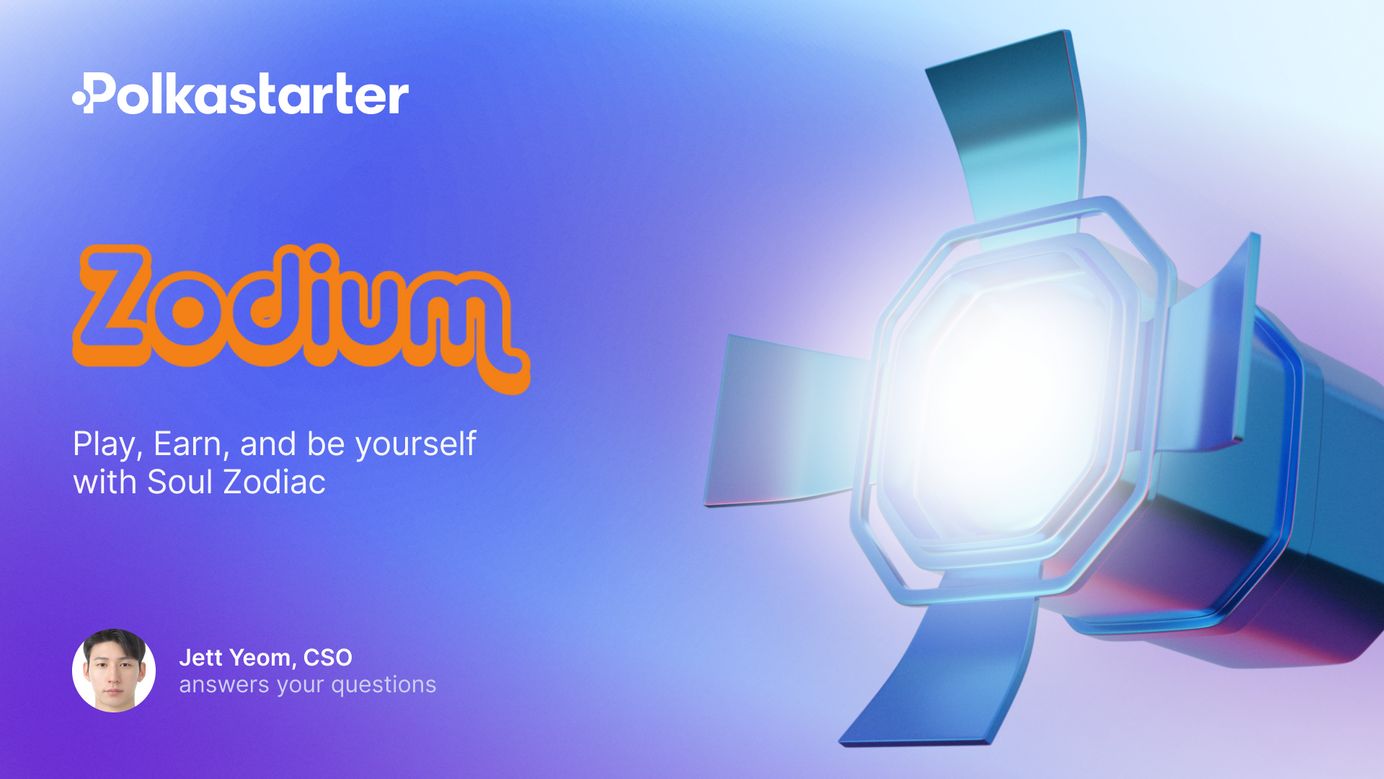 Get to Know: Zodium
A play-to-earn gaming project based on zodiac and star signs
Mark your calendars 🗓: Zodium IDO is coming to Polkastarter on December 6.

We've sat down with Jett Yeom, CSO at Zodium, to get to know the project better and to give our community a chance to ask their best questions.

Read the complete AMA on this link.

👀 Want to dive deeper into Zodium? Visit their project page.


Team
Zodium's team is made of world-class storytellers, designers, programmers, business and blockchain developers. Its founder is Sean Yoon who also co-founded the legendary LINE FRIENDs and a global leader in animation and character design.
Jett Yeom, who joined us for the AMA, is Zodium's CSO and works closely with Business Development.


Zodium Roadmap
Their team's mission is to make sure the game user experience is enjoyable and sustainable. They're planning to launch Zodium's metaverse platform and mini-games during the first half of 2022.
In a few months, users will be able to try out their psychological test, stay tuned for updates: https://doda.app/quiz/eE5cvrM3Ho?tm=7731df5e

ZODI Token
In Zodium's ecosystem, there are two types of tokens and a game point used in-game.

1. $ZODI is a governance token, by acquiring ZODI, token holders can play games, vote on important matters, stake, and claim their rewards. ZODI gamefi dynamic differentiates it from others other P2E.

2. The game utility token: CHARIS. Users can earn CHARIS as rewards for winning battles and use it for various activities in the game such as crafting (minting) weapons. CHARIS is a fair-launch token meaning it can only be minted upon being rewarded from winning a battle and will be burned afterward.


Community Questions

Mynameis missjutha

HELLO  CSO ZODIUM @Jettyeom

QUESTION 1 : I always see the word metaconnection hashtagged on Twitter, and I'm impressed that it expresses a new tone for the metaverse. I have high hopes for the Zodium metaverse, and I'm curious to what extent the current development progress is being implemented.

Jett Y (Zodium)
​​We are developing Zodim's metaverse product on the UNREAL ENGINE 5. Furthermore, we plan to ensure that other NFT projects can also join Zodium's Open-Metaverse on one of our Battlefields on the planet Trunico. Interoperability with other blockchain games will be a future plan to create a mega-metaverse down the line.

I delivered details on ZODI and CAHRIS, but for AQUA, AQUA is not a token, but rather it is a game point for the guild. You can earn AQUA as a reward from winning team or individual battles. Additionally, you can use AQUA to boost the guild. To simply put, AQUA is a game point used to decide which guild is the best.

All you need is one 12 KINDs NFT in any of the five tiers to play our games. As you have made it clear, one of the problems for the p2e games is that some people cannot afford to play; that's why we designed five different NFT tiers and enabled an upgrading function.

Although you will get more benefit if you have a higher level of NFT, you will still be able to enjoy our game at an affordable cost with Common tier NFT, earn along the way and upgrade into the higher tier.

Bull
If you look at the  -- use allocation of treasury -- in the white paper, the guild prize is 20%, I see a lot of focus on the guild. Is there a special reason for group compensation rather than individual compensation? Also, are there any concerns about the monopoly of a specific group seen in other games

Jett Y (Zodium)
The "12 KINDs Guild" plays a vital role in Zodium. Your zodiac character NFT determines which Guild you will belong to. If your Guild becomes the final winner from the Guild competition, you will earn 20% from Treasury of Zodium as rewards depending on your individual contribution.
There will be team-based or individual-based Guild competitions with mini games and when you win, you will get CHARIS and AQUA as a reward.

The Guild with the most AQUA at the end of the competition season is the Winner Guild. For more details, please refer to '12 KINDs Guild' part from the link here https://whitepaper.zodium.io/glossary.

Hardy
One of the important things in coin projects is a partnership with VC, which you invested in by trusting the project. Please introduce your partnership with VC, which you invested in by trusting Zodium.

Jett Y (Zodium)
Zodium has raised around $3.5M from great investors who work very closely with us. Here are the lists: Animation Internationals, Polygon Syndicate, Morningstar Ventures, Bybit, AU21, UVA, HG Ventures, IOST, Astronaut Capital, Tayssir Capital, Loopring Protocol, TPX Ventures, Kyros Ventures, Vanda Capital, Evernew Capital, Momentum 6, and Terabyte.
We will be announcing more great partnerships in the near future :)

Humber the Fudge
Can you make something like a rare animal using the interbreeding system?

Jett Y (Zodium)
Right now, we plan to stick with the 12 Zodiac Animals. However, we are building OPEN-METAVERSE and going to use our "ZERO NFT" to invite third parties and possibly other famous NFT projects too.

For those of you who are not familiar with ZERO, ZERO, conceptually, is the home and the origin of our 12 KINDs characters and is capable of evolving into any spiritual being.

WebSite: https://zodium.io
Twitter: https://twitter.com/zodium
Discord: https://discord.gg/zodium
Medium: https://medium.com/@zodium
Telegram Announcement: https://t.me/zodiumofficial

About Polkastarter
Polkastarter is the fully decentralized launchpad to launch new ideas in the blockchain and digital assets space. With an industry-leading curation process and market access, we select the most innovative projects in the space and offer them long-term support after their IDOs.

With Polkastarter, crypto projects can increase their reach, grow their communities and receive support from crypto's most well-versed experts. IDO participants, on the other hand, are offered an opportunity to invest in a secure and compliant environment, as well as participate in IDOs not solely on Ethereum, but also on Binance Smart Chain and Polygon.

Media Contact Polkastarter: [email protected]
---
Connect with us and learn more about Polkastarter

Website | Twitter | Discord | Telegram | Instagram | Youtube | Newsletter


Polkastarter Blog - Latest Polkastarter News & Updates Newsletter
Join the newsletter to receive the latest updates in your inbox.
---