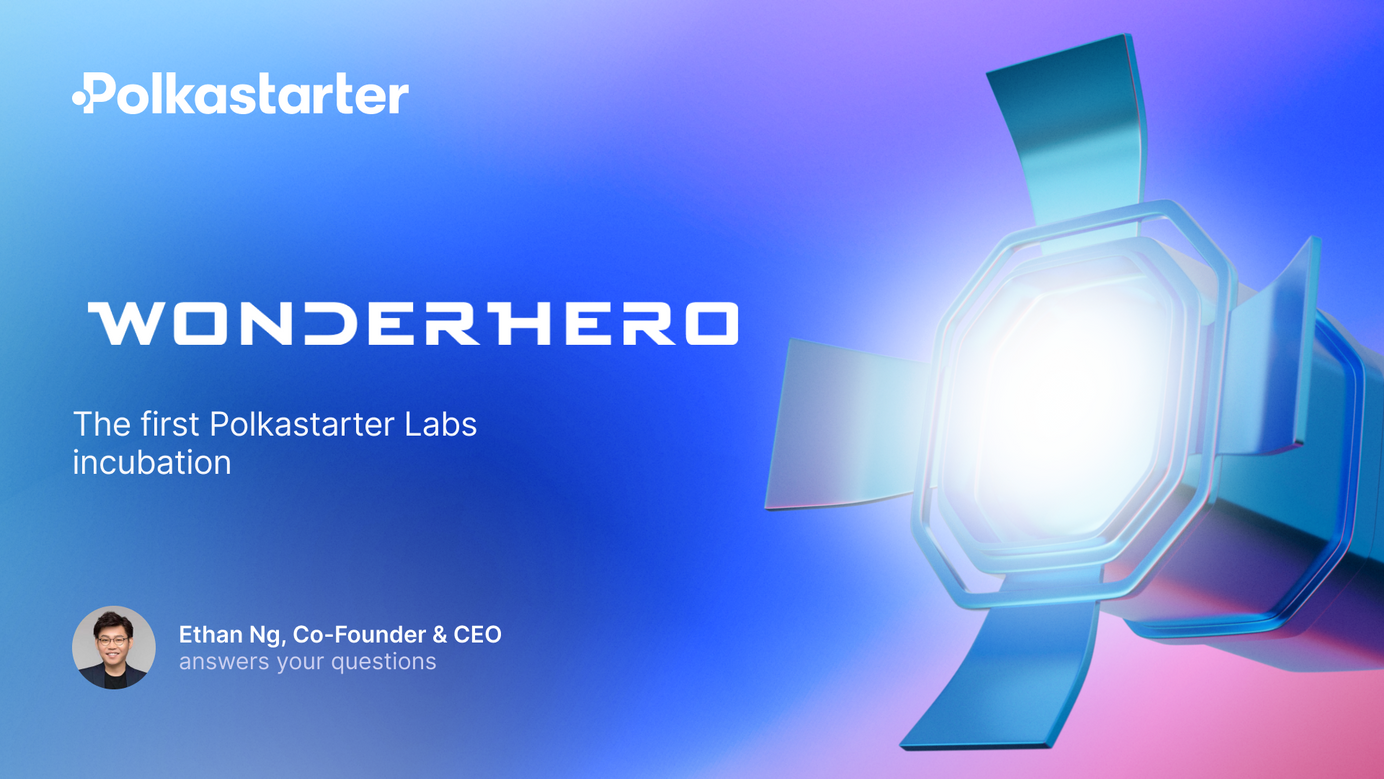 Get to Know: WonderHero
Learn more about WonderHero ahead of their IDO with the most important takeaways from our AMA with the team

📢 The Wonderhero IDO is October 20 on Polkastarter!
👉 For the full AMA, follow this link.
Want more from Wonderhero? Visit their website.

Team
Ethan Ng is the Co-Founder and CEO of WonderHero.
Ethan covers all key decisions from product, marketing to strategy and leading the company through its vision. Previously, Ethan was the Southeast Asia CEO for BiKi.com, a Top 20 Crypto exchange with a daily volume of 50M. Prior to Biki, Ethan was also Marketing Lead for Huobi Global.
The Wonderhero CTO was the Tech VP of a Top 20 exchange, and was responsible for the management and product development of the exchange's Tech team. He comes from the traditional gaming industry with 6 years experience as a CTO and Chief Producer of a boutique game studio, where he has worked in multiple game products.
The team's CMO also comes from the traditional gaming space. He was the co-founder of a mobile gaming studio which was acquired in 2017 by an Australian listed company. He then ventured into the Indonesia market to build a Game Media startup which at its peak had 1.8M pageviews and amassed 65K subscribers on YouTube.
Wonderhero's Operations VP comes from the traditional finance trading industry with over 10 years of experience. She was Operations Manager for a Top 20 exchange and for Huobi Global.
The team's Tech VP is the main integrator between blockchain and traditional mobile games. He has 4 years of experience in technical architecture design with R&D of blockchain systems. He was also a tech architect for a NYSE listed company, engaging in design and R&D of inclusive financial services.
Currently, the team is made up of 17 people, 8 with full stack traditional game experience. The rest have all crypto experience of at least 3 years each.

Product + Vision
The vision behind WonderHero is simple but yet ambitious. They want to empower gamers around the world to earn while doing what they do best — play games.
Since the dawn of gaming, millions of gamers have spent hours on perfecting their craft in gaming — with much of this effort being not equitable because there are very limited options for gamers to trade rare in-game items.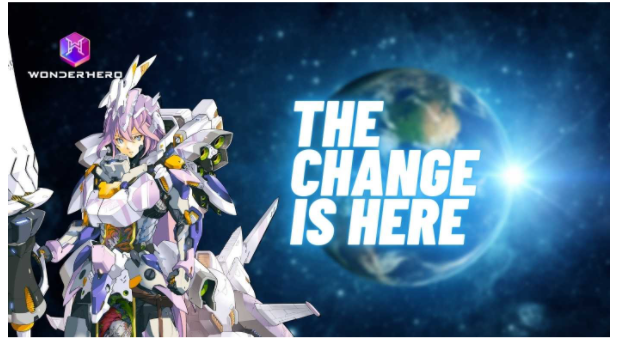 Moreover, after hundreds/thousands of hours invested into a game, when you decided to venture into a new game, you would start from absolute ground zero while getting no returns from the previous game.
To gamers, those hours spent are worth every bit of its joy, but it would be a dream come true for many, if you can finally be rewarded for the effort and the hours invested in a game!
And WonderHero is here to make the Play to Earn industry a better experience! Gaming has entered into a new era, we will modernize the new state of gaming through blockchain technology and create a new lifeform of freedom for gamers.

Key Differentiating Factors
With the rise of Play to Earn games, Wonderhero has also seen how some successful games start to alienate newer gamers as the price of its token rises and becomes unaffordable to many.
Or how many games failed to have a comprehensive ecosystem and great design to support the longevity of the game.
WonderHero is a multi-chain project on ERC20 and BSC that utilizes Polygon for faster transaction speed and lower fees for the gamers.
Because the network fee for ETH is high, each transaction fee is costly and does not make sense for gamers at all. Imagine buying a NFT and the transaction fee costs 30 - 50% of it, it makes the whole experience undesirable and discourages gamers who are just starting out. And that is not the team's goal; we want to be inclusive and make it easy for more gamers and those who may not be crypto savvy yet to benefit in the Play to Earn ecosystem.
ERC20 and BSC are 2 of the world's most popular chain networks. Wonderhero has built a cross-chain bridge solution to link it to Polygon where it is built for very very low gas fees and quick transaction speeds, an ideal environment for gaming experience.
The native utility token of WonderHero is $WND. This is the governance token that is required for purchases and upgrades of the NFT heroes, weapons, equipment and items.

Here's what players can do with $WND:
Players can stake $WND tokens to earn $WND rewards weekly.
Stake high value NFTs to get $WND rewards weekly.
Upgrade heroes, weapons or equipment and sell at a high price on the NFT marketplace.
Trade $WND on Decentralized Exchanges in exchange for USDT or own cryptocurrency.
Staking $WND tokens also give the players right to vote for the future direction of WonderHero.

Roadmap
Firstly, Wonderhero's IDO is scheduled to take place on Polkastarter on 20th October 2021!
Here's the current roadmap of the upcoming events
The team is primarily focused on the following:
WonderHero Staking Platform
WonderHero NFT Marketplace
WonderHero Game Launch
WonderHero Yield System

October is the busiest month, packed with lots of events, from announcing the IDO to the launching of $WND tokens and our NFT WonderBox sale! Keep your eyes on Wonderhero, you don't want to miss these incredible events.
After the IDO, Wonderhero's NFT WonderBox Sales will be the earliest way and the best time to hold a WonderHero NFT at a presale pricing. Once the game is launched, the WonderBox feature will eventually be removed, so you don't want to miss this.

Community Questions

I read in your whitepaper that WonderHero believes in forming a balanced universe where players of different levels can provide each other economical and joy opportunities. How does this work? Can you explain it to us?

"Because we have the Yield System, a safe environment for sponsors and scholars to take part while holding on to the custody of their assets, there are people who are interested in the game but may not be able to play games well, they can take on other roles in the game!
For example, they can be sponsors and let other players who are good in playing games to play the game. They can be members of the DAO to decide the future direction of the game. They can even stake as audience and participate to win more $WND tokens from WonderHero ESPORTS matches (happening in phase 2)
We will be creating more and more roles and CHANGE the definition of games here. You don't have to be a good player to be part of a gaming community. We welcome everyone to join and be part of this innovative community."

Reading the project I could understand that you need to buy a hero and a weapon but I would like to know how many characters will be needed for the story mode and how many for the PvP mode? How much will a NFT hero cost and what rarity levels do the characters have?

"You just need 1 Hero NFt + 1 Weapon NFT to start the story mode. same for PvP, but you would likely lose, so recommend to get all 4 Heros in the team to play PvP to play to earn more tokens.
I strongly suggest joining our community to stay tuned for the 1st NFT box Sale, early grabbers will have the key advantage, the prices for these NFTs in this Box sale will never be seen in the market again."
---
Stay up to date with WonderHero:
Website: https://www.wonderhero.io/
Twitter: twitter.com/Wonderhero_io
Medium: https://wonderhero.medium.com/
Telegram: t.me/wonderhero_io
Telegram Announcement: t.me/wonderhero_official

---
Connect with us and learn more about Polkastarter

Website | Twitter | Discord | Telegram | Instagram | Newsletter
Polkastarter Blog - Latest Polkastarter News & Updates Newsletter
Join the newsletter to receive the latest updates in your inbox.
---