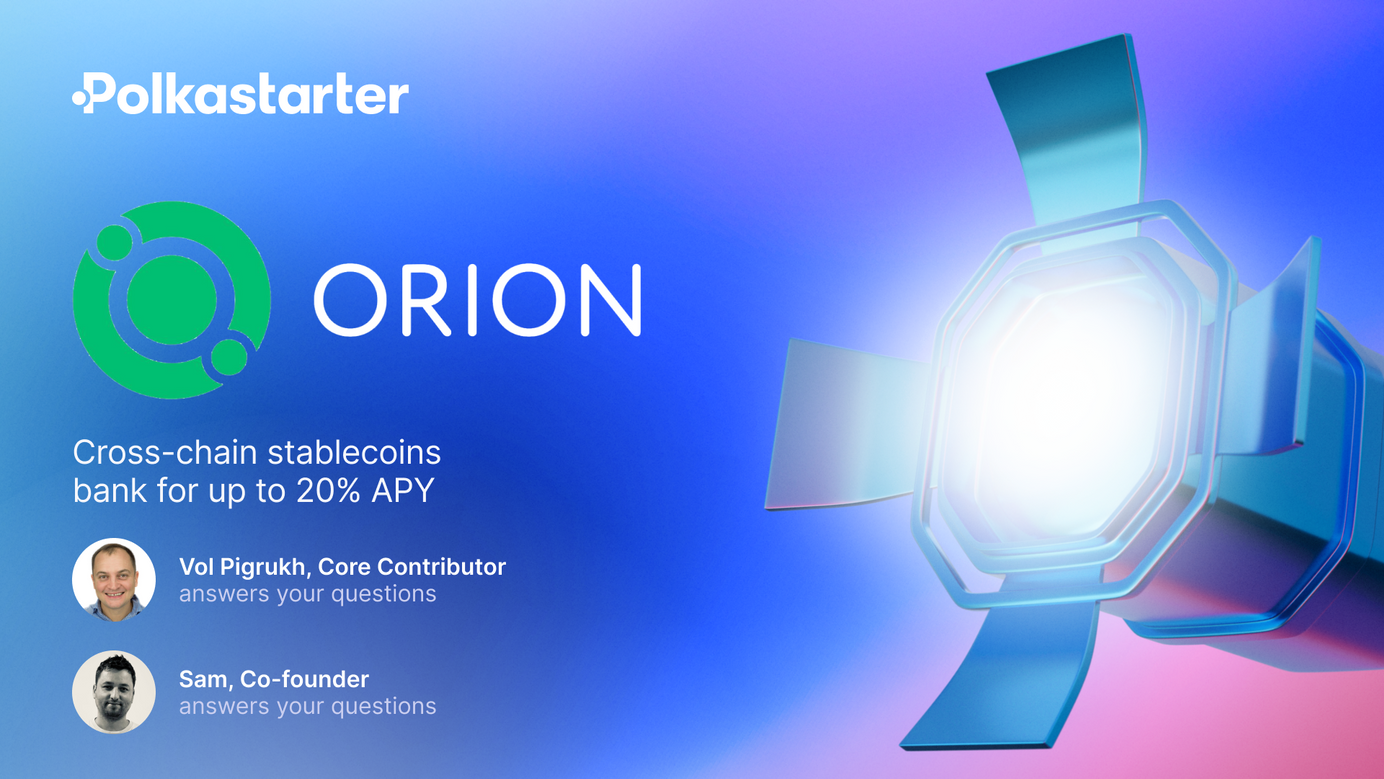 Get to Know: Orion.Money
Earn up to 20% APY on your stablecoins with cross-chain stablecoins bank Orion Money
During yesterday's AMA with Orion Money, the cross-chain stablecoins bank enabling up to 20% APY, we were joined by co-founders Vol and Sam. This article will provide you with plenty of useful details to get to know Orion Money better and get ready for their upcoming IDO.
You can still apply to get allowlisted for the September 29th IDO here.

---
Team
Sam: I'm one of the 3 co-founders of Orion Money. Little background on myself, I started my journey with crypto back in 2014, the time when I first came across bitcoin while doing a deep dive into monetary policies, gold investing.
Over the last 7 years I invested in different projects and kept a close eye on the entire industry and how it evolved. I experienced most of the crypto bull and bear runs and saw how in recent years stablecoins market started to grow and how more and more investors started to diversify their portfolio into stablecoins. I came across Terra back in 2019 and if you don't know anything about Terra just shortly it's the only decentralized algo stablecoins blockchain with Luna being the only asset that captures value the growth of stablecoins market.
I realized that Terra has something that no other blockchain has. Back then there was no community for Terra, there was just one discord channel so I decided to join the core community and help grow it from day one. Today I'm proud to say we have one of the largest and most passionate communities in the space.
I invested and was part of every project that launched on Terra from day 1 and came across Orion Money when Vol and Kos ( other 2 co-founders ) submitted this basic but pretty profound idea to hackathon, to bring anchor protocol high stable yields to other blockchains, starting from ethereum and enable easy spending of stablecoins in the real world.
I immediately joined the team in first week of hackathon, we ended up winning the hackathon and we went full speed on development. We've launched our first initial MVP version of Orion Saver app.orion.money during the hackathon
Vol: Myself & our 3rd co-founder Kos are serial tech entrepreneurs. We previously launched an e-commerce analytics startup, Profitero, and grew it into a 300-employee company with $20M+ ARR and had notable customers such as Amazon, Google, Coca-Cola, P&G, etc. We sold that startup to private equity in 2020 and looked for a new challenge.

Product & Vision


In a nutshell, Orion Money is a cross-chain bank for your stablecoins. Their integrations include USDT, USDC, DAI, BUSD and UST and will enable users to earn up to 20% yield on their stablecoins after the token-generation event.

Orion Money's vision is to become a cross-chain stablecoin bank, supported by a robust ecosystem of dApps for seamless and frictionless stablecoin saving, lending, and spending.  The first product, Orion Saver https://app.orion.money/ (already live with $73M TVL), is a cross-chain savings dApp that provides the highest and most stable yield for your stablecoins irrespective of what blockchain you are on.
Our next product, Orion Yield and Insurance, will provide additional high-yield and insured products, bringing even more value to Orion stakers and the Orion Money depositors.
As a cross-chain stablecoin bank, Orion Money will also create avenues and gateways for users to freely spend their stablecoins. This would be made possible through Orion Pay, a cross-chain payments dApp that will integrate with fiat on-off ramp solutions and allow several avenues for users to spend their stablecoins.
With its suite of dApps, Orion Money offers users a convenient and frictionless way to earn high yields on their stablecoin deposits and spend them with ease — all without the hassle of moving assets across chains.
Roadmap



We plan to expand Orion Saver to multiple blockchain networks. Ultimately, Orion Saver will be the core gateway for external blockchains to get seamless and convenient access to high yield savings protocols like Anchor Protocol.
1. Orion Saver Ethereum: Develop and establish Orion Saver as the premier stablecoin savings destination on Ethereum. [Projected Date: June — September 2021 - DONE, and $70m+TVL]
2. Orion Saver Terra and Orion Saver BSC: Launch Orion Saver on Polygon, Terra, and BSC. Additionally, we aim to establish Curve-style liquidity pools for stablecoins on Terra in partnership with the Terraswap team.
[Projected Date: Q4, 2021]
3. Orion Yield & Insurance: Orion Money will provide high-yield savings to its users, and use the liquidity to invest in diversified strategies. Orion Money Stakers will receive a share of extra yield generated in exchange for underwriting the insurance for depositors.
[Projected Date: Q1-Q2, 2022]
4. Orion Pay: Orion Money aims to create an ecosystem where stablecoin depositors can easily spend their earned interest. We are exploring implementation options such as fiat on-off ramp solutions, crypto-to-fiat direct payments, crypto-to-fiat subscription-based services, and crypto debit cards. These may be developed organically or in collaboration with other protocols, depending on our go-to-market strategy.
[Projected Date: Q2-Q3, 2022]
Community Questions
Adebili: Orion Money model seems somewhat similar to that of Nexo and Celsius, can you tell us what distinct you from them? Also, you said that currently there is no protocol on ethereum that offer higher, stable APY rates comparing to Orion Money. In my opinion, this kind of juicy return will make the product a target victim by malicious attackers, so what effort are you making to help tighten it security? Will you consider adding some couple of insurance options to help cover for loss incase of any breach or compromise?
Sam:  Great point. Me and Vol are actually early investors in Nexo and me personally in Celsius. We've seen this concept of incentivizing rates through the token work really well for those two CeFi projects but until now no one was able to launch this model in DeFi so excited to say we are the first project doing it in complete non-custodial way with much higher APY levels. Regarding security I see Vol just answered it for you extensively below 😊
Smirnov: The market absolutely grew from nothing to over $120b and is still continuing to grow fast. So there is the need for stable high interest rates on stablecoins. How will Orion Money take advantage of this unique opportunity? And are there plans already in place to bridge to other blockchains apart from ETH?
Sam: There were plans from start to expand to other blockchains as BSC, Terra and also L2 as Polygon. We are focusing on TVL growth through retail incentivizes as referral program, airdrops or ambassador program but also through B2B partnerships with existing protocols, CEFI / DEFI projects, DAOs where we can integrate Orion Money directly with other projects backend and users of others projects can take benefits of those high rates directly on their platforms. Good example to share here would be our recent partnership with BlockBank. We are in active discussions with many other projects that are looking for high and stable yields offering for their users so you should see more of this type of partnerships in coming weeks
Bиктория Warss: I have used Orion Moneys platform couple times and I have faced a problem. I know it is still In beta but I am tired of the high fees when using Ethereum. For example, I have staked $500 staked on your platform and there is no point of withdrawal because the fee takes most of my investments.  Any help or advice would give a investor like me?
Sam: That's a great question, we've done our community farming event which brought us over $70m in initial TVL. During onboarding of that TVL we've identified some pain points and addressed them by implementing internal pools, at start limited to up to $20k in deposits but soon unlimited. That allows us to onboard TVL without cross-chain fees and also reduces significantly cost of gas when making deposit by 4 - 5x
Roshan: Has Orion money prepared for the security ? We seen lot of exploits & security breach in such kind of high yield and stable coin collateral lending bank platforms the most. What measures been added from your side to protect it ? Who were you been audited by, did you got the green signal ?
Vol: Yes, we care deeply about users' funds safety.
1. Orion Saver just launched in June - but we already have done 3 smart contract security audits and the results came back very good. You can see the audit reports here: https://orion.money/security-and-audits
2. We also partnered with reliable insurance providers such as Unslashed and InsurAce that users can insure for smart contract risks and UST peg
Fernando: When I get High APY almost 13-20% with my Stable coins, why should I risk with Orion token to get extra 5% which might have volatility and price reduction in future ? Tell me about your unique feature and a good reason that can change my mind to invest in Orion token ?
Vol: Orion Saver yield rates are already higher and fixed - so they will not vary. You can get up to 20% APY in your original stablecoin and up to 25% in $ORION.
Kurnianto: Q1.👋I read that the anchors have a stable, low-volatility 20% APY interest rate paid to depositors on their Terra stable (UST) currency deposits and that they are capital protected. can you tell us a little more about this? what did you do to achieve it?
Q2.👋Like many projects, Orion Money charges a 10% tax on each transaction. How do you determine this rate, some users find the rate as high as 8-10%, is it possible to reduce the rate if complaints about this increase? Also, for which areas will you use this tax revenue and will you share the details of the expenses transparently with the public???
Vol: Q1. Anchor powers depositors yield by POS staking rewards which allows it to make the rate fixed (compared to Ethereum DeFi platforms).
Q2. Orion Saver doesn't take any fees from users - users are charged only external fees - Curve swap fees and cross-chain bridge fees. Please read here in more details: https://orion.money/how-it-works/
Yasser Gomaa:

1 - Regarding https://app.orion.money/ does it support BSC network or even MATIC or Terra ?
2 - Due to Crazy Etherum gas fee, Are you planning to move the project from ERC20 to Binance Smart Chain?
3 - How does tokeconomics looklike? What are the major benefits of holding the token longterm?
4 - How is adaptability achieved in the eco system?
5 - What about yield farming ? Can we stake to earn yield on $Orion.
6 - Please explain Orion individual savings Plan. Will there be any lock up period. Tell more about Saving Plans
7 - Partnership is one of important thing if a project want grow and spread fast. Which project already doing partnership with your project?
Vol:

1. We're planing to expand to other chains and L2s to provide our users cheaper options to make deposits and withdrawals. We're working already on extension to Polygon - it should be out in a few months, exact ETA will be announced separately.
2. BSC too - but probably later
3. We touched on tokenomics above
4. not sure what you mean here
5. Yes, $ORION will have staking and staking rewards, more details are in our litepaper: https://orion-money.medium.com/orion-money-litepaper-release-7e98bb3acb6f
6. - pls see above
7. Absolutely! Orion Money Partners as of now.
Delphi Digital
Terraform Labs
Anchor Protocol
Blockbank
StudentCoin
We are working with many other projects to develop partnerships.
---
And that's a wrap! To read the full AMA, you can head over to our Telegram and see the chat from the beginning.
Here is how to stay up to date with everything coming out of Orion Money:
Website: http://orion.money/
Twitter: https://twitter.com/orion_money
Telegram: https://t.me/Orion_Money
Medium: https://orion-money.medium.com/
Discord:  https://discord.gg/5vbWB2PWeS
---
Connect with us and learn more about Polkastarter

Website | Twitter | Discord | Telegram | Instagram | Newsletter

Polkastarter Blog - Latest Polkastarter News & Updates Newsletter
Join the newsletter to receive the latest updates in your inbox.
---