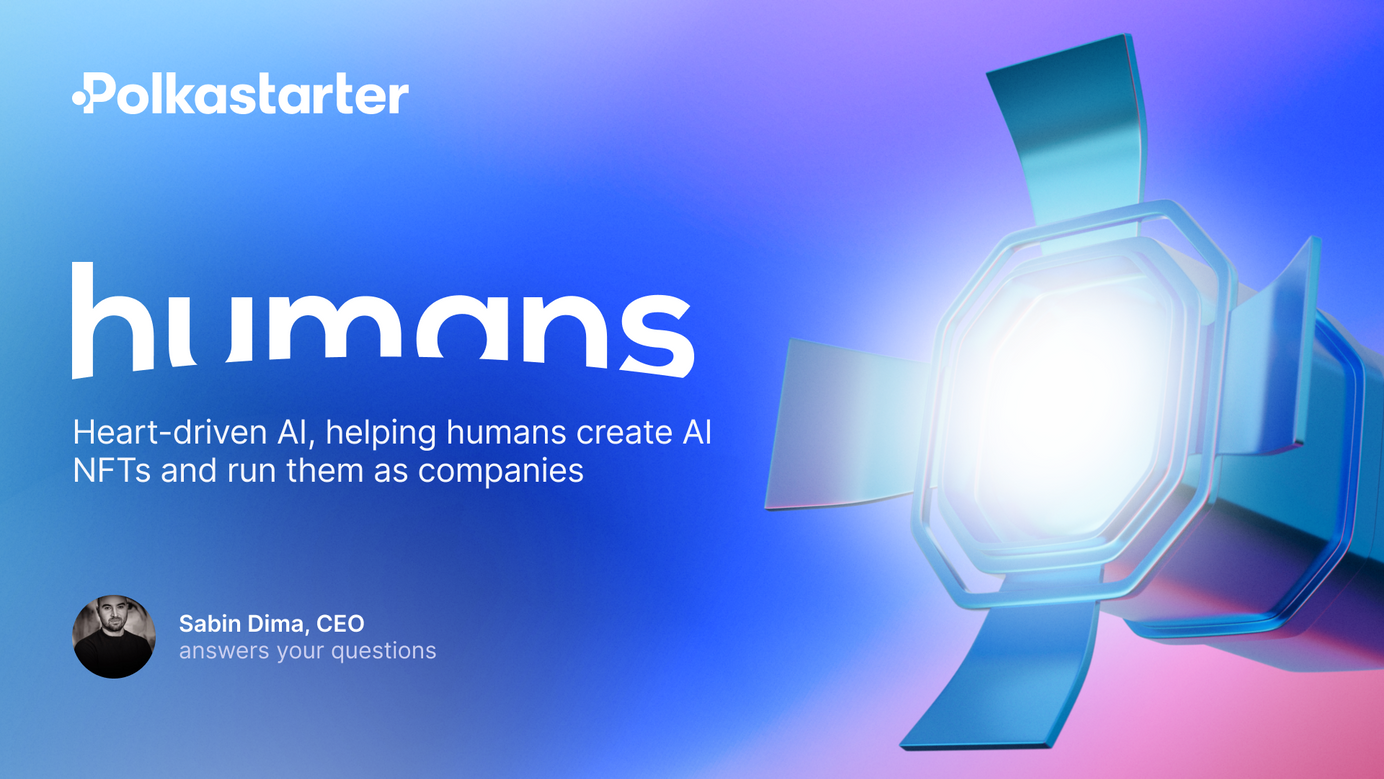 Get to Know: Humans.ai
A Heart-driven AI, helping humans create AI NFTs and run them as companies.
You've heard the good news, right? Humans.ai IDO is coming to Polkastarter on December 6th! So we got together with Sabin Dima (Humans.ai CEO) to learn more about their vision and roadmap.

Read the complete AMA here.

👉If you're wondering where you can learn even more about Humans.ai, head over to their dedicated project page: https://polkastarter.com/projects/humans


Proof of Human

Humans help to make video content truly scalable with the power of AI while ensuring there is a real human behind any synthetical-media-produced piece of content by integrating a Proof-of-Human immutably on the blockchain.

Proof of human technology is the foundation of Humans decentralized ecosystem. Humans become validators in an attempt to build the framework to contain, manage and govern AI.

Its a new blockchain consensus that relies on humans to leverage their biometric data to ensure close biological supervision of every AI. Humans empowers people to participate in governance, management, and deciding the fate of any AI, essentially making sure that the objective of the AI is aligned with the human's objective.

💙 $HEART token

$HEART is the native token of Humans ecosystem. It empowers anybody to participate in the governance of the platform and facilitates key flows of value within it. All fees charged by the HUMANS platform will be paid in $HEART, even when payment originates in fiat or another accepted cryptocurrency.
Staking $HEART is required to perform key functions within the HUMANS ecosystem, including:
- Minting NFTs
- Account Validation
- Creating dApps
- Adding AIs to the Humans Studio

Additionally, $HEART will serve as the default incentive as various stakeholders contribute key value to the ecosystem. These incentives include rewards for:

- Creating an AI Developer Uploading Technology account and getting it validated
- Account Validation (KYC)
- Participating in Governance
- Providing Proof of Human

👥 Team

The core team is based in Romania and is in the process of opening an office in London in order to expand the technical and business teams. We are 40+ working eagerly and obsessively on this project - this obsession, I think, is the most important factor for success.

Apart from Sabin (CEO of Humans), the team is led by key team members, such as Prof. Nicu Sebe (Head of AI), that oversees building the AI Advisory Board, using the expertise of the advisory board members to make us identify the main research/entrepreneurial area to concentrate on.

Another key member is Razvan Munteanu (Head Of Strategy). He was the first businessman in Romania to see the potential of blockchain and cryptocurrencies and to invest big in this huge fast scalable market.

Lucian Nicolescu (Head of Product), has over 20 years of experience in developing web-based solutions, backend architecture, and managing technical aspects of organizations with an eye out for identifying innovative ways of getting things done. In charge of backend development along with the team of developers, APIs communication between services and clients.

Florin Otto (Head of Crypto) has 10 years of experience in product management and blockchain. Blockchain and crypto enthusiast, experienced tech entrepreneur, and product executive with deep knowledge in building and managing multiple products across different companies and diverse teams.
And many more super-humans!

Community Questions

Anisur Rhaman
I am still confused. Why does AI need Blockchain technology?

Sabin Dima (Humans)

We, as Humans, are tool builders. We built tools to move, to construct, to express in artistic ways, managing somehow to create today Artificial Intelligence, which is the greatest tool that we have ever built. Through which you can create anything you can imagine, scale yourself and scale your potential. But if you can create anything, the question that arises is "What needs to be created" and how do we decide? And one is created, how do we know what is real and what is not. So, the greatest tool has the greatest problems. The good part is that humanity gives us two technologies at the same time: AI and Blockchain, and Blockchain provides a real solution for AI's problem. If we ask how we can decide what needs to be created, we can encapsulate an AI in an NFT and to have (1) ownership, (2) transferability and (3) a governance system around each AI (AI DAO). If we want to create a platform at scale we incentivise the researchers to deploy their technology in Humans platform through the token economic model and we can offer transparency through the distributed ledger, making the Blockchain the perfect medium for AI to evolve.
We believe that in the near future every piece of technology will contain a piece of AI within it. Using blockchain technology we could harness the full potential of each and every human, harnessing the power and the unique fingerprint of each and every individual. If everything can be created by anyone the blockchain technology allows us to transfer each piece that makes us unique overcoming existing problems regarding ownership, usage, and governance when it comes to barriers regarding payment, patents, uniqueness and ownership.


Haipar
Do you have any plans to raise awareness among crypto and non-crypto users around the world? Is it possible that non-English-speaking countries will be unable to access your project?

Sabin Dima (Humans)

Yes, our goal is to take our project beyond the crypto world, looking to attract non traditional crypto users. As such, we are pushing our project across multiple channels, to increase awareness all over the world. As for non-English speakers, we are constantly looking at our groups, analyzing where the community members are from and thus creating communities to fit demand. So far, we already have multiple communities, such as:
General: https://t.me/humansdotai
Russian: https://t.me/Humansdotai_russian
French: https://t.me/Humansdotai_francais
Turkish: https://t.me/Humansdotai_turkey
Portugal https://t.me/humansdotai_portuguese
Announcements: https://t.me/humansdotai_announcements
Spanish: https://t.me/Humansdotai_espanol
Israel: https://t.me/Humansdotai_israel


VOC
Can you List 1-3 Killer features of your PROJECT that makes it ahead of Competitors? What are the Competitive Advantages your platform Has that you Feel most Confident about??

Sabin Dima (Humans)
The key features we are working on are part of the Humans Application Specific Chain, with a strong focus on Synthetic Media. Imagine any movie dubbed in any language, your favourite artist narrating your favourite book or even yourself speaking in real time in any language in a Zoom call. At the same time, maintaining the ethical framework, everything that we do stems from the fact that we put humans at the forefront of this AI revolution. We are creating a new consensus mechanism called Proof-of-Human, which relies on humans to leverage their biometric data in order to prove that a specific AI is still under close biological supervision.


Elena
Does your HUMANS project have a soul?

Sabin Dima (Humans)
We have a $HEART :)


Follow Humans:
Twitter: https://twitter.com/humansdotai
Telegram community (20k+ members): https://t.me/humansdotai
Instagram: https://instagram.com/humansdotai
LinkedIn: https://www.linkedin.com/company/humansdotai/
Medium: https://medium.com/humansdotai

About Polkastarter
Polkastarter is the fully decentralized launchpad to launch new ideas in the blockchain and digital assets space. With an industry-leading curation process and market access, we select the most innovative projects in the space and offer them long-term support after their IDOs.

With Polkastarter, crypto projects can increase their reach, grow their communities and receive support from crypto's most well-versed experts. IDO participants, on the other hand, are offered an opportunity to invest in a secure and compliant environment, as well as participate in IDOs not solely on Ethereum, but also on Binance Smart Chain and Polygon.

Media Contact Polkastarter: [email protected]
---
Connect with and learn more about Polkastarter
Website | Twitter | Discord | Telegram | Instagram | Newsletter | Youtube
Polkastarter Blog - Latest Polkastarter News & Updates Newsletter
Join the newsletter to receive the latest updates in your inbox.
---