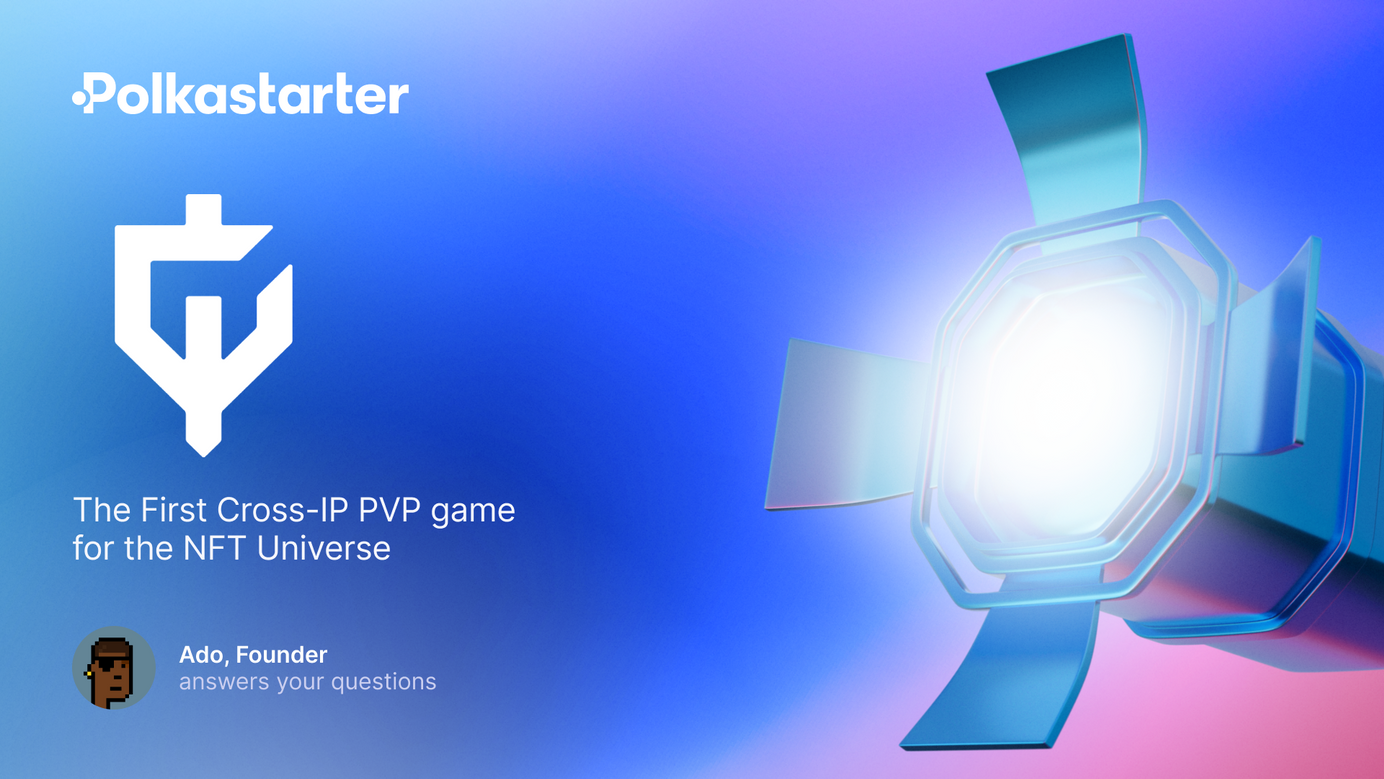 Get to Know: Galaxy Fight Club
A P2E cross-platform NFT fighting game
It's time to choose your fighter and save this date: 🗓: Galaxy Fight Club IDO is coming to Polkastarter on December 20.
Galaxy Fight Club is a Play-to-earn cross-platform (PC & Mobile) fighting game, where holders of different NFT collections can battle with each other to both win and earn rewards. We got together on Polkastarter telegram with Ado (CEO) to discover all about their mission and roadmap.

You can read the complete AMA here.

Looking forward to learning all about Galaxy Fight Club? Go check their dedicated project page.


Galaxy Fight Club

The first real-time PvP game to bring together all the other different NFT collections onto one single platform, meaning users can 'log in' with an NFT they already bought and use that character to battle ones from other NFT collections, while still being free to play for anyone who doesn't own any NFTs.

Galaxy Fight Club is a cross-IP, cross-platform (PC+ Mobile) PvP fighting game where holders of different NFT collections can battle with each other to both win and earn rewards through our play-to-earn mechanics.

The main game mode is held in the 3v3 arena, where each match is around 5 minutes long and aims for each team to get 20 kills to win the match.

Team

Galaxy Fight Club team has a strong background in the mobile gaming and NFT industry.
They have a keen eye to discover opportunities, understand the latest in the competitive, monetization, and publishing landscape.

Ado (CEO) has more than 4 years of experience in strategy consulting and the mobile games industry. Advised Fortune 500 companies as an ex-MBBD consultant before starting Galaxy Fight Club.

Their Lead Game Designer, Dan, has 5+ years of experience at OneSoft and VNG. Worked as the lead game designer previously on Samurai Shodown and was also part of the team that created Metal Wings, GunPow 3D, AU Mobi and other mobile titles.

On the tech side, Dave (CTO) has 2+ years of experience in Blockchain tech and smart contract development. His coding expertise enables things like cross-chain contracts and on-chain provably-fair loot boxes.

$GCOIN Utility

$GCOIN is essential to progress within our game. GCOIN is designed to underpin the entire game economy and is a naturally deflationary currency.

It is deflationary because it has demand generated from its in-game utilities like:
1) opening in-game loot boxes, which are rewarded to the players who win battles
2) forging stronger weapons, which can be a determining factor for winning not only across our game modes but also tournaments with larger price-pools and
3) training Gen 2 Genesis Fighters, who will not only come with absolutely amazing artwork but also unique traits and properties.



Community Questions

Avijit Sengupta
Hi @adogfc
Too many NFT Gaming project coming nowdays..  Do you think your project will be long-lasting   this Competitions? Is your game easy to play for all users?

Ado (Galaxy Fight Club)
Our game already have more traction than more other P2E games out there today, we sold close to $10M in NFTs before our game even launched. More importantly our game is actually fun to play, it's like a mobile version of League of Legends. This type of gameplay is infinitely more fun than your typical turn-based game that you see in the blockchain space.


Evendal
A strong marketing strategy is essential to ensure the long-term success of a project at all times.
Did you set up a special marketing team for your project and what marketing activities are you currently doing?

Ado (Galaxy Fight Club)
Yes, we already brought on a full-time marketer on the project, we have already on-boarded on in the process of onboarding a number of VCs and large marketing agencies/influencers. We are looking at a 7 digit marketing budget/spend so marketing will definitely be a main focus moving forward


🎅🎅MASTER🎅🎅
Many new projects are full of bugs to use? How safe is your platform to use and what are the Audit status for platform security?
Ado (Galaxy Fight Club)
Our game is already in alpha and tested for closed beta, most of the major bugs have been resolved. As for the contract itself, we will be using agencies such as Holborn and Certik to ensure there are no vulnerabilities.

JAWO ➖ SkidiPupPup
My question is the GalaxyFight specifically for gamers? What about non-gamer users? Can they still generate income even without playing your game?Isn't it true that you can't play this game without a token? What is the most prevalent scenario for the use of your token?
Ado (Galaxy Fight Club)
This game is for gamers and non-gamers alike, everyone can play this game even without our token. Our game is definitely F2P meaning even if you cannot afford an NFT, you can still participate and P2E from it.

Voung
like are you going to build a thriving community that really cares and supports the project for a very long time, or is it just a temporary benefit? Are there plans to better connect with the community? Just like social media type systems, where people can share ideas/suggestions? Because we know the power of the community to easily make famous projects?
Ado (Galaxy Fight Club)
This is the winning question.

I believe a thriving community is definitely important and this will be a long term focus for us as well. As we mentioned, integrating other NFT collections into our world to create a multiverse is what we are about. We are going to not only connect with our current community but also communicate with other communities out there and attract them onto our platform, think about BAYC, Punks etc. In fact, we are already experiencing a lot of the benefits from our partnerships already with Cyberkongz and Illuvium.

Follow Galaxy Fight Club
Telegram: https://t.me/galaxyfightclub_nft
Twitter: https://twitter.com/GalaxyFight_NFT
Medium: https://medium.com/@Galaxyfightclub
Discord: https://discord.gg/6tE6DCsc
Website: https://galaxyfightclub.com/
Instagram: https://instagram.com/galaxyfight_nft



About Polkastarter
Polkastarter is the fully decentralized launchpad to launch new ideas in the blockchain and digital assets space. With an industry-leading curation process and market access, we select the most innovative projects in the space and offer them long-term support after their IDOs.

With Polkastarter, crypto projects can increase their reach, grow their communities and receive support from crypto's most well-versed experts. IDO participants, on the other hand, are offered an opportunity to invest in a secure and compliant environment, as well as participate in IDOs not solely on Ethereum, but also on Binance Smart Chain and Polygon.
Media Contact Polkastarter: [email protected]
---
Connect with and learn more about Polkastarter
Website | Twitter | Discord | Telegram | Instagram | Newsletter | Youtube
Polkastarter Blog - Latest Polkastarter News & Updates Newsletter
Join the newsletter to receive the latest updates in your inbox.
---