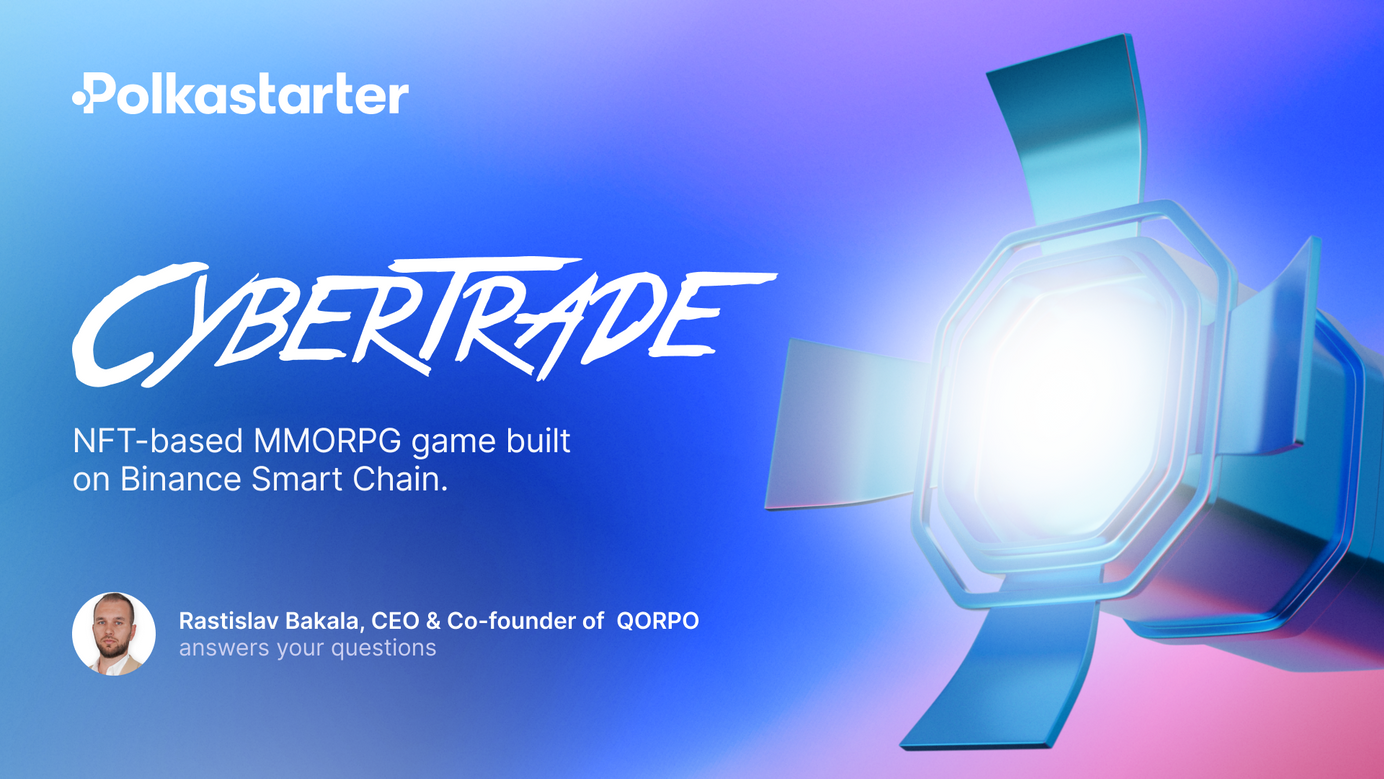 Get to Know: CyberTrade
Become the Metaverse highest ranking citizen

NFT-based. MMORPG game. Built on Binance Smart Chain.
These three sentences were more than enough to bring the CyberTrade team to the Community spotlight for another AMA with Rastislav Bakala ( CEO and Founder of QORPO) and David Achberger (CMO of QORPO).

CyberTrade is a next-gen AAA sandbox experience built by the QORPO dev-house. Its core idea is to become as wealthy as possible and gain supremacy over the city.

Get to know more details about CyberTrade on their project page.

CyberTrade Metaverse
Cybertrade is a Massive Multiplayer Online RPG game where players become citizens of Metropolit city.  The whole game is set in a cyber-styled world. The main goal will be to become the wealthiest citizen and dominate the Metropolit.
CyberTrade allows gamers to compete against the world. Whether wanting to be alone or in a crew. Join PvP fights, drag races, artifact hunts, raids, gang wars, and many more upcoming game modes like weekly Purge events, and much more 🙂

Team
QORPO Is a leading game studio and a multi-blockchain company founded in 2018 with over 50 employees. The game developer has its headquarters in Bratislava, Slovakia.
Pavol Strieborný (CFO) bridges the gap between creativity and finance. He has vast experience as a director and brings a wide knowledge base to every project within our company.
David Achberger (CMO) is a long-term trader of Crypto, FX, and Brand Design & Management specialists. He has several years of experience within the marketing industry, whether as a CEO in a segment of the luxury clothing industry or CMO of a marketing agency in central Europe.
Then on the Tech side, there's  Boris Klukan (CTO) who has great experience as a Senior Software Engineer and is responsible for maintaining the strategic focus of the project, and is in charge of turning a concept into reality.

$CCASH Utility
The amount of $CCASH determines:

🔥 Citizen Ranking - the higher the Citizen ranking, the bigger the power in the Metropolit
🔥 Governance - governance rights such as decision-making in the important stages of world development
🔥 Rewards - get rewarded with $CCASH by playing
🔥 Deflationary function - part of every $CCASH used in-game is burned
🔥 Obtain NFTs and land - buy, sell, trade, and collect various NFTs
🔥 Staking - hold $CCASH and earn

Holding $CCASH will allow users to live in CyberTrade Metaverse!


Community Questions

Nick Odio | Growth - GSD
Hello sir 👋 Good Night 🌜🌚 @QORPOBOSS
For most people, the main focus of any crypto community is on the price of the token. When prices go up, people are happy, when they go down, people start to leave.
Q.)What is the $CCASH team's plan to strengthen and grow a loyal community, and how do you trust it as an investor?

Rastislav Bakala ( CEO and Founder of QORPO)
Excellent question, thank you for asking. The economy is mainly driven by land purchases, buildings, and players trading the game assets with each other. There is a marketplace where anyone can create listings of their assets. For creating a listing you have to pay a fee and also pay tax for trading. Players can make money by progressing in the game, completing side quests, joining various events, fighting in PVP, and mainly out of their own in-game businesses. Every player that wants to spend some time on your land has to pay you a tax for doing activities on your property. The owner of the property chooses how high are the taxes for staying on his land and using his services. As a holder, you decide about the imminent actions taken in the development of Metropolit. This all and many more utilities are important for token growth. For a deeper understanding, please do not hesitate to go through our Tokenometrics, we have made it as simple as possible to understand!
https://cybertrade.game/assets/base/tokenometrics.pdf

Deni
I saw in your whitepaper that Beta Testing is coming in Q1 2022. I'm very excited and was wondering if this is going to be public beta testing or if  I will be able to apply for this?

David Achberger (CMO of QORPO)
Yes! This is true, Alpha test of drag races will be available very soon and all CyberTrade NFT holders will have a chance to participate and tryout the game before launch.

Shakil
Good day @QORPOBOSS sir,

On your roadmap, 'Start Building Your Own Streets' in the 4th quarter of 2022 caught my attention. Can we just buy to own the streets inside the city? Or will we win by fighting? Shops, stores, etc. for income. can we buy?

Rastislav Bakala ( CEO and Founder of QORPO)
One of the biggest features is our modular building system. The whole map is made out of a grid. Each square of the grid is 5mx5m large. These squares represent lands that players can buy, and build on them anything that they have CCASH for and is available in the game. Each building has different dimensions and fits a certain grid so players have to have this on their mind.

Players can profit from buying various buildings. They can buy a house or build a factory that produces NFTs and CCASH.

The lands that players can buy are blockchain-backed virtual tokens representing physical parcels of The Metaverse. All the lands have premade streets and boulevards. Players have to buy the lands and build whatever they want on them. In more expensive zones there are lands with a few small buildings. Those small buildings are being sold separately. You can buy either only the land or land with a building on it. Players can rebuild them into some factories or rent them to other players

Yes agree on this. Crypto really missing AAA games.
Cybertrade is a Massive Multiplayer AAA Online RPG game where players become citizens of Metropolit city. In the city, there are 3 syndicates that are currently at war and the player has to choose one of them to join. The whole game is set in a cyberpunk-styled world. Players will progress through 10 different districts, fighting other syndicates and making CCASH. There will also be the possibility to build various structures in the city. The main goal will be to become the most wealthy and dominate the Metropolit.

Design Pillars: Open world with high details and action-packed gameplay where players will get the feeling of uncertainty and fear. After progressing further in the game the player should start to feel more powerful. This will create the feeling of becoming a hero from zero.

Ferrey Anggara
@DavoQORPOcmo Just now you mentioned we can deposit any NFT to rent any vehicle or avatar.

Can we deposit NFT from any chain like eth or bsc or polygon because I hold NFT in matic.
Can I deposit that NFT and try your game by renting some avatar.
Is portal live to try playing game right now ? and is there mobile version available to play because i use Pc rarely.
Please answer my question
I am very excited to try this game

David Achberger (CMO of QORPO)
Yes! Yes! Yes!
You can deposit from any ETH based chains so BSC & Polygon are good! When you deposit we will rent your avatar to try out the game for free basically so you can make up your mind before purchasing anything. Portal will be live with official V1 for public 🙌🏻 Mobile version will be live also soon! It is our most desired market and we would like everyone to experience this Metaverse 🙂

Night Fury
Evening sir, @QORPOBOSS @DavoQORPOcmo

In your Whitepaper, I read about a special event called "purge". Can you tell us more described that? How long this event will last? How much Cybercash will required to join in these events? When these events will be held and will I lose everything if I die in the purge?

Note: one more thing sir @QORPOBOSS . Maybe you write "NFTs" word wrong in your profile description. Kindly check ✅

Rastislav Bakala ( CEO and Founder of QORPO)
The PURGE - is a special PVP event happening once a week where all the players will become peers and can fight each other to death. This event will last for 12 hours on each server. After dying during this event you will lose the amount of CyberCash you locked in when you joined. The players will be under a lot of pressure. This will make many of you do unthinkable things. So be careful who you trust.
This event is the fastest way to make your money and get to the top but also it's the most dangerous way because you can lose a lot really quickly.

Md. Arfan
When will the CyberTrade P2E game be made launched/public? And Will CyberTrade Game platform be the best in 2022? If so, Can you point out three reasons that will keep CyberTrade platform ahead of other popular gaming platforms?

Rastislav Bakala ( CEO and Founder of QORPO)
Play and earn
AAA gaming experience
Citizen Ranking

CITIZEN ID is your card to start your night journey in Metropolit and holders will get acces to special events, casinos, disco, and big games in top districts. Its your Identity in Metropolit and better Number of your ID have, better rewards and social ratings you will have


Nana
You explained a lot about this project in your introduction earlier. I am interested in asking about the Qorpo market. what are the advantages for users and investors in the Qorpo market? and there is also a Qorpo wallet. are all types of tokens or nft available in Qorpo wallet? or only certain?

David Achberger (CMO of QORPO)
Thank you for this question! QORPO Market is community market with over 300K users right now mainly coming from our games because there is 0 fees and users can trade their in-game assets really freely between each other. Also with a lot of community events, much better pricing for token holders, special clubs etc.

QORPO Wallet is mainly focused on NFTs from QORPO ecosystem. We will be adding much more features in 2022 - Our goal is to centralize all these functions to one solution and we already prepared something so users of our ecosystem have something to look forward to.

https://www.qorpo.market/other/dashboard

Md Ishak Sumon
How is the gameplay? Is it open world like GTA V? Will the entire Metaverse available only for PC or will be available for mobile too?

David Achberger (CMO of QORPO)
The character is controlled from a 3rd person view in all directions in a 3D environment. Players can move freely in the environments of Metropolit city and explore it. There are multiple places where players can move vertically like getting on top of a building or exploring the underground of Metropolit metro.

The character that the player creates will have a certain class assigned to him. This class affects the player's way of playing the game. Each class is equipped with a different set of abilities and to maximize their effectiveness players have to adapt their gameplay. These abilities are used by clicking buttons assigned to them. Each character can be equipped with 10 different abilities at a time.
Leveling is based on the player's XP. For each quest, activity, event, basically, anything the player completes, he is rewarded with XP and in-game currency. For this currency, he is able to buy any game asset in the store (weapons, clothes, vehicles, land, etc.). For better gear, the player also needs a higher level and citizen rank. This will help him progress higher in the game.


morrise
What will the utilization of cyber cash in metropolit city , and will this token help to homeless street vendors or just to corporates who got monopoly over a wide range of areas, such as weapons, robotics, pharmaceuticals, and communications and  operating above the law.??

David Achberger (CMO of QORPO)
One of the main features of the game is a citizen ranking. Each player has his citizen rank in the range from 1-10 (10 is best). A higher citizen ranking allows you to access more content in the game, makes rare nfts in the world more visible to you, gets you special NFT drops and gives you higher priority when voting.

Back Aga
On your website, you say that CyberTrade rewards its users for their loyalty. Exactly what system do you use to reward your users? What aspects do you take into account to make loyalty rewards?
David Achberger (CMO of QORPO)
Yes it's not play2earn its PLAY AND EARN

Ben Stock
Most Metaverses claimed projects have no real or no products to show for the users, so how are we sure that Cyber Trade will deliver on their expected promises? Any proof data already for backup your capability?
וGANGTABLO•× SHELBY |, [6 Jan 2022 at 16:28:12]:
Ambassadors play a very important role in every project, Do you have an ...

David Achberger (CMO of QORPO)
ALPHA TEST of Drag races will be available very soon 🙂

MyAsslsOnCrypto
CyberTrade's graphics are impressive so, I would like to know how demanding the game will be for devices? Will the entire CyberTrade metaverse be available for mobile devices or just PC?#CyberTrade
Rastislav Bakala ( CEO and Founder of QORPO)
We are working on many optimization to be playable for 8GB ram devices really in high resolution. We will do also a maximum for being able to play CyberTrade phase on mobile devices.

Follow CyberTrade
Telegram: https://t.me/CyberTradeGame
Twitter: https://twitter.com/CyberTradeGame
Discord: https://discord.com/invite/cybertrade
Website: https://cybertrade.game/metaverse
About Polkastarter

Polkastarter is the fully decentralized launchpad to launch new ideas in the blockchain and digital assets space. With an industry-leading curation process and market access, we select the most innovative projects in the space and offer them long-term support after their IDOs.

With Polkastarter, crypto projects can increase their reach, grow their communities and receive support from crypto's most well-versed experts. IDO participants, on the other hand, are offered an opportunity to invest in a secure and compliant environment, as well as participate in IDOs not solely on Ethereum, but also on Binance Smart Chain, Polygon and Celo.

Media Contact Polkastarter: [email protected]
---