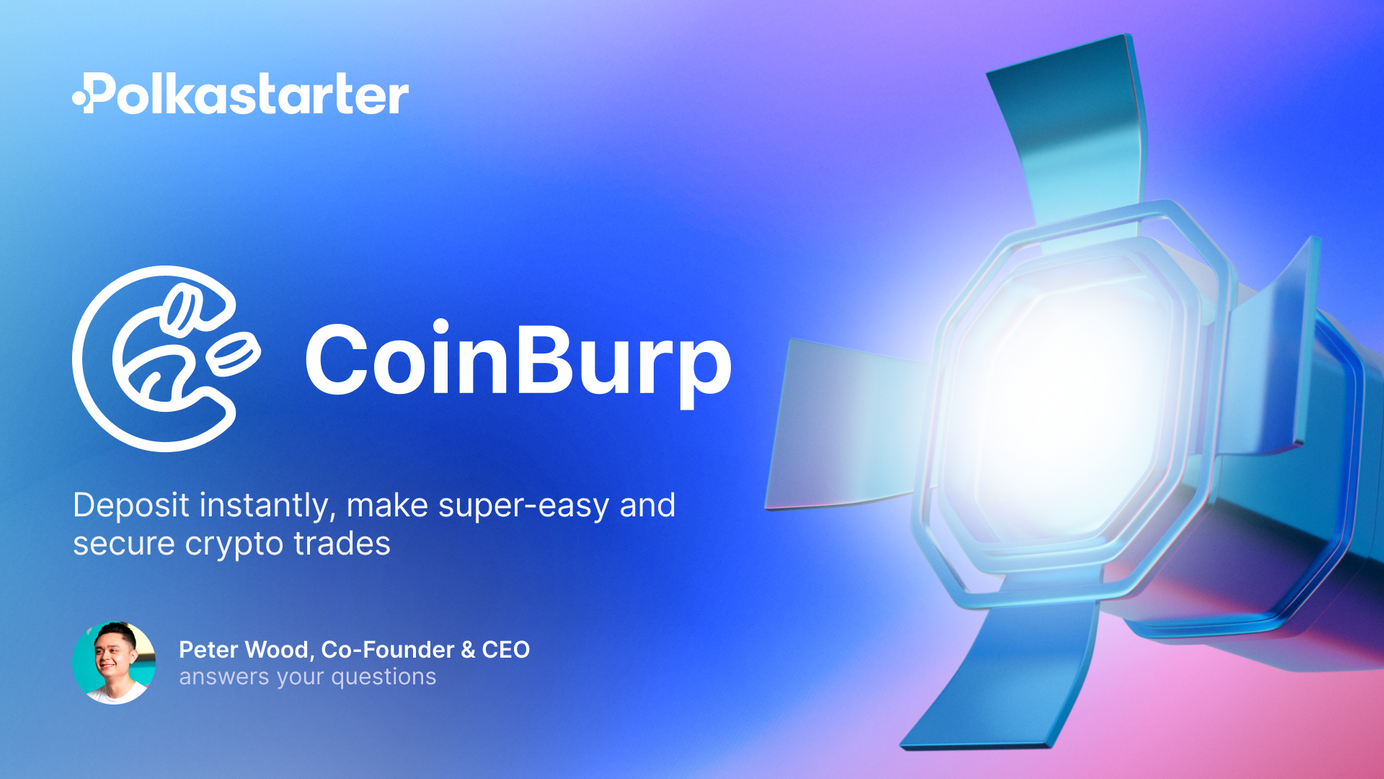 Coinburp AMA Recap
Recapping our AMA with Coinburp, the UK's Nr.1 crypto trading platform. IDO on Polkastarter on July 26th.
Polkastarter: 👋 Hi everyone and welcome to another exciting Polkastarter AMA, this time with the Peter (Pete) Wood, Co-Founder and CEO of CoinBurp. Welcome and thank you for taking the time today to join us! 😊  
Peter: Hey everyone! So happy to be here, thanks for having me 😁

Polkastarter: Alright! We'll first have a few questions to Peter directly, before we open it up for community questions. Let's get started! 🎈
Pete, could you please first introduce yourself?
Pete: Hey everyone, I'm Pete 👋 The CEO & Co-Founder of CoinBurp. The UK's number 1 rated cryptocurrency exchange according to TrustPilot UK. Recently we began venturing into the DeFi and NFT space, developing our own DeFi NFT wallet and native $BURP token.

Polkastarter:  Awesome!
And can you tell us more about the vision behind CoinBurp and why are you launching it?
Pete: Thank you 😁 So we launched CoinBurp back in 2018 with the mission to make cryptocurrency accessible to anyone, removing the stigma around crypto being only for the young or technically gifted.

We're now trying to apply that same philosophy to the DeFi and NFT markets with our own wallet; allowing anyone to securely buy and store their favourite NFTs.
Polkastarter: At Polkastarter we are big believers that the team and talent behind the project is one of the most important factors for success. Could you tell us more about the team behind CoinBurp, and how your experience has led you here?
Pete: Originally my journey started all the way back in 2014 when I started my first cryptocurrency business as a brokerage on P2P platforms. We bought and sold Bitcoin on Localbitcoins.com and I quickly grew this business from nothing to one turning over £100M by 2017.
After that we thought the next logical step was to create CoinBurp, operating under the name since 2018 we have been lucky enough to be following on from the success.
Up until a few months ago we were a pretty small team with only around 15 members, but have since grown to 40+ as we look to blitz scale CoinBurp. With have a mixture of developers, designers, marketing, support all joining the ever expanding team. We're all massive crypto enthuasiasts and are dedicated to creating an easy to use solution, to buying NFTs, for everyone. If you're interested in learning about some of the people at CoinBurp, be sure to check out this article: https://coinburp.medium.com/coinburp-meet-the-team-6e4f96e9ce3

Polkastarter: Sure looks like a super experienced and powerful team! 💪
So let's talk about CoinBurp's competitive advantage. What differs you from other similar projects?
Pete: When we talk about NFTs specifically, the major issue we see with other marketplaces are the vast amount of NFTs available (often millions to pick!) and the poor curation system offered. Our marketplace will be an aggregator of other high-quality NFT marketplaces, while providing users with super personalised experience.
Think of an initial Tinder-like swipe left, swipe right set up so we can get a feel for the type of NFTs you'd be interested in exploring ❤️
Polkastarter: Awesome! 👀Can you tell our community a bit more about your $BURP token, particularly about the token utility and your token generation event (TGE)?
Pete: Of course, so on Monday 26th July 2021 we'll be releasing our own native token, $BURP.
And we're launching our IDO on Polkastarter 🚀
You can still join our whitelist but be quick, it ends today (22.7.21)! - https://coinburp.medium.com/coinburp-launches-ido-on-polkastarter-join-our-whitelist-de19da9ab96e
By staking $BURP in our Non-Custodial NFT wallet, you become eligible to win rare NFTs from our selected partners (The Sandbox, Avastars, NFT Boxes and more). In addition, newly issued NFTs will feature a unique staking multiplier, thus increasing the benefits for holders in the future. On top of this users can also earn $BURP as we'll be distributing 20% of our fees to $BURP stakers to ensure sustainability and keep it evolving for years to come.

Full details here: https://coinburp.medium.com/introducing-burp-e6542b7f7a9f
Polkastarter: We'd also love to hear a bit more about your upcoming roadmap. What key features are you developing?
Pete: We've got so many exciting things coming in the near future:
🟢 OpenSea integration
🟢 FIAT on/off ramps
🟢 CoinBurp NFT game: CoinBurp CookOff!
🟢 And of course our own native token, $BURP
But that's not all, if you're interested in everything we've got coming in the next year check out our full roadmap (Spoiler alert: we've got some really cool things on the way 😉)

https://coinburp.medium.com/coinburp-roadmap-explained-eabedbfb4e73

Polkastarter: Can't wait to see it all 👀
Could you please share the link with our community as well as your social media channels, so they can make sure to follow you and be kept up to date on your progress?
Pete: Of course, here are all the links you'll need to stay up to date with everything CoinBurp:
about.coinburp.com
https://linktr.ee/coinburp
https://linktr.ee/coinburpinternational
Polkastarter: Great, thank you Pete.🙏
Now, let's open the chat for a brief window to give our community a chance to ask their questions. ⚡️
📣Don't forget, that after the AMA, CoinBurp team will choose the 5 best questions and hand out 5 whitelist spot for their upcoming IDO (and bear in mind you will need to KYC fast and on time!). Let's go!!
COMMUNITY QUESTIONS
Klassika Odno: You mention that CoinBurp is the number one trading platform in the UK. But do you have plans to expand globally, for example to communities where you don't speak English well?
Pete: Yes definitely! Our plan of action was to establish ourselves as the #1 UK crypto platform, which we have now done, and now it's time to conquer the world!🔥
Wasabi Nakamura: I saw Coinburp is currently in partnership with Sandbox, Avastars and NFT Boxers for creating exclusive limited edition of NFTs, can you tell us how can the users get these limited edition? What's it's value and where can be sold?
Pete: The ONLY way to win these exclusive NFTs is to stake your $BURP with us - you will win raffle ticket NFTs which can be used to enter our exclusive lottery.
Don't forget that you also have a chance to win CoinBurp exclusive generative NFTs too 😄
Derek Campbell: You mentioned you raised $5m in private rounds. What is the vesting periods? Any dump on us?
Pete: There are long vesting periods across all our private rounds - check out this link for more details https://about.coinburp.com/
The public sale is the only round with 100% unlock at the very beginning 😉

Smirnov: Is there a coinburp app? Is one coming? Also, if I deposit from a UK bank acct how long until money shows in my coinburp wallet?

Pete: We already have 2 apps in both iOS and Google play stores - our traditional crypto platform wallet, and our new non-custodial wallet. Check them out 😉
Depositing GBP into your CoinBurp wallet will credit instantly - try it out 😉
Zara_Adisty: ⚠️Many DeFi projects face many UI/UX constraints and challenges. How do you plan to improve the user experience and make your platform easy to use?

Pete: The main constraint for retail customers primarily begin with a lack of understanding of non-custodial wallets. CoinBurp will take care of the custody for customers ensuring that they can continue to extract the value in DeFi without the headache of managing non-custodial wallets 😁
Ariana: According to your website, 20% of CoinBurp fees are distributed as $BURPback in order to promote the sustainability concept. For your token holders, this means that every transaction counts. So, what are the CeFi and DeFi incentive systems for your Platform's most devoted users?
Pete: Each and every feature we build will put the $BURP holders first - that means our loyal users will be receive preferential treatment over users who don't hold $BURP. This could come in a number of ways including exclusive access to product, cheaper fees etc ❤️
Rohit Srikaj: As per your hashtag "Easy, instant and no deposit or trading fees" I agree. It's very easy for a beginner like me. This is also seen on the Coinburp website and apps. Behind the ease of accessing Coinburp, who plays a role in the development of the UI/UX? Do you have a separate partner?
Pete: Everything we build is in house! We have an amazing team of product people couples with engineers who make ensure that the end-to-end journey and simple and look great too ☺️
---
Polkastarter: Congrats @rohithanx36,  @Zara_Adisty, @ArianaLore, @annasmirnn, @klassikaodno, you are THE WINNERS of the whitelist spot! 🥳🥳🥳
Really looking forward to the launch of $BURP and to welcome you to the Polkastarter Family and continue working together in the future. 🚀

Don't forget to connect with and follow CoinBurp:
about.coinburp.com
https://linktr.ee/coinburp
https://linktr.ee/coinburpinternational
Polkastarter Blog - Latest Polkastarter News & Updates Newsletter
Join the newsletter to receive the latest updates in your inbox.
---