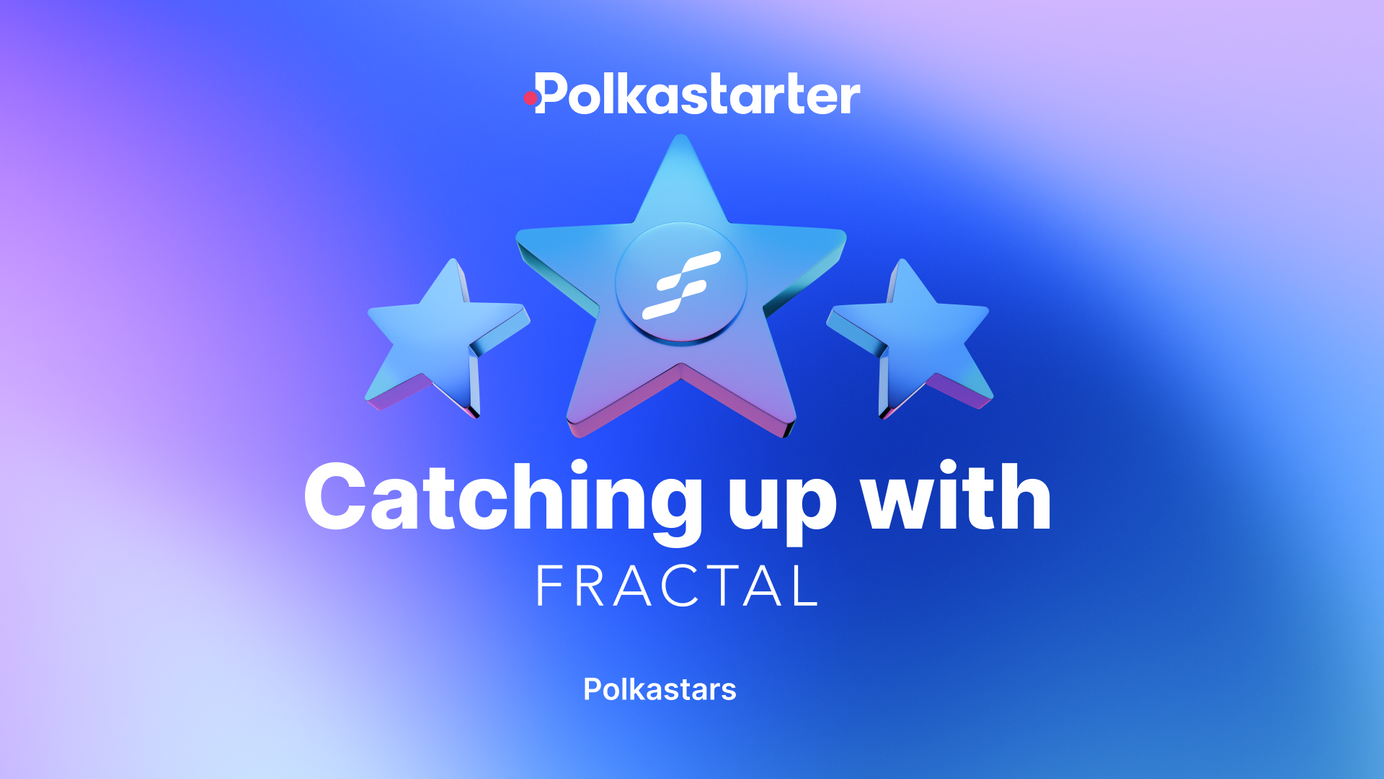 Catching up with the Polkastars: Fractal Protocol
Revolutionizing the way data is exchanged, creating a fairer and more open Internet.
Back at it. Last week we caught up with Binance Smart Chain's first NFT marketplace - Refinable and gave you a rundown of all the amazing milestones they have achieved since their Polkastarter IDO in April.
We are feeling extra celestial this week and thought that's a perfect occasion to catch up with not just one, but TWO Polkastars and we've got the first one coming up! The location remains the same - undisclosed, somewhere in the Southern Hemisphere and around wild animals and coconut trees. The Polkastar, however, is vastly different compared to last time.
Enter Fractal Protocol.

Bridging the gap between data privacy and data integrity, Fractal enables users of its applications to share their data and receive $FCL (Fractal's native token) in return. This is a huge paradigm shift compared to the current status quo - most user data these days is simply flying around and users are unable to exercise control over it.
Fractal solves the above problem and enables you, me, us and all its users to take back control of their data and freely share it with whomever they please, as well as get paid for it. In other words, Fractal is putting an end to techno-feudalism. How? Via their homonymous Fractal  protocol, on which you can find various apps relating to their mission. For more on the topic check the Fractal Blog, where Co-founder and Chief of Product Júlio Santos delves deeper into the ins and outs of the Protocol.
Apart from benefiting individuals, Fractal provides an additional paradigm shift by enabling website publishers and AdTech companies to get the exact data they want, without having to rely on the incumbent data giants in the space. The end result? A complete 180° and a revolution of the data economy moving away from the destructive top-heavy system we have today.

Their IDO on Polkastarter took place earlier this year, on February 25th, raising a total of 252 ETH from 513 participations.

Curious about Fractal's recent and upcoming work? Let's dive right in.


Product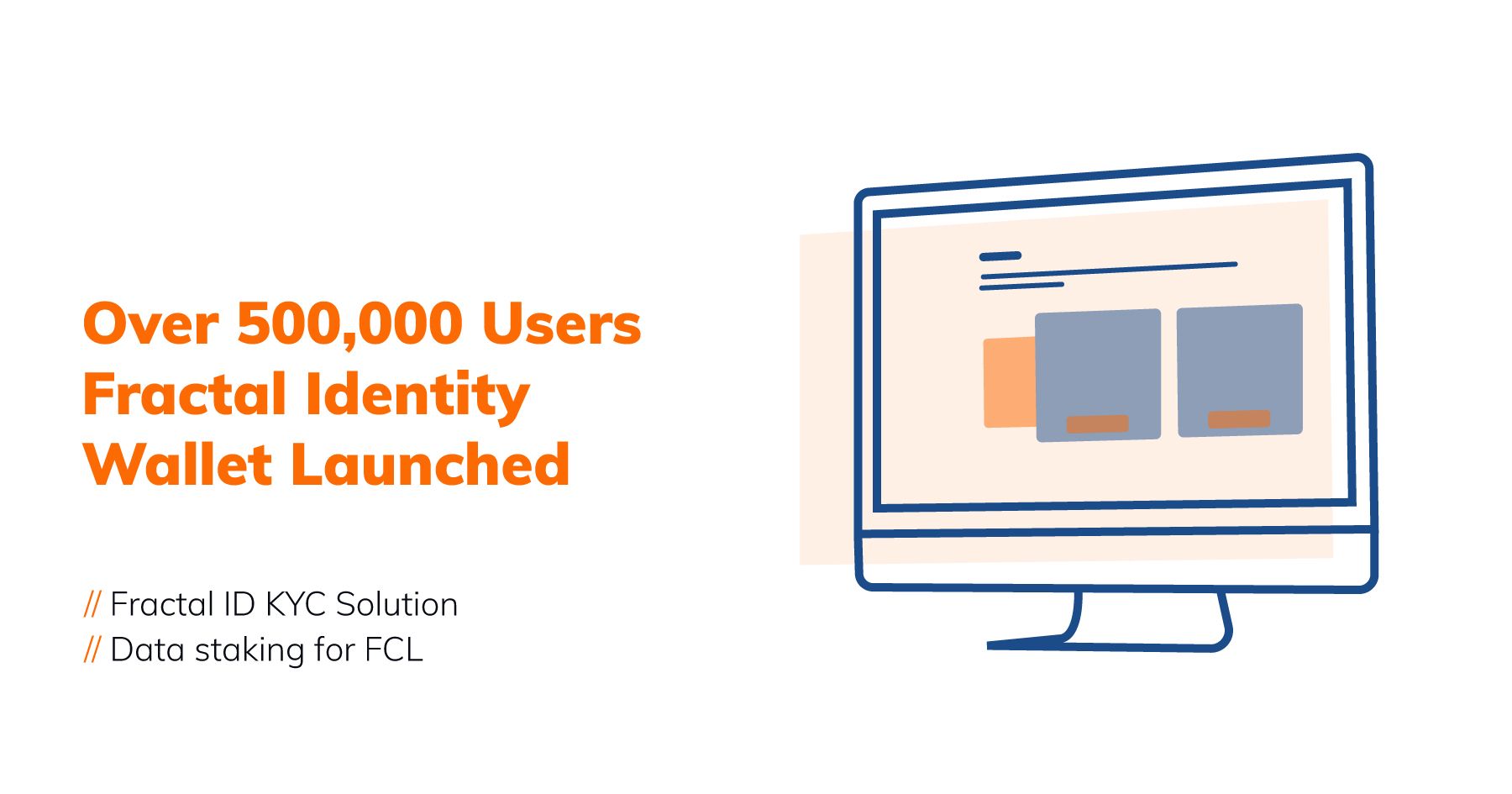 A pivotal step bringing Fractal closer to realizing their vision of a fair and open way to exchange data in Web3.0 is the launch of the Fractal Identity Wallet, a DID (decentralized identity) product enabling users to take back control of their data.

With the Fractal Protocol Testnet Launch (see below under Roadmap), users will be able to use the Wallet, which is the first data-ownership-empowering browser extension built on top of their existing infrastructure.
In response to the ever-growing issues in the KYC space, Fractal has doubled down on development of a solution to alleviate some of these issues that are prevalent in DeFi and crypto in general. Coming from their vast experience gained from servicing over half a million happy users, the team has successfully introduced Fractal ID to the space.

Essentially a plug-and-play KYC software specialized for the crypto and DeFi environment, Fractal ID is the first fully reusable KYC solution giving its users the ability to verify their KYC status without actually having to reveal any of their personal data to the services they want to use.
Working in conjunction with the Fractal Identity Wallet, the KYC software solution further extends the wallet's capabilities in tackling the most common privacy and security issues the industry regularly encounters.

In practice, this means that the Fractal Wallet is not solely a free browser extension for a state-of-the-art KYC experience - it will also serve as a future gateway towards owning and monetizing your data on the Internet.
Diving further into the Wallet and its features, users are able to store their verified credentials on-chain, while the actual data being stored is kept on their own devices. This creates a user-centric and comfortable sharing experience, effectively similar to the process of logging in with one's own regular wallet.

In addition, the Wallet will leverage the Protocol´s technology, effectively becoming the first application to financially reward its users for the data they track and store on their local device. Naturally, this will also come with full user consent and blockchain-based transparency.
Business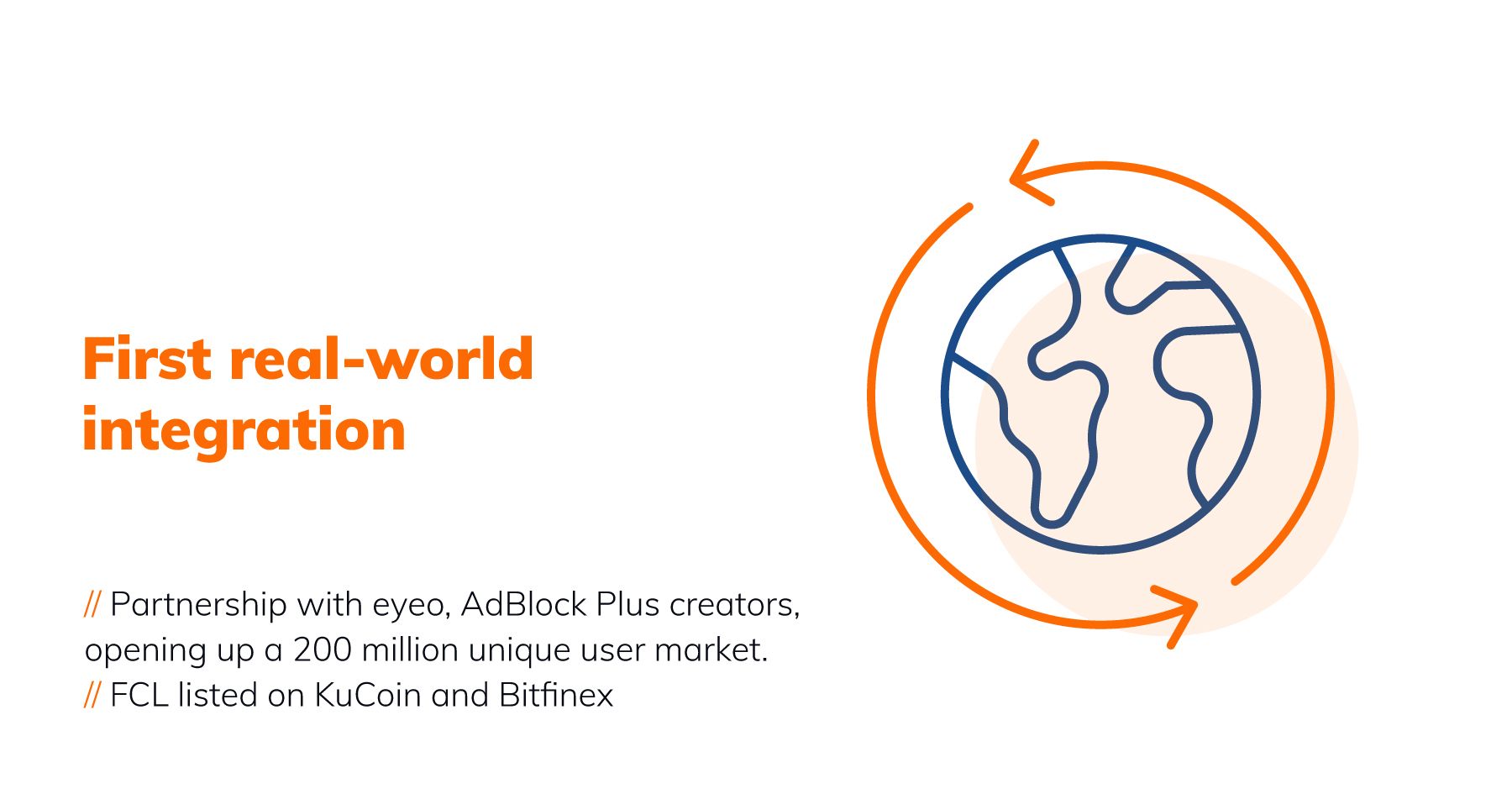 Fractal's commitment to further move the needle in the development of their protocol is exemplified by the introduction of their first real-world integration and a few new superstar hires. Shelby Doolittle, ex-Googler and now Blockchain Lead Developer at Fractal, has joined the team's ranks to help bring their vision to life. Aurel Stenzel, having previously occupied the role of COO at Adjust (a leader in the German AdTech space), will now be fighting the good cause as well, this time as Fractal's Chief Economist.

Another monumental highlight from the last months is their official announcement of a partnership with Eyeo, the developers of a super useful tool you, dear reader, are probably utilizing right now.
Eyeo is the company behind AdBlock Plus. The partnership means a great deal to Fractal as it opens up a market of 200 million unique users. Their applications are now exposed to these 200 million users, paving the way for adoption en masse.
Besides that, Fractal will also be able to tap into Eyeo's vast experience and network, thereby enhancing the potential of the partnership even more. It seems like a match made in heaven, given both companies' dedication to create a fairer internet that makes sense.
Fractal has gotten some wins on the token front too - their native $FCL token is now available for buying, selling and trading on KuCoin and Bitfinex.
Roadmap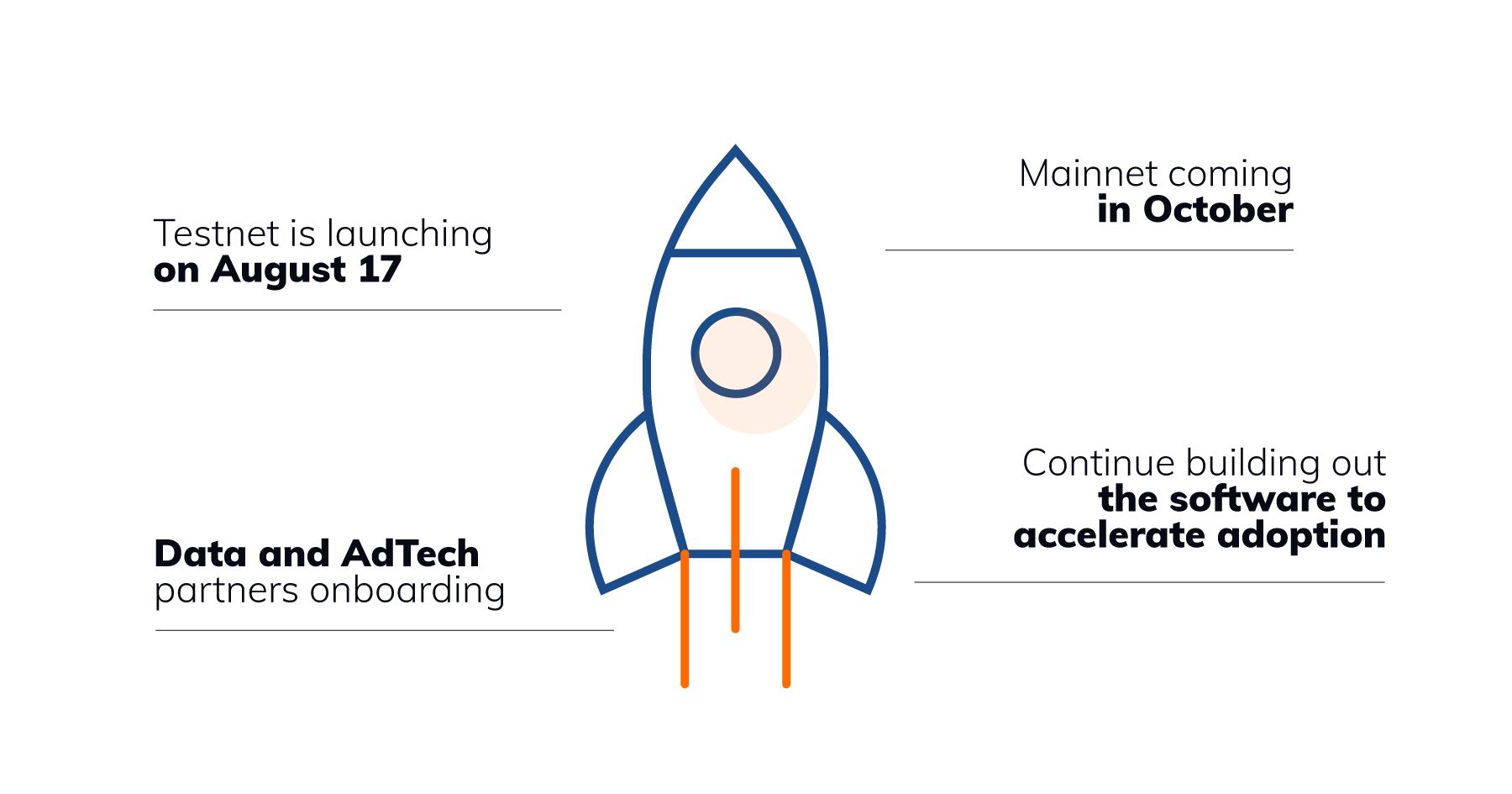 The future looks brighter than bright for Fractal Protocol and their partnership with Eyeo is only the beginning of their growth journey towards real-world applications. Their roadmap for the upcoming months additionally features some pretty important launches that will further accelerate the adoption of the Fractal Protocol.
Right around the corner, on August 17th, the team will be rolling out their testnet. Featuring the protocol-integrated wallet launch, the testnet will enable users to store browsing data on their device in exchange for FCL and finally get a feel of what it means to take back control while getting rewarded for it. The rollout will also be accompanied by a hands-on product demo and a general launch event.

To supplement that and prepare for the next step, Fractal will be onboarding a number of new partners from the data and AdTech space, while continuing to build out the software layer necessary to enable users to seamlessly interact with the protocol from day one.
As for the next step, that is Fractal's mainnet launch, the ETA for which is October this year. Expect more info about that to drop very soon.
---
How to stay on top of all things Fractal? Follow the team on social and keep an eye out for new launch events, product features and the latest announcements!

Follow and engage with Fractal on Twitter: https://twitter.com/fractalprtcl

Stay professional and connect with Fractal on LinkedIn: https://www.linkedin.com/company/fractalprotocol/

Join the conversation and ask your questions on the Fractal Telegram: https://t.me/fractal_protocol

Get your reading glasses on and catch up with the Fractal Blog: https://medium.com/frctls
---
Connect with us and learn more about Polkastarter
Website | Twitter | Discord | Telegram | Instagram | Newsletter
Polkastarter Blog - Latest Polkastarter News & Updates Newsletter
Join the newsletter to receive the latest updates in your inbox.
---