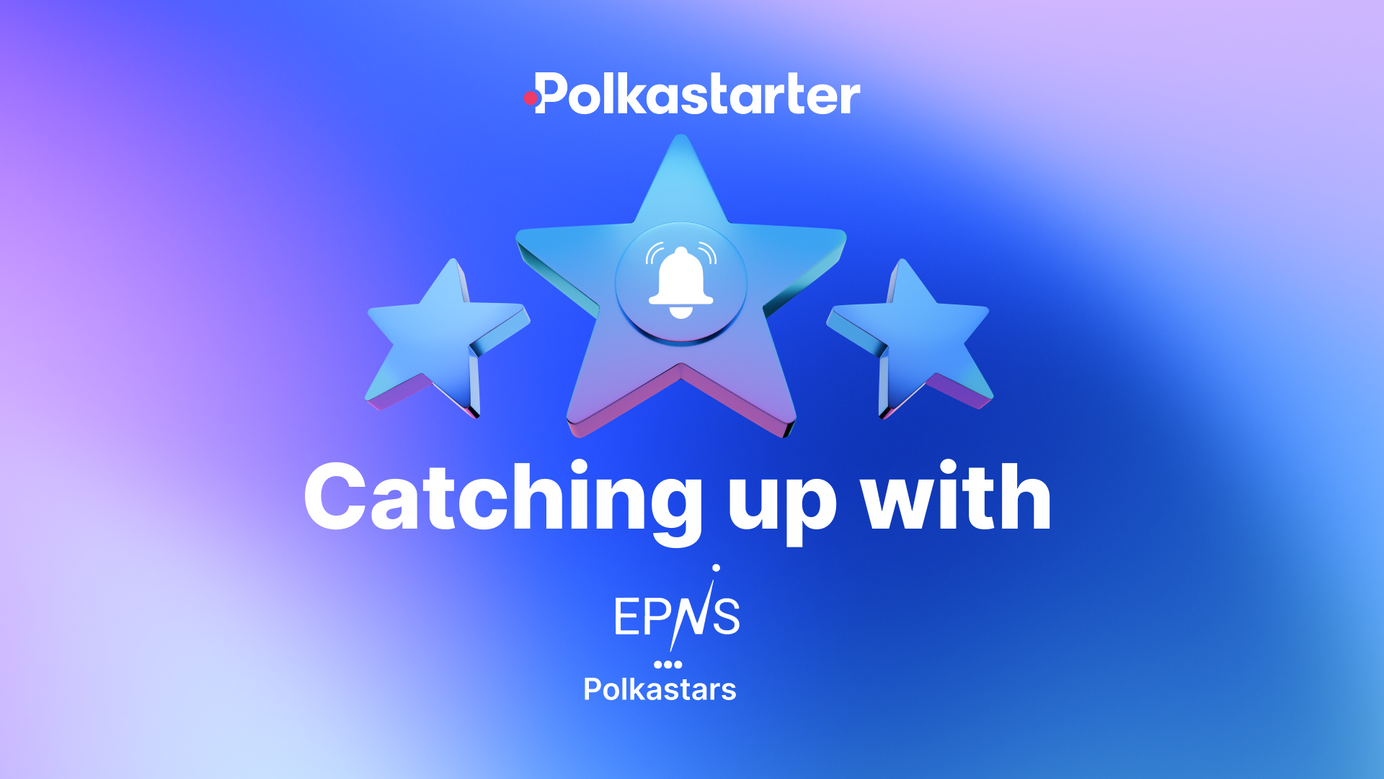 Catching up with the Polkastars: Ethereum Push Notification Service (EPNS)
The decentralized notification protocol enabling users to receive platform-agnostic notifications. Subscribe. Notify. Earn.
Ready for another catch-up? We certainly are! To date, we have caught up with Refinable, Binance Smart Chain's first NFT marketplace, as well as multi-chain DeFi data network Unmarshal in our inaugural piece. Earlier this week, the lights were shining bright onto Fractal Protocol, who are reimagining the way data is exchanged in Web 3.0, creating a fairer and more open Internet.

And while Fractal is operating in the privacy and AdTech space, our next Polkastar frequents an alternative realm - notifications.

We are super thrilled to be sitting across none other than Ethereum Push Notification Service, EPNS for short. Had you been reading up on the rest of our catch-ups, the location of this one should be an easy guess.
So what does EPNS do? In a nutshell, it is a protocol for blockchain-based notifications that are platform-agnostic and incentivized. The EPNS Protocol enables any smart contracts, dApps or traditional servers to send notifications to user wallet addresses in a platform-agnostic fashion - meaning notifications can be integrated and shown on any crypto wallet, any mobile app, extension or a dApp.

The incentive part is what makes EPNS extra special. Users getting EPNS alerts are then rewarded, which is an absolute game changer for this space. How's that work? EPNS uses staking by service, which is then lent out to DeFi lending giant AAVE to generate interest. The resulting interest is eventually distributed among EPNS subscribers, made possible through the $PUSH token.
EPNS completed their Polkastarter IDO on April 13th and raised a total of 44 ETH from 400 participations.

Let's take a look at what the team has been up to since the IDO.


Product


Earlier this year, the EPNS team published their Roadmap for the remainder of the year. The Q2 part of that included various major updates, with an overarching theme of extending the outreach of EPNS decentralized notifications to more platforms outside mobile.

EPNS did just that by knocking off all Q2 deliverables out of the park and by introducing their Chrome Browser Extension to the world, enabling users to get Web3 notifications without even having to visit dApps to check their actions. Pretty cool, huh? Give the extension a whirl and check what the fuss is all about with the help of this guide by EPNS.
Besides the launch of the extension, the team continued to innovate their protocol and build out their developer tooling, including their SDKs, Subgraphs, back-end infrastructure support and other tools to enable developers to build faster and better integrations with EPNS.

In the context of protocol onboarding, EPNS has also massively improved this process by adding quick access to additional resources such as DAI minter, Ropsten Faucets, Android & iOS download links, documentation material and more.
Another undisputed highlight from EPNS relates to their Incentives Portal, through which users get rewarded for utilizing the service. The platform is also used to provide liquidity and staking with 141% and 81% APRs respectively. To date, there is almost $5 million of value locked within the portal. UP ONLY!
Business & Community - JUST $PUSH IT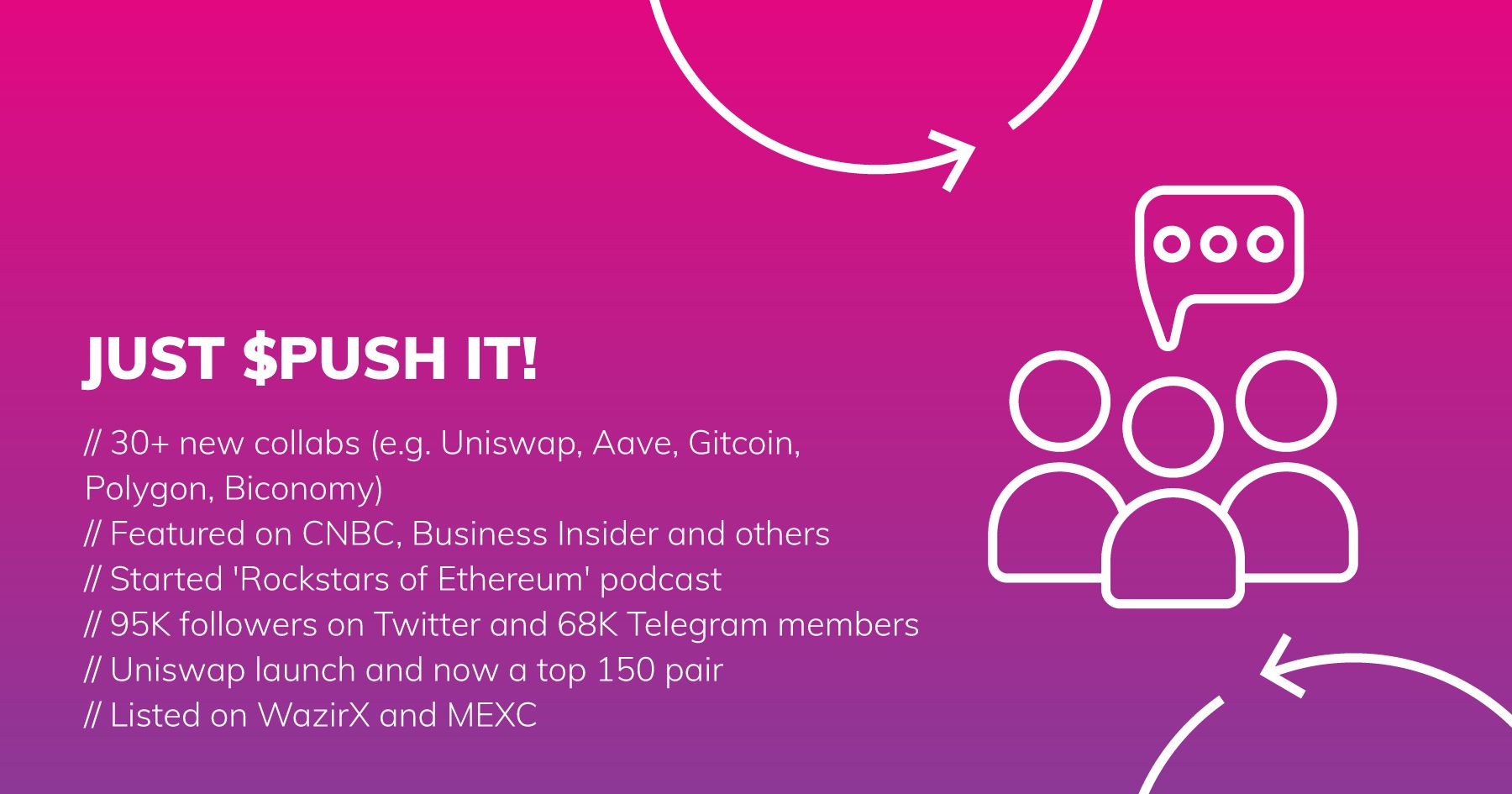 Shortly after their IDO on Polkastarter, EPNS also celebrated one of the largest project milestones to date - their token generation event and the launch of the EPNS Protocol-native $PUSH token. Permissionless trading for the token began a day after the IDO when $PUSH went live on Uniswap. Just a few days later, $PUSH was listed on WazirX, the largest cryptocurrency exchange in India.

Fast forward to today, $PUSH is a top 150 pair on Uniswap with over 3,000 on-chain holders, over $120 million in volume and trading on another major exchange - MEXC. EPNS's liquidity program is currently live too and will run until March 15th, 2022. Hopeful liquidity providers have 2 options to participate:

By staking $PUSH directly on the EPNS Incentives Portal
or
Becoming a liquidity provider on Uniswap, staking UNI-V2 LP tokens and receiving LP tokens by providing liquidity to the PUSH/ETH pool

Here is a full guide on how to start earning $PUSH tokens for yourself.
EPNS has achieved further business success by announcing over 30 new collaborations and partnerships with some of crypto's most well-known heavyweights, including the likes of Uniswap, Aave, Gitcoin, Polygon, Biconomy, Mask Network, PoolTogether, Frontier, Alpha Homora and many more.

The team has also made the headlines by being featured on none other than CNBC, Business Insider and other Grade A outlets. Further upping their media game, EPNS recently launched the 'Rockstars of Ethereum' podcast and you can find all the episodes here.
EPNS' celestial support crew has received a significant boost in the last few months as well. Their advisory team features some of the hottest names in crypto - Sandeep Nailwal, Polygon Co-founder, DeFi thought leader DeFi Dad and serial entrepreneur Balaji Srinivasan are but a few examples of their star-studded list of advisors.
Talking community, EPNS has been experiencing continuous growth. On Twitter, EPNS is nearing 100,000 followers, while their Telegram is buzzing with activity, closing in on 70,000 members. In order to give back and show love to their supporters, EPNS has announced a special NFT gifting program and weekly $PUSH giveaways. Learn more about how to participate.
Roadmap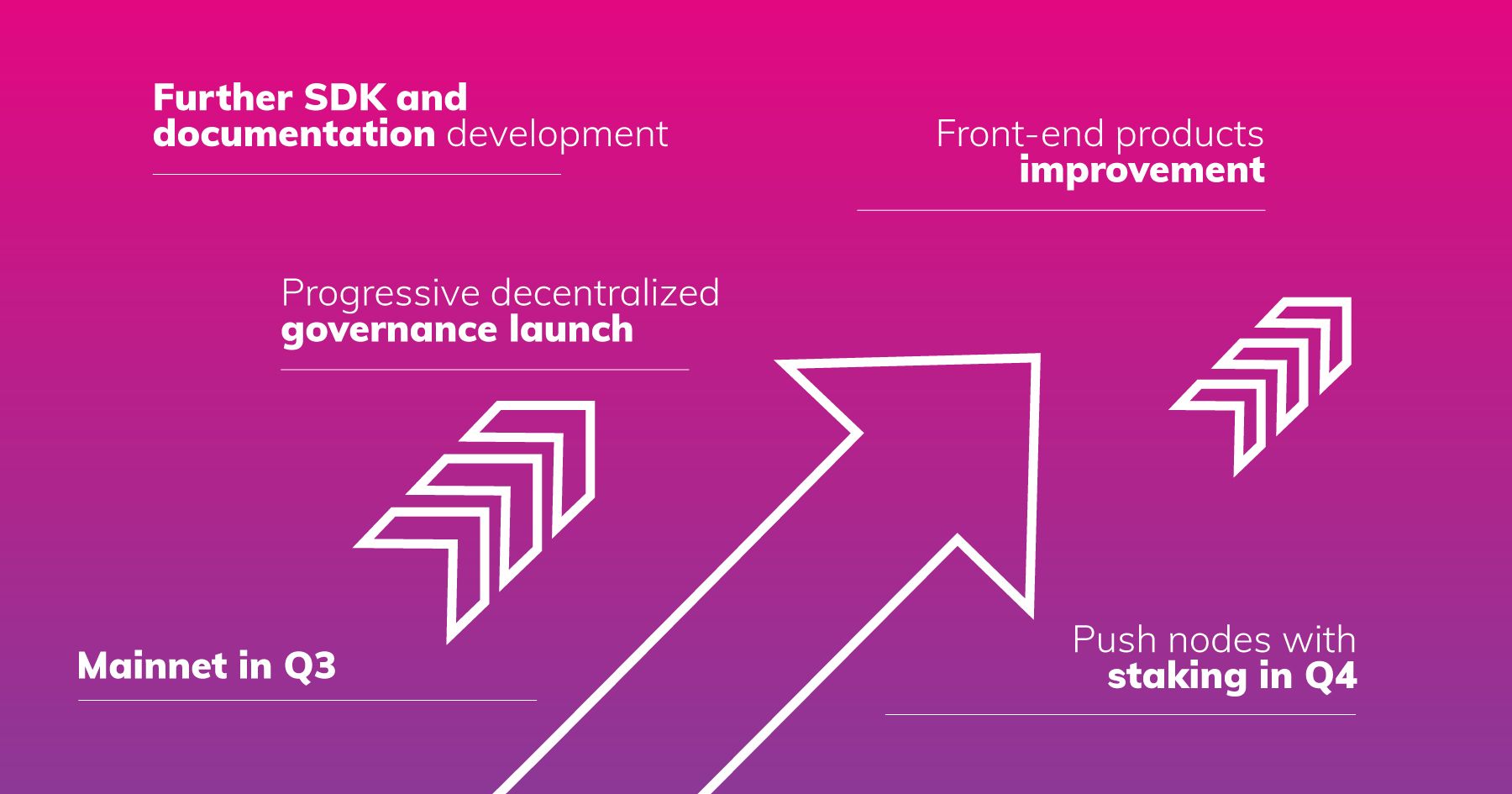 There is quite a bit to expect from EPNS by the end of this year. In case you missed it, here is the complete 2021 Roadmap. Now, here are some ALPHA drops for you...

With the Q2 'deliverables' now completed and months of testnet tinkering, EPNS has their eyes set on their imminent Mainnet Launch, with an expected rollout later in Q3. To go with that, the team is planning the introduction of Push Nodes with STAKING later this year. The team will naturally also continue fine-tuning their front-end product suite as well as further develop their SDK and documentation.

In the more immediate term, EPNS will be launching Progressive Decentralized Governance. Expect that to come as soon as in TWO WEEKS.
---
EPNS is truly revolutionizing notifications in Web3 and their progress and achievements so far showcase the necessity for their solution. Staying on top of everything that comes out of their kitchen is therefore an absolute must. Here is how to connect with and learn more about EPNS.

Website: https://epns.io/

Twitter: https://twitter.com/epnsproject

Telegram: https://t.me/epnsproject

Medium: https://medium.com/ethereum-push-notification-service

Whitepaper: https://whitepaper.epns.io/

Litepaper: https://medium.com/ethereum-push-notification-service/ethereum-push-notification-service-litepaper-e7ca0a662862
---
Connect with us and learn more about Polkastarter

Website | Twitter | Discord | Telegram | Instagram | Newsletter
Polkastarter Blog - Latest Polkastarter News & Updates Newsletter
Join the newsletter to receive the latest updates in your inbox.
---