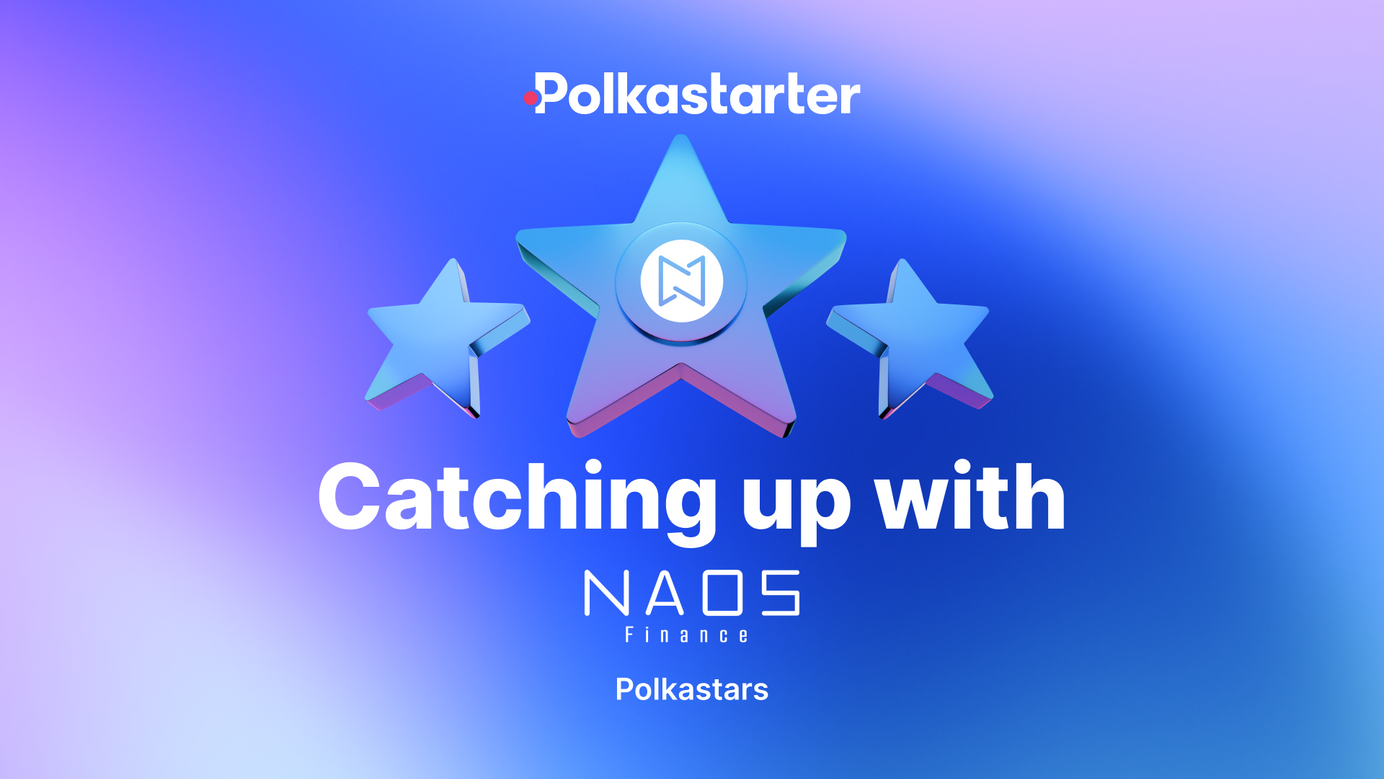 Catching Up with Polkastars: NAOS Finance
What has the NAOS team been up to since their Polkastarter IDO? Let's find out.
We have a new entry for our Catching Up with Polkastars series and our star for the day is NAOS Finance. NAOS Finance is a decentralized real world asset (RWA) lending protocol that provides the infrastructure of borrowing cryptocurrency assets through the usage of RWA as collateral.
The NAOS Protocol tokenizes RWA into NFT and connects borrowers with lenders on a global scale. What has the NAOS team been up to since their Polkastarter IDO? Let's find out.
Product Development
On the product side, they have launched the Liquidity Protocol - Formation Mainnet in July 2021, as well as the Lending Protocol - Galaxy Mainnet in November. These two developments are interconnected as Formation is the entrance to the Galaxy. If investors pledge their tokens for a period of time, they will receive more NAOS tokens in return. These tokens can then be used to supply liquidity to Galaxy.
Galaxy is the bridge between real world assets and DeFi liquidity, an environment where you can be one of three things - borrowed, lender or liquidator.
Another piece of important news regarding the product is the launch of the first NAOS ALPHA Lending Pool. After going through the designated KYC process, lenders can earn NAOS rewards, as well as competitive yields in stable coins that are backed by income-generating real-world assets.
The team was also hard at work to upgrade the NAOS UI/UX to make the RWA lending process more intuitive, and to ensure flexibility of additional features in the future.
Partnerships
On the partnership front, NAOS has formalized partnerships with MakerDao, Chainlink, Tidal Finance, EthSign, IoTex and dForce to build an ecosystem for real world lending. Moreover, the MakerDAO MIP6 proposal was approved, introducing the tokenization and funding of supply chain finance assets with NAOS' supply chain partner company in the semiconductor space.
When it comes to DeFi, NAOS established partnerships with major BSC ecosystem players such as PancakeSwap (Syrup Pool), Alpaca Finance (Graze & Farm), Beefy Finance and AcryptoS.  
The NAOS token/dApp has also been listed on several DeFi portals, including DeFillama, Debank, DeFiStattion, DappRadar,Zapper, 0xTracker, Dapp Review, Zerion, Imtoken, TrustWallet, Coin98, OntoWallet, TokenPocket, SafePal and more.
What do NAOS Finance Want People to Use Their Network For?
The team at NAOS want users to earn fixed and stable yield from income generating real world assets while maintaining exposure to crypto assets. Institutions can also use NAOS as a fully compliant yield strategy.
What Does The Future Hold for NAOS Finance? What's in The Roadmap?
NAOS Finance released their new product roadmap last month and it includes some really exciting releases. Here are some of the highlights for Q3, Q4 as well as Q1 of 2023:
Q3
Support Multi-currency (USDC/USDT) for ALPHA Pool
Launch NAOS Bond Program
Q4
Launch ALPHA Index Pool
Support Additional Asset Classes as Collaterals
Cross-chain Deployments
Q1 2023
ALPHA Token Liquidity Partnerships
Launch NAOS Governance Framework
Launch Permission-less ALPHA Pool Framework
What Was The Polkastarter Experience Like For NAOS Finance?
"Polkastarter has proven to be a strong partner pre/post-IDO. It has been nearly a year since our IDO, and we're still receiving continual support in marketing, token design and partnerships. Polkastarter is not only a top launchpad for projects, but also a strong adviser for projects in all stages."
Want to learn more about NAOS Finance?
Here are all of their relevant links:
👉 GitHub
👉 Twitter
👉 Medium
👉 Telegram
👉 Discord

About Polkastarter
Polkastarter is the leading decentralized fundraising platform enabling crypto's most innovative projects to kick start their journey and grow their communities. Polkastarter allows its users to make research-based decisions to participate in high-potential IDOs, NFT sales, and Gaming projects.
Polkastarter aims to be a multi-chain platform and currently, users can participate in IDOs and NFT sales on Ethereum, BNB Chain, Polygon, Celo, and Avalanche, with many more to come.
---