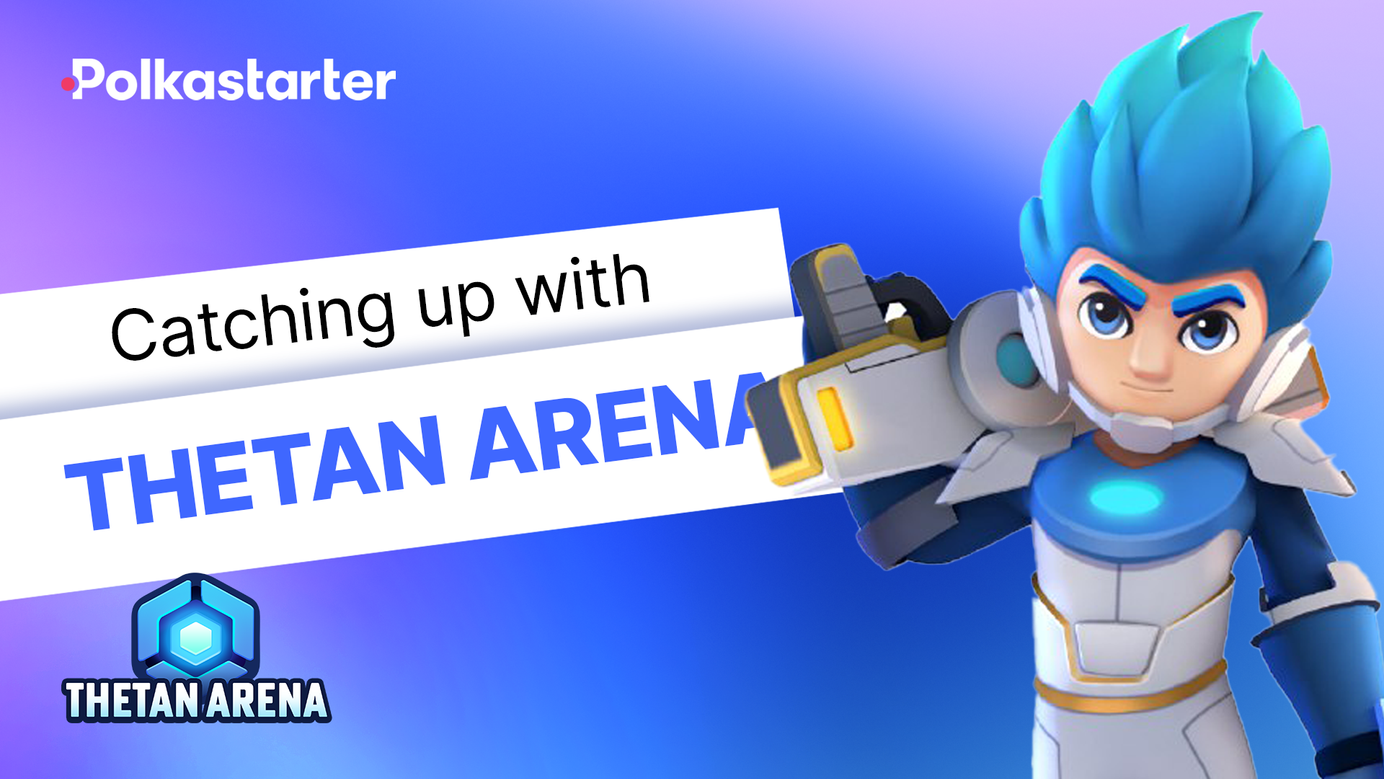 Catching Up with Polkastars: Thetan Arena
Blockchain-based free-to-play multiplayer online battle arena
In this new episode of the Catching Up with Polkastars series, we are meeting with Thetan Arena, a free-to-play MOBA esports game based on blockchain technology. Wolffun Game is a studio with 7 years of experience, 80 dedicated staff, and a passion for making PvP games to connect people and embrace socialization.
In Thetan Arena you can meet up with friends, build a team, battle with others, and earn token rewards. The gameplay is designed to revolve around the combination of your personal skills and teamwork. You can challenge yourself and others with multiple modes such as MOBA and Battle Royale, with regular monthly updates and attractive rewards.
What has the Thetan Arena team been up to since the IDO?
Since their Polkastarter IDO, Thetan Arena has reached some impressive milestones, including:
#1 on Apple Store in 11 countries
#1 on Google CH Play in 4 countries
Attracted 24M users and 2M followers on social media
Concurrent users (CCU) peak of 150K
Major feature updates
Since their IDO on September 16th, 2021, the Thetan Arena team has been putting all their efforts into developing and improving their game. This includes updates to ensure smooth gameplay, as well as ongoing programs and features in their marketplace to take the community's experience to the next level. Some highlight features and events include:
With all these combined, users can not only play games, but also go on plentiful quests to receive tokens and heroes rewards. Keep an eye out for themed events throughout the year where special boxes will be released!
What is the one main thing Thetan Arena wants people to use their product for?
Thetan Arena aims to build a whole ecosystem of gamers, streamers and crypto investors where everyone can connect, gather their friends, create their own avatar, and have an enjoyable experience playing their game or simply entering their Thetan World.
Thetan Arena roadmap
The Thetan Arena team is heads down building during crypto winter. They are not only building additional products for the Thetan ecosystem, but they are also releasing a new casual PvP game at the end of this year. Details on this game will be public soon, stay tuned!
What was the Polkastarter experience like for Thetan Arena?
"We have received great support from Polkastarter, not only in the IDO process but in several activities of Thetan Arena as well. We firmly believe that together with a reliable partner like Polkastarter, we can increase our exposure to more users as well as facilitate our development of a sustainable ecosystem. We look forward to a continued collaboration with Polkastarter in the future."
Final words
The Thetan Arena team would like to invite everyone to follow them on their official social media channels to stay up-to-date with their latest releases, news and events. They recently held a Fusion event in their marketplace where Thetan users could upgrade their experience by changing 3 NFT heroes into a new more valuable one.
Want to learn more about Thetan Arena?
Follow Thetan Arena in their official channels below:
👉 Twitter
👉 Facebook
👉 Telegram
👉 Discord
---

About Polkastarter
Polkastarter is the leading decentralized fundraising platform enabling crypto's most innovative projects to kick start their journey and grow their communities. Polkastarter allows its users to make research-based decisions to participate in high-potential IDOs, NFT sales, and Gaming projects.
Polkastarter aims to be a multi-chain platform and currently, users can participate in IDOs and NFT sales on Ethereum, BNB Chain, Polygon, Celo, and Avalanche, with many more to come.
Website | Twitter | Discord | Telegram | Instagram | Newsletter | YouTube | Poolside

Polkastarter Blog - Latest Polkastarter News & Updates Newsletter
Join the newsletter to receive the latest updates in your inbox.
---