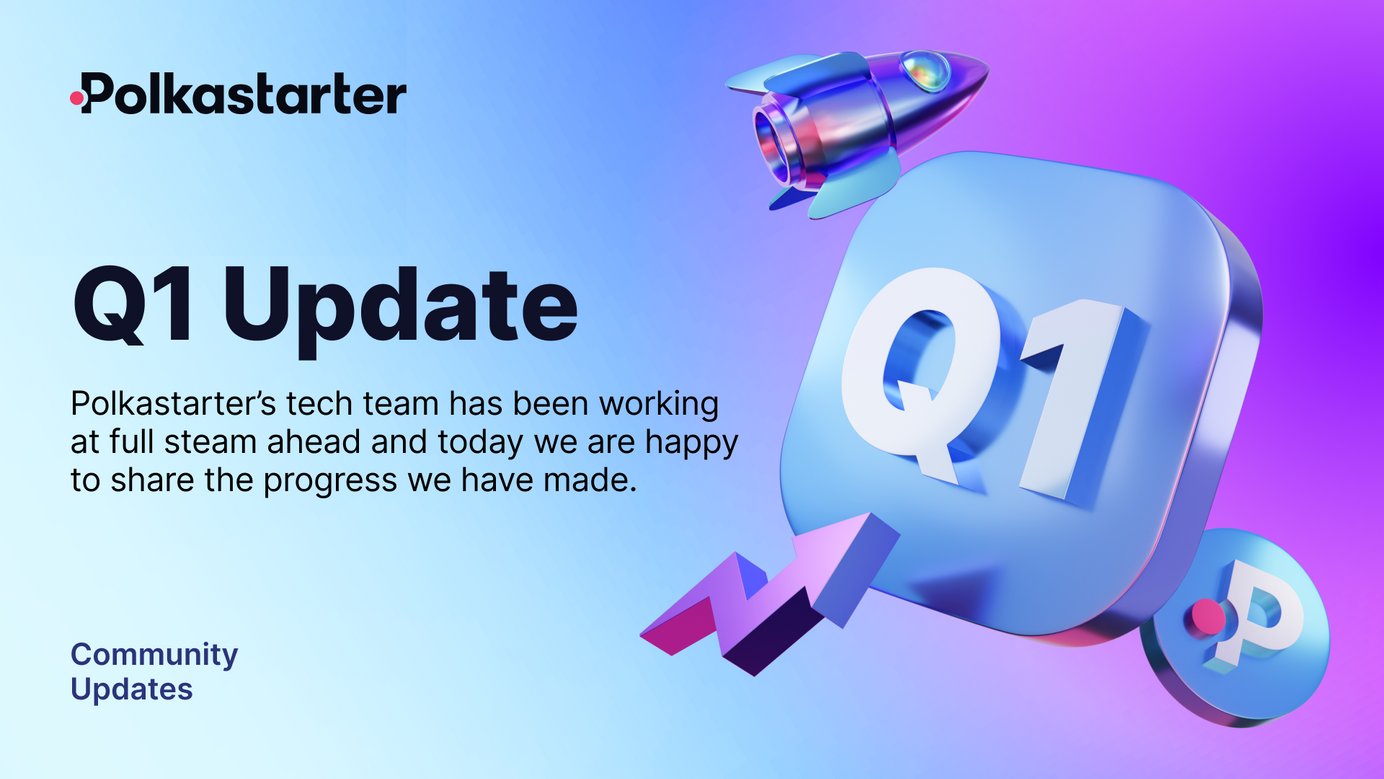 Polkastarter Q1 Quarterly Recap On Tech
Since our first IDO in December Polkastarter's tech team has been working at full steam ahead and today we are happy to share the progress we have made.
Q1 In Review
Stats Overview
Polkastarter has now completed a total of 80 Pools, 40 Projects, and 6592 ETH raised.
The combined market cap of all projects that have raised on Polkastarter hit $2 billion as of April 2, 2021.
The Road to Polkastarter 2.0
With less than four months under our belt since launching our MVP, we are nearly ready to launch the new Polkastarter platform. This will feature a new design and updated user experience, with more exciting features coming in Q2. Due to the enormous growth of Polkastarter and demand on the platform over the last quarter, we hit some delays in our roadmap to ensure scalability and security issues were dealt with in the best way possible to protect against daily DDoS attacks, and ensuring a smooth user experience during our peak traffic hours.
Multi-chain Token Pools (Ethereum and Polkadot)
The multi-chain token pool strategy was one of our main priorities and it has been very successful until now. While we haven't launched on Polkadot yet, we are already in the QA phase DOT-based token swap mechanisms.
While we were all anxiously waiting for Polkadot, we decided to move forward with our multi-chain token pool strategy via a Binance Smart Chain integration, and now the first multi-chain token swaps are already happening in April.
Staking for Governance
Governance was one of our biggest bets for the first quarter of 2021. Initially, we planned to tie staking to governance, but soon we realized that we needed to take a first step beforehand and that was actually building our governance platform and launching the Polkastarter Council for Governance.
Today, via our governance app, projects can directly apply to become eligible for running featured pools on Polkastarter. That process is fully streamlined, from the application, to research, selection and approval.
After being reviewed and passing the first stages, projects go through a final evaluation from our council members that can use our platform to analyze the project and vote "Yay" or "Nay". With this process working smoothly, we are now evaluating the next steps for our governance efforts.
Staking for Pool Rewards
Staking for pool rewards was one of our initiatives to promote pool creation. That was proposed at a time we believed permission-less pools were the best go-to market strategy. Soon we realised that selecting the most solid projects was the way to go, as it would protect our user base from possible scams, while increasing our credibility as a platform.
With no permissionless listing, incentivising pool creation lost its meaning, so we decided to launch a Uniswap Liquidity Program to incentivize and compensate our community for providing the $POLS token pair with liquidity. Since the inception of this program we already distributed more than $2,000,000 in rewards to our liquidity provider community.
Community-Powered Project Voting
The community-powered project voting was also delayed due to the creation of the governance platform. We decided to focus on providing a good platform for the council members to analyse and vote for the most credible projects. The next step is to focus on how we can integrate the community in this process.
Full KYC integration
KYC (Know Your Customer) has been crucial for the success of every project's raise on Polkastarter. Projects that want to raise using our platform have to perform KYC processes directly with their community.
In terms of infrastructure and compliance, we decided that the best way to do this KYC process is by having the projects do it directly. That way they control and have custody of the data, while the Polkastarter platform is only used as a decentralized protocol for fixed swaps.
In order to support this KYC process from the projects, we released a fully on-chain whitelisting mechanism that is easy to use and that prevents fraud attempts from non-KYCed users.
Announced a Cross-platform Token Sale with Cere Network
Cere Network is a decentralized data and finance cloud platform for enterprises. Powered by the CERE token, Cere Network is embarking on an industry-first token sale by launching their token generation across three unique platforms to raise over $25m USD. Polkastarter is excited to be part of this novel token distribution mechanism by hosting the final CERE IDO following Republic and DAO Maker. Learn more.
Launched The New & Improved Polkastarter Whitelisting Guidelines
Since the launch of Polkastarter three months ago, we have been blown away by the growth of the platform and of the incredible Polkastarter community. Due to the high demand among blockchain and crypto projects to launch with Polkastarter, most of the teams have implemented a whitelisting process in order to ensure they are reaching quality contributors in a fair and transparent way. Learn more.
Created Updated Polkastarter Project Selection Criteria
Our mission is to attract the highest quality projects and founders in blockchain and match them with token buyers that believe in and support projects for the long run. At Polkastarter, we pride ourselves in supporting world-class teams through Initial DEX Offerings (IDO). We select projects that not only benefit the participants, but also advance and strengthen the industry as a whole. Learn about the updates.
Launched the Polkastarter Council for Governance
The main goal of the Polkastarter Council for Governance is guaranteeing a fair, independent, secure and credible project listing process. Learn more.
Along with all of these roadmap, product, and community updates, we also wanted to share some stats with you on growth over Q1:
Q1 Community Highlights
March
700k+ website visits
+36,000 + Twitter followers
Over 6 MILLION Twitter impressions
Telegram communities triple since January, and now include over 95,000 members, across 7 global channels
February
Twitter grows by +125,000 followers, an increase of 155%, and a 7x Twitter growth since the start of the year.
Website visits are up 176% for a total of 646,373 visits.
Over 2 MILLION people visit our Twitter page.
Telegram communities double from previous month across 7 global channels.
January
Website visitors increase by 60% at +260,000 unique website visitors with an average time on site of more than 4 minutes
8,088 members added to Telegram, a stunning 48% increase across 6 groups
Triple Twitter followers from 25,800 to 80,100
Medium views reach 11,000 overall; top article reaches 1.800 views
Top tweet gets more than 45,000 impressions
Up to 13,894 social mentions/day
Up to 13,218 social contributors/da
Up to 8,696,834 engagements/day
Q1 $POLS Highlights
March
$POLS
Reach 34,000 active token holders
$POLS Uniswap
Volume on Uniswap increases by 2X to an average of ~ $5M USD volume per day with one day surpassing the $16M USD volume milestone
Distribute over 35,000 $POLS at the end of March (over $140,000 at the time of this writing).
February
$POLS
Reach 33,000 active token holders — more than 26% from the previous month.
Volume increases to an average of over $2.5M USD volume per day with one day surpassing the $16M USD volume milestone.
$POLS Uniswap
See $325m in volume, averaging ~$11m a day (more than 6x since the start of the year).
Reach $2M paid out in fees milestone and distribute 470,000 $POLS to community members providing liquidity on Uniswap for a total of $1.35M worth of distributed rewards for the month.
Announce extension of Uniswap Liquidity Program
January
$POLS
Successfully listed on Huobi and Okex
Break into the Top 15 of all cryptos in popularity since January 2021.
#1 trending search for several days on CoinGecko; Top 5 for almost the entire month
Volume increases to an average of over $2.5M USD volume per day with one day surpassing the $16M USD volume milestone
We now have over 26,000 active token holders — more than 47% from last month
$POLS Uniswap
Almost double our liquidity on Uniswap; new ATH of $11,948,705 of total liquidity
We continued our Uniswap Liquidity Program rewards to 150,000 POLS
As always, thanks for being a part of our community! Make sure to check back soon for our Q2 updates on our blog, and give us a follow on Twitter.
Polkastarter Blog - Latest Polkastarter News & Updates Newsletter
Join the newsletter to receive the latest updates in your inbox.
---