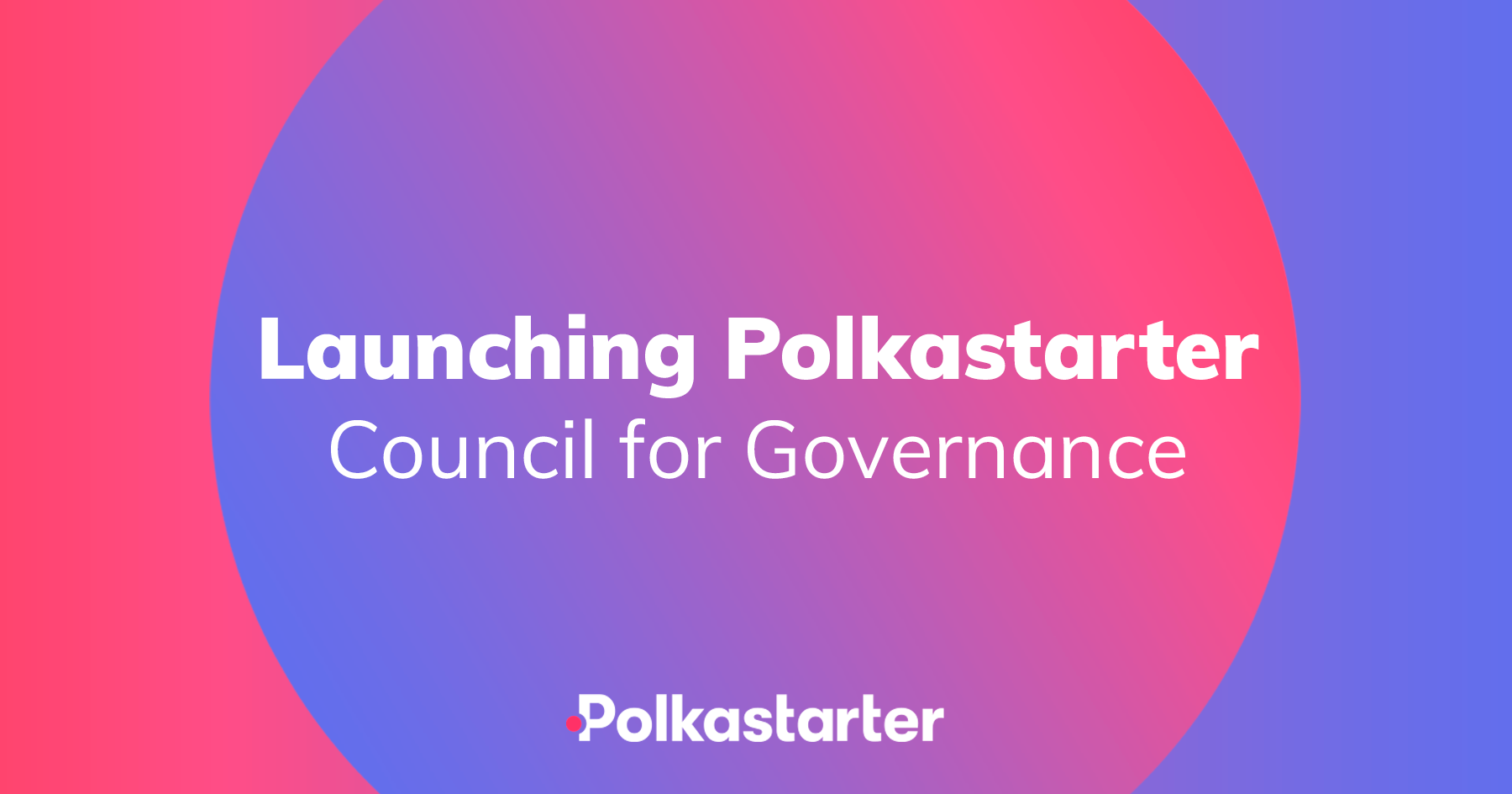 Launching the Polkastarter Council For Governance
Key takeaways
Key takeaways
Main goal of the Polkastarter Council for Governance is guaranteeing a fair, independent, secure and credible project listing process
Polkastarter is fully decentralized protocol, but needs a selection process via an independent Council
The Council will also bring manpower for market influence, networking and analytical capabilities
This article analyses the rules and purpose of the Polkastarter Council, the governance body that will be deciding which pools and token swaps are featured on Polkastarter.
About Polkastarter
Polkastarter is a protocol built for cross-chain token pools and auctions, enabling projects to raise capital on a decentralized and interoperable environment based on Polkadot.
With Polkastarter, decentralized projects will be able to raise and exchange capital cheap and fast. Users will be able to participate in a secure and compliant environment and to use assets that go way beyond the current ERC20 standard.
The Fundraising Process
Being a decentralized protocol means that projects that want to raise capital can use Polkastarter's technology to launch their own smart contracts for fixed swaps.
Projects decide how much they want to raise in Ethereum ($ETH), Polkadot ($DOT) or Tether ($USDT), and then users can swap those currencies for the project's token.
Although decentralized, Polkastarter is not open to every project. The goal of this positioning is to protect the pool swap participants from possible scams and other malpractices.
In other words, projects that want to raise on Polkastarter have to apply first.
This is how the application process works:
Projects go to the website and submit the application with important data, including whitepaper, business model, tokenomics, amount of funds to be raised and other info;
Applications are then reviewed by a team of professional researchers that make an initial selection;
Carefully selected applications are then sent to the Polkastarter Council for additional review;
Each member of the Polkastarter Council has one vote;
Projects are approved if it gets at least 60% of the total votes from the Polkastarter Council;
Once the project is approved, there's a final application review;
The final step is the pool swap setup, that includes the creation of the smart contract and the official launch.
How the Council Will Work
After joining, council members will be able to access a private area on the Polkastarter platform. There it will be possible to access information about the projects that are up for a vote.
Council members will have a limited time to cast their vote. Once the project gets 60% or more votes, it gets approved and can proceed with the listing process.
Rules
Polkastarter Council has a minimum of 8 seats
Those seats rotate every quarter
Each member has to lock-up $POLS during that period
Each member has to refer 1 project per month
How-to Join The Council
In order to be eligible for this council, all members need to hold together around 5% (5,000,000) of the total supply of Polkastarter Tokens ($POLS), and to be active, public and credible players in the blockchain ecosystem. This includes:
Institutional funds and VCs with analytical and networking capabilities
Exchanges that might contribute with early listings for featured projects
Media and Influencers that can contribute positively to the project's ecosystem
Developers and product owners that can help with tech due diligence
Big projects from the Ethereum and Polkadot ecosystem
The Benefits For Council Members
Council members enjoy several benefits related with the fundraising process.
These include:
Council members can refer 3 high-quality projects per quarter
Early access to credible and serious projects for long-term investments;
Proximity with projects that promotes future collaborations and partnerships;
Access to all project submissions.
Announcing Council Members
We will be announcing the first council members this week, so stay tuned for further updates!
Polkastarter Blog - Latest Polkastarter News & Updates Newsletter
Join the newsletter to receive the latest updates in your inbox.
---