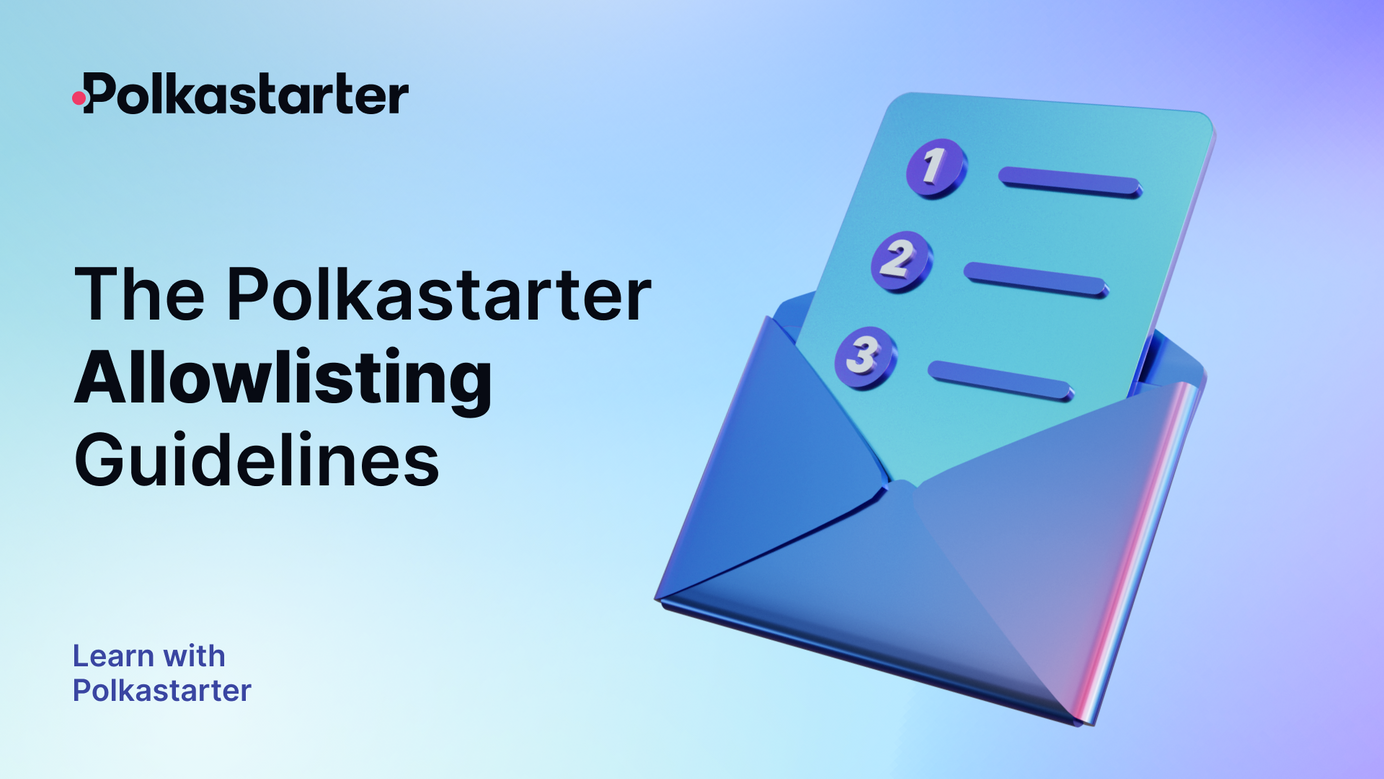 The Polkastarter Allowlisting Guidelines — New & Improved
Advice to projects launching on Polkastarter and establishing allowlisting guidelines for IDOs.
Since the launch of Polkastarter three months ago, we have been blown away by the growth of the platform and of the incredible Polkastarter community. Due to the high demand among blockchain and crypto projects to launch with Polkastarter, most of the teams have implemented a allowlisting process in order to ensure they are reaching quality contributors in a fair and transparent way.
In order to support Polkastarter projects in this process, we have compiled some guidelines on best-practices for allowlisting, and enable projects to support their users and supporters in the best possible way throughout their launch for a smooth and fair experience.
First, every project that launches with Polkastarter is responsible for their own allowlisting process. Polkastarter does not have any control or say over who gets selected for a allowlist; we can only recommend best practices to enable the projects themselves to set the terms.
Second, our technical team is working on improvements to the Polkastarter contract that will allow for more allowlist participants and lower gas fees for users. Our intention with these updates is to reduce some of the hurdles and frustrations that users have felt with past allowlisting processes.
Polkastarter establishes the following guidelines for projects' allowlisting process:
Project teams must take responsibility for their own allowlisting. This includes having proper community support in place to respond to their users' questions and needs in a timely manner.
Project teams are responsible for providing thorough education resources to their users, including technical documentation, information about the business plan and upcoming roadmap, and opportunities for deeper learning such as AMAs and community calls for users to ask questions about the project. This empowers your users and token holders to not only make informed decisions, but be able to advocate in your community in a more informed way.
Teams should avoid 'spam' tactics in the allowlisting process, for example requiring users to tag others in tweets.
Teams should try to eliminate bots in the allowlisting process in whatever ways they can, for example by using reCAPTCHA, double opt-in forms, test questions, unseen fields, time analysis, IP address limitations, double submit cookies, orother bot-prevention tactics.
Teams should follow all relevant regulations and legal requirements, which may include performing KYC on the winning addresses and excluding residences of certain countries.
At Polkastarter, we aim to provide the best experience for projects raising funds as well as the people contributing. Creating a positive experience for people means reducing the number of bots, focusing on education, and having community support in place to address concerns.
We have been fortunate to experience such rapid growth. We are always actively working to make the Polkastarter experience better for everyone. In order to provide that experience, we will ask that teams follow stronger allowlisting processes and have plans in place to support their community. Our fundraising on Polkadot, Ethereum, Binance Smart Chain is just the start of a long journey for the Polkastarter platform, and providing a great experience there will enable us to expand and set a standard of excellence for our growth.

About Polkastarter
Polkastarter is the fully decentralized protocol for launching new ideas. Our curation process and industry access enable us to offer the best new projects in blockchain and digital assets.
With Polkastarter, decentralized projects can raise awareness, build a loyal community, and receive long-term support. Users of the platform will be able to participate in a secure and compliant environment, and use assets both in and beyond the current ERC20 standard.
---
Connect with us and learn more about Polkastarter
Website | Twitter | Discord | Telegram | Instagram | Youtube | Newsletter
Polkastarter Blog - Latest Polkastarter News & Updates Newsletter
Join the newsletter to receive the latest updates in your inbox.
---