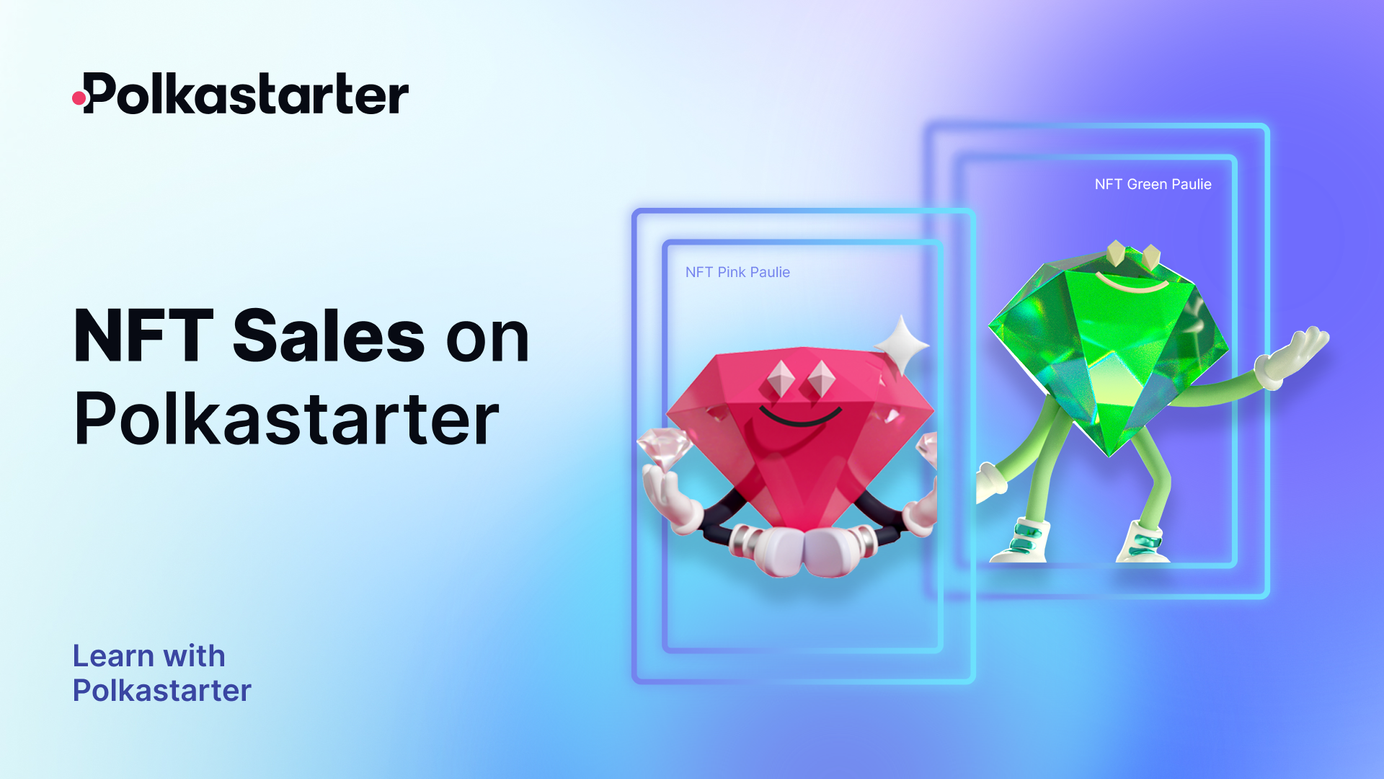 NFT Sales on Polkastarter
Learn everything you need to know about NFT sales on Polkastarter.
What are NFTs?
Firstly, let's explain NFTs to any newcomers here.
NFT stands for Non-Fungible Token, which is a unit of data stored on a blockchain. This comes in the form of a digital ledger that can be sold and traded. Types of NFT data may be associated with digital files such as pictures, art, photos, audio, and videos.
The first known NFT was Quantum, created in 2014, consisting of a video clip. It was registered on the Namecoin blockchain and sold to Dash for $4.
Today, you may primarily associate NFTs with digital art, virtual land, and in-game assets. The gaming industry has seen an explosion in NFTs since it not only encapsulates the metaverse, but gaming brings a wealth of opportunities. The NFT capabilities within the gaming space are endless.

When did NFTs start? Where can we date their origin?
References of Blockchain Art date back to 2017 but the first real appearance of the asset in the form we know it today came that same year when American studio Larva Labs developed CryptoPunks, a series of collectable digital characters traded through NFTs. The collection started as an experiment and was inspired by the London punk scene. The collection of 10,000 Cryptopunks is definitive and unalterable.

Metaverse Land Sales
Buying NFT Land in the Metaverse makes you an owner of digital real estate and opens new and unique opportunities. You could go to virtual and exclusive events, meet up with people online and find new friends or even rent out your land to build a new game. That's what makes the Metaverse so great - you're not restricted to your location.

In Q1 2022 we launched our first-ever NFT LAND sale in the Metaverse with Cryptoverse reaching a record-breaking $3M. Offering 6 different NFT LAND estate types, users now own a piece of the Cryptoverse LAND where amazing things will happen!

Read more about buying land in the metaverse here and understand more about the Cryptoverse sale by reading this article.

In-Game Assets
In 2021 Thetan Arena launched their token $THG on Polkastarter, reaching an ATH of 26,667%. Thetan Arena is an Esport game based on blockchain technology that combines MOBA-based gameplay with battle royale games.

You can earn your NFTs items by playing the game and selling them on the marketplace to make money.
What does the NFT sale experience look like compared to an IDO?
Initially positioned as a fixed swap pool platform supporting IDOs and with the market obviously moving at pace, Polkastarter reacted to demands for NFT sales. Much like fixed swap pools, NFTs can be launched on Polkastarter at a fixed price, with limited supply and with various allocations amounts.
This is hugely beneficial because projects can create multiple NFT categories at different prices and availability, which reflect scarcity. The user can choose multiple NFTs and check out using their wallet.
About Polkastarter
Polkastarter is the leading decentralized fundraising platform enabling crypto's most innovative projects to kick start their journey and grow their communities. Polkastarter allows its users to make research-based decisions to participate in high-potential IDOs, NFT sales, and Gaming projects.
Polkastarter aims to be a multi-chain platform and currently, users can participate in IDOs and NFT sales on Ethereum, BNB Chain, Polygon, Celo, and Avalanche, with many more to come.
---
Stay tuned for more upcoming IDOs
Website | Twitter | Discord | Telegram | Instagram | Newsletter | YouTube | Spotify
Polkastarter Blog - Latest Polkastarter News & Updates Newsletter
Join the newsletter to receive the latest updates in your inbox.
---