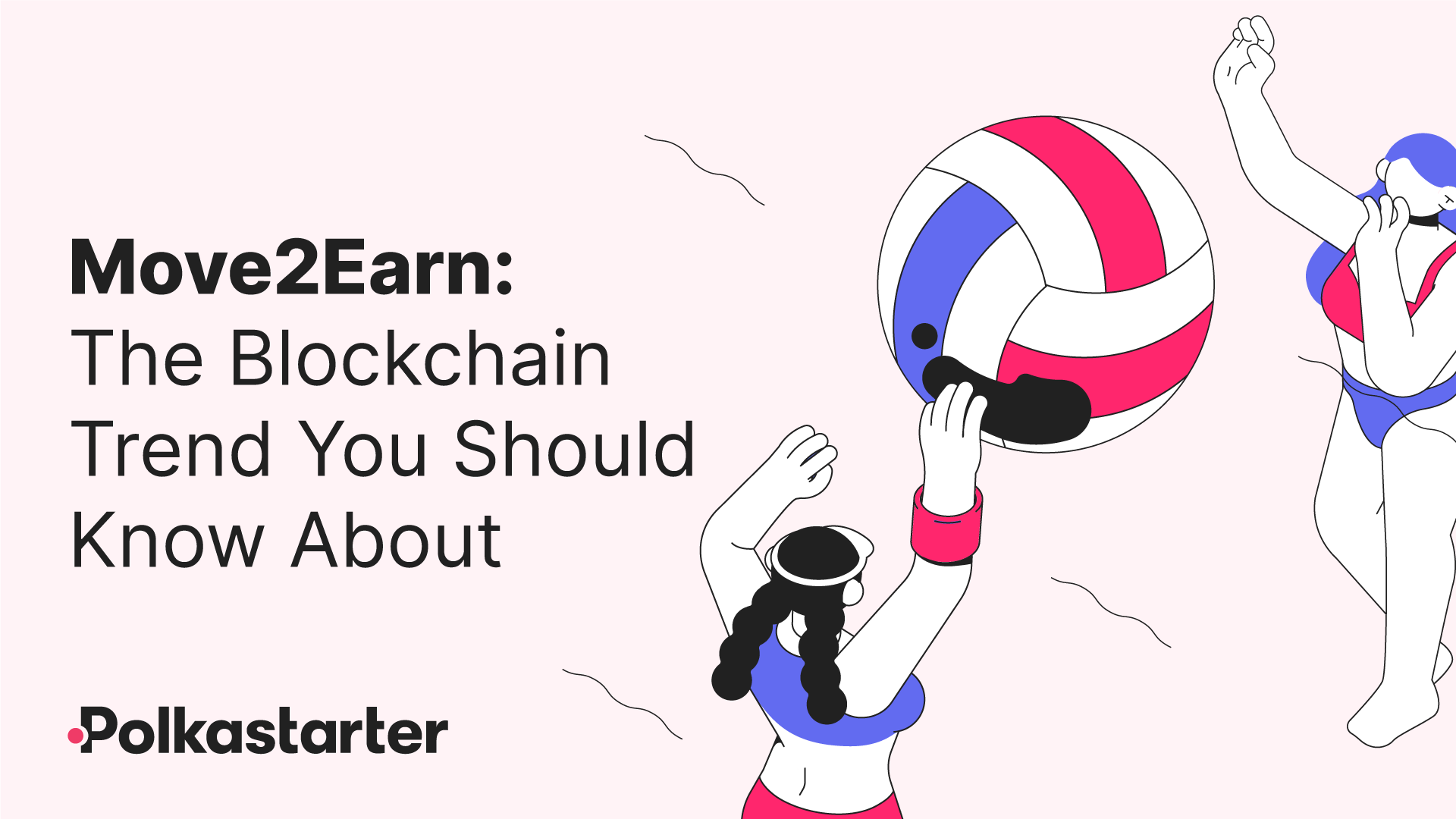 Move To Earn: The Blockchain Trend You Should Know About
Another day, another acronym and trend for the blockchain world.
What is "move to earn", how does it work and can you really earn money by simply…working out? Get all the information you need in our latest blog post.
What is "Move to Earn''? How does it work?
Move to earn (M2E) refers to blockchain and crypto projects that incentivize users to move by foot, bicycle or other means in order to be compensated with monetary rewards. The more you move, the more you can earn.

The concept is fairly simple and taking into consideration the fact that the global fitness tracker market is projected to grow from $36.34 billion in 2020 to $114.36 billion in 2028 at a CAGR of 15.4%, there is an obvious product-market fit. From step counters and augmented reality, to GPS and fitness trackers, people are putting a lot of effort into maintaining a healthy lifestyle.

M2E is not a novel idea. The first movers in the space date back to Nintendo's Exercise Ring and Wii Sports. By migrating the concept to the blockchain, the added value is that users can earn financial rewards for staying active. Apart from fitness, there are also movement-based games that interact with the real world.

The gaming started on a simple "play-to-play" model where users used to engage in gaming for fun. That model evolved to a "free-to-play" paradigm that posed no barriers to entry for players but instead, featured in-game purchases of digital goods.

Gaming on the blockchain is introducing the "play-to-earn" paradigm where players would actually get paid to play it, with built-in incentives to reward their effort and time or even a financial stake in the company that makes the game.

Players can be awarded unique items with verifiable ownership that can then be traded, bought or sold in an open marketplace. NFTs can ascribe these items with unique identifiers, enabling one of the most basic market forces - limited supply increases the value of an asset.  

Projects like dotmoovs, DOSE, STEPN and DEFY have kick-started this wave with great success. Before we dive into some of these projects, let's take a step back.

If you reverse engineer the fitness industry customer cycle, the most challenging phase is motivating the user to become a returning customer. Sure, some people have an innate motivation to pursue their fitness goals day in and day out, but others find it more difficult to stick to a strict schedule. It's not a surprise that gyms around the world see peaks and valleys throughout the year, based on the fluctuating motivation of their clientele.

The blockchain edition of M2E addresses that exact problem by giving people the one thing that gets them out of bed every day to go to work - monetary rewards.
How is Move2Earn becoming a trend in the crypto industry?
A few years back, the idea of playing online games for profit seemed ludicrous. Today, the likes of Twitch players such as Félix Lengyel, (username "xQcOW) make around $US8 million in a year. Could M2E be the next big trend in the crypto industry?

It's still early days to have a definite answer but the signs are promising. Who wouldn't want to get paid for something they do as a hobby? For something that makes them feel good?

The potential of these projects is not only interesting from a user point of view. In the near future, M2E could be an added benefit in job descriptions and headhunting offers. Health-life balance is a big chapter for the modern workforce.

Move to earn can be seen as the evolution of free yoga or spinning classes offered by companies in an attempt to lure top talent. By investing in a M2E project, companies can offer an alternative income stream to employees, a way to keep them happy and their bodies healthy and in return, see higher productivity and less sick days.
Polkastarter Move to Earn Projects
Let's take DOSE for example. Users can cycle or run at their own pace using the NASA Rover, terrains, routes, and story missions. People can do what they love in a gamified, story-infused experience where they can get tokens as rewards. Fun fact: DOSE is an acronym for the chemicals you release when you play an exercise game like Dustland Runner that makes you feel good - Dopamine, Oxytocin, Serotonin, Endorphin.
Dotmoovs takes on the same principles, the same school of thought and allows players to practice freestyle football or dance moves with an AI referee assessing their moves and giving a fair score.
DEFY is billed as the first-ever location-based, play-to-earn game. Set in a dystopian future where a faceless corporation has taken over the Internet and global networks, you become part of the revolution that wants to bring them down. Collaborating with other players, you try to hack vulnerable network towers and steal FCOINs in order to steal their power.

These projects are still in their infancy with a lot more to come in terms of rewards, game-play and storylines. Stay tuned as we will keep you in the loop with any new developments regarding the space.


About Polkastarter
Polkastarter is the leading decentralized fundraising platform enabling crypto's most innovative projects to kick start their journey and grow their communities. Polkastarter allows its users to make research-based decisions to participate in high-potential IDOs, NFT sales, and Gaming projects.
Polkastarter aims to be a multi-chain platform and currently, users can participate in IDOs and NFT sales on Ethereum, BNB Chain, Polygon, Celo, and Avalanche, with many more to come.
---
Stay tuned for more upcoming IDOs
Website | Twitter | Discord | Telegram | Instagram | Newsletter | YouTube | Spotify
Polkastarter Blog - Latest Polkastarter News & Updates Newsletter
Join the newsletter to receive the latest updates in your inbox.
---